Revealed for the first time today, Royal Mail are set to release 15 new Harry Potter stamps, to celebrate the global-success of the hit film series, filmed in the UK, and featuring a star studded cast brimming with home-grown talent.
Scheduled for release on 16 October 2018, the new stamps feature some of the most popular characters including Harry, Hermione, Ron, Ginny and Neville Longbottom, and five Hogwarts professors contained on a Special Miniature Sheet. Also appearing on the stamps are portkeys and the most iconic modes of transport – the Hogwarts Express, Hagrid's bike, the Knight Bus and the Triwizard Cup.
Some Special Features on the stamps include the official Harry Potter font denoting the '1st' Class service. There's also a little extra magic and intrigue to both the stamps and the Miniature Sheet which can be seen under UV light…
Here's your first look at the new stamps alongside a bit of info about each one…

Hermione Granger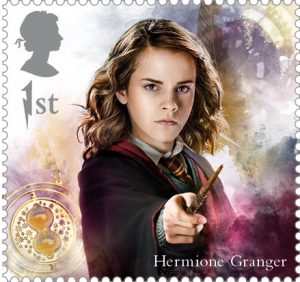 Hermione is considered by many at Hogwarts to be the brightest witch of her age. On her many adventures with Harry and Ron, it is often thanks to Hermione's educated mind, grasp of logic and quick thinking that the trio safely escapes.


Hogwarts Express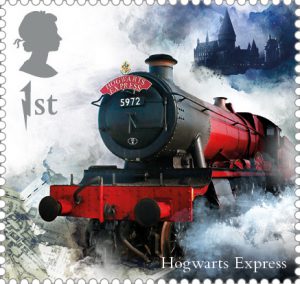 The Hogwarts Express train is used by pupils of Hogwarts School of Witchcraft and Wizardry. The steam train runs between King's Cross station in London and the village of Hogsmeade, from where the children reach Hogwarts by boat. Access to the train by wizards and witches can only be gained by running at speed through a brick wall to Platform Nine and Three-Quarters.


Harry Potter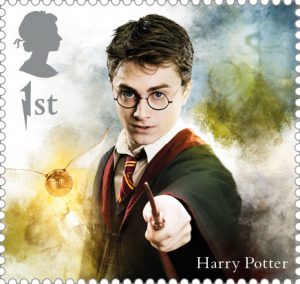 On his 11th birthday, Harry Potter learns that he has been accepted to Hogwarts School of Witchcraft and Wizardry. Harry and his friends, Ron and Hermione, brave the challenges of school life while facing the increasing threat of the dark forces led by Lord Voldemort. As Voldemort returns to power, Harry realises that only he can stop the Dark Lord.


Flying Ford Anglia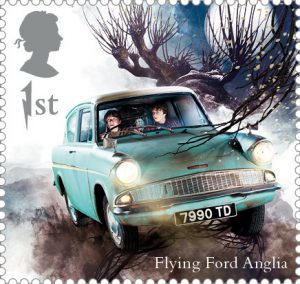 In Harry Potter and the Chamber of Secrets, the Weasley twins and Ron 'borrow' the car to rescue Harry through his bedroom window in the Dursleys' house. Later on, having missed the Hogwarts Express, Harry and Ron take the car on a precarious journey to Hogwarts.


Ron Weasley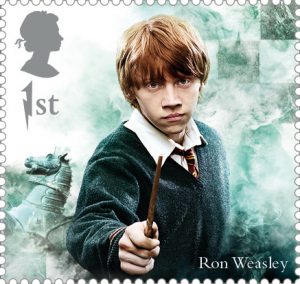 From the moment they meet on the Hogwarts Express train, Ron becomes Harry's best friend. Ron supports Harry on all of his risky adventures – often at the wheel of the Flying Ford Anglia – even when it means facing his worst fear: spiders.


Hagrid's Motorbike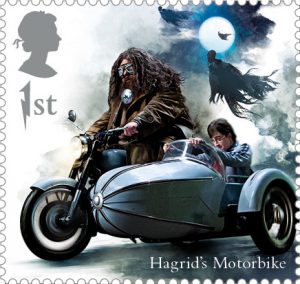 Riding a flying motorbike formerly owned by Sirius Black, Hagrid and Harry endure a hazardous journey while being pursued by Lord Voldemort and several Death Eaters in Harry Potter and the Deathly Hallows – Part 1.


Ginny Weasley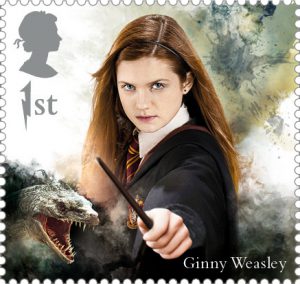 Younger sister of Ron Weasley, Ginny spends much of her first year at Hogwarts writing in Tom Riddle's diary and unknowingly doing the Dark Lord's bidding. In her fourth year, Ginny joins Dumbledore's Army and eventually makes her feelings for Harry known.


Triwizard Cup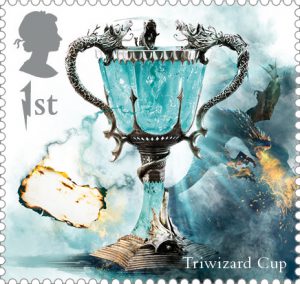 The Triwizard Cup is a trophy awarded to the winner at the end of the third and final task of the Triwizard Tournament. When Harry Potter competes in the Triwizard Tournament, a Death Eater turns the Cup into a Portkey to instantly transport the winner to the graveyard where Lord Voldemort is waiting.


Neville Longbottom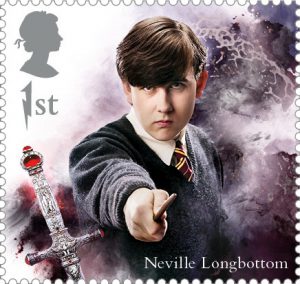 Neville Longbottom is known as a good-natured but accident-prone boy with an aptitude for Herbology. As the Dark Lord rises to power, Neville bravely joins Dumbledore's Army and ultimately plays an integral role in the destruction of Lord Voldemort.


Knight Bus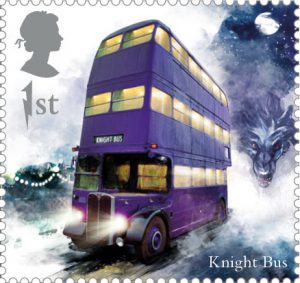 Described by its conductor as "Emergency transport for the stranded witch or wizard", the Knight Bus appears in Harry Potter and the Prisoner of Azkaban. It collects Harry and his trunk from the side of the road after he flees Privet Drive following an altercation with Mr Dursley's sister.


---
If you're interested…
You can reserve all of the new Harry Potter stamps right now on a limited edition Collector Card – professionally framed and ready to hang. Click here for details >>>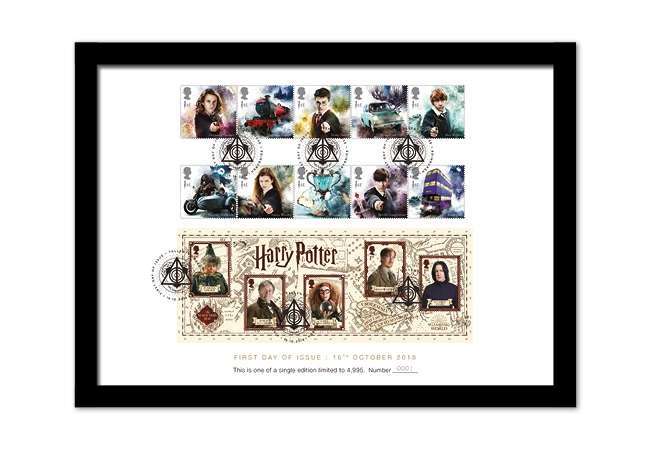 Royal Mail have revealed 10 new David Bowie stamps, which will mark a tribute to one of the most influential music and cultural figures of all time.
The stamps are Royal Mail's second dedicated music artist stamp issue, following on from the popular Pink Floyd release in the summer of last year.
Scheduled for release on 14th March 2017, the stamps will feature iconic album covers and live performances from 1971 right up to his final studio album Blackstar.
Here's your first look at the new stamps alongside a bit of info about each one…
1st Class – Hunky Dory:
His fourth album and released in December 1971. Time magazine chose it as part of their "100 best albums of all time" list in January 2010.
1st Class – Aladdin Sane:
His sixth album and released in April 1973. The album was among six Bowie entries in Rolling Stone magazine's 2003 list of the 500 greatest albums of all time.
1st Class – "Heroes":
His twelfth studio album and released in October 1977. This was the second instalment of his "Berlin Trilogy" recorded with Brian Eno and Tony Visconti. The title track remains one of Bowie's best known and acclaimed songs.
£1.52 – Let's Dance:
His fifteenth studio album and released in April 1983. Co-produced by Nile Rodgers, and featured three of the most successful singles "Let's Dance", "Modern Love" and "China Girl". Let's Dance is Bowie's bestselling album.
£1.52 – Earthling:
His twentieth studio album and released in February 1997, this was the first album Bowie had self-produced since Diamond Dogs.
£1.52 – Blackstar:
Bowie's final studio album, released on 8th January 2016 to coincide with his 69th birthday. Bowie died two days after its release.
The Miniature Sheet
1st Class – The Ziggy Stardust Tour, 1972: The tour promoted The Rise and Fall of Ziggy Stardust and the Spiders from Mars studio album and took in the UK, North America, and Japan.
1st Class – The Serious Moonlight Tour, 1983: The tour was designed to support the Let's Dance album and was Bowie's longest, largest and most successful concert tour.
£1.52 – The Stage Tour, 1978: Also known as Isolar II – The 1978 World Tour and The Low/Heroes World Tour because it was staged to promote the Low and Heroes albums.
£1.52 – A Reality Tour, 2004: Staged to promote the Reality album this tour was to be Bowie's last tour.
Background Image – The Glass Spider Tour, 1987: launched to promote the album Never Let Me Down.
A First Class Tribute to a Music Legend
These stamps are sure to be sought after by anyone looking for a really collectable piece of Bowie memorabilia. And there are even due to be limited edition 'fan sheets' issued for the those who want to keep something truly special.
I wasn't sure Royal Mail could top last year's Pink Floyd issue, but these stamps are so well executed and poignant in my opinion they will go down as some of the most important musical stamps ever to grace our postage.
---
If you're interested…
You can reserve all of the new David Bowie stamps right now on a limited edition Collector Card – professionally framed and ready to hang. Click here for details.
Did you know that since Royal Mail issued their first Christmas stamp in 1966, over 17 billion Christmas stamps have been printed in Britain? In most years since, Christmas stamps have gone on to become the most popular issue of the year. The 3rd November 2015 saw the 50th Great Britain Christmas issue to be released.
In honour of this milestone I would like to take the opportunity to look at some my favourites from these 50 issues.
1966
Despite many requests over the years that the Post Office issue Christmas stamps, these had always been refused until Tony Benn became Postmaster General. He had originally wanted them in 1965 and even suggested a charity surcharge. Time was against him which meant 1966 was the soonest possible.
Benn, through the Post Office, organised a competition among schoolchildren aged under 15. The competition was launched on Blue Peter, which at the time received viewing figures of around 8 million twice a week. Response to the competition was huge. Over 5,000 designs were submitted which were assessed by a team of eight professional stamp designers. These first British Christmas stamps featured a design by Tasveer Shemza (of King Wencleslas) and James Berry (Snowman).
1977
In 1977 the Twelve Days of Christmas were immortalised on the Christmas issue. David Gentleman's clever design managed to include all 78 gifts mentioned in the song without the stamps looking cluttered and untidy.
1981
The Christmas issue of 1981 really stands out for me as they were the first Christmas stamps that I remember. Again a nationwide competition was launched on Blue Peter and really caught the attention of children up and down the country. Unfortunately my entry did not make it on to the issued stamps! The five designs that were chosen were from children aged between 5 and 16.
2004
I think 2004 is my favourite of all the 50 Christmas issues. These six stamps feature Raymond Briggs' beloved Father Christmas as he goes about his duties on his busiest night of the year.
Starting with the 2nd class stamp we see him begin to deliver presents in a calm moonlit night, before battling through the elements(40p, 57p, 68p and £1.12) but by sunrise on Christmas Day all is calm again and his work is done (1st class).
2015
From 2005 Royal Mail decided to alternate each year between secular and non secular Christmas issues. For the 50th issue the Christmas issue is non secular. The eight Christmas 2015 stamps feature six traditional scenes from the Nativity story: The Journey to Bethlehem, The Nativity, The Animals of the Nativity, The Shepherds, The Three Wise Men and The Annunciation.
---
If you're interested…
Send festive wishes with this beautifully designed limited edition Christmas card issued to mark the 50th Great Britain Christmas issue