Posts Tagged 'Sherlock stamps'
Royal Mail have just announced the release of BRAND NEW Sherlock stamps, to celebrate the 10th anniversary of the popular BBC TV Series.
The stamps will be officially released on 18th August 2020 and feature the most iconic and best-loved characters including Holmes, Watson, and Moriarty – whilst the exclusive 'Mysteries of Sir Arthur Conan Doyle' Miniature Sheet features four of the author's favourite Sherlock Holmes stories.
Here's your guide to the most collectable versions of the new Sherlock stamps…
The UK 50p Coin Cover
This UK 50p Coin Cover perfectly combines the complete set of BRAND NEW Sherlock Stamps and Miniature Sheet with The Royal Mint's UK Sherlock Holmes™ 50p Coin.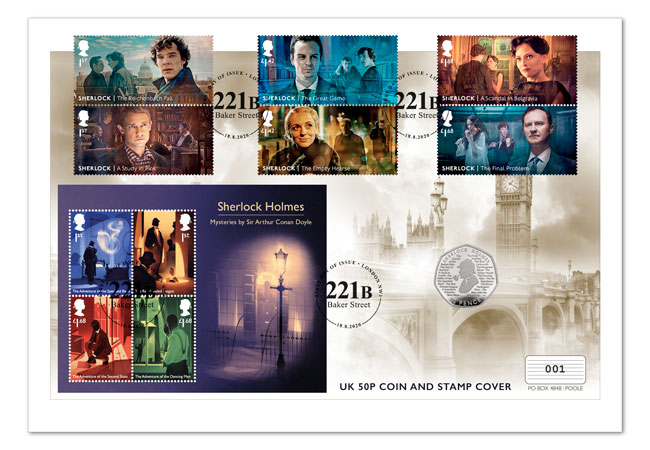 Significantly, JUST 1,000 Sherlock Holmes UK 50p Coin Covers are being released nationwide, making this one of the most limited ways to own these sought-after stamps and 50p coin.
The Framed Edition
The Framed Edition of the NEW Sherlock stamps features Royal Mail's official Collector Sheet, and is one of just 2,995 that will ever be issued.
The Framed Edition includes all six new characters stamps, as well as ten EXCLUSIVE Philatelic Labels featuring iconic scenes from the show.
The Definitive Edition
What sets the Definitive Edition apart from all other issues, are the stamps. You see, this edition comprises EVERY official Royal Mail Sherlock stamp ever released, from the complete set of ten NEW Sherlock Stamps, to the extremely sought-after 1993 issue.
The Definitive Edition is strictly limited to JUST 495 and will come professionally mounted and framed, ready to display in your home or office.
The Ultimate Edition
What makes the Ultimate Edition 'ultimate' is the fact that is comprises BOTH official Royal Mail First Day Covers alongside the stamps' official release notes – and has been professionally mounted and framed, ready for you display in your home or office.
A MUST-HAVE piece of memorabilia for any fan, the Ultimate Edition is strictly limited to JUST 495 sets worldwide…
---
If you're interested…
You can own one of the special Sherlock Holmes Stamps Editions today, click here to view the full range.