Posts Tagged 'Collecting'
The Royal Proclamation confirming the new coin has been passed, and that means production can officially begin.
Plans to release special Brexit coins was first announced by former chancellor Philip Hammond in last year's Budget. But this is the first confirmation from The Royal Mint that the coin is indeed going ahead.
I don't know about you, but this coin story is one I've been watching for a while. And as such, I suspect it will be one of the most eagerly anticipated issues we've seen for a while!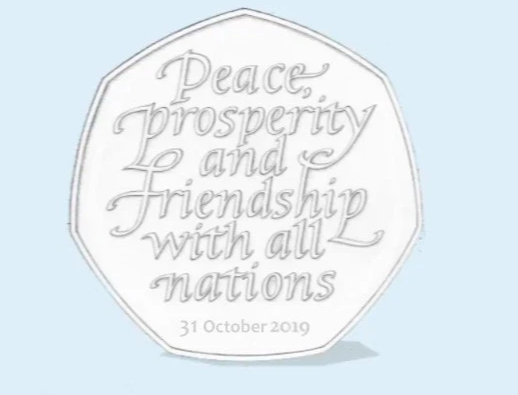 Few details are known about the design of the coin, but we do know that it will feature the inscription: "Peace, prosperity and friendship with all nations", as well as the historic date the UK is due to leave the EU – 31 October 2019.
A 50p coin was struck when the UK joined the European Economic Community in 1973 and when the UK held the presidency of the EU in 1998. So it only seems fitting one is released to also mark the UK's departure from the EU. And by marking such a pivotal event in our history, this coin will surely be sought-after by collectors in years to come.
Whilst not many details have been released by The Royal Mint, there are rumours that up to 10 million coins will be struck and put into circulation, 3 million of which will be ready for 31st October – news that will surely delight collectors, who could be finding these coins in their change as early as Halloween.
We do not yet know whether special collector versions of this coin will be available. Though we have our fingers crossed that there will be!
If you want to be kept up to date with news of the Brexit coin as we approach 31st October, then register your interest below. We'll then contact you as soon as we know more, and let you know how you can get your hands on one.
Prince George appears on a British 1st class stamp issued 21st April 2016 – the first time he will be pictured on our post.
The new stamp is part of a special miniature sheet issued to commemorate the Queen's 90th Birthday, and forms part of a group shot featuring Princes William and Charles, alongside Her Majesty the Queen herself.
Photographer Ranald Mackechnie captured the shot in Buckingham Palace's White Drawing Room, with the aid of a few carefully positioned books to bring the young Prince George into the frame.
The miniature sheet harks back to the stamps issued in 2000 for the Queen Mother's 100th birthday, which also featured a family scene. However this stamp sheet is particularly special, as it is the first time three heirs apparent have posed together in this way.
Perfect for collecting
The new stamp sheet will be particularly sought-after by collectors, as philatelic 'firsts' like this are always in demand – especially when linked to such an important Royal event.
Further adding to the appeal are six more commemorative UK stamps due to be issued simultaneously. Each features a photograph of the Queen from throughout her life, and the images are instantly evocative of her lifetime of service to the country.
Aside from their visual appeal, there are also a number of British 'firsts' here too, including the first time the Queen has been pictured on a stamp with a head of state from another country – in this case Nelson Mandela.
Suffice to say, this impressive new issue is a fitting tribute to The Queen, and these stamps will make a proud addition to the collection of anyone that wants to mark this landmark Royal occasion.
---
If you're interested…
You can own ALL six new stamps, plus the miniature sheet, on The Ultimate Queen's 90th Birthday First Day Cover. Officially postmarked by Royal Mail on the Queen's Birthday 21st April 2016, this cover is available to order now.