Posts Tagged 'collecting stamps'
Royal Mail have just announced the release of BRAND NEW Queen Stamps to commemorate 50 years since the iconic band was first formed in 1970.
The stamps will be officially released on 9th July 2020 – but are available to pre-order now, professionally mounted and framed, ready to display.
The stamps feature the most iconic album covers of the band, as well as stamps depicting each of the band members at live performances, from 1975 to their final live performance with Freddie Mercury in 1986.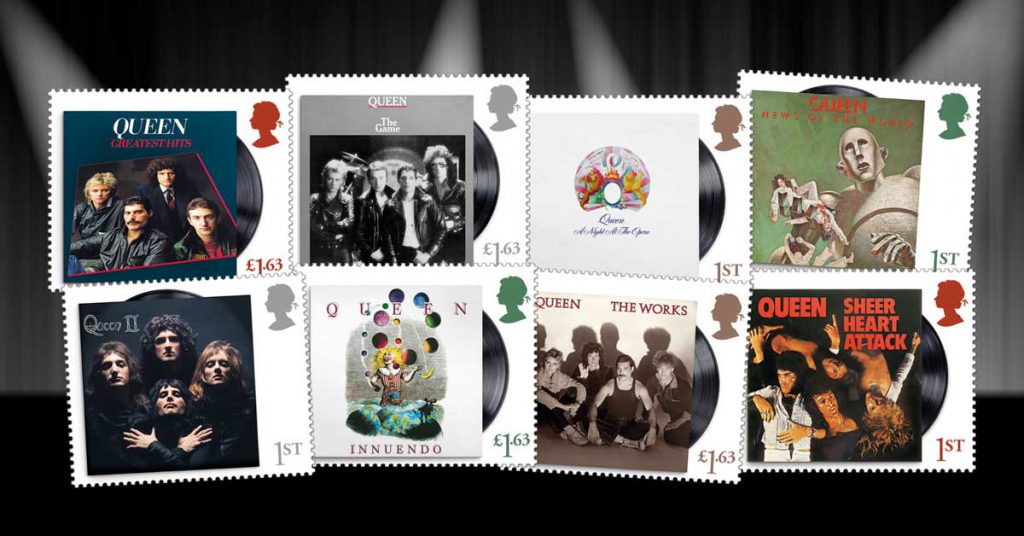 Importantly, only one stamp before now has ever featured Freddie Mercury alone – this is the first time Queen as a whole has ever featured on UK stamps – and as such these are guaranteed to prove a hit with collectors!
Here's your guide to the most collectable versions of the new Queen stamps…
---
The Framed Edition
The Framed Edition of the NEW Queen stamps features Royal Mail's official Collector Sheet, and is one of just 2,995 that will ever be issued.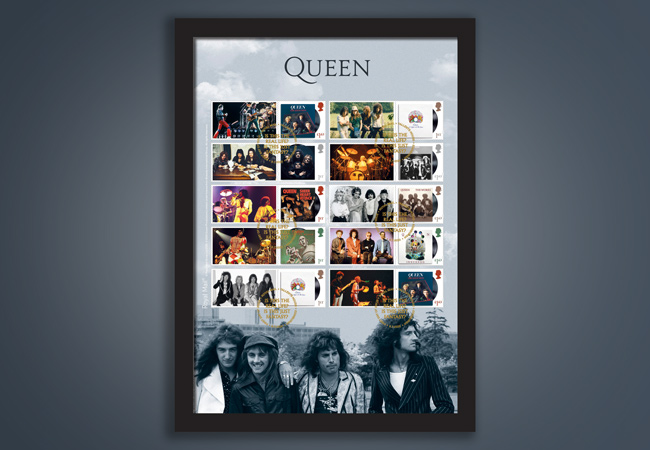 The Framed Edition includes all eight new album stamps, as well as ten EXCLUSIVE Philatelic Labels featuring different images of the band.
Click here to pre-order your Framed Edition now >>>
The Definitive Edition
What sets the Definitive Edition apart from all other issues, are the stamps. You see, this edition comprises EVERY official Royal Mail stamp released for Queen and its members, from the complete set of thirteen NEW Queen Stamps, to the extremely sought-after 1999 Freddie Mercury issue.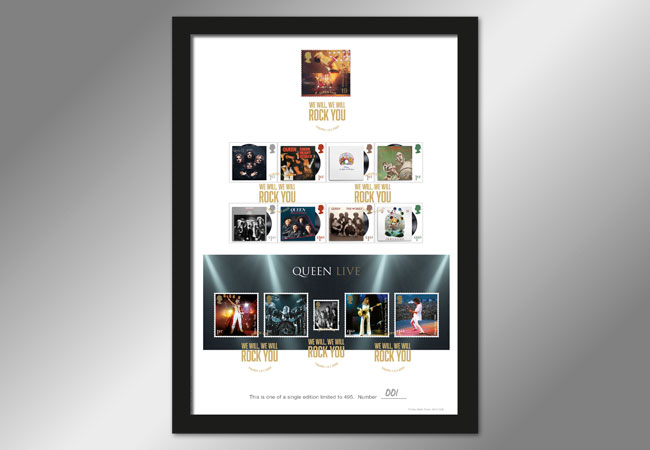 The Definitive Edition is strictly limited to JUST 495 and will come professionally mounted and framed, ready to display in your home or office.
Click here to pre-order your Definitive Edition now >>>
The Ultimate Edition
What makes the Ultimate Edition 'ultimate' is the fact that it comprises BOTH official Royal Mail First Day Covers alongside the stamps' official release notes – and has been professionally mounted and framed, ready for you display in your home or office.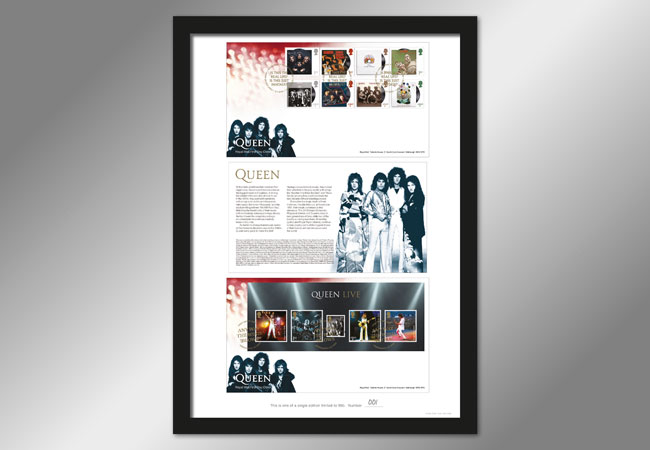 A MUST-HAVE piece of memorabilia for any fan of Queen, the Ultimate Edition is strictly limited to JUST 995 sets worldwide…
Click here to pre-order your Ultimate Edition now >>>
The Vinyl Edition
The Vinyl Edition is the defining tribute to Queen; featuring the official Royal Mail A Night at the Opera stamp alongside a pristine, unplayed vinyl edition of the actual album.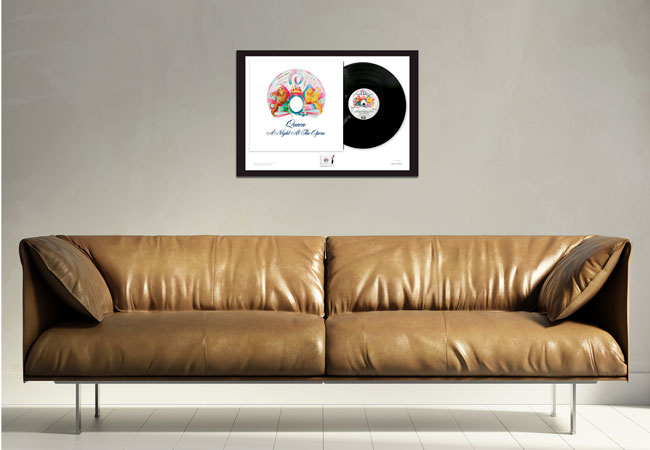 Paired together, the stamp and classic vinyl album make a genuinely superb wall display. They give that iconic cover artwork the place it deserves – displayed like the piece of art it is – not hidden away on a record shelf.
JUST 250 will ever be issued, so you will need act now to secure yours and take advantage of our no-interest monthly instalments.
Click here to pre-order your Vinyl Edition now >>>
---
With such low edition limits across the range, you'll need to be quick to secure your framed Queen stamps.
Click here to shop the full range and pre-order yours today.
Revealed for the first time today, Royal Mail are set to release 10 NEW James Bond stamps, to celebrate the milestone 25th film in the franchise, No Time To Die.
Scheduled for release on 17 March 2020, the complete set of ten BRAND NEW 2020 stamps pays tribute to the six beloved Bond actors – Connery, Moore, Dalton, Lazenby, Brosnan and Craig – as well as some of Q Branch's most well-known gadgets on the exclusive Miniature Sheet – including the Lotus Esprit Submarine, Aston Martin, Bell-Textron Jet Pack and Little Nellie.
The stamps are likely to prove immensely popular with the British public, and collectors throughout the world!
Here's your first look at the NEW James Bond stamps…
Daniel Craig as James Bond in Casino Royale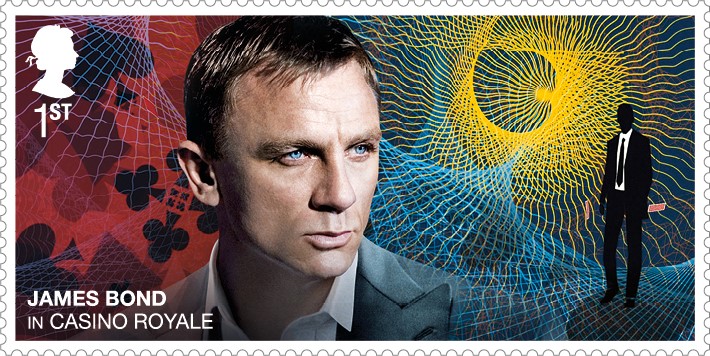 Pierce Brosnan as James Bond in Goldeneye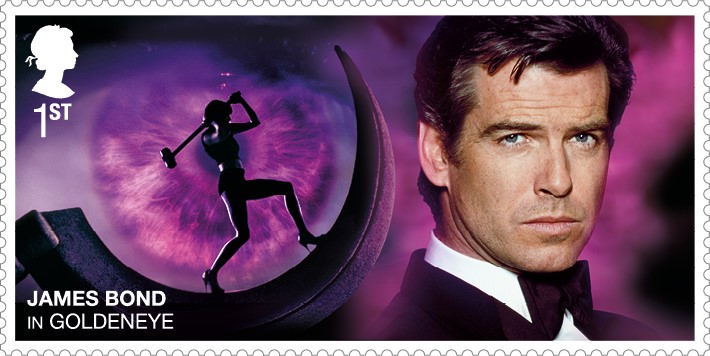 Timothy Dalton as James Bond in The Living Daylights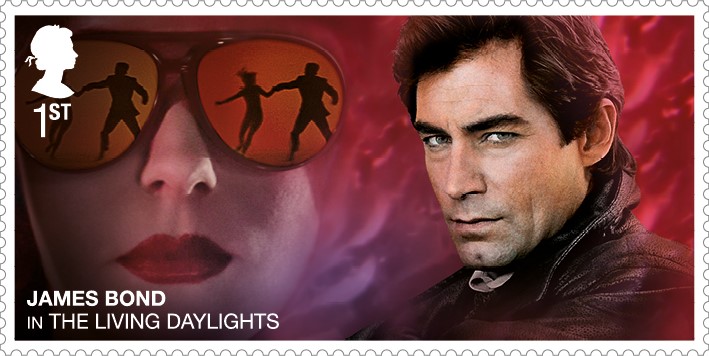 Roger Moore as James Bond in Live and Let Die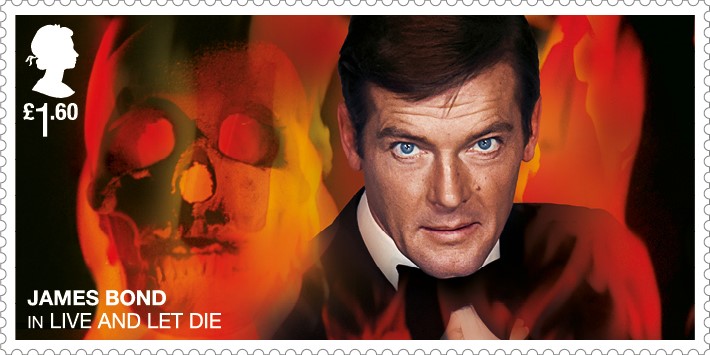 George Lazenby as James Bond in On Her Majesty's Secret Service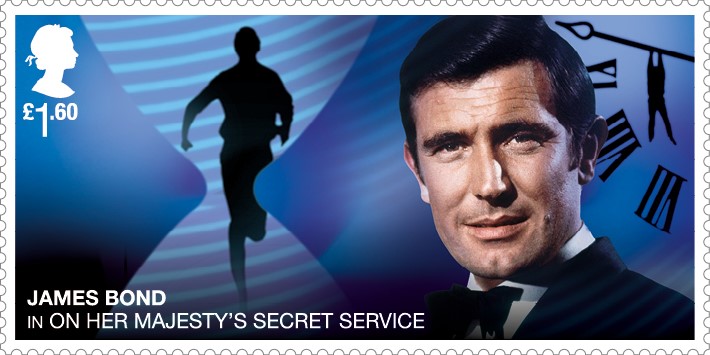 Sean Connery as James Bond in Goldfinger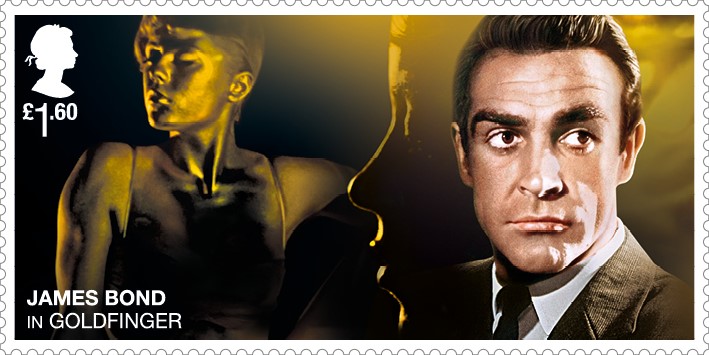 The NEW and official UK James Bond Stamps are sure to Shake and Stir collectors
The Bond films are the longest running series in film history with James Bond known all over the world. The films are renowned for many features, including the musical accompaniment, with the theme songs having received Academy Award nominations on several occasions, and two wins.
Another important element to the Bond franchise are 007's gadgets, including his cars and guns, which he is supplied by Q Branch.

It is these iconic gadgets which are the focus of the Minisheet in the stamp issue. Celebrating some of Q Branch's most well-known gadgets, and centring around arguably the most famous one of them all, Bond's DB5.
This miniature sheet isn't quite as it seems; look at the sheet under a UV light and all will be revealed where detailed specs of each gadget will become clear. In another unusual feature the stamps carry a unique 007 perforation.
---
If you're interested…
You can reserve all of the NEW Royal Mail James Bond stamps right now, postmarked with the First Day of Issue of their release, and protectively encapsulated to preserve their pristine condition for generations. Click here for details >>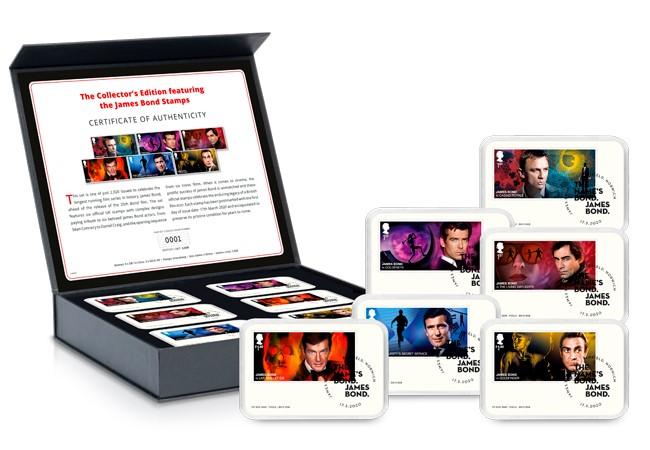 Royal Mail have today announced the release of BRAND NEW Elton John stamps, which will mark a tribute to one of the UK's greatest music legends on the 50th anniversary of his first album, Empty Sky.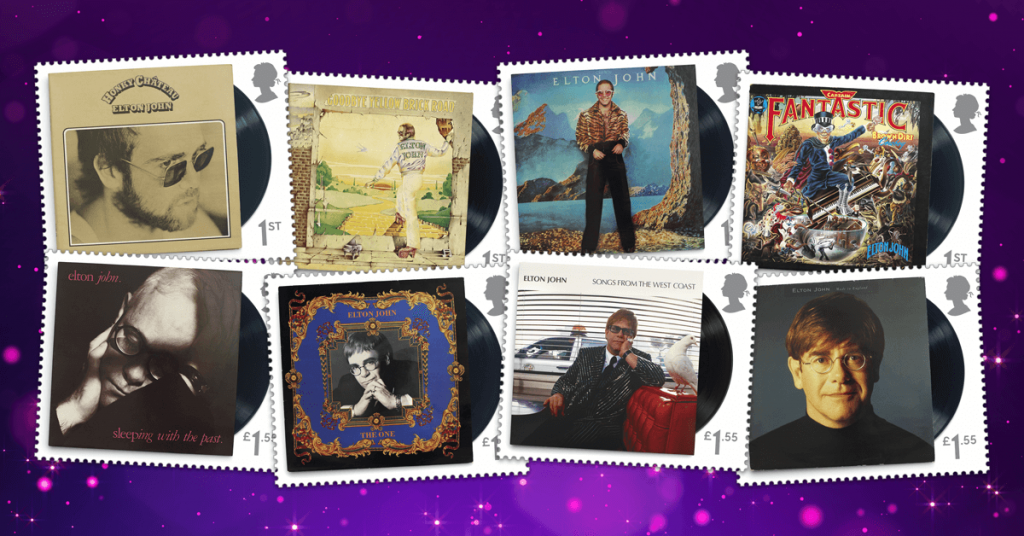 The 'Music Giants III Elton John' stamps are Royal Mail's third dedicated music artist stamp issue, following from their very successful Pink Floyd and David Bowie releases in 2016 and 2017.
Officially released today, 3 September 2019, the stamps will feature the iconic album covers and live performances from 1972 through to his final tour – Farewell Yellow Brick Road – at Madison Square Garden.
This is the first time Elton John has ever featured on UK stamps, and as such these are guaranteed to prove a hit with collectors!
Take a first look at the NEW Royal Mail Elton John Stamps and find out more about each of them below…
---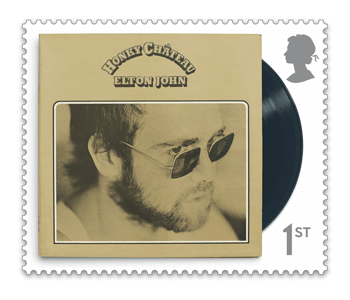 1st – Honky Château: Recorded in the Château d'Hérouville near Paris, Honky Château was Elton John's breakthrough pop album, home to 'Rocket Man' – one of three songs he composed on the morning of the first day of recording.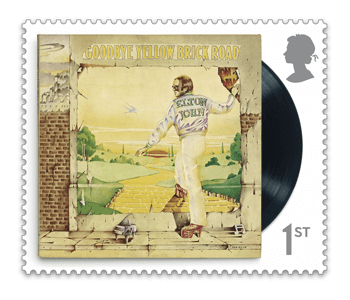 1st – Goodbye Yellow Brick Road: A double album that perhaps represents the artistic pinnacle of Elton's 1970s' career, a teeming, eclectic songwriting masterclass that features 'Candle in The Wind', 'Saturday Night's Alright for Fighting' and 'Bennie and the Jets'.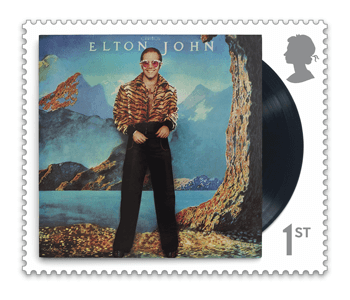 1st – Caribou: His fourth consecutive US number one album, Caribou, is best-known for 'The Bitch Is Back' and the epic 'Don't Let the Sun Go Down on Me', but its most striking moment might be 'Ticking', the eerie saga of an armed siege in a bar.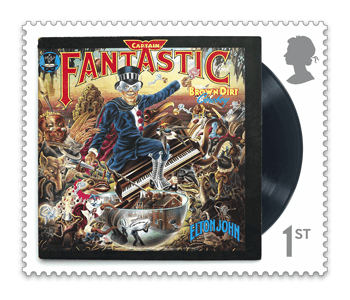 1st – Captain Fantastic and The Brown Dirt Cowboy: A concept album on which lyricist Bernie Taupin recounts the early days of his and Elton's career, complete with a vivid depiction of Elton's 1968 suicide attempt, 'Someone Saved My Life Tonight'.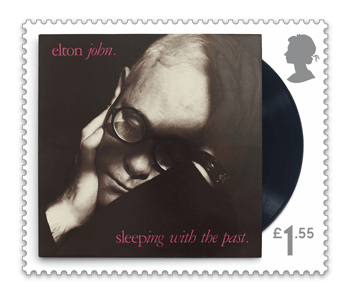 £1.55 – Sleeping with The Past: The last album Elton John made before going into rehab was intended as a homage to the soul and R 'n' B music that had inspired him in the 1960s: in 'Sacrifice', it produced his first UK solo number one single.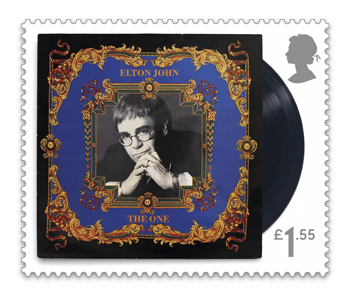 £1.55 – The One: The cover designed by Gianni Versace, its lyrics haunted by the unfolding AIDS crisis and Elton's battle with drug addiction, The One re-established the now clean and sober Elton John.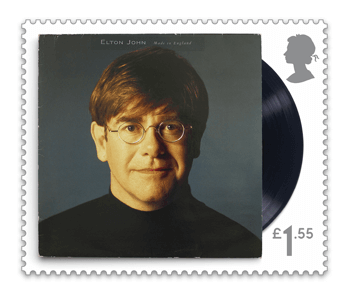 £1.55 – Made in England: Largely recorded live in the studio, Made in England's upbeat title track – a hit single in 1995 – masks the rest of the album's mature mood, which features reflections on ageing both positive and negative.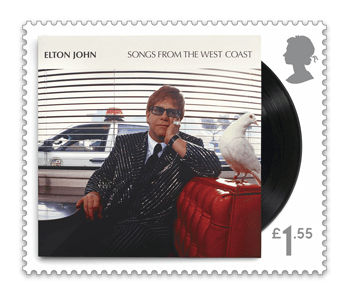 £1.55 – Songs from The West Coast: "Going backwards to go forwards", as Elton put it, Songs from The West Coast returned to the warm sound of his early 1970s' albums and offered his and Taupin's strongest collection of songs in years. A latter-day triumph.
---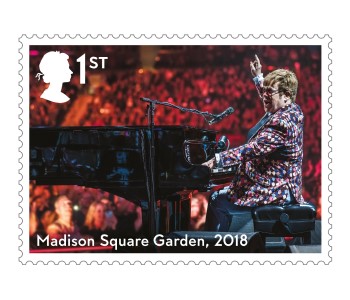 1st – Madison Square Garden, 2018: Farewell Yellow Brick Road is an ongoing tour that began in Allentown, Pennsylvania on 8 September 2018. It is intended to be John's final tour and will consist of more than 300 concerts worldwide, over three years.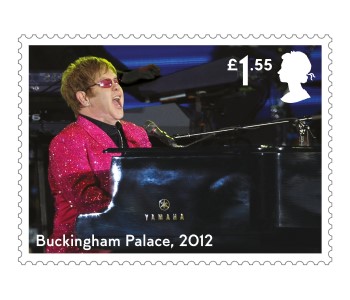 1st – Buckingham Palace, 2012: On 4 June 2012 Elton John performed at the Queen Elizabeth II Diamond Jubilee Concert at Buckingham Palace. His setlist included "Your Song", "Crocodile Rock" and "I'm Still Standing"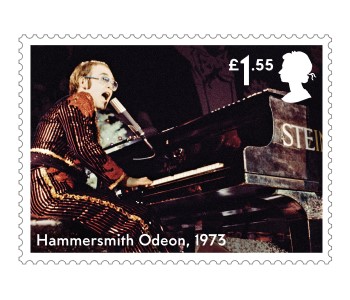 £1.55 – Hammersmith Odeon, 1973: Live in concert at West London's Hammersmith Odeon in December 1973, Elton's "Christmas Party" received national coverage on BBC radio in the UK.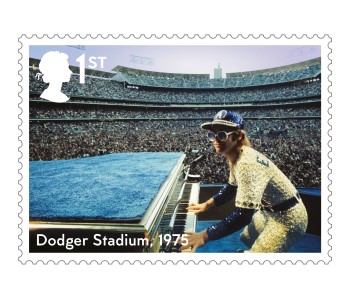 £1.55 – Dodger Stadium, 1975: The "West of the Rockies Tour" was a North American concert tour in support of his 10th studio album "Rock of the Westies". The tour included a total of 17 shows across the United States and Canada.
---
If you're interested…
You can now own the complete set of eight new Elton John stamps and official Miniature Sheet together on an exclusive limited edition FRAMED presentation. Professionally mounted and ready-to-hang, just 995 will EVER be issued. Click here for more information >>>