Posts Tagged 'collecting stamps'
Revealed for the first time today, Royal Mail are set to release 10 NEW James Bond stamps, to celebrate the milestone 25th film in the franchise, No Time To Die.
Scheduled for release on 17 March 2020, the complete set of ten BRAND NEW 2020 stamps pays tribute to the six beloved Bond actors – Connery, Moore, Dalton, Lazenby, Brosnan and Craig – as well as some of Q Branch's most well-known gadgets on the exclusive Miniature Sheet – including the Lotus Esprit Submarine, Aston Martin, Bell-Textron Jet Pack and Little Nellie.
The stamps are likely to prove immensely popular with the British public, and collectors throughout the world!
Here's your first look at the NEW James Bond stamps…
Daniel Craig as James Bond in Casino Royale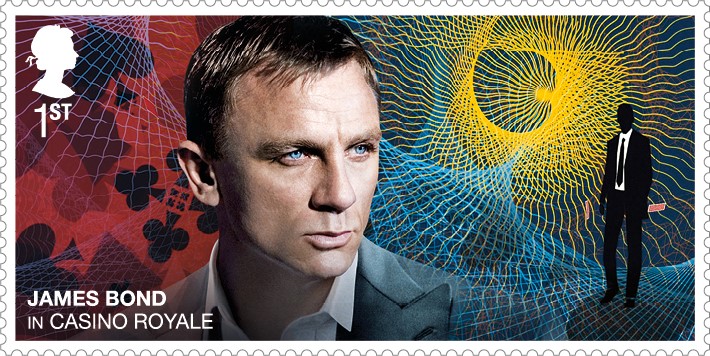 Pierce Brosnan as James Bond in Goldeneye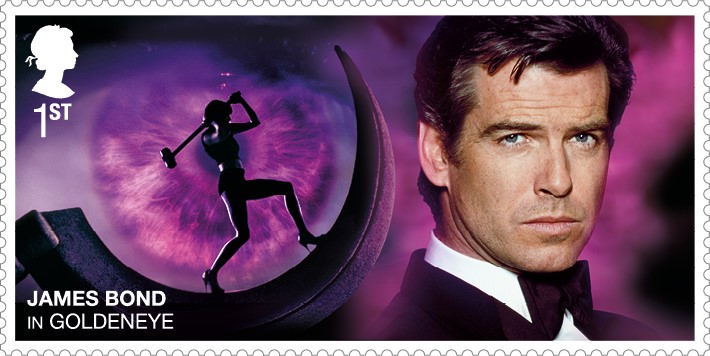 Timothy Dalton as James Bond in The Living Daylights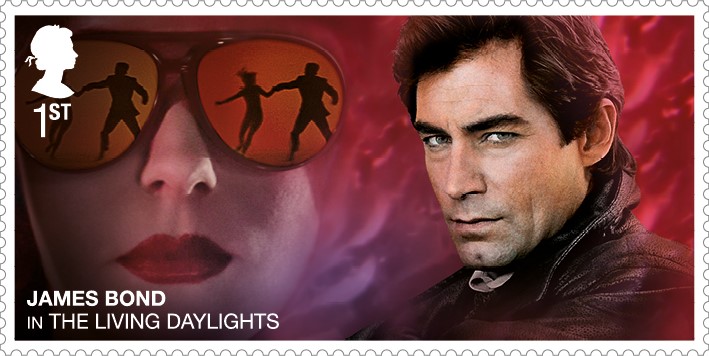 Roger Moore as James Bond in Live and Let Die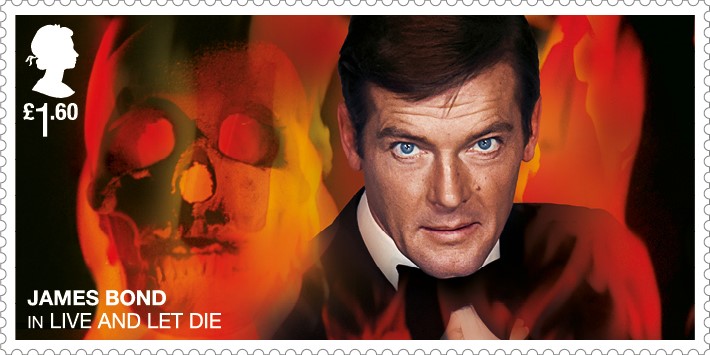 George Lazenby as James Bond in On Her Majesty's Secret Service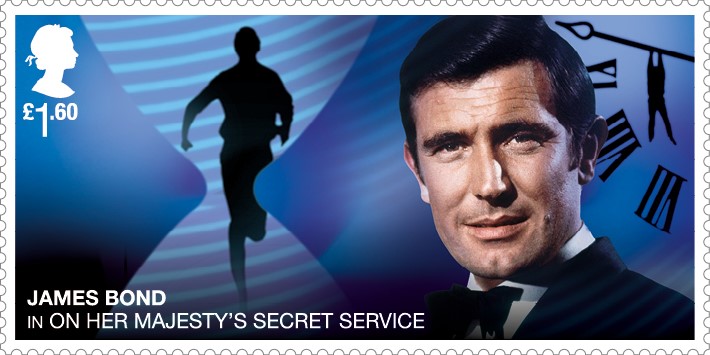 Sean Connery as James Bond in Goldfinger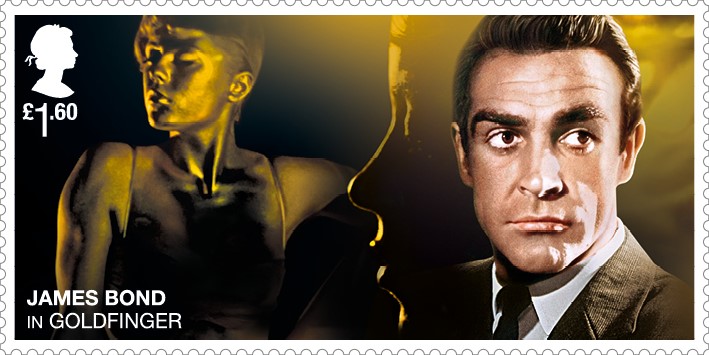 The NEW and official UK James Bond Stamps are sure to Shake and Stir collectors
The Bond films are the longest running series in film history with James Bond known all over the world. The films are renowned for many features, including the musical accompaniment, with the theme songs having received Academy Award nominations on several occasions, and two wins.
Another important element to the Bond franchise are 007's gadgets, including his cars and guns, which he is supplied by Q Branch.

It is these iconic gadgets which are the focus of the Minisheet in the stamp issue. Celebrating some of Q Branch's most well-known gadgets, and centring around arguably the most famous one of them all, Bond's DB5.
This miniature sheet isn't quite as it seems; look at the sheet under a UV light and all will be revealed where detailed specs of each gadget will become clear. In another unusual feature the stamps carry a unique 007 perforation.
---
If you're interested…
You can reserve all of the NEW Royal Mail James Bond stamps right now, postmarked with the First Day of Issue of their release, and protectively encapsulated to preserve their pristine condition for generations. Click here for details >>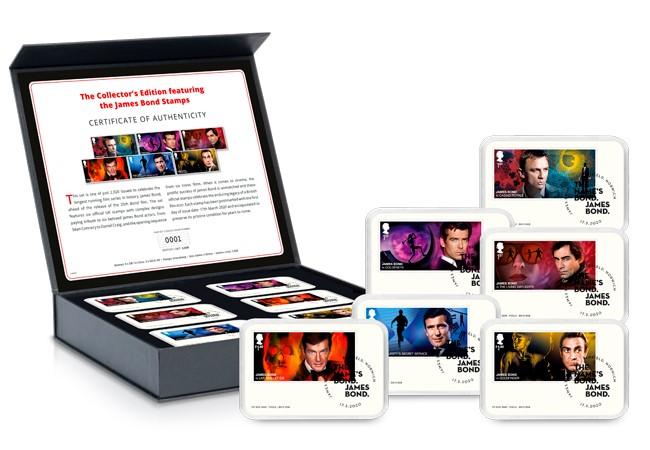 Royal Mail have today announced the release of BRAND NEW Elton John stamps, which will mark a tribute to one of the UK's greatest music legends on the 50th anniversary of his first album, Empty Sky.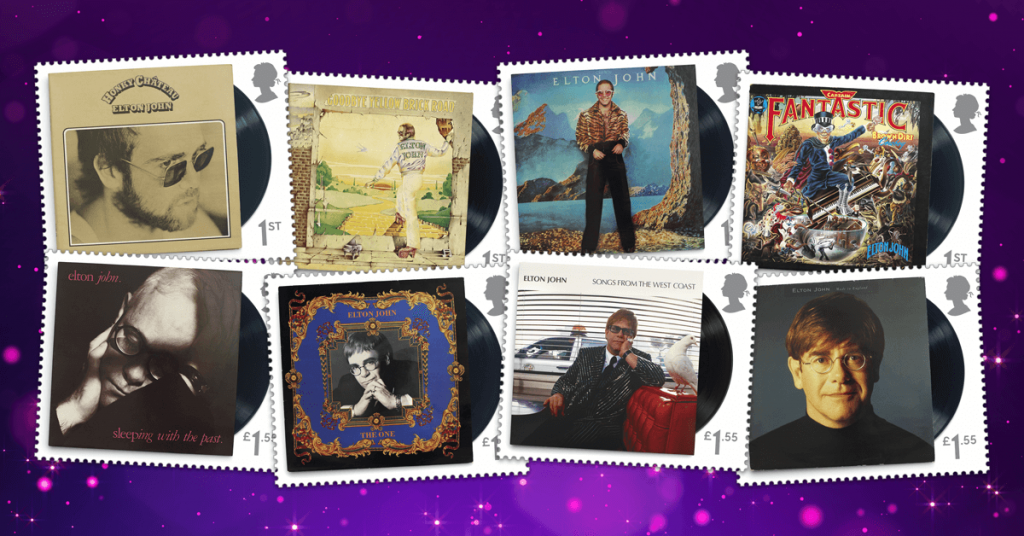 The 'Music Giants III Elton John' stamps are Royal Mail's third dedicated music artist stamp issue, following from their very successful Pink Floyd and David Bowie releases in 2016 and 2017.
Officially released today, 3 September 2019, the stamps will feature the iconic album covers and live performances from 1972 through to his final tour – Farewell Yellow Brick Road – at Madison Square Garden.
This is the first time Elton John has ever featured on UK stamps, and as such these are guaranteed to prove a hit with collectors!
Take a first look at the NEW Royal Mail Elton John Stamps and find out more about each of them below…
---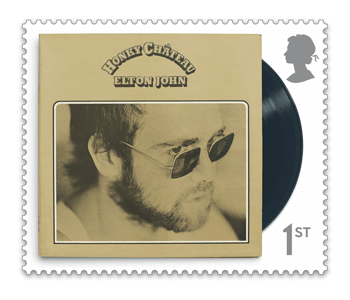 1st – Honky Château: Recorded in the Château d'Hérouville near Paris, Honky Château was Elton John's breakthrough pop album, home to 'Rocket Man' – one of three songs he composed on the morning of the first day of recording.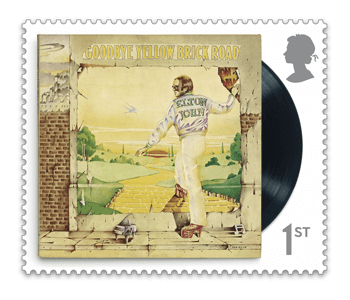 1st – Goodbye Yellow Brick Road: A double album that perhaps represents the artistic pinnacle of Elton's 1970s' career, a teeming, eclectic songwriting masterclass that features 'Candle in The Wind', 'Saturday Night's Alright for Fighting' and 'Bennie and the Jets'.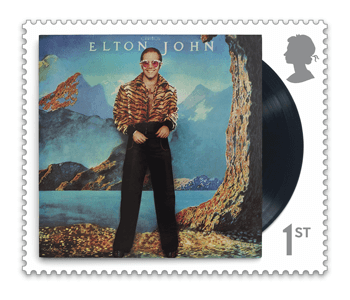 1st – Caribou: His fourth consecutive US number one album, Caribou, is best-known for 'The Bitch Is Back' and the epic 'Don't Let the Sun Go Down on Me', but its most striking moment might be 'Ticking', the eerie saga of an armed siege in a bar.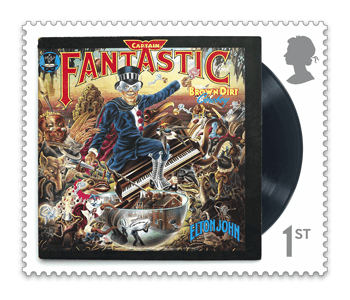 1st – Captain Fantastic and The Brown Dirt Cowboy: A concept album on which lyricist Bernie Taupin recounts the early days of his and Elton's career, complete with a vivid depiction of Elton's 1968 suicide attempt, 'Someone Saved My Life Tonight'.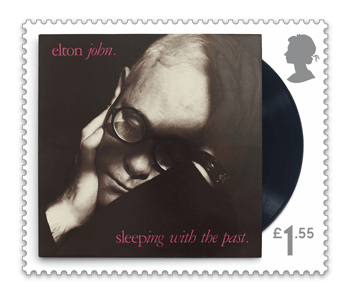 £1.55 – Sleeping with The Past: The last album Elton John made before going into rehab was intended as a homage to the soul and R 'n' B music that had inspired him in the 1960s: in 'Sacrifice', it produced his first UK solo number one single.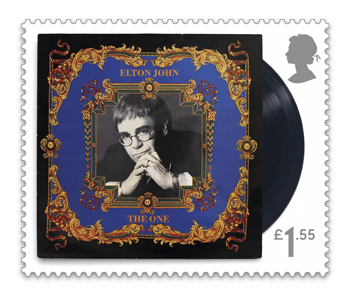 £1.55 – The One: The cover designed by Gianni Versace, its lyrics haunted by the unfolding AIDS crisis and Elton's battle with drug addiction, The One re-established the now clean and sober Elton John.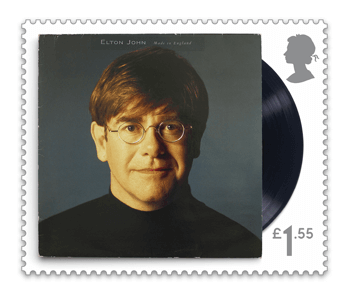 £1.55 – Made in England: Largely recorded live in the studio, Made in England's upbeat title track – a hit single in 1995 – masks the rest of the album's mature mood, which features reflections on ageing both positive and negative.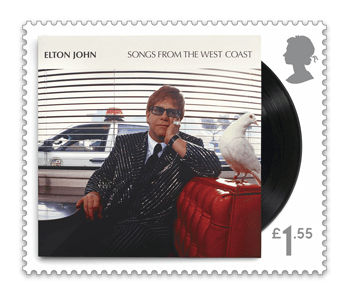 £1.55 – Songs from The West Coast: "Going backwards to go forwards", as Elton put it, Songs from The West Coast returned to the warm sound of his early 1970s' albums and offered his and Taupin's strongest collection of songs in years. A latter-day triumph.
---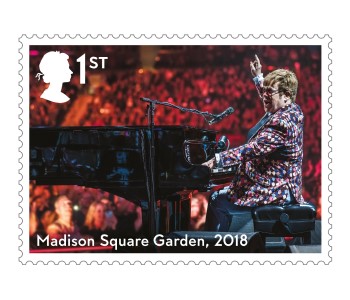 1st – Madison Square Garden, 2018: Farewell Yellow Brick Road is an ongoing tour that began in Allentown, Pennsylvania on 8 September 2018. It is intended to be John's final tour and will consist of more than 300 concerts worldwide, over three years.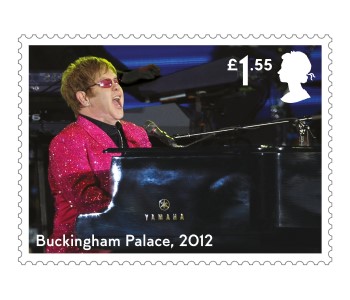 1st – Buckingham Palace, 2012: On 4 June 2012 Elton John performed at the Queen Elizabeth II Diamond Jubilee Concert at Buckingham Palace. His setlist included "Your Song", "Crocodile Rock" and "I'm Still Standing"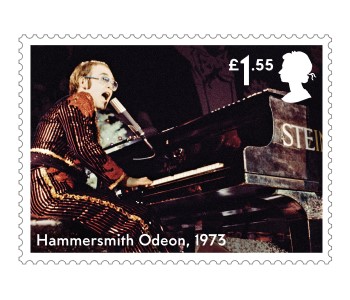 £1.55 – Hammersmith Odeon, 1973: Live in concert at West London's Hammersmith Odeon in December 1973, Elton's "Christmas Party" received national coverage on BBC radio in the UK.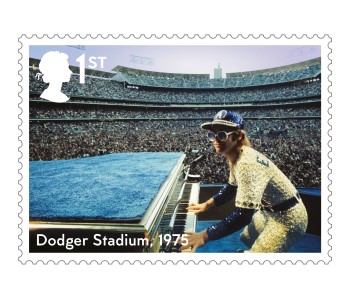 £1.55 – Dodger Stadium, 1975: The "West of the Rockies Tour" was a North American concert tour in support of his 10th studio album "Rock of the Westies". The tour included a total of 17 shows across the United States and Canada.
---
If you're interested…
You can now own the complete set of eight new Elton John stamps and official Miniature Sheet together on an exclusive limited edition FRAMED presentation. Professionally mounted and ready-to-hang, just 995 will EVER be issued. Click here for more information >>>
Revealed for the first time today, Royal Mail are set to release 15 new MARVEL stamps, to celebrate 80 years since the founding of MARVEL Comics, and its irrefutable impact on British culture.
Scheduled for release on 14 March 2019, the new stamps will feature 10 of the best loved characters from Marvel's illustrious history, including Spider-Man, Iron Man, Hulk, Thor, Black Panther, and Doctor Strange, as well as an exclusive Miniature Sheet like no other – five bonus Marvel stamps that form part of a ten-panel never-before-seen comic book strip in which the Mad Titan, Thanos, launches a deadly attack on the world.
The stamps are Royal Mail's first ever MARVEL Comics stamp issue, and are likely to prove immensely popular with the British public, and collectors throughout the world!
Here's your first look at the new stamps alongside a bit of info about each one…
Spider-Man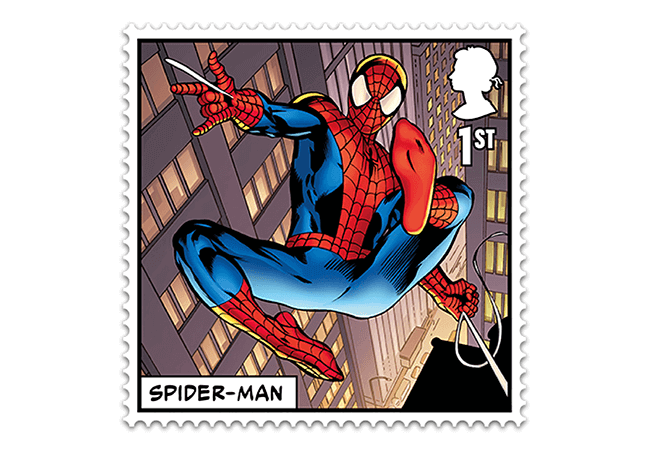 Peter Parker is Spider-Man, New York's amazing web-slinging hero. Bitten by a radioactive spider as a teenager, Peter Parker gained arachnid-like abilities and, after his Uncle Ben was murdered, swore to use his abilities to help others – having realised that with great power comes great responsibility.
Captain Marvel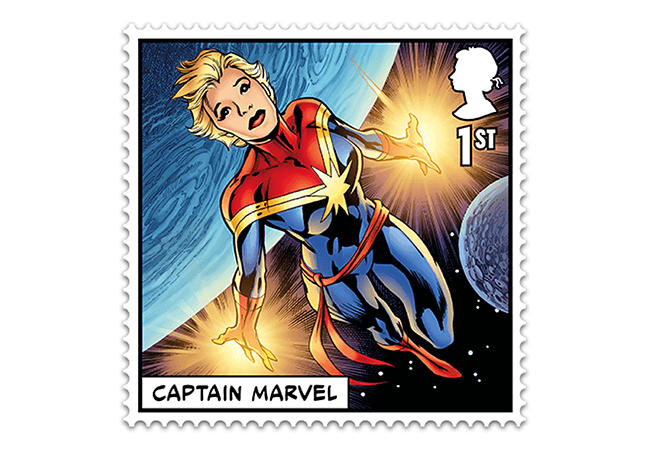 Carol Danvers was an Air Force officer when she met Kree hero Captain Mar-vell. After her DNA mixed with his during an explosion, she gained super powers and took the name Ms Marvel. Following the original's death, Carol took on the mantle of Captain Marvel to honour his legacy.
Hulk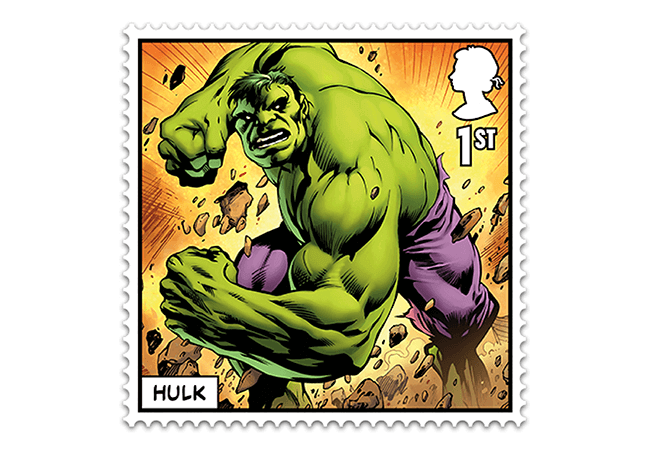 When mild-mannered scientist Bruce Banner was bombarded by radiation from a gamma bomb, he was transformed into the incredible Hulk. The green-skinned behemoth is one of the planet's most powerful and misunderstood heroes – feared by a world he has saved numerous times.
Captain Britain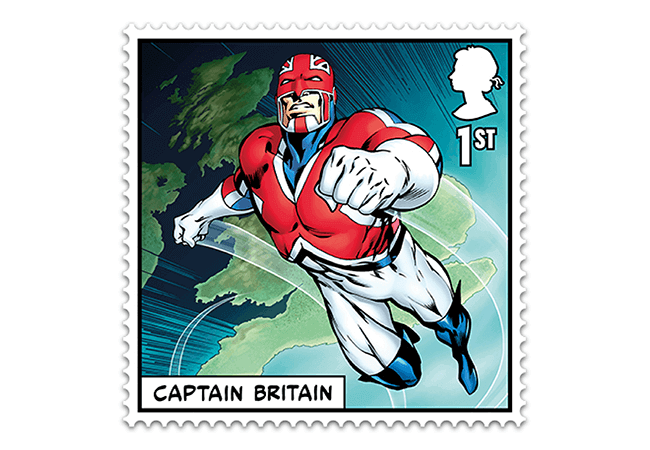 Brian Braddock was chosen by Merlyn to be Britain's greatest protector. Granted amazing powers, Brian became Captain Britain. He soon learned he was part of a multidimensional Captain Britain Corps and has fought alongside Excalibur and the Avengers to keep his country – and the world – safe from harm.
Doctor Strange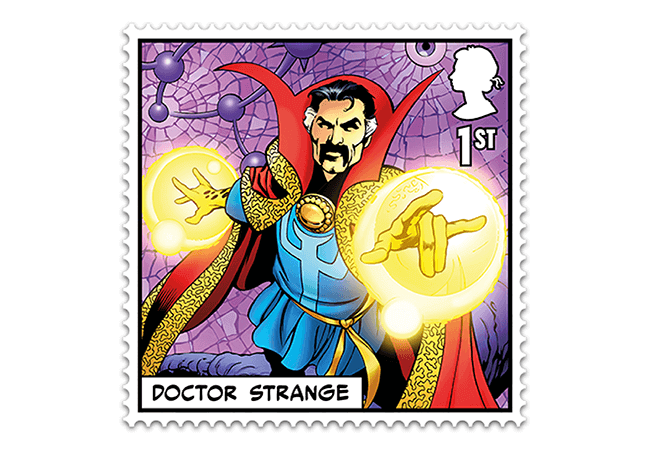 Once a brilliant yet vain surgeon, Stephen Strange sought out the help of the Ancient One when his hands were badly damaged in a car crash. Strange's path led him to become a Master of the Mystic Arts and Earth's Sorcerer Supreme, protecting the world from evil forces.
Peggy Carter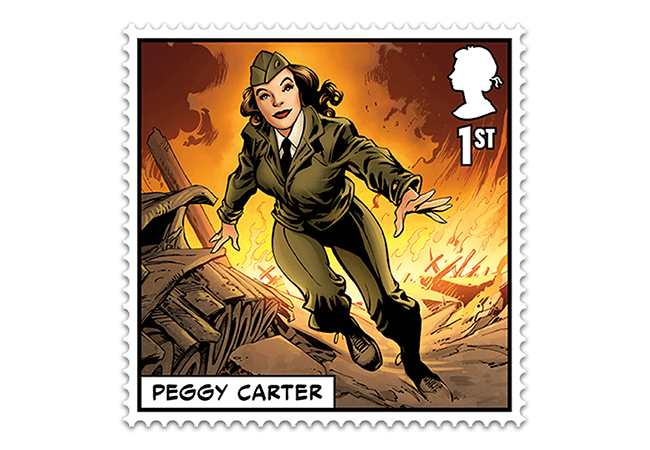 Peggy Carter was working for the French Resistance in the Second World War when she met and fell in love with Captain America. The two fought the Axis powers together before they were separated by the war. Peggy went on to become a leading agent of S.H.I.E.L.D. (Strategic Homeland Intervention, Enforcement and Logistics Division).
Iron Man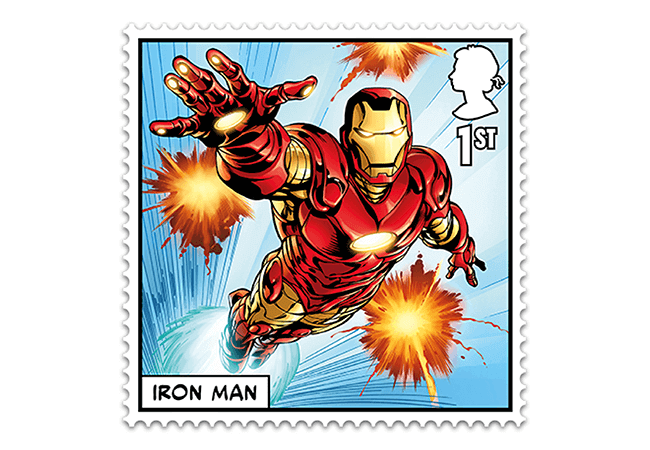 When terrorists captured billionaire inventor Tony Stark, they forced him to create weapons. With shrapnel near Stark's heart endangering his life, Stark tricked the terrorists, building a suit of powered armour to defeat them. It was the birth of the armoured Avenger – the invincible Iron Man.
Union Jack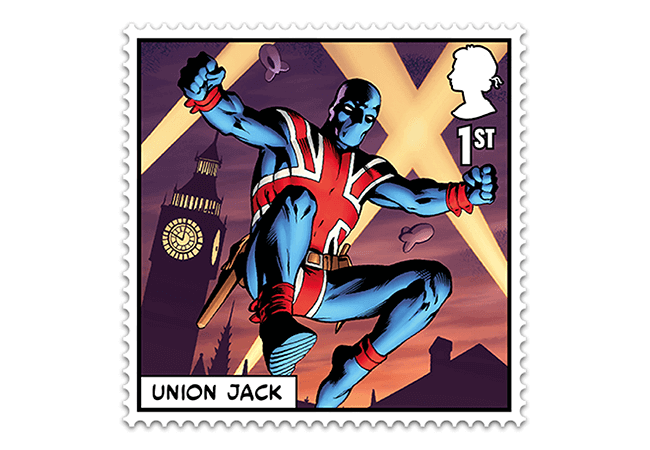 The original Union Jack was Lord James Falsworth, who fought in the First World War. When his descendant refused to take on the role, the mantle was passed to Joey Chapman, a working-class hero from Manchester, who has gone to fight alongside the Knights of Pendragon and the Invaders.
Black Panther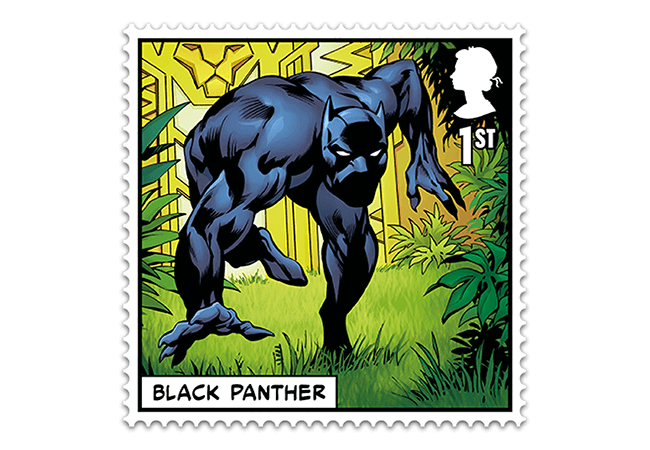 T'Challa is the Black Panther, ruler of the technologically advanced African nation of Wakanda and protector of its valuable vibranium supply. T'Challa first travelled to America to learn more about that country's heroes and soon became a leading member of the Avengers.
Thor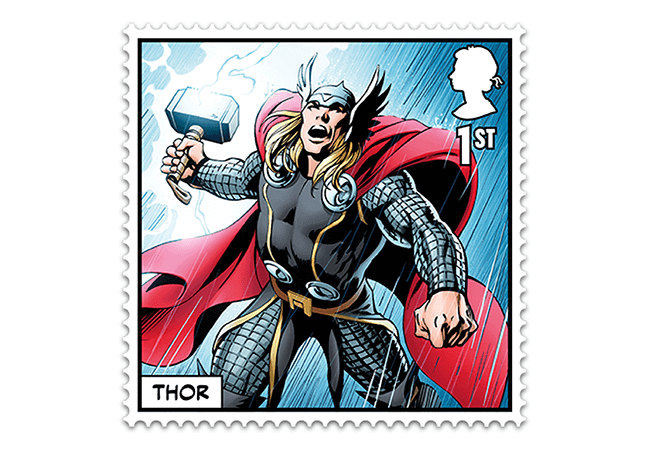 Thor is the Norse God of Thunder. Once cast out of Asgard for his pride, he was trapped on Earth as the injured doctor, Donald Blake. Thor's banishment is long ended and now he protects both Earth and Asgard as an Avenger.


The new and official UK MARVEL Stamps are sure to be a [HULK] SMASH with collectors
Generations have grown up with these timeless superheroes in comic books and more recently in hugely successful movies, and Royal Mail are celebrating this beloved pop-culture theme with original artwork by renowned British illustrator Alan Davis – long-time artist for MARVEL Comics.
Many of the classic superheroes celebrated in the new stamp issue were created in the 1960s, and in the 1970s a UK MARVEL imprint was created for British fans. 'Captain Britain Weekly' was launched in 1976, featuring the adventures of the first MARVEL UK superhero, closely followed by another British character, Union Jack. Both these take their place in the ranks of superheroes in the stamps.
This BRAND NEW set of Royal Mail Stamps are officially licensed and approved by MARVEL and feature a stunning set of 10 First Class stamps in the form of never-seen-before illustrations by renowned MARVEL Comics artist Alan Davis, including an original and exclusive comic book story contained in the miniature sheet, which is sure to be a must have for all MARVEL comic-strip fans and collectors alike.
This original, never-seen-before story with a unique British twist (look out for Trafalgar Square and the Gherkin!) has been specially written and designed by MARVEL and will only ever be available on the Miniature Sheet.
---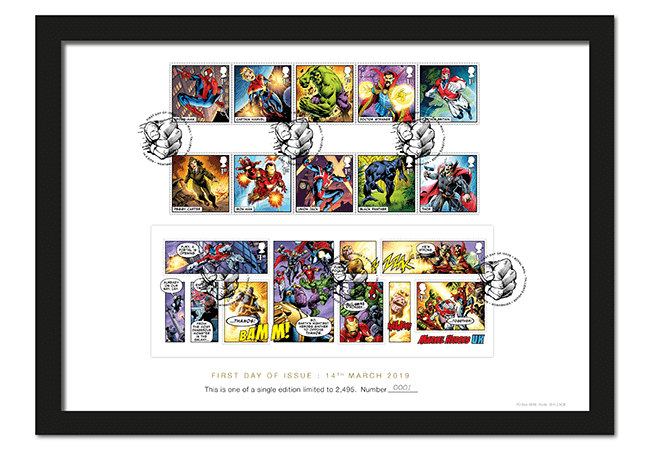 If you're interested…
You can reserve all of the new MARVEL Comics Stamps right now on a Limited Edition Collector Card – Professionally Framed and ready to hang. Click here for details>>>