Posts Tagged 'collectable'
Royal Mail have just announced the release of BRAND NEW Queen Stamps to commemorate 50 years since the iconic band was first formed in 1970.
The stamps will be officially released on 9th July 2020 – but are available to pre-order now, professionally mounted and framed, ready to display.
The stamps feature the most iconic album covers of the band, as well as stamps depicting each of the band members at live performances, from 1975 to their final live performance with Freddie Mercury in 1986.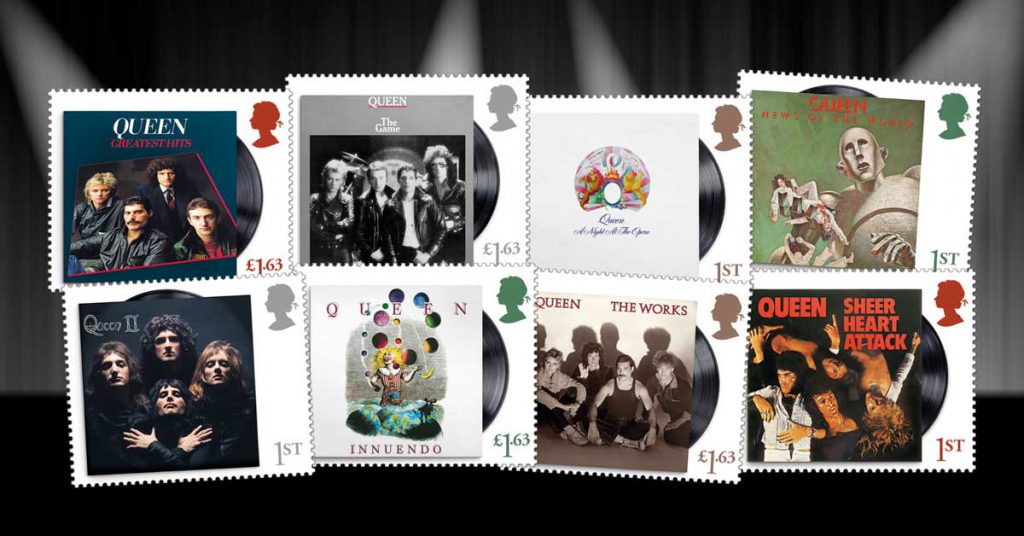 Importantly, only one stamp before now has ever featured Freddie Mercury alone – this is the first time Queen as a whole has ever featured on UK stamps – and as such these are guaranteed to prove a hit with collectors!
Here's your guide to the most collectable versions of the new Queen stamps…
---
The Framed Edition
The Framed Edition of the NEW Queen stamps features Royal Mail's official Collector Sheet, and is one of just 2,995 that will ever be issued.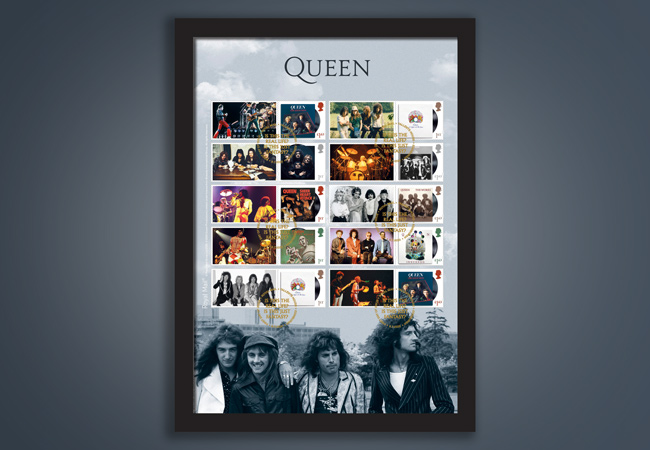 The Framed Edition includes all eight new album stamps, as well as ten EXCLUSIVE Philatelic Labels featuring different images of the band.
Click here to pre-order your Framed Edition now >>>
The Definitive Edition
What sets the Definitive Edition apart from all other issues, are the stamps. You see, this edition comprises EVERY official Royal Mail stamp released for Queen and its members, from the complete set of thirteen NEW Queen Stamps, to the extremely sought-after 1999 Freddie Mercury issue.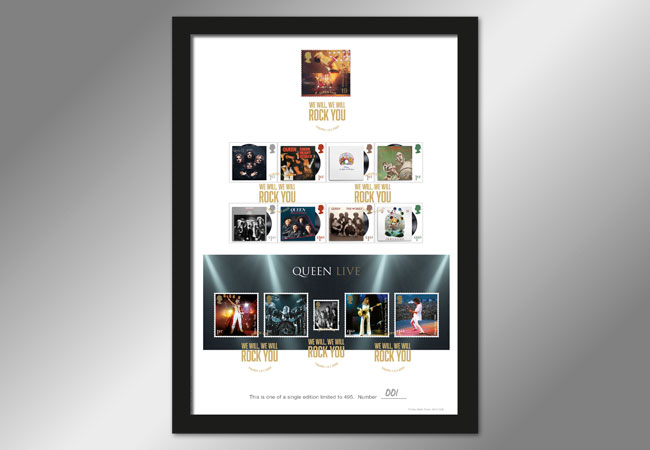 The Definitive Edition is strictly limited to JUST 495 and will come professionally mounted and framed, ready to display in your home or office.
Click here to pre-order your Definitive Edition now >>>
The Ultimate Edition
What makes the Ultimate Edition 'ultimate' is the fact that it comprises BOTH official Royal Mail First Day Covers alongside the stamps' official release notes – and has been professionally mounted and framed, ready for you display in your home or office.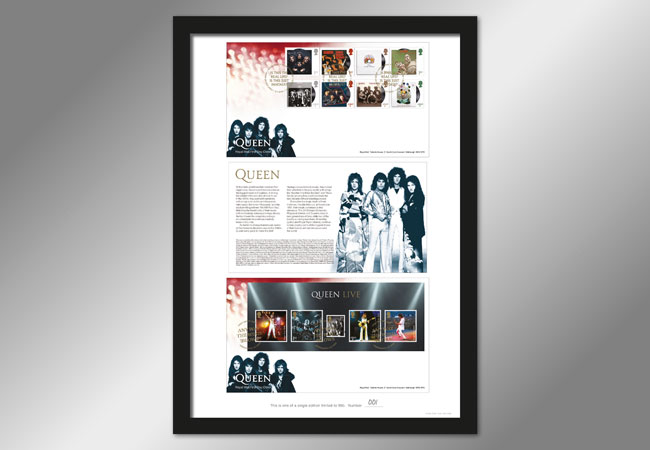 A MUST-HAVE piece of memorabilia for any fan of Queen, the Ultimate Edition is strictly limited to JUST 995 sets worldwide…
Click here to pre-order your Ultimate Edition now >>>
The Vinyl Edition
The Vinyl Edition is the defining tribute to Queen; featuring the official Royal Mail A Night at the Opera stamp alongside a pristine, unplayed vinyl edition of the actual album.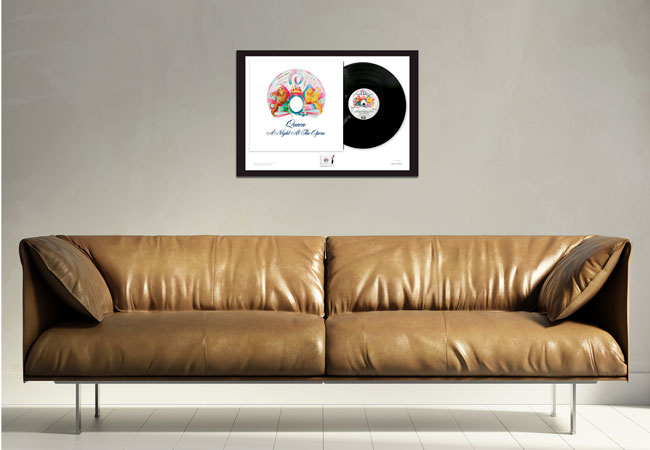 Paired together, the stamp and classic vinyl album make a genuinely superb wall display. They give that iconic cover artwork the place it deserves – displayed like the piece of art it is – not hidden away on a record shelf.
JUST 250 will ever be issued, so you will need act now to secure yours and take advantage of our no-interest monthly instalments.
Click here to pre-order your Vinyl Edition now >>>
---
With such low edition limits across the range, you'll need to be quick to secure your framed Queen stamps.
Click here to shop the full range and pre-order yours today.
I don't know about you, but I'm counting down the days until James Bond – or better known by his MI6 codename 007 – will be returning later this year in the hotly-anticipated 25th Bond film, No Time To Die.
But what's perhaps even more exciting is that the Royal Proclamation issued on 14th February 2020 confirmed a BRAND NEW coin series featuring the British secret agent will be issued – just in time for the release of the new movie!
Much like many of Bond's missions, the details of these coins are a closely guarded secret. But your mission, should you choose to accept it, is to register your interest below, so that when the new coins are released you'll be the first to know.
In the meantime, let's take a closer look at the Royal Proclamation to see what is in store for this exciting new series…
007 to feature on THREE coins
According to the Proclamation there will be not one, not two, but three coins issued in the series. The designs have been confirmed to feature the following:
The Bond car from Goldfinger set against the 007 logo with the inscription 'Bond, James Bond'.
The Bond car from The Spy Who Loved Me set against part of the 007 logo and the inscription 'Pay attention 007′.
A depiction of James Bond's torso in a dinner jacket and bow tie set against a part of the 007 logo with the inscription 'Shaken not stirred'.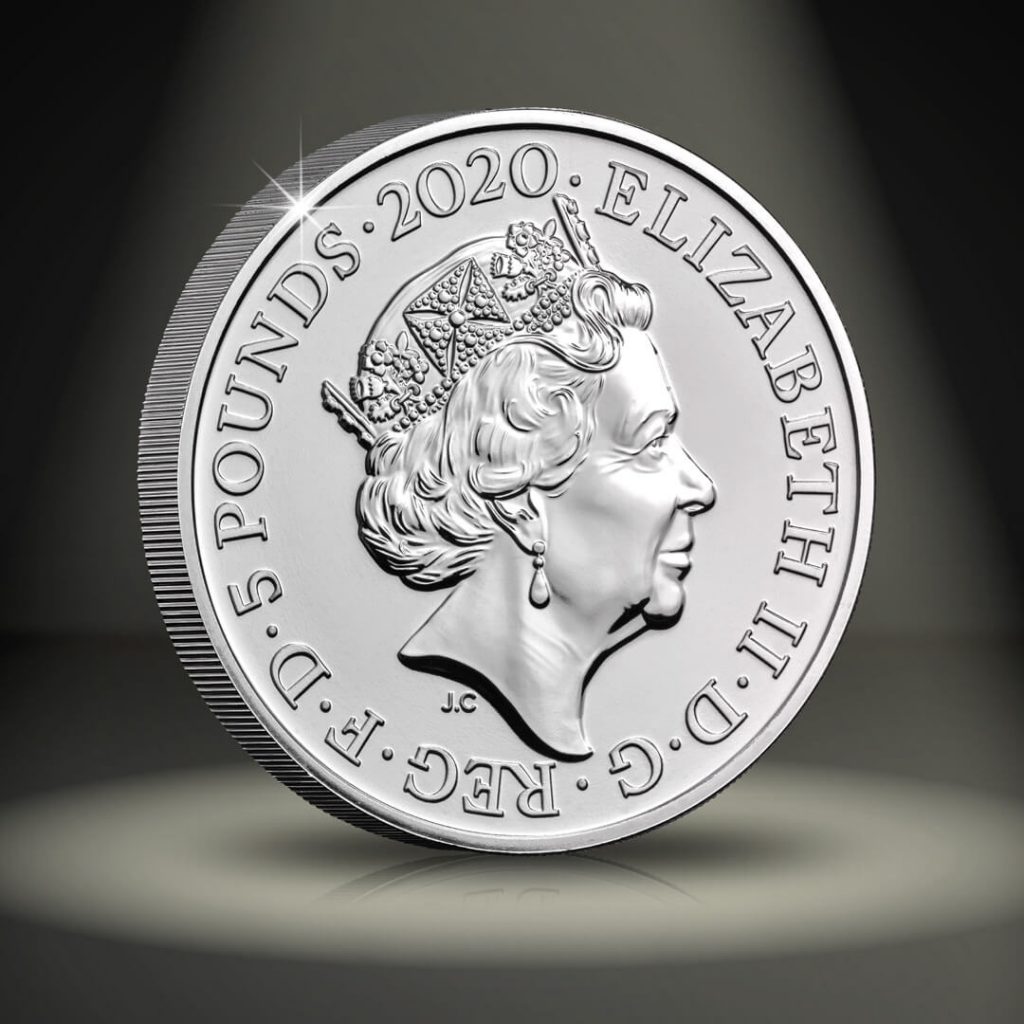 From this I think we can safely say that all three designs will feature iconic James Bond images that we've grown to know and love, and will instantly recognise from the films.
It also looks like this commemorative Bond coin will be issued in a variety of base and limited edition precious metal specifications and denominations. This includes a Brilliant Uncirculated £5 coin and a Silver £2 coin.
Not the first time Bond features on a UK coin…
However, eagle eyed collectors will know that this isn't the first time the suave secret agent has featured on a UK coin. He made his debut appearance in the Royal Mint's A-Z 10p coin series, taking the 'B' for 'Bond' spot.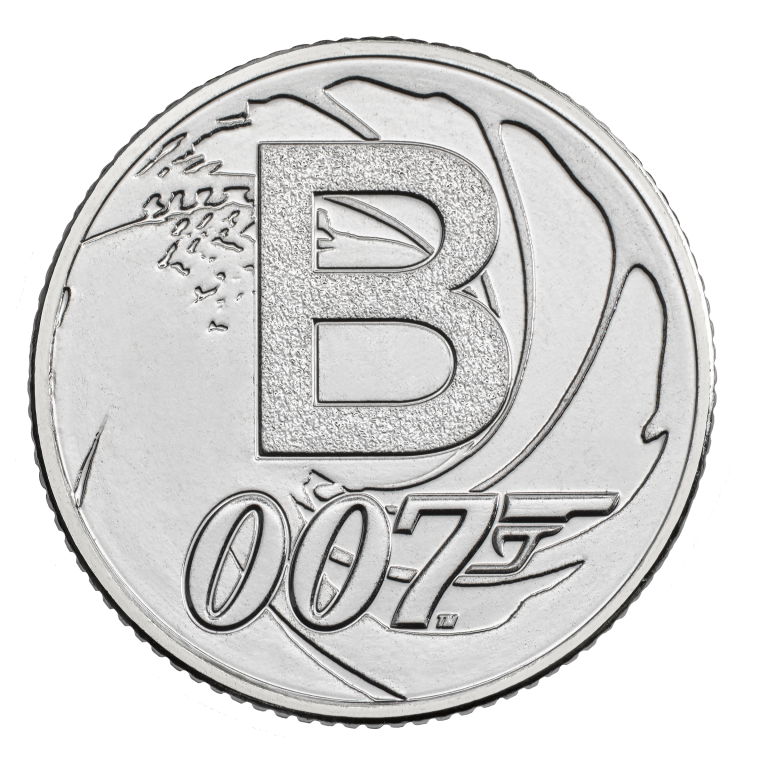 Out of all the A-Z 10p designs, 'Bond' is widely considered to be the most popular. This makes me certain that this brand new James Bond series WILL to be a real hit with collectors!
---
If you're interested…
It goes without saying that Bond has an unrivalled cult following with leagues of fans worldwide. So, I expect these new commemorative issues to be in high demand… Click here to see the full range!
The Stories of British Coins Collection includes 16 of the most remarkable coins from over 200 years of British history, but many of them are in high demand and difficult to source, especially those which are historic artefacts in their own right!
Join Adam as he unboxes a fascinating coin collection that together tells the story of Britain.
---
Find out more and add the set to your collection by clicking here >>