The Royal Mint have just released this year's Remembrance Day coin, however we're not expecting there to be enough coins for our collectors!
You see, even as an official distributor of Royal Mint coins, we have only been able to secure a tiny allocation of todays release.
As I'm writing this I can see we currently have JUST 144 Silver Proof, and ONLY 17 Silver Proof Piedfort coins in stock!
So if you're interested in adding this must-have Remembrance coin to your collection you'd best be QUICK, as our stock levels are dropping FAST.
Watch my latest video to find out everything you need to know.
---
If you're interested…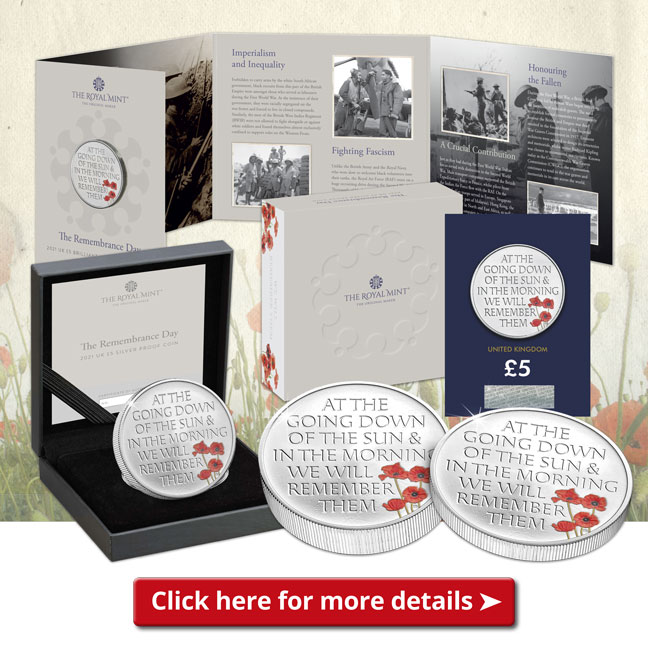 Tomorrow on 28th October a Victorian £5 Banknote is set to sell at auction catalogued at up to £12,000! Now you might be wondering how an old piece of paper could be worth such an extortionate price. Well, even though it is over 150 years old, the banknote is in pristine condition – almost as if it has come straight from the Victorian Cashier who issued it himself!
The £5 Banknote, dated for the 28th December 1863 is a representation of the height of the industrial period and the advances made in Victorian Britain. In fact the design and printing technology was so advanced that the exact design was used up until 1956! You see, British Banknotes have an incredible history that is often overlooked in the collecting world…
The First UK Banknote
In 1694 King William III was at war with France, and as is often the case with warfare, the financial state of the nation was put under pressure. And so the Bank of England was established. One of its main jobs was to issue banknotes in return for deposits of gold or silver. It's thought that the first banknote ever issued was one for £1000! But seeing as most people's wages were less than £20 a year in those days, most people never saw a banknote.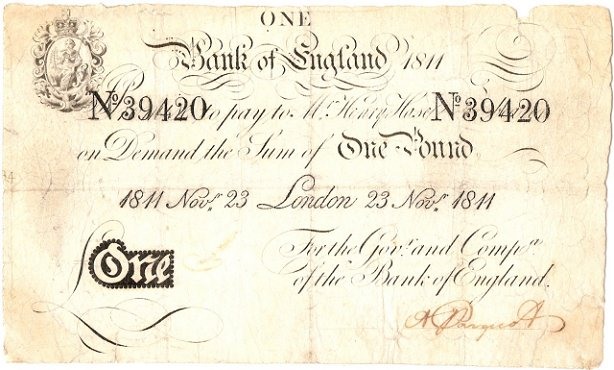 Each banknote was handwritten on bank paper addressed to the payee, and signed by a cashier to authenticate it –sort of like a modern day cheque. This is a tradition that continues today as each banknote is issued with the Chief Cashier's signature.
"I promise to pay the barer on demand the sum of five pounds"
Before 1853 banknotes were completely handwritten, but the innovation of the Victorian period meant that templates for banknotes could be printed. Therefore cashiers no longer had to sign each note individually. The words "I promise to pay the bearer on demand the sum of Five pounds" were introduced to link the notes to a physical gold value. In theory, anyone could go to the bank and ask them to give them £5 worth of gold in exchange for a £5 banknote, although the meaning has changed today, the tradition remains on the banknotes.
Emergency Wartime issues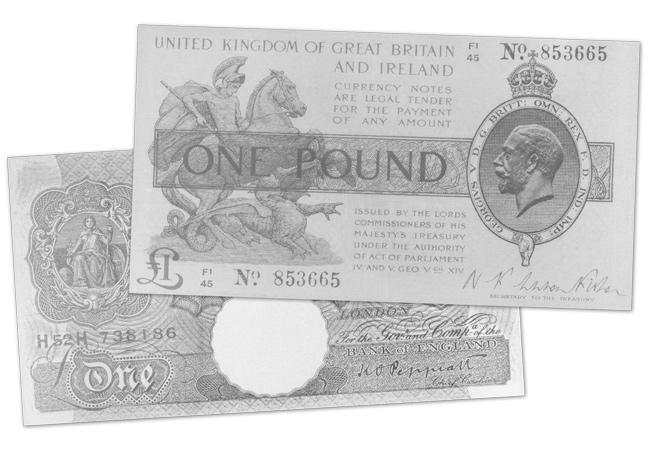 During the First World War, gold was preserved by the government and gold coins in circulation had to be withdrawn. To replace these coins, the Bank of England needed to make a large supply of £1 and 10/- notes available, but the haste at which these were produced meant that there were huge security problems. The notes were too small for cashiers to handle and they had very few anti-counterfeiting measures, but the notes themselves played a vital role in keeping the economy going.
The Second World War Nazi threat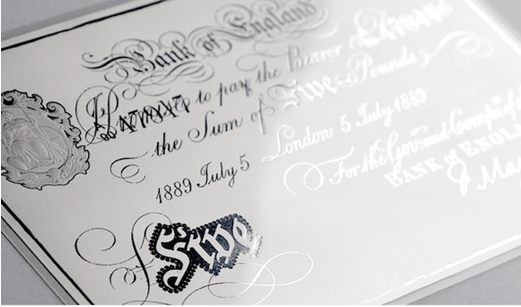 During World War Two, the British government found out about a Nazi plot to introduced thousands of fake banknotes to destabilise British currency. However the Bank of England took emergency action and changed the colour of some of the notes for the duration of the war. The Nazi's could not match the high levels of security features on the British banknotes and their plans failed.
Polymer banknotes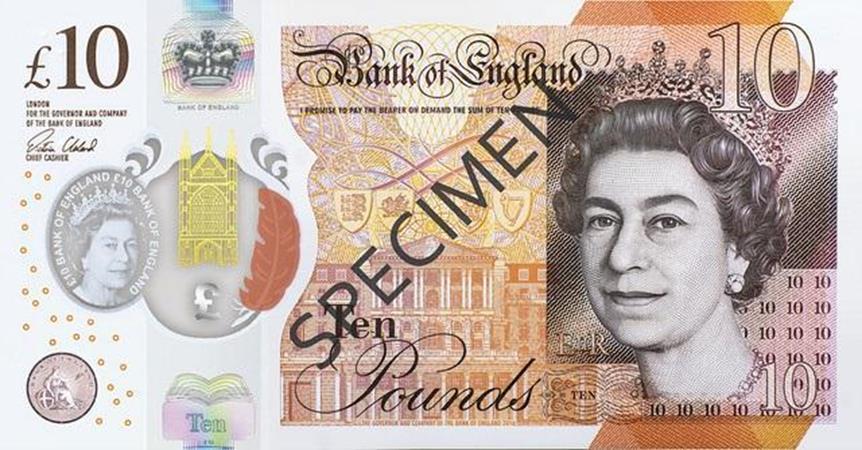 Today historic banknotes are harder and harder to get hold of, especially the ones in good condition, and those that are will often sell for thousands of pounds. Few have seen the earlier banknotes, and a small number of us remember using pre-decimal or war time banknotes in our childhoods. This is largely because the paper design which made them more susceptible to damage, so many have been lost over time. The new polymer banknotes first issued in 2016 marked a monumental change in numismatic history, bringing new technology and innovation to our pockets.
---
If you're interested
Today you have the chance to own a limited edition pair of Emergency Wartime Banknote reproductions, each struck from 5g of FINE SILVER.
The Emergency Banknotes each carry a fascinating story, and your Silver versions come complete in a presentation folder telling the full story of how these banknotes helped Britain win the war.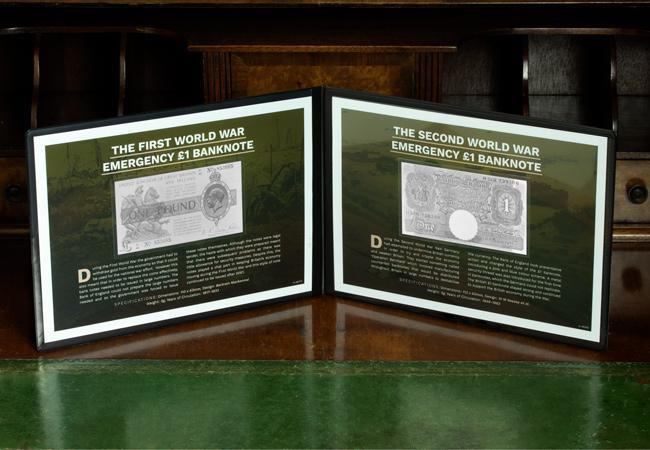 JUST 100 of these special FINE SILVER banknotes pairs are available, so click here to order yours now, before it's too late >>
Last month, I had a fantastic opportunity to get up close and personal to one of the world's most famous aircraft – the Spitfire!
The iconic Supermarine Spitfire was critical in defeating Luftwaffe air attacks during the Battle of Britain in 1940, and so to mark the 80th anniversary this year, I knew we had to arrange something unique to produce a truly special collectable coin worthy of the historic anniversary.
So on the 23rd July I drove up to the historic Duxford Aerodrome to have 1,000 brand new Proof £5 coins flown in an original WWII Spitfire.
Now the purpose of my visit was to have 1,000 Official Battle of Britain £5 coins flown in an original WWII Spitfire, but I was also able to talk to RAF Flight Lieutenant Antony 'Parky' Parkinson in great detail about his time in the RAF and as an ex-Red Arrow ahead of the Battle of Britain anniversary. You can see Parky discussing his career and the Spitfire in the video below…
Before Parky took the 'NH341' Spitfire to the air, I helped him secure the 1,000 Battle of Britain Spitfire £5 coins into the wing bays which would have once held the fighter plane's armaments while defending Britain in the skies 80 years ago. The space in the wing bays is extremely limited, hence the limited number of coins that were able to be taken to the sky.
Standing within a few feet as the famous Rolls Royce engine fired up, I watched in awe as the elegant, agile aircraft taxied along the runaway and gracefully took to the skies.
Although many 80th anniversary plans up and down the country have had to be cancelled, I am delighted to be able to give a limited number of collectors the opportunity to become the proud owner of the BRAND NEW Official Proof £5 coin that has been flown in an original WWII Spitfire plane. But that's not all, as I was also able to arrange for them to be personally hand-signed by Parky.
The brand new Spitfire £5 coin is a fantastic commemoration of the famous plane and I am grateful that I had the opportunity to mark the 80th anniversary of the Battle of Britain with such a fitting tribute.
So I'm sure you can appreciate what a genuinely rare collectable these will instantly become and demand is expected to exceed availability. If you wish to secure one for your collection, you need to act quickly by clicking here.
Thank you to Flight Lieutenant Antony Parkinson MBE and the rest of the team at Aerolegends for helping to take the Spitfire £5 coins to the sky and for giving me the opportunity to see this famous warbird in the flesh.
---
If you're interested, you'll need to be quick as over 50% have already been reserved. You can secure the Official Battle of Britain Proof £5 coin now for JUST £35 by clicking here >>
And remember, not only will your official Battle of Britain £5 Proof coin have been flown in an original WWII Spitfire, it is also one of just 1,000 coins that have been personally signed by Lieutenant Antony Parkinson 'Parky', MBE.