*** BRAND NEW Battle of Britain coins – on sale now ***
This year marks the 80th Anniversary of the Battle of Britain. Fought over British skies during 1940, the battle was a turning point in WWII and ultimately saved Britain from German invasion.
In 1940, a terrifying dark shadow descended over Europe. The relentless advance of Hitler forces overwhelmed everything in their path and the world suddenly became very dark. Following the evacuation of French and British soldiers from Dunkirk and the subsequent French surrender on 22nd June 1940, Hitler believed that WWII was practically over and that Britain would quickly come to terms. However, even with a seemingly unstoppable enemy on the doorstep, Winston Churchill stepped up to become Britain's wartime leader and refused to surrender.
On 10th July 1940 a battle was fought – and won – by a courageous few; arguably one of the crucial turning points that led to British Victory in WWII.
The Battle of Britain remains one of the truly great chapters in our history, and to mark 80 years since that momentous battle, a brand new range of commemoratives have been issued. Whether you're looking for the new centrepiece for your collection, you're an avid collector, a Military enthusiast or you're looking for the perfect tribute, there's bound to be something within the range for you.
Click here to view the 2020 Battle of Britain 80th Anniversary range >>
Or, find out more about each of the stunning coins we have available below….
JUST 150 collectors can own this BRAND NEW Battle of Britain Silver 5oz Coin
Struck in five ounces of 925/1000 solid silver, this coin barely fits in the palm of your hand. Not only is the size and weight impressive – but so is its engraving.
Approved by Her Majesty the Queen, the reverse design has been created by renowned sculptor Mike Guilfoyle and takes inspiration from an old war-time poster synonymous with the Battle of Britain. The design features three pilots in front of an aircraft with the text 'The Battle of Britain 1940-2020' to honour the heroic efforts of the RAF in changing the course of WWII and leading us to victory.
Click here to secure this Silver 5oz Coin for your collection >>
Battle of Britain 80th Anniversary Gold Proof Sovereign – 15 times RARER than the UK's recent Gold Proof Sovereign!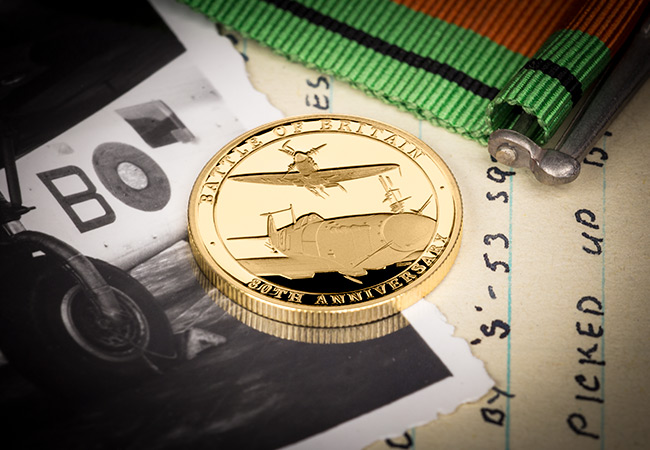 Over the years, the popularity of various coins have come and gone. But none have stayed as unrivalled as the Gold Sovereign. Quite simply, the Sovereign is without a doubt the world's premier Gold Coin. Struck from 22 Carat Gold to the exact same specification since 1817, it epitomises all that is British.
Issued in recognition of the historic Battle of Britain 80th Anniversary, this extremely limited Isle of Man Gold Proof Sovereign is limited to just 495 pieces. This is more than 15 times RARER than the UK's recent Gold Proof Sovereign. 495 coins is a tiny edition limit for a gold Sovereign-specification coin such as this.
This brand new British Isles Sovereign is the most important gold coin you can find right now. Click here to secure one for yourself >>
JUST 495 Battle of Britain 80th Anniversary Gold Proof Pennies Authorised
To mark such a historic anniversary, a special strike of 495 Solid Gold Pennies have been authorised. The release of a Gold Penny is an extremely rare event and one that collectors will look out for, especially as they are only issued to mark the most important anniversaries and are always severely limited. In fact, this is the most limited issue for some time.
The exquisite design features three Spitfire silhouettes engraved on to the coin to signify the bravery of all the RAF pilots who defended our skies In the summer of 1940. It has been struck in Solid Gold to the standard United Kingdom Penny diameter and finished in the collectors preferred finish, Proof.
Click here to secure one for you collection now >>
The Limited Edition Battle of Britain 80th Anniversary Spitfire Silver Proof £5
The £5 coin is the single most prestigious coin issued across the British Isles, reserved for the most important commemorations of the year. The Battle of Britain anniversary is certainly no exception deserving of only the very finest commemorative £5 coin.
The design features the legendary Spitfire with a Union Jack trailing from behind. Also, a notable inclusion to the edge of the design is an excerpt from Winston Churchill's famous speech 'So Much, So Many, So Few', his moving tribute to the brave pilots of the RAF.
The background fittingly displays a 'V for Victory' design which has been finished with the unique addition of Spitfire silhouettes.
Only 2,020 coins have been issued worldwide. This unprecedented decision comes as a surprise, especially when you consider the historical significance of this anniversary.
Click here to secure the brand new Silver Proof £5 Coin >>
Officially Licensed RAF Spitfire Gold-plated Coin
This Official RAF Battle of Britain 80th Anniversary Gold-Plated Coin comes highly recommended. Not only is it extremely desirable in its own right, it is a fantastic tribute to the skilled pilots both past and present who have had the honour flying in the RAF. It features a dramatic colour recreation of the legendary Supermarine Spitfire by renowned Airfix artist Adam Tooby.
Featuring 24 carat gold-plating and struck to a flawless Proof finish, this is the perfect Battle of Britian 80th Anniversary commemorative.
Click here to secure your Official Gold-Plated Coin now >>
---
Please note, extremely high demand is expected for these brand new Battle of Britain Commemorative coins. It is highly advised that you act quickly to secure your favourite pieces from the collection to avoid disappointment.
Click here to find out more about the range and order one of the BRAND NEW Battle of Britain 80th Anniversary Commemorative coins >>
Today the coins you find in your change are all produced by the Royal Mint. It's hard to imagine what life would be like if coins, and the metal to make them, disappeared.
When people have had to go to extreme lengths in the face of emergency, it has produced some of the most intriguing and interesting currencies around. And here are six of the most unusual currencies ever issued, and what drove people to create them.
The coins made from a drinking cup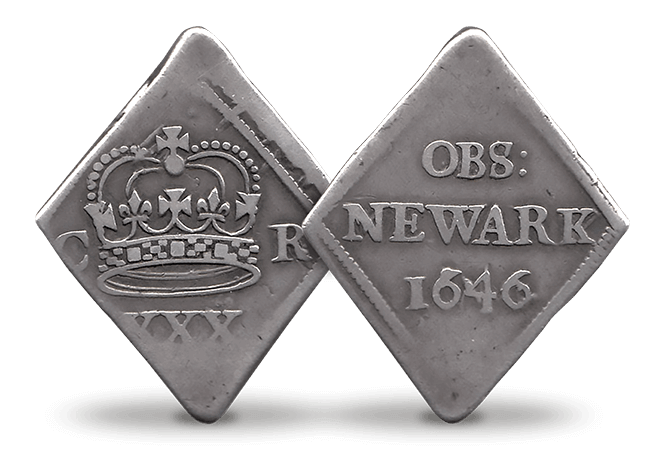 In 1646 in a town under siege, with no incoming money, the people of Newark needed to find a way to pay soldiers for protection. So they reached for whatever metal they had available to make coins – and that meant their cutlery! Silver cups and plates were surrendered, cut up into small diamond shaped pieces, and had a denomination stamped onto them.
Because of the way these coins were made, you could sometimes see the pattern of the cup or plate from which the coins were made. Understandably these coins, which surely belong in a museum, are hugely desirable among collectors and are rarely available.
The notes that were issued to be devalued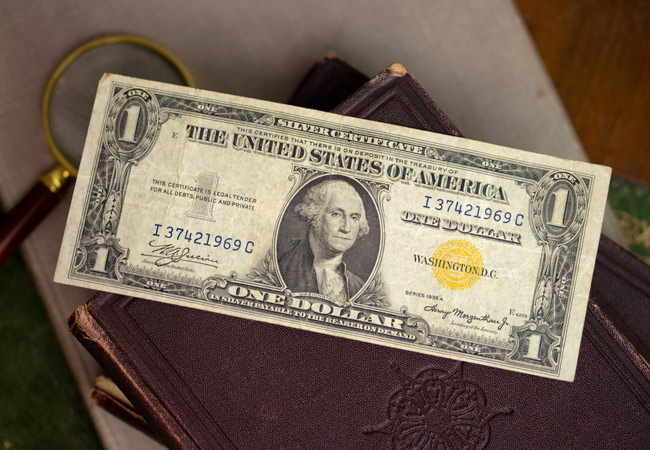 It seems odd that a government would issue money just for it to be devalued. But during WWII when the American army was based in North Africa this is exactly what happened. The American government was concerned that if the Germans were to mount a successful attack, they could take over the currency. Therefore, all notes used to pay soldiers based in North Africa had a yellow seal added to them. This meant that should the Germans take over, the notes could be easily identified by their yellow seal and instantly devalued.
The Russian stamps used as German propaganda
During WW1 the Russian government found it increasingly difficult to issue coins. Instead, they turned to 'currency stamps' printed on thin cardboard instead of normal stamp paper. Using stamps instead of coins was a way of saving precious metal for the war effort.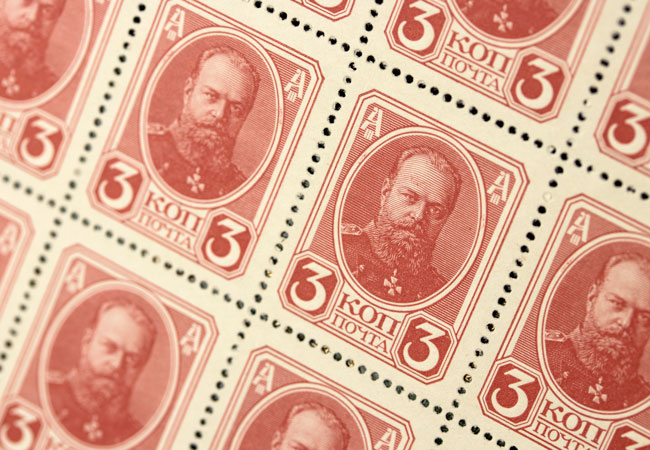 Several denominations of 'currency' were issued, with a statement on the reverse stating that each stamp had the circulating equivalent of Silver coins. However some of these stamps soon landed in the hands of Germans who counterfeited them but with one clever detail – the statement on the reverse was changed to an anti-Russian message. The idea was to destroy confidence in the Russian government and devalue the currency.
An unusual English denomination
George III's reign is known for the vast number of interesting numismatic pieces issued, and the Bank of England emergency tokens are no different. Conflict in George III's reign had caused financial panic, and thousands of people hoarded silver coins out of fear.
The Royal Mint's limited ability to issue coins posed a problem as they could not make enough coins for the demand, so eyes turned to the Bank of England. An agreement was made that allowed the Bank to issue emergency currency. However technically speaking these were tokens and not coins, which is why they appear in the unusual denominations such as 1s 6d or 1 Dollar.
Why money was burnt in revolutionary France
In revolutionary France in the early 1790s, the government issued paper money, known as Assignats, backed by the value of clergy property. The government continued to print money, and faced with an influx of counterfeits from Britain, the value of these Assignats soon reached a massive 45 Billion Livres, despite the value of clergy property only being 3 Billion Livres.
In 1796, the notes had lost all of their value and were publicly burned, to be replaced with a new paper money. Any of these surviving notes are incredibly rare as most of them were destroyed, making them very desirable among collectors.
How a Civil War turned a stamp into currency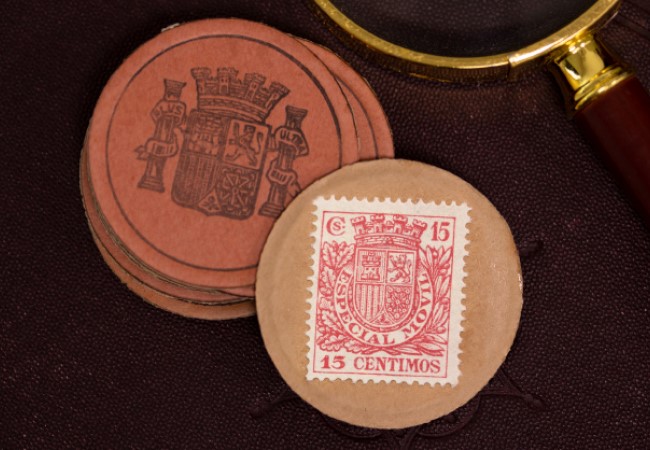 It's hard to imagine a small paper stamp, issued over 80 years ago, being used to pay for goods and services. But in Spain in 1938 that's exactly what happened.
The Civil War caused the public to hoard coins out of fear, and so they all but disappeared from circulation. Because metal was in limited supply, the government turned readily available stamps into 'coins'. Unlike Russian emergency stamp currency, these stamps were welded onto a special board with the coat of arms printed onto the reverse. The stamp value gave these new 'coins' a denomination, and they were released into circulation to help towns and cities trade.
With such a delicate nature and small number, it's no wonder that these coins are scarce and difficult to track down today.
---
Nowadays the Royal Mint is well suited to meeting our coin demands so it's unlikely we'll ever need to use stamps or cutlery in place of coins! Emergency currency is always a fascinating area for collectors, with some of the rarest and most unique issues having appeared out of difficult and troubled times. It's not often that these emergency issues appear on the market – but it's certainly worth keeping an eye out for them!
---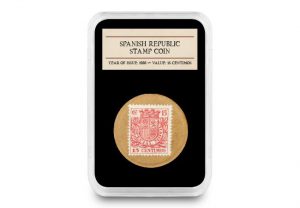 If you're interested…
Today you can own one of these unusual and fascinating numismatic issues – a Spanish 15 Centimos 'Coin'. There are only an extremely limited number of these issues available worldwide, and considering the fascinating story behind these issues, our stock is likely to be snapped up fast.
As they left for war in Autumn 1914, the soldiers, and the country, believed that it would all be over by Christmas of that year. We know now that the brutal conflict was to drag on for another 4 years, but Christmas 1914 became famous for being the first respite from the war.
Many felt the need to show give a small token of appreciation to those who had put their lives on the line. And so, on 30th October 1914, Princess Mary launched her Christmas Gift fund. She asked the public:

"I want you now to help me send a Christmas present from the whole nation to every sailor afloat and every soldier at the front."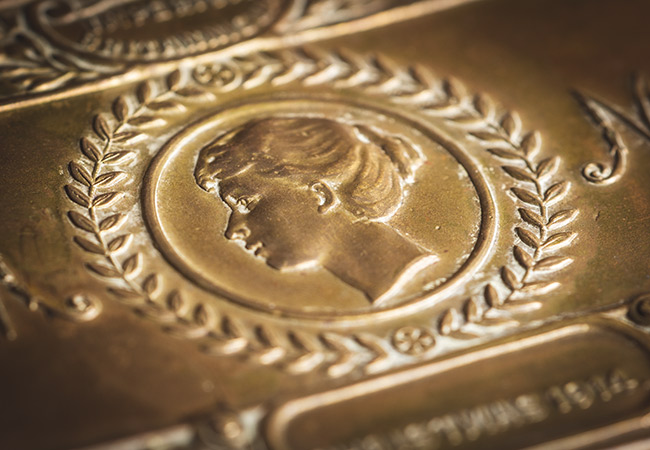 And they did. Her appeal was met with an enthusiastic response, eventually raising over £162,000 (an incredible sum at the time). This led to the memorable Princess Mary's Gift Box. It was a beautiful embossed brass box, 128 x 84 x 30mm (5 x 3.3 x 1.2 inches), containing one ounce of pipe tobacco, 20 cigarettes, pipe, a tinder lighter, a Christmas card and a photo of Princess Mary.
On Christmas Day 1914 alone, almost 500,000 Christmas tins were distributed to British service personnel. The boxes were sent to "every sailor afloat and every soldier at the front" in accordance with Princess Mary's wishes.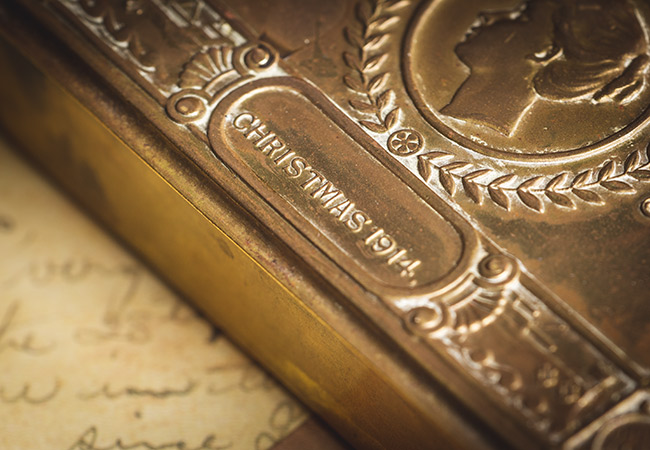 A large number of these tins were subsequently damaged in the war, with many being blown apart by shells or corroded in the wet conditions in the trench. However, the boxes that have survived are now distinctive mementoes of the war's first Christmas.

They are also absolutely fascinating historic artefacts – each tin is totally unique and may have even been there in the trenches 100 years ago protecting a young tommy's keepsakes. They each tell their own story, and just looking at them you can see the small bits of damage, the smells and stains that tell the story of how they survived 100 years to remind us of the soldiers who suffered the extreme conditions of the Great War.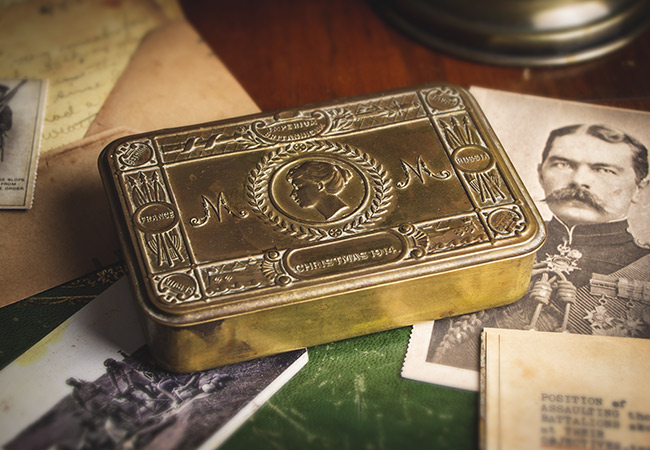 With the festive season approaching, it is especially important to remember those soldiers who would have received one of these tins. It's hard not to think about a young tommy, sitting in his trench on Christmas Day, opening his Princess Mary Christmas tin as carols drifted across No-Man's Land.
---
If you're interested…
We have a limited number of genuine Christmas Tins available and ready to deliver for Christmas, with 5 coins all from 1918. But with such a limited number available you will need to be quick to own this ultimate Christmas gift… Check out the video to see Adam explain what makes this tin so special or click here to order yours now >>>