Do you have your fancy dress ideas up to scratch? Well, it's coming up to the spookiest time of the year, so it's time to dust off your witches' hat, carve your pumpkins, put in your vampire teeth and buy copious amounts of sweets for a fang'tastic Halloween!
Here at Collector's Gallery we love Halloween, mainly because it gives us the opportunity to reflect upon some of our most intriguingly spooky coins, produced with some of the most remarkably unique minting techniques.
From Frankenstein's Monster, to the Symbol of Death, we take a look at some of the most spook-tacular coins that are sure to put the 'treat' in 'trick or treat' this Halloween…
---
Relive the moment Frankenstein's Monster came to life…
Now, let me be Frank with you – Frankenstein's Monster turned 200 last year and as a result this 1oz Silver Coin saw unprecedented demand.
This antique finish, Pure silver coin is impressive in its own right, but with highly specialist numismatic printing techniques it goes a step further…
When put under a UV light (which comes included in your luxury presentation case), pulsing electricity is revealed so you are able to relive the moment that Frankenstein's monster came to life!
Struck with extra high relief, collector interest in this coin has been monstrous, so make sure you don't miss out by clicking here >>
---
A real life fear…trapped!
Cleithrophobia is the fear of being trapped and this coin highlights that fear in a chilling way with the use of an incredibly complex manufacturing process called Smartminting© – which create beautiful pieces of coinage with a very special high quality Antique Finish.
This brand new coin concept originates from one of the CIT's multiple award winning designers. The oppressive image of a trapped person is skillfully implemented on this fine, 1oz pure silver coin creating the appearance of a person screaming through a stretched fabric sheet.Spook-tacular I'm sure you will agree! Click here to trap yours >>>
---
'Luna de Sangre' Swarovski® Crystal Skull
You won't have a 'bone' to pick with this 'Swarovski ® Crystal Skull' Coin.
After a worldwide sellout of the 2018 'Vanity' Crystal Skull, the latest coin in the series for 2019 is expected to be no different. Struck in .999 Pure Silver, this coin features an electric blue skull shaped Swarovski ® Crystal against a flawless black-proof red blood moon finish.
The perfect addition to any creepy collection – bone appetite!
Find out more by clicking here >>
---
The Beautifully Evil Pandora's Box…
This magnificently tragic 3oz pure silver coin features unbelievable high relief due to the fact it is minted and not cast. This means all the curses of the world, including demons and mythological creatures are made that more terrifying as they supposedly escape from the box's vortex.
This coin has had a spellbinding reception from collectors and we have an extremely limited quantity of stock remaining. Click here to secure the Beautifully Evil Pandora's Box coin for your collection >>
The Symbol of Death
It doesn't get much more frightening that the Death's Head Hawkmoth, with graceful wings signifying the fragility of life and the skull branding on its back as a stark reminder of looming death…
Featuring the very latest in minting techniques, this coins unique shape and shadowy black proof finish gives it yet another haunting element.
However, by far the most impressive part of this coin is the brand new 'lapping' technique which has been used for the first time EVER to create a bright, reflective surface which contrasts against the black proof finish.
If you're interested…
Click here to see our full range of spook-tacular coins this Halloween >>

On this day 43 years ago High Voltage, the first internationally released studio album by Australian hard rock band AC/DC, was released.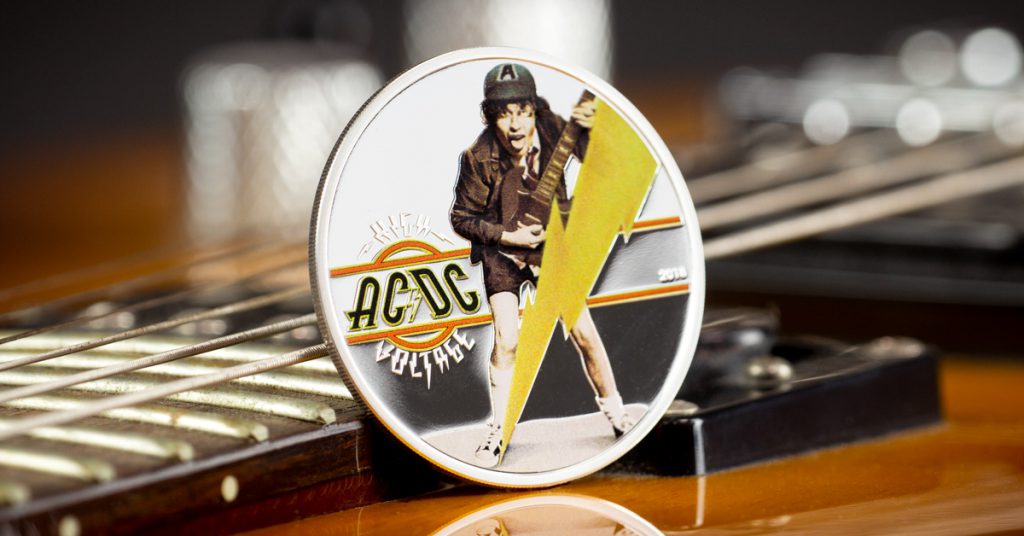 The legendary band, formed by Scottish-born brothers Malcolm and Angus Young, have sold more than 200 million records worldwide, including 71.5 million albums in the United States, making them the tenth highest-selling artist in the United States and the 14th best-selling artist worldwide.
Record sell-outs
To celebrate "the greatest rock and roll band of all time", a range of AC/DC coins were released across the world.
The officially licensed 2oz silver 'Black Ice' coin was issued and the worldwide edition limit of just 999 was completely sold out before the coin had even been released.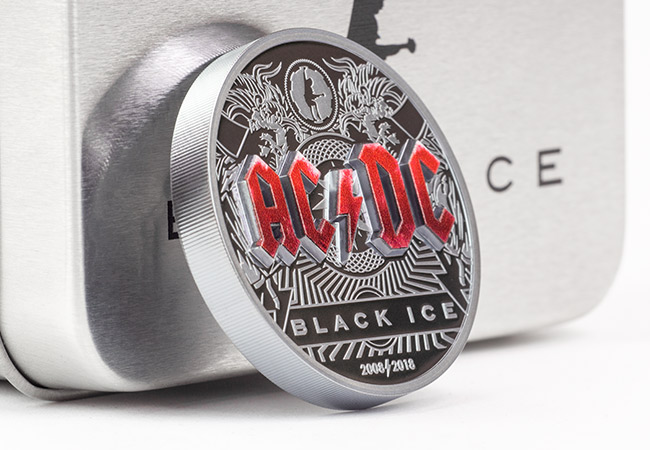 Remarkably, another AC/DC coin, recently Issued by The Royal Australian Mint, sold out in less than 24 hours – that had an edition limit of 30,000! I cannot remember anything from this mint ever selling out so fast and amazingly this was only available to collectors in Australia and New Zealand.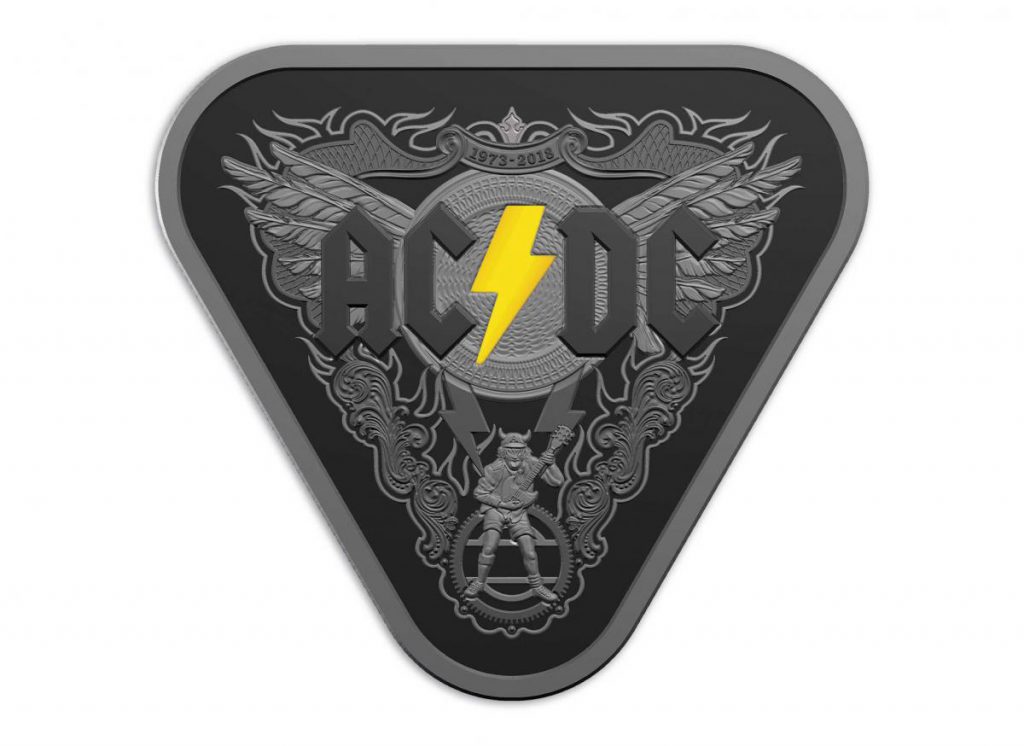 However, perhaps the most iconic of all the coins is the High Voltage Silver Proof, featuring the cover of AC/DC's first album 'High Voltage' with Angus Young in his iconic schoolboy outfit alongside the band's infamous logo and a yellow lightning bolt.
This coin has a worldwide edition limit of just 5,000 and we managed to secure just 250 for our collectors. Unsurprisingly, interest has been incredibly high and it looks like this coin will follow suit with another full sell-out expected.
AC/DC coins are hugely popular but around the world but more importantly, remarkably scarce. In years to come, this coin series will be spoken of as perhaps the most collectable music coins of all time.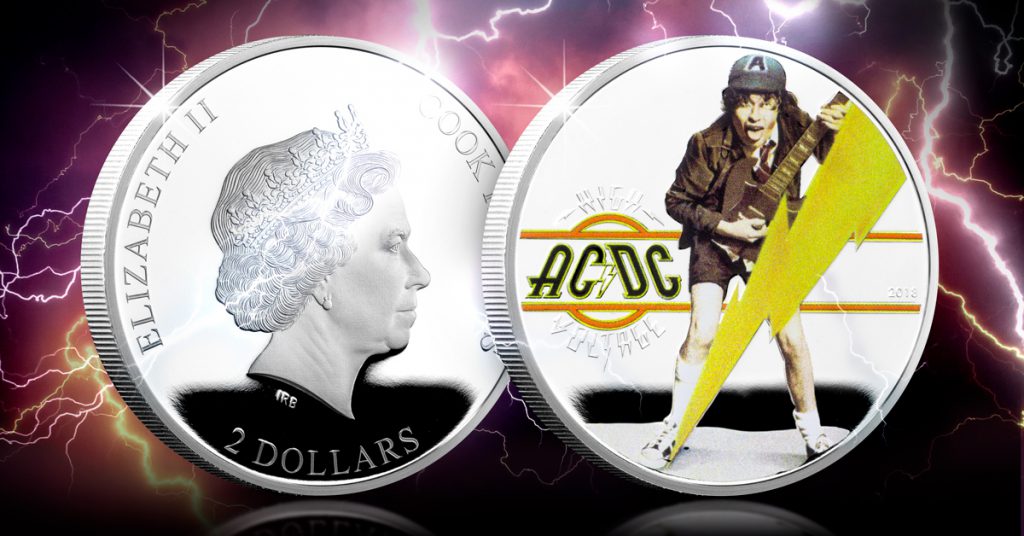 ---
If you're interested…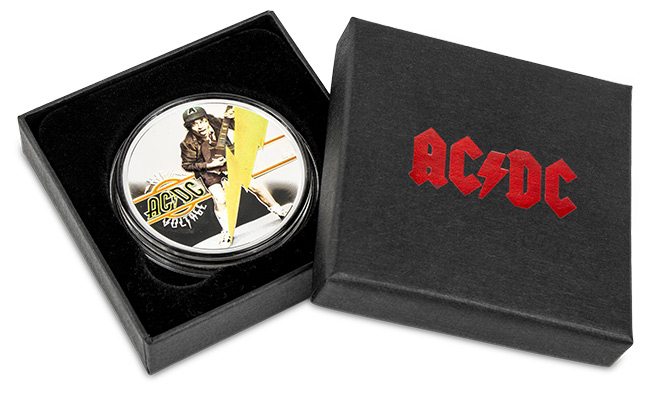 To commemorate the anniversary of the launch their legendary High Voltage album, this hugely sought after coin is available today for just £75 (+p&p) – a £15 SAVING!
You'll have to act fast. Click here to secure yours today >>

Videos going viral is nothing new; most will remember 'Charlie bit my finger', 'Fenton' or 'Star Wars kid'.
However, perhaps the one video most did not expect to be a hit around the world was 'The Classic Tetris World Championship Final' (yes, there's a Tetris World Championship).
I'll set the scene.
Joseph Saelee, just 16 years old and a huge underdog, was facing 7 times World Champion Jonas Neubauer. Nobody gave him a chance.
After 26 minutes of playing, Neubauer, as expected, takes the lead. However, after a rare mistake, he crashes out.
Saelee needs another 108,120 points to win…just 3 Tetris' will do it. He holds his nerve and with lightning fast reactions, upsets the odds and takes the title.
The skill of the players is remarkable, I mean truly remarkable.
See the video for yourself, nearly 7 million others have watched it, you won't be disappointed:
What's so interesting is that when I showed this to some of my colleagues in the office they were initially not at all interested…30 seconds in they were hooked!
They loved the fact that such an old game, invented by a Russian back in 1984, was still so popular today and they couldn't believe that the players were using an actual Nintendo Entertainment System from 1983.
One said, "I love how retro it is!" and I couldn't agree more.
Retro has made a comeback and in a big way. In particular retro arcade games.
Our Space Invaders coin, that we launched last month, SOLD OUT in record time. Had we been able to source more, it would have sold double!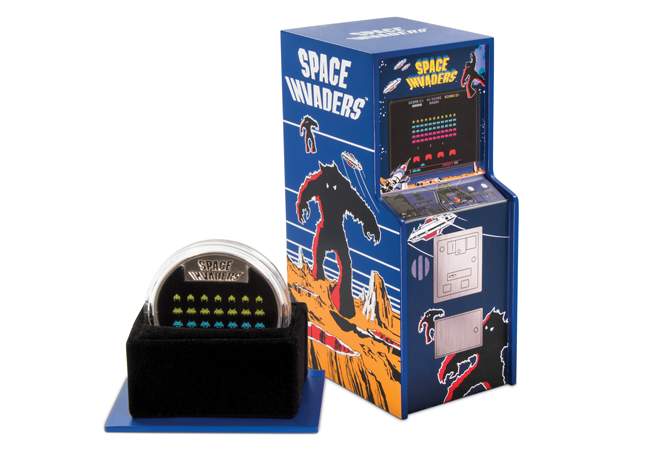 It proved how incredibly collectable retro themed coins are, especially when their box is a replica of the original gaming machines.
The Official Tetris Silver Coin has just been released worldwide. If retro is your thing, I'd suggest snapping one up quickly.
---
If you're interested

Issued in 1oz .999 Silver, to celebrate the 35th Anniversary of Tetris, the coin features the Tetris games icon Tetriminos on a chequered, Proof background, and appears as if the blocks are falling, much like in the game itself. Click here to secure yours>>