From flying members of the royal family and past prime ministers around the world, to having the chief of defence staff singing him Happy Birthday, ex RAF serviceman, Paul Passmore has some incredibly interesting stories to tell about his time in the RAF.
We were lucky enough to catch up with him as the RAF's poignant centenary year draws to a close.
---
If you're interested…
Click here to check out our full selection of RAF Centenary commemoratives >>

As they left for war in Autumn 1914, the soldiers, and the country, believed that it would all be over by Christmas of that year. We know now that the brutal conflict was to drag on for another 4 years, but Christmas 1914 became famous for being the first respite from the war.
Many felt the need to show give a small token of appreciation to those who had put their lives on the line. And so, on 30th October 1914, Princess Mary launched her Christmas Gift fund. She asked the public:

"I want you now to help me send a Christmas present from the whole nation to every sailor afloat and every soldier at the front."
And they did. Her appeal was met with an enthusiastic response, eventually raising over £162,000 (an incredible sum at the time). This led to the memorable Princess Mary's Gift Box. It was a beautiful embossed brass box, 128 x 84 x 30mm (5 x 3.3 x 1.2 inches), containing one ounce of pipe tobacco, 20 cigarettes, pipe, a tinder lighter, a Christmas card and a photo of Princess Mary.
On Christmas Day 1914 alone, almost 500,000 Christmas tins were distributed to British service personnel. The boxes were sent to "every sailor afloat and every soldier at the front" in accordance with Princess Mary's wishes.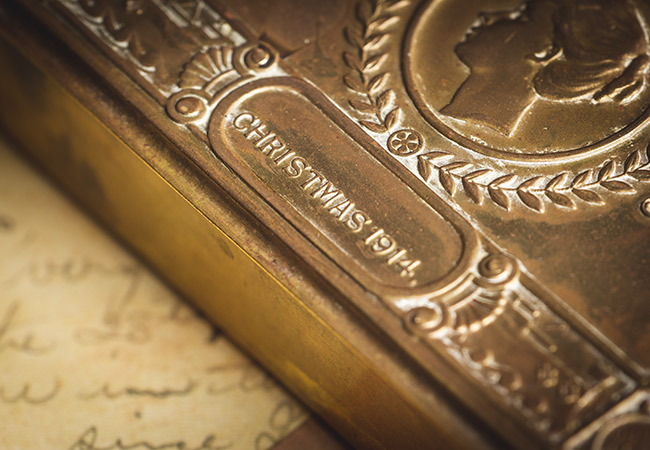 A large number of these tins were subsequently damaged in the war, with many being blown apart by shells or rusting away in the wet conditions in the trench. However, the boxes that have survived are now distinctive mementoes of the war's first Christmas.

They are also absolutely fascinating historic artefacts – each tin is totally unique and may have even been there in the trenches 100 years ago protecting a young tommy's keepsakes. They each tell their own story, and just looking at them you can see the small bits of damage, the smells and stains that tell the story of how they survived 100 years to remind us of the soldiers who suffered the extreme conditions of the Great War.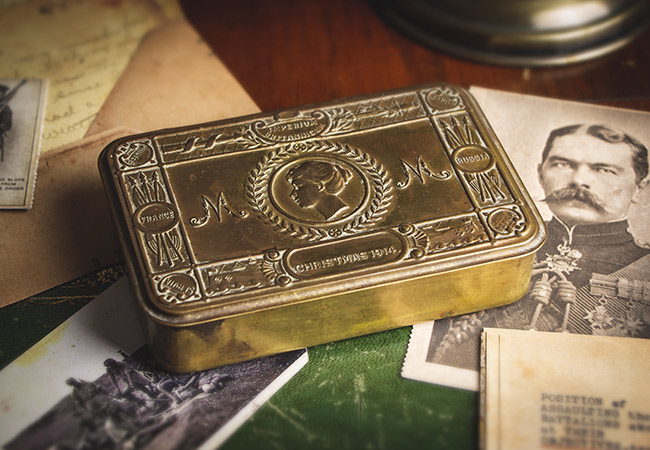 As the end of the First World War Armistice Centenary year approaches, it is especially important to remember those soldiers who would have received one of these tins. It's hard not to think about a young tommy, sitting in his trench on Christmas Day, opening his Princess Mary Christmas tin as carols drifted across No-Man's Land.
---
If you're interested…
We have 50 genuine Christmas Tins available and ready to deliver for Christmas, with 5 coins all from 1918. But with such a limited number available you will need to be quick to own this ultimate Armistice Christmas gift…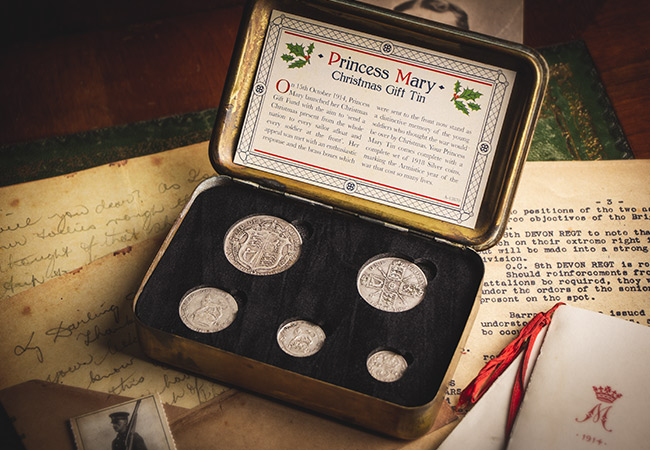 Back in 2008, legendary Australian rock band AC/DC announced their first stadium tour in eight years ­ to coincide with the release of their new 'Black Ice' album – it was aptly named the 'Black Ice World Tour'.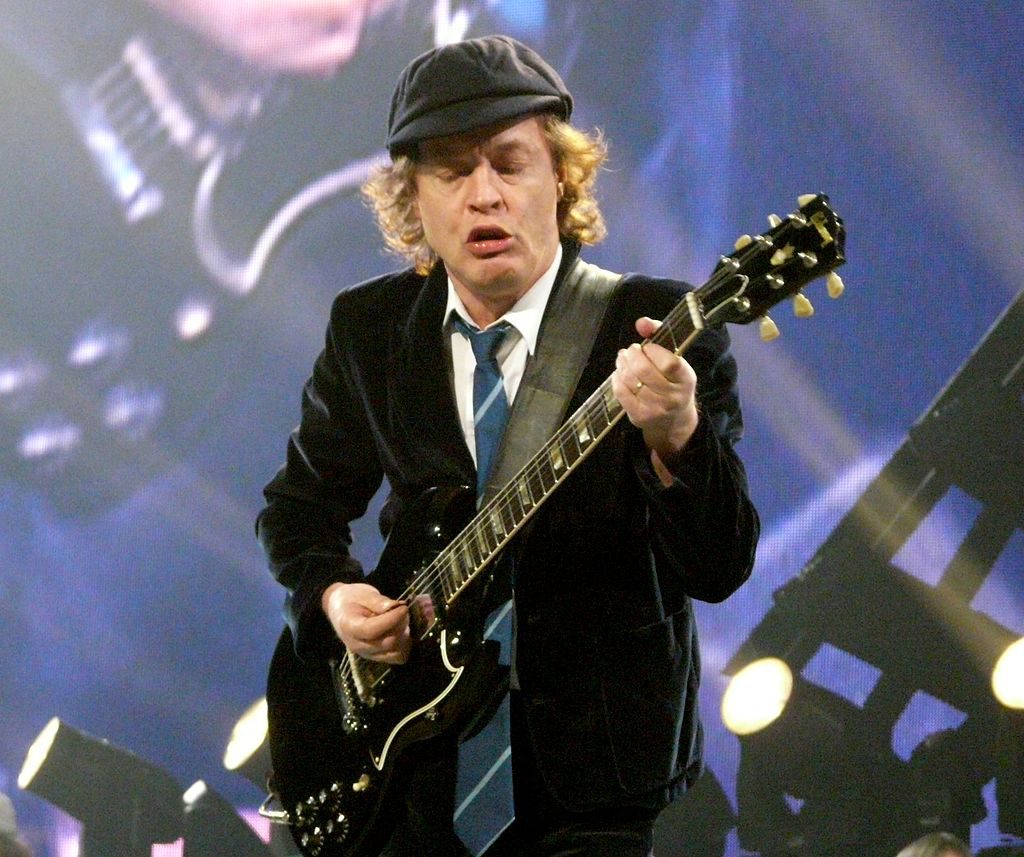 It transpired that absence had only made the heart grow fonder and all 18 dates sold out in record time. In fact, unprecedented fan response forced additional shows in Chicago, Los Angeles, and Oakland.
Another sell out
Now, 10 years on, the band are celebrating another record sell out. Clearly the appetite for all things AC/DC related has only increased.
An officially licensed 2oz silver 'Black Ice' coin was issued and the worldwide edition limit of just 999 was completely sold out before the coin had even been released.
The coin design features the 'Black Ice' album cover artwork, combining selective colour, high relief created using state of the art smartminting and a stunning black proof finish.
AC/DC's legendary 'Black Ice' album debuted at No.1 on album charts in 29 countries and has been certified Multi-Platinum in eight countries. It's easy to see why this coin is in such demand.
Record breaking
Remarkably, another AC/DC coin, recently Issued by The Royal Australian Mint, sold out in less than 24 hours – that had an edition limit of 30,000! I cannot remember anything from this mint ever selling out so fast and amazingly this was only available to collectors in Australia and New Zealand.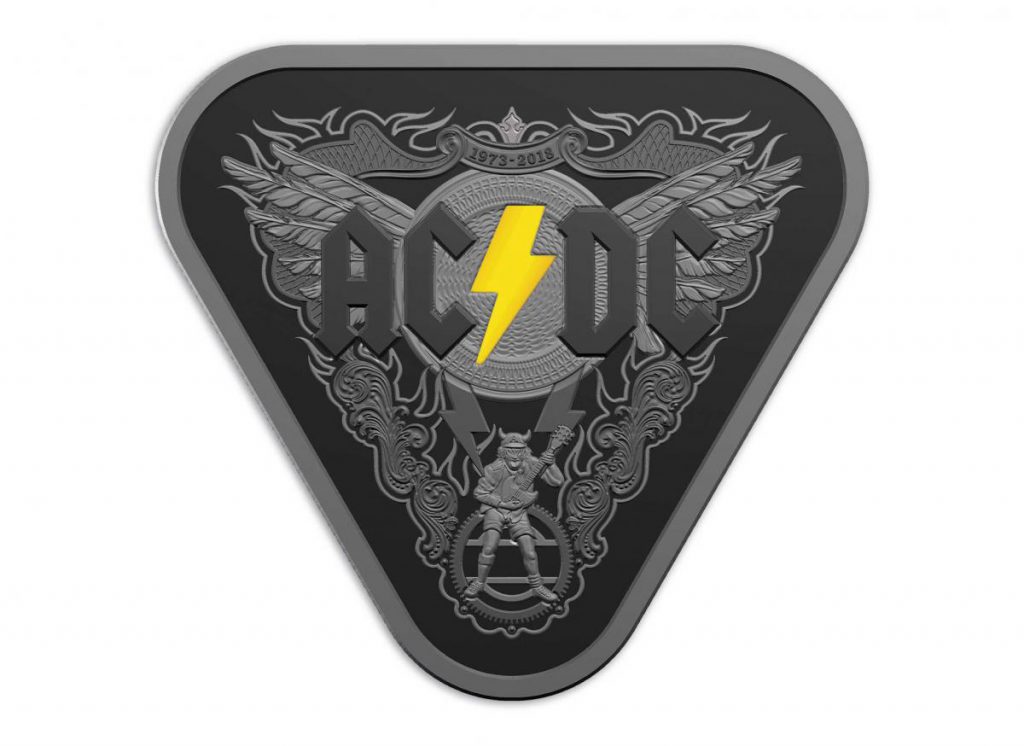 This highlights the huge popularity but also the incredible scarcity of AC/DC commemorative coins around the world.
---
If you're interested…
We have ONLY 15 of these hugely sought after Official AC/DC Black Ice Silver 2oz Coin available for collectors.They are totally SOLD OUT at the mint, meaning we will not be able to source anymore. Don't miss out on the collector's coin of the year.
Click here to check out the BRAND NEW silver AC/DC coins now >>