The 10 Shilling Note, or 'ten bob', was a goodly sum in the old days – in the 1960's it could buy 6 pints of beer, 10 loaves of bread, or 17 pints of milk.
It's hard to imagine its decimal equivalent, the 50p, buying so much these days!
This old banknote has a fascinating history, from being issued by the Government in a wartime emergency, changing colour to avoid forgery from the Nazis and eventually being replaced by the world's most popular coin.
The Emergency Banknote
In August 1914, the British economy was in turmoil because of the instability brought on by the oncoming war on the continent. Bankers and politicians were desperately looking for ways to secure Britain's finances and prevent the banks from collapsing.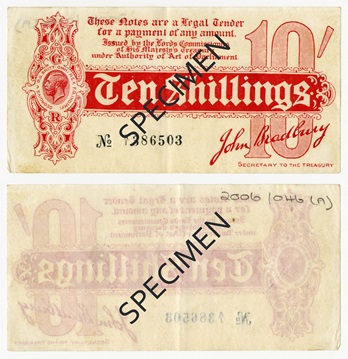 The Government decided that a large supply of banknotes had to be made available for the value of 10 shillings, making it easy for the public to make small transactions. However, The Bank of England was not able to prepare and print the required number of notes quickly enough, so the Government took the unprecedented step of deciding to issue the notes itself.
These banknotes became known as the Treasury banknotes and were unlike anything the British public had ever seen. Until this point the lowest denomination banknote was £5, and in those days this was such a large sum that many people would never have seen or used a banknote before.
That means that these Treasury notes now stand out as the first widely circulated banknotes in England.
The Wartime colour change
In 1928, the responsibility for printing Ten Shilling Notes was transferred to the Bank of England.
However, not long afterwards Britain once again found itself at war, and again found its currency under threat.
During World War II, Nazi Germany hatched a plan to undermine British currency. Through Operation Bernhard they believed that they had discovered a method to manufacture counterfeit 'White Fivers' and planned to distribute these in huge numbers to destabilise the British currency.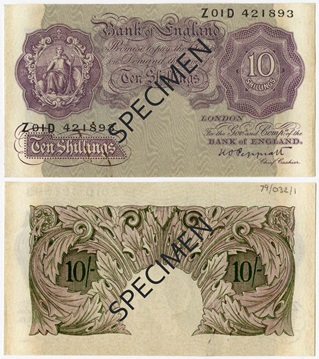 The Bank of England decided to take preventative action and, as a result, the 10 Shilling note was changed for duration of the war to a distinctive pink and blue in an attempt to prevent counterfeiting. It was also revolutionary in the progression of banknote technology by incorporating a metal security thread.
The Nazis could not compete with this high level anti-forgery technology and hence the British 10 Shilling Note stayed strong and supported the British wartime economy as it had done since its conception.
The 50p revolution
After undergoing a colour change during the Second World War, the 'ten bob' note reverted to the familiar red-brown until 1961, when a new design featuring a portrait of Queen Elizabeth II was introduced.
Despite a new design for the 10 Shilling Note featuring Sir Walter Raleigh on the reverse being approved in 1964, as part of the process of decimalisation it was dropped in favour of the new fifty pence coin introduced in 1969.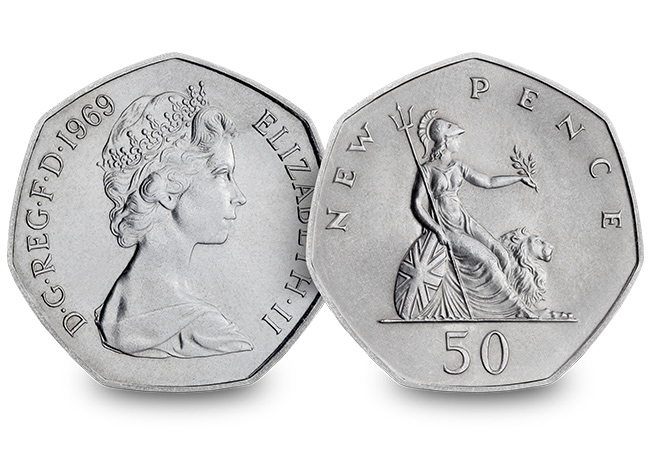 The principle reason for the change was to save the treasury money, the notes had an average lifetime of around five months, whereas a coin could last for fifty years. The 50p has since gone on to become the world's most popular and collected coin, but nowadays few realise the fascinating history of its predecessor, the 10 Shilling Banknote!
---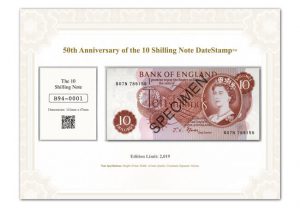 If you're interested…
It's now been 50 years since the last 10 Shilling Banknote was issued – which is why you now have the chance to pay tribute to this famous old note with a LIMITED EDITION DateStamp™. But only a very limited number of 10 Shilling Notes will be released in this way, so you'll need to be quick if you want to secure one for your collection! Click here to order one today >>
The Remembrance Poppy Coins issued in partnership with The Royal British Legion are amongst the most popular releases each year. And this year is proving no different.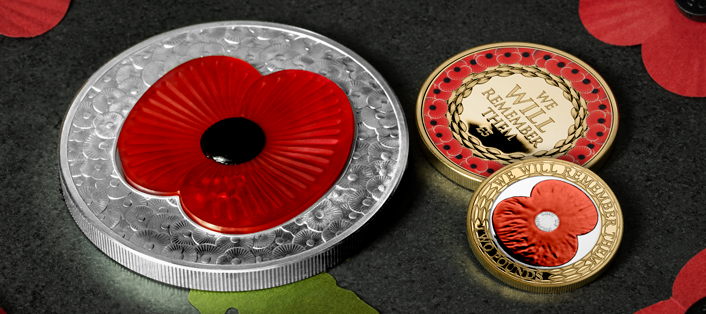 Have you secured your favourite 2019 Poppy Coin yet?
If not, join Adam and Yasmin as they take a closer look at the range in our Special Edition 2019 Remembrance Coin Show below.
Highlights include a detailed look at the WORLD'S FIRST £2 Poppy Coin. And best yet, you'll also get an exclusive FIRST LOOK at this year's Masterpiece 5oz Silver Coin. When you see it there's no wonder this incredible release sells out year-after-year!
This is certainly one not to miss…
You can check out the full 2019 Remembrance Poppy Coin Range by clicking here
The Royal Proclamation confirming the new coin has been passed, and that means production can officially begin.
Plans to release special Brexit coins was first announced by former chancellor Philip Hammond in last year's Budget. But this is the first confirmation from The Royal Mint that the coin is indeed going ahead.
I don't know about you, but this coin story is one I've been watching for a while. And as such, I suspect it will be one of the most eagerly anticipated issues we've seen for a while!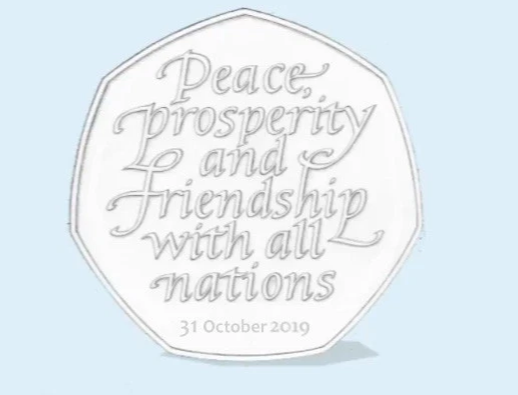 Few details are known about the design of the coin, but we do know that it will feature the inscription: "Peace, prosperity and friendship with all nations", as well as the historic date the UK is due to leave the EU – 31 October 2019.
A 50p coin was struck when the UK joined the European Economic Community in 1973 and when the UK held the presidency of the EU in 1998. So it only seems fitting one is released to also mark the UK's departure from the EU. And by marking such a pivotal event in our history, this coin will surely be sought-after by collectors in years to come.
Whilst not many details have been released by The Royal Mint, there are rumours that up to 10 million coins will be struck and put into circulation, 3 million of which will be ready for 31st October – news that will surely delight collectors, who could be finding these coins in their change as early as Halloween.
We do not yet know whether special collector versions of this coin will be available. Though we have our fingers crossed that there will be!
If you want to be kept up to date with news of the Brexit coin as we approach 31st October, then register your interest below. We'll then contact you as soon as we know more, and let you know how you can get your hands on one.