All those in full time education on the Isle of Man recently received a specially minted coin to mark the First World War Armistice Centenary.
In a move designed to ensure the younger generations do not forget the sacrifices made by those who fought in First World War, they were each given a distinctive 50p coin featuring selectively coloured red poppies. Each coin, commissioned by the Treasury, was presented in its own individual display case to ensure that it could be kept safe and handed down to future generations.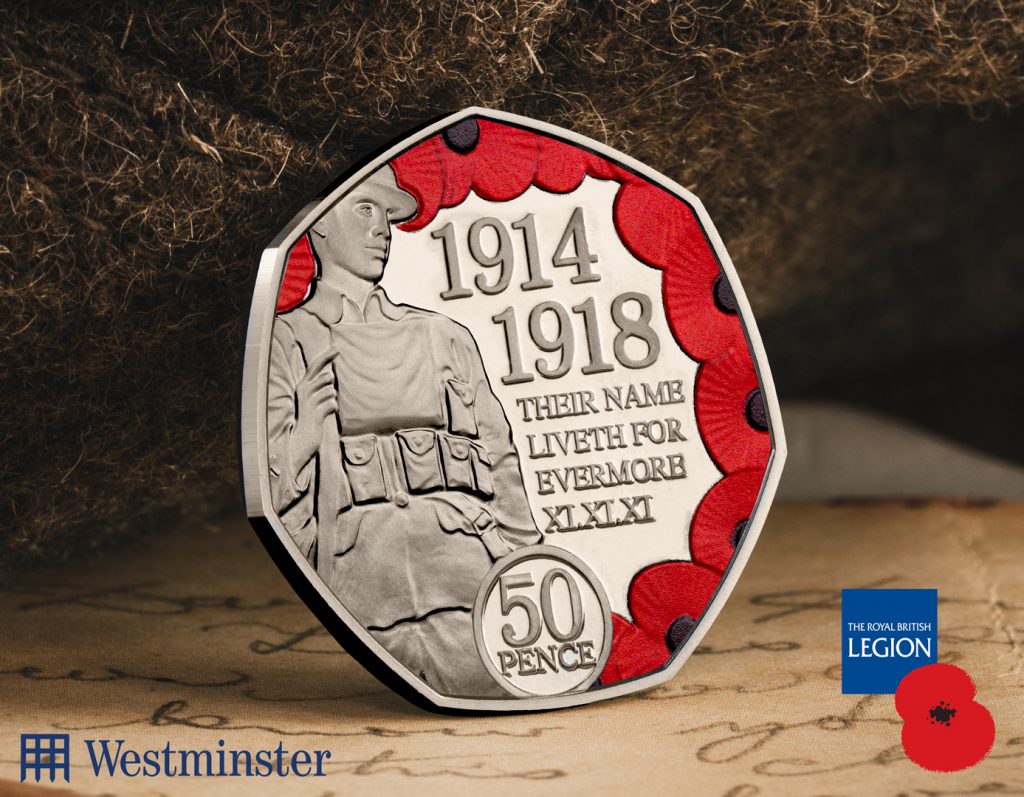 The reverse of this coin features the First World War soldier from the Douglas war memorial, with the words 'Their name liveth for evermore' and the dates '1914 1918', beneath which are the Roman numerals 'XI.XI.XI' as a reminder of the final time and date of the War's end.
Coins to enter circulation
There's also great news for collectors on the Island as Cupro-Nickel versions of these coins, without the selective colouring, will be released into general circulation.
A launch event was held at the Legislative Buildings on the Island with the President of Tynwald, Speaker of the House of Keys, the Chief Minister and Treasury Minister in attendance, along with a number of other specially invited guests.
Specially commissioned Proof version
Working in partnership with the IOM Government, The Westminster Collection developed a proof version of this hugely poignant coin, struck to the highest possible finish. When you consider the importance of the centenary anniversary alongside the tiny worldwide edition limit of just 1,950,it comes as no surprise that they sold out in a matter of days.
However, The Westminster Collection are also offering specially struck collector quality "Brilliant Uncirculated" coins that are guaranteed not to have the scratches and chips of normal circulation coins.
What's more, this coin has been officially approved and produced in partnership with The Royal British Legion.
10% from the sale of each coin will be donated to the Legion who provide lifelong support for the Armed Forces community- serving men and women, veterans and their families.
---
If you're interested…
Today you can secure your very own First World War Centenary 50p. All you have to do is click here >>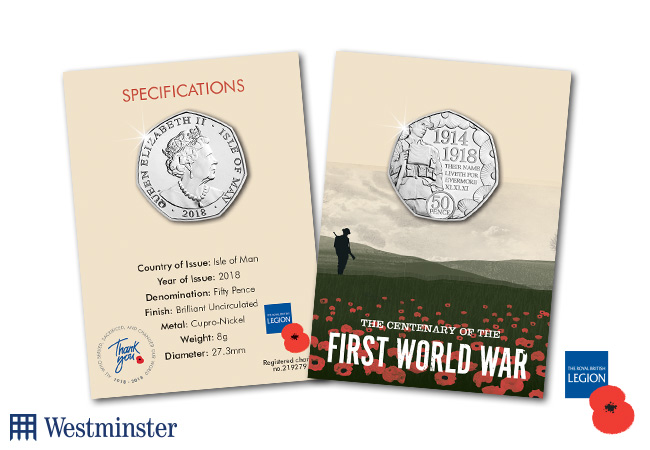 Today His Royal Highness Prince Charles celebrates a huge landmark birthday – his 70th!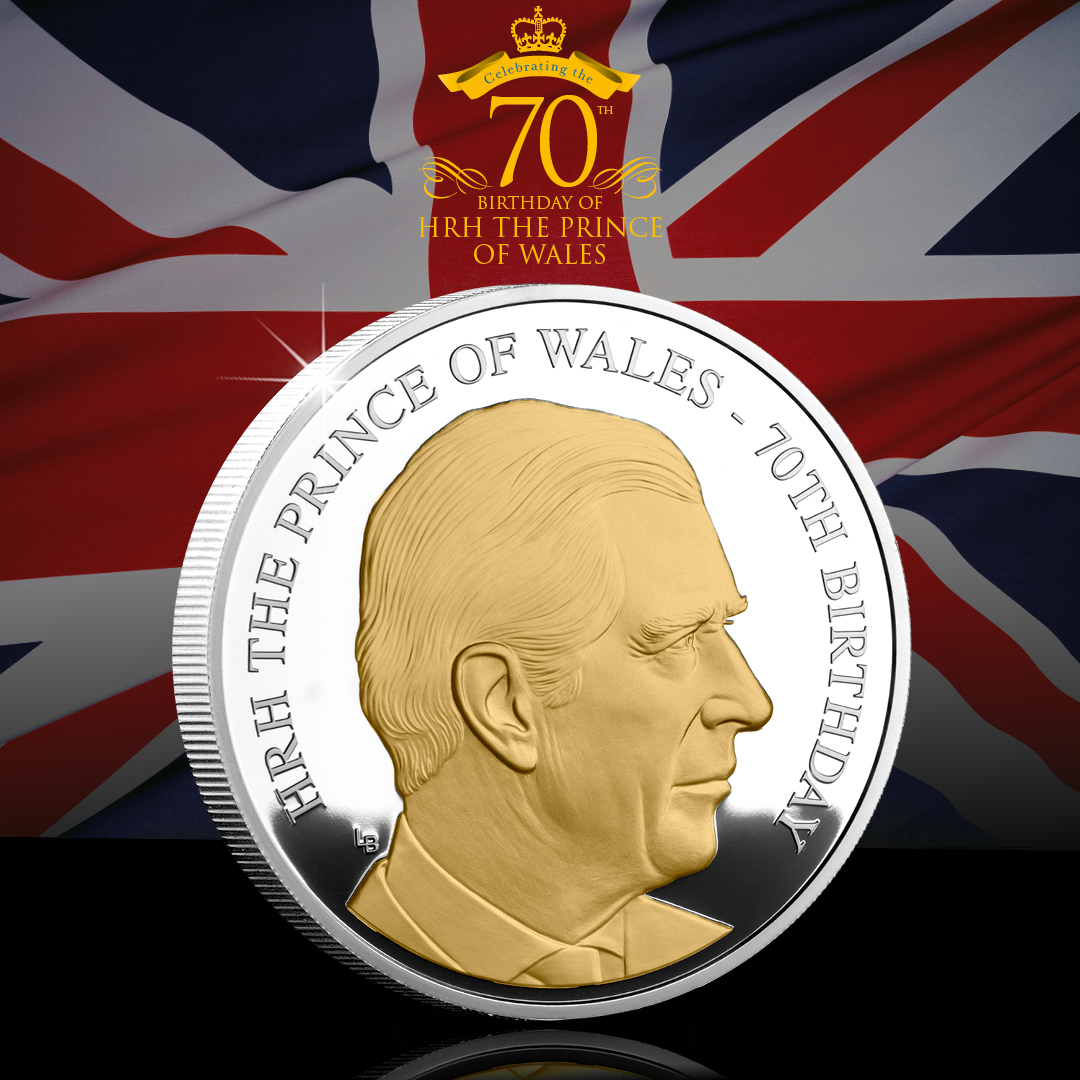 It seems that his birthday festivities have already begun – back in May, he attended a Buckingham Palace garden party laid on in his honour; he has curated a special exhibition called 'Prince and Patron' at Buckingham Palace, featuring some of his favourite artworks; and for the first time he has scheduled a tour of Gambia, Ghana and Nigeria with his wife, the Duchess of Cornwall.
What's more, it is believed that Her Majesty the Queen is planning an extravagant party to honour this momentous occasion, at which members of his family as well as European royalty will come together and pay tribute to the Prince of Wales' long and fruitful life so far.
And what a interesting life it has been! As the longest-serving heir apparent in British history, he has a number of notable accomplishments well beyond the call of duty. He became the first ever heir apparent to earn a university degree when he graduated from Cambridge in 1970, and in 2011 surpassed his great-great-grandfather Edward VII as the longest-serving Prince of Wales in history, after being awarded the title at the tender age of 9.
After university he served in several branches of the British military until 1976, in particular the Royal Navy, during which time he rose to the rank of Lieutenant and commanded the minesweeper HMS Bronington with a crew of 32. In 2011, Her Majesty awarded Charles the honorary rank of Admiral of the Fleet.
It seems fitting then, that a brand new portrait has been specially commissioned to recognise the 70 thoroughly active years of Prince Charles' life – a portrait created by none other than renowned artist and sculptor Luigi Badia and officially approved by Her Majesty the Queen.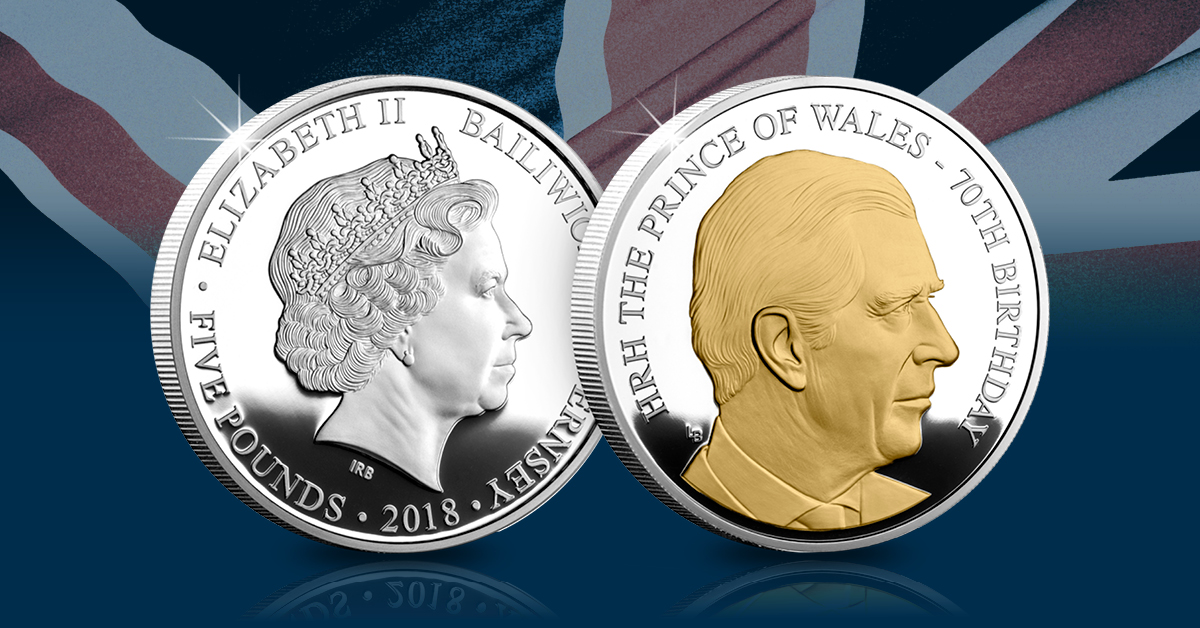 Special portraits like this are few and far between, and therefore are always popular with collectors – especially portraits as detailed and remarkably accurate as this one. The stunning design has been painstakingly hand-engraved by Badia, with particular attention being paid to retain the circular shape of the wording accompanying the portrait – "HRH The Prince of Wales – 70th Birthday".
---
If you're interested…

This brand new design has been issued in a number of specifications, from a Proof £5 right up to a stunning Gold Proof One Pound Coin, which are all available from The Westminster Collection. However, with their surprisingly low editions and the significance of this Royal birthday, I suggest you act now if you're looking to mark the occasion with a very special new coin.
It is always exciting to see new, innovative products coming out of the numismatic industry, and there is nothing quite like the test token set issued by the Royal Canadian Mint's Research and Development lab. When you see this set it's no surprise that the Royal Canadian Mint is a market leader in security. Looking to be at the forefront of new minting technologies this latest collection showcases some never before seen minting techniques which are guaranteed to impress both seasoned and budding collectors alike.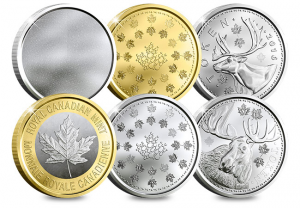 So what exactly is a 'test token' I hear you ask? A test token is a prototype of next generation currency, and is created purely to test new technologies and minting techniques before giving the green light to produce future coins with the technology. Since the tokens are test pieces their designs and technologies will not necessarily be replicated in future currency, perhaps only some of the techniques or designs will be taken forward,so the test pieces are one of a kind.
Chief Technology Officer at the Royal Canadian Mint, Dr Xianyao Li, says "the products in our R&D Lab Collection are tried,tested and true examples of forward-thinking technology that could re-define the future of domestic and foreign coins."
Now we're suitably intrigued about the new technologies featured in the set, let's take a closer look at the tokens…


Pie-Chart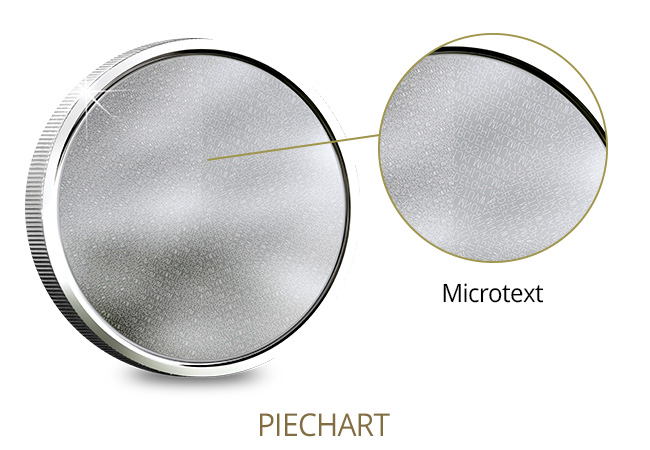 At first glance this perhaps looks to be the most unassuming token of the set, but looks can be deceiving as this token is an example of the advances currently being made in coin production to prevent counterfeiting. If you inspect the surface of the coin closely you will notice it resembles a pie-chart, with the surface subtly split up in to segments which are only just distinguishable. The slices are differentiated by the orientation and size of micro text which varies between segments. Micro text is one of the advancements in minting technology which has emerged in the last few years with the aim of preventing counterfeit coins, as the tiny text is difficult to replicate. Not only is the text extremely difficult to reproduce, it is also virtually indiscernible to the naked eye!


Caribou and Moose
The Caribou and the Moose instantly spring to mind when contemplating iconic Canadian imagery, so it would seem only natural they make an appearance in this set. Each token is crafted from multi-ply plated steel and includes both raised and incused maple leaf designs, instantly creating a noticeably three-dimensional textured surface. The depictions of the creatures on each coin have micro text hidden in their fur as an added security feature, and the maple leaf above the shoulder of each creature is also composed of micro text.


Leaf
The maple leaf is synonymous with Canada and is instantly recognisable as one of its national symbols dating back to the 18th century. Considering this it is unsurprising then that The Royal Canadian Mint also uses this iconic leaf as its logo, creating a strong identity link between country and coinage. Two pieces in the set celebrate the maple leaf with both sides of the tokens featuring raised and incused leaves in a circular pattern with the Royal Canadian Mint's logo at the centre. The combination of raised and stamped elements create a unique texture on the token which adds an extra layer of security because forgers will struggle to perfectly mimic it in counterfeits.


Tri-metal
The clue is in the title with this one, as it has been produced from a Canadian patented tri-metal compound, consisting of a carefully balanced combination of multi-ply plated steel, brass plated steel, nickel plated steel and copper plated steel. Complex multi-metal compound technology is a security feature to prevent counterfeiting as the exact compound composition is patented and unknown so cannot be easily recreated in a replica.


Own a piece of history in the making
What makes this test token set truly remarkable is the fact that pieces included in the set are the real trial pieces which have been used in calibration and laboratory testing, so each one has been tried and tested making the collection truly unique – no two will be the same!
---
If you're interested…
You can now own a piece of numismatic history in the making as we have secured 149 of these unique sets from the Royal Canadian Mint. Be ahead of the curve and add this sneak peek at the next generation of coinage to your collection today!
Click here to order this fantastic set >>>