This year marks the 90th anniversary since Peter Pan author, JM Barrie, gifted his rights in Peter Pan to Great Ormond Street Hospital.
To commemorate this generous gift, earlier this year we launched a range of Peter Pan 50p coins in partnership with Great Ormond Street Hospital Charity, the Isle of Man Treasury and Tower Mint.
These magical 50p's really captured the imagination of collectors and the demand experienced since their release has been unprecedented.
Incredibly this has meant in just a matter of months, through the sales of these Peter Pan 50p coins, that collectors have helped raise over £250,000 for Great Ormond Street Hospital Children's Charity!
This is an achievement that everyone is immensely proud of, and we are hugely thankful to collectors for helping raise such an amazing amount to support Great Ormond Street Hospital Charity and the seriously ill children from across the UK who are cared for there.
To celebrate this important occasion, Managing Director, Ian Glen, and Karen Brooks, Head of Product Development, went along to Great Ormond Street Hospital to present them with the £250,000 cheque!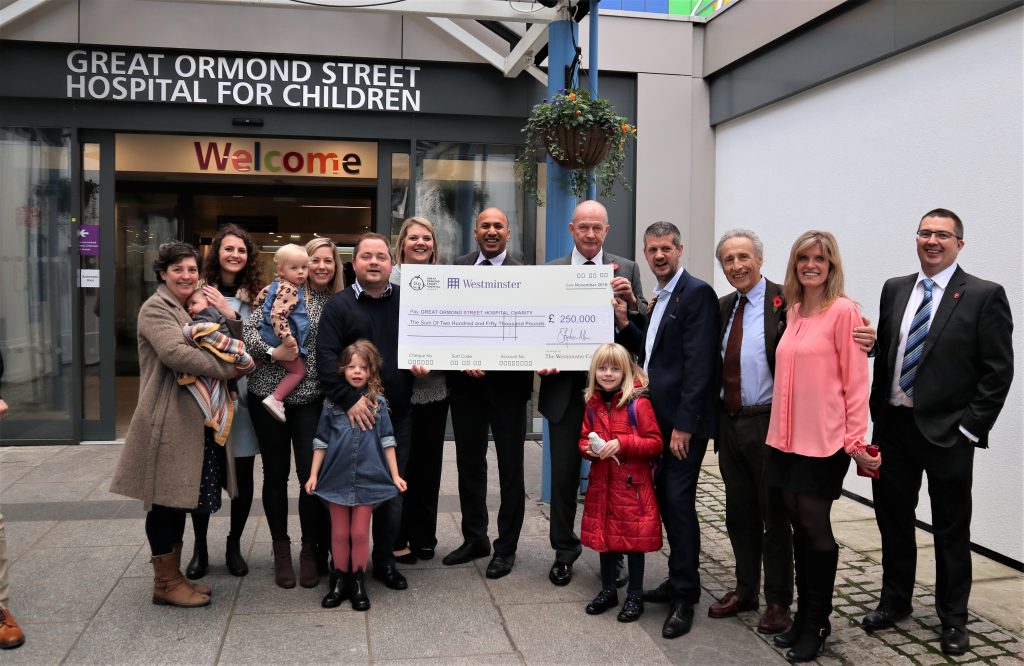 "We would like to thank all of the collectors who have raised such a considerable amount of money for Great Ormond Street Hospital. It has been a real privilege to work alongside the Great Ormond Street Hospital Charity, the Isle of Man Treasury and Tower Mint in such a worthwhile coin issue."

Ian Glen – Managing Director, The Westminster Collection
"Everyone at Great Ormond Street Hospital Children's Charity is thrilled and incredibly grateful that The Westminster Collection, The Tower Mint and the Isle of Man Government chose to celebrate the 90th anniversary of JM Barrie's gift of the rights of Peter Pan to Great Ormond Street Hospital by issuing a special Peter Pan collection. It's wonderful to see how much the general public and avid collectors have come together in support of this special collection. The funds raised will have a huge impact on the lives of seriously ill children from across the United Kingdom."

Amit Aggarwal – Director, Great Ormond Street Hospital Charity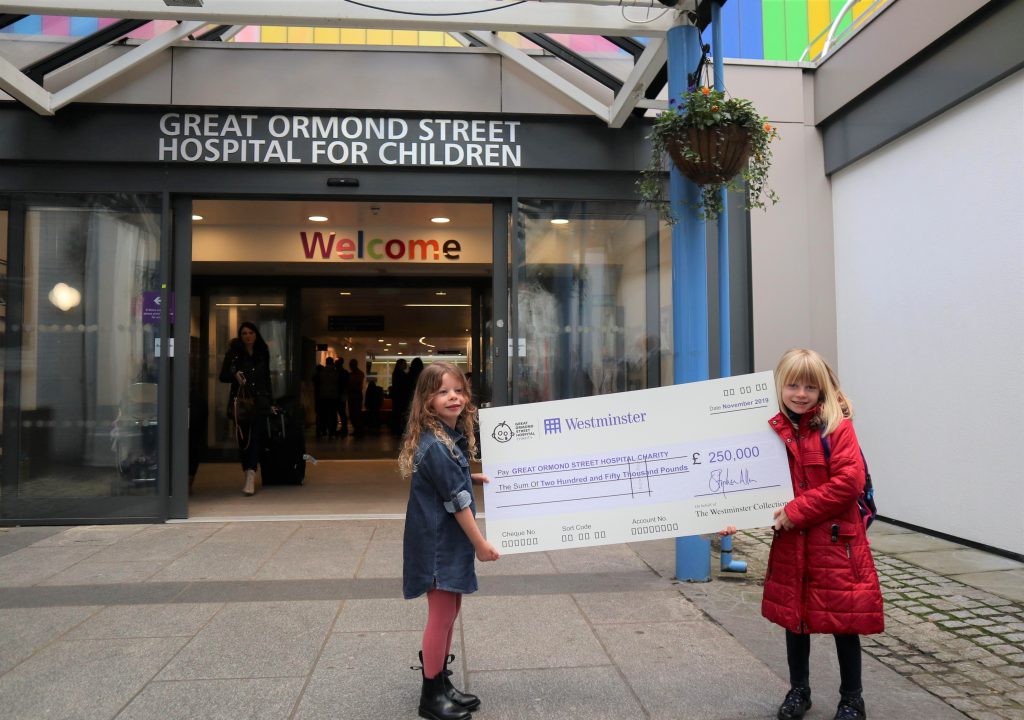 "I work in such a special industry, and I get see so much and meet so many people, but I never thought I would be able to connect my daughters syndrome to such a great cause, as well as contribute such an amazing amount to Great Ormond Street Hospital which will support all of the incredible work they do. The Westminster Collection and the Isle of Man have achieved so much for all involved, and I am a very proud dad!"

Elliot Dawson – Director at Tower Mint & Dad of Olivia Dawson (pictured above)
---
We are delighted to see our range of Peter Pan commemoratives grow in recent months and expand the opportunities for collectors to support Great Ormond Street Hospital Children's Charity. If you'd like to take a look at the full range, you can do so by clicking here.
To find out more about Great Ormond Street Hospital and the fantastic work they do, click here.

I can't help but get a little bit excited at this time of year, the cold nights, the bright lights and of course the count down to the big day!
But what's most exciting for me, is to see the wonderfully festive coins being issued all over the world in time for Christmas.
And in the last few weeks, we've seen renowned Mints issue beautiful Christmas coins that would take pride of place in any collection and be treasured forever!
So if the dark dreary winter months are getting you down, these stunning festive coins are sure to perk you up.
I've put together a list of some of my favourite 2019 Christmas coins from around the world that I'd like to share with you, starting of course with a truly spectacular festive release…
---
The coin so sought-after it SOLD OUT before the official release date!
Before anything else, you should know that this coin proved so popular that it's already SOLD OUT.
This coin truly is a piece of excellence from The Royal Canadian Mint and pushes the limits on what can be achieved through minting.
State of the art innovative gyroscopic technology allows the coin to actually move (see for yourself in the video below!) and a sophisticated design magnificently merges engraving and casting and silver and gold.
This outstanding work of art has to be seen to be believed and will add a dose of Christmas cheer to any family occasion – or mantelpiece!
But remember, unfortunately it's now SOLD OUT and it's easy to see why!
---
Merry Sithmas!
Darth Vader Silver Note
Did you know that the most recent Star Wars films have been released around Christmas? For many, it is a family tradition and this year is set to be no different with the release of The Rise of Skywalker on 19th December.
Officially licensed by Lucasfilm Ltd, just 10,000 of these PURE Silver 'Seasons Greeting' Notes featuring a 'thrilled' Sith Lord, Darth Vader, have been issued worldwide.
When you consider that of Star Wars is the 2nd highest grossing film franchise of all time, it certainly won't be enough to meet fan demands.
Click here to get your hands on one now – I have a sith sense they won't be around for long >>
---
Wish upon a star…
A three-dimensional 1oz Antique Silver Twinkling Star
Produced using Smartminting technology©, this magnificent three-dimensional coin has an incredibly intricate level of detail – making it appear sculpted rather than struck!
A coin like this is nothing short of revolutionary and earns its place as one of Collectors Gallery's favourite Christmas finds.
Click here to get yours 'lunar rather than later'!
---
Cook Islands 2019 Winter Wonderland Globe
Festive coins are popular in themselves, but when put inside of a REAL snow globe – it really brings the magic of the coin to life.
Struck from FINE .999 Silver, the coin has been placed inside a globe which has been produced in Vienna by the Perzy family who invented them in the 19th century.
Every single globe is handcrafted, made of the highest quality glass and filled with pure alpine water to create the perfect illusion when the coin is shaken over the family scene.
All previous coins within the snow globe collections have SOLD OUT and – as easily the most traditional of them all – this is expected to be no different.
This coin is limited to just 2,019 worldwide – so if you want to get your hands on one in time for the festive season you'll have to be fast!
Snow much fun, I'm sure you'll agree! Click here to find out more >>
---
Own your personal
Guardian Angel Coin
Often struck in unusual shapes and smaller than a five pence piece, the intricate detail achieved really is outstanding!
This re-issued coin features a Guardian Angel in the form of Saint Michael, slaying the devil in the form of a dragon – Raphael Maklouf's renowned artistry. For many of us, the thought of a Guardian Angel watching over us and protecting us is a comforting one – and this coin means you'll have one looking over you this Christmas.
The design is framed by an elaborate border with variations of the Isle of Man's coat of arms, the triskele, which appears at the top above the angel's halo – and all of this on just a 14mm coin!
Click here to own your very own protector in PURE gold >>>
---
If you're interested…

But that's not all the festive fun! There's plenty of other incredible commemoratives available in our complete Christmas Collection. To view the full range click here >>
As they left for war in Autumn 1914, the soldiers, and the country, believed that it would all be over by Christmas of that year. We know now that the brutal conflict was to drag on for another 4 years, but Christmas 1914 became famous for being the first respite from the war.
Many felt the need to show give a small token of appreciation to those who had put their lives on the line. And so, on 30th October 1914, Princess Mary launched her Christmas Gift fund. She asked the public:

"I want you now to help me send a Christmas present from the whole nation to every sailor afloat and every soldier at the front."
And they did. Her appeal was met with an enthusiastic response, eventually raising over £162,000 (an incredible sum at the time). This led to the memorable Princess Mary's Gift Box. It was a beautiful embossed brass box, 128 x 84 x 30mm (5 x 3.3 x 1.2 inches), containing one ounce of pipe tobacco, 20 cigarettes, pipe, a tinder lighter, a Christmas card and a photo of Princess Mary.
On Christmas Day 1914 alone, almost 500,000 Christmas tins were distributed to British service personnel. The boxes were sent to "every sailor afloat and every soldier at the front" in accordance with Princess Mary's wishes.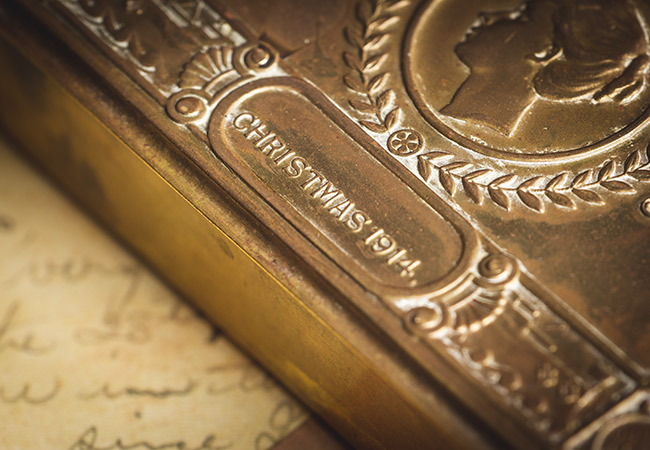 A large number of these tins were subsequently damaged in the war, with many being blown apart by shells or corroded in the wet conditions in the trench. However, the boxes that have survived are now distinctive mementoes of the war's first Christmas.

They are also absolutely fascinating historic artefacts – each tin is totally unique and may have even been there in the trenches 100 years ago protecting a young tommy's keepsakes. They each tell their own story, and just looking at them you can see the small bits of damage, the smells and stains that tell the story of how they survived 100 years to remind us of the soldiers who suffered the extreme conditions of the Great War.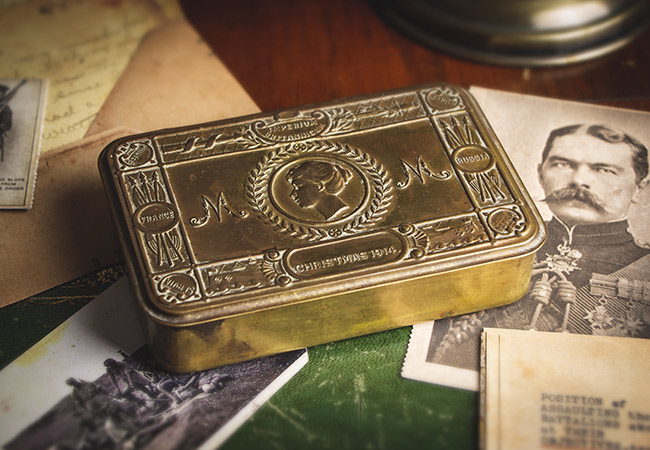 With the festive season approaching, it is especially important to remember those soldiers who would have received one of these tins. It's hard not to think about a young tommy, sitting in his trench on Christmas Day, opening his Princess Mary Christmas tin as carols drifted across No-Man's Land.
---
If you're interested…
We have a limited number of genuine Christmas Tins available and ready to deliver for Christmas, with 5 coins all from 1918. But with such a limited number available you will need to be quick to own this ultimate Christmas gift… Check out the video to see Adam explain what makes this tin so special or click here to order yours now >>>