Earlier this year, we hit a company milestone. A milestone that will be hard to ever beat…
On 30th January 2019, news quickly filled the office that through the sales of commemorative Remembrance and Poppy-themed coins, that The Westminster Collection had raised an incredible £1 Million for The Royal British Legion!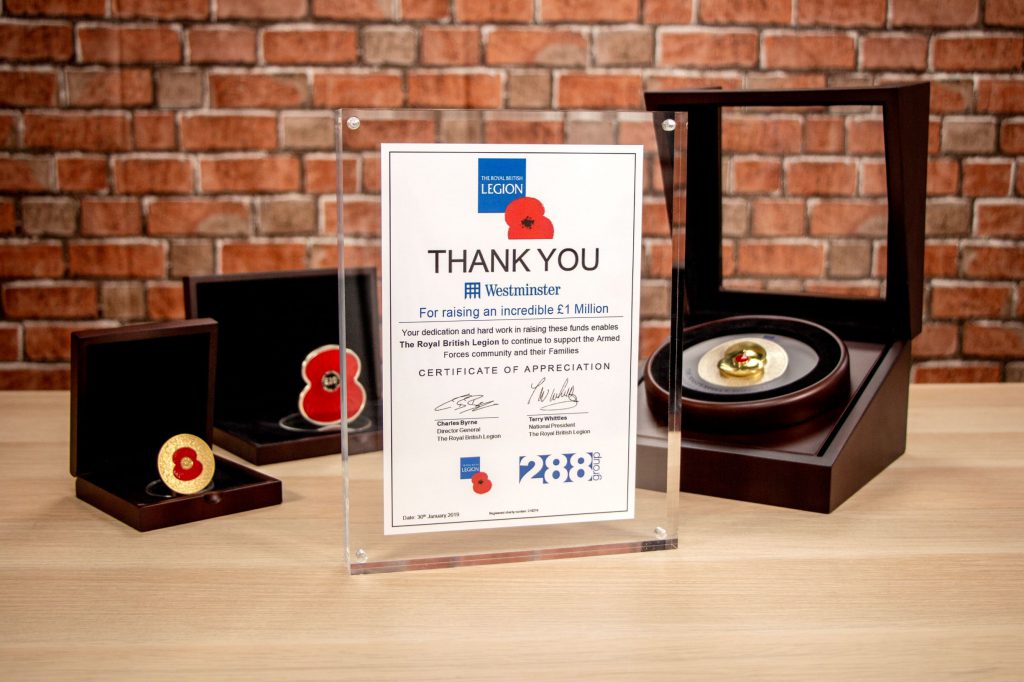 This is an achievement that everyone is immensely proud of, and we are delighted to see that our 15 years partnership with The Royal British Legion has raised such an amazing amount to support the Armed Forces community and their families.
To celebrate this important occasion, company Chairman, Stephen Allen, and our Product Development Team were invited along to The Legion's Southampton Pop-In Centre where they got the chance to meet volunteers and staff that help the Armed Forces Community. And, perhaps most importantly, presented The Royal British Legion with the £1,007,239.36 cheque!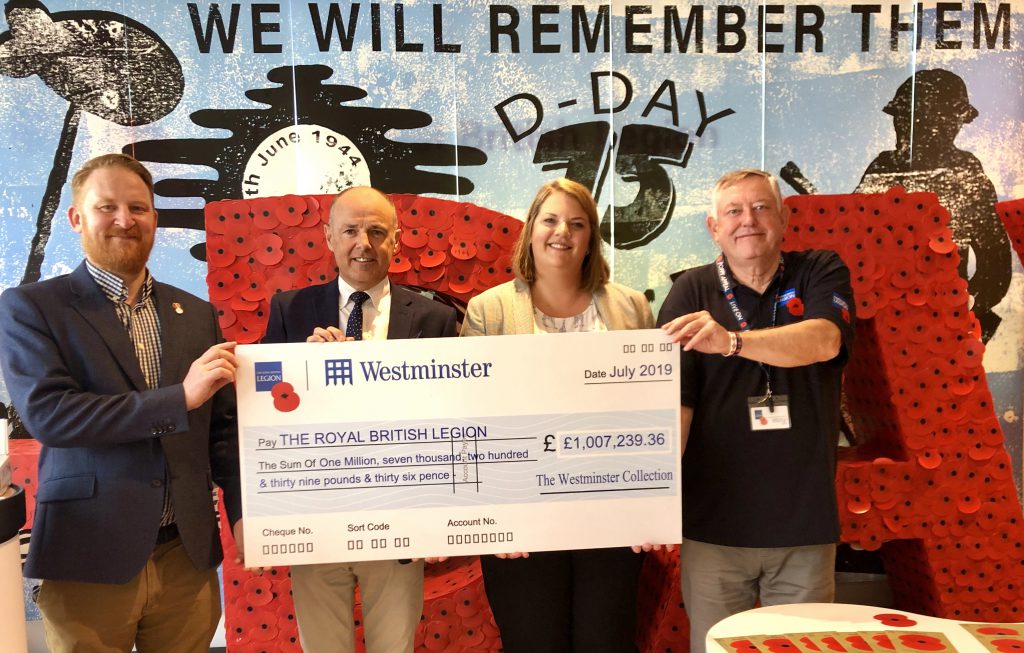 "We are delighted to have raised such a significant amount for The Legion. The donations raised will be able to go towards helping the Armed Forces community, which we feel incredibly passionate about as a company."

Stephen Allen, Chairman of The Westminster Collection
"I am extremely proud that we have the continued support of The Westminster Collection as our partner, supporting us since 2004, which is wonderful, just think of all the lives they have touched and enhanced. We are thrilled that the partnership has reached an incredible milestone of raising £1 Million in donations, donations raised from each and every coin sold from the iconic Poppy Collection and Commemoratives."

Claire Rowcliffe, Director of Fundraising at The Royal British Legion
We are all excited to see our longstanding partnership continue this year when we launch our brand new range of Poppy commemorative coins in September. If you're interested in finding out about when they go on sale then make sure you like us on Facebook or follow us on Instagram, where we announce all of our latest release news!
If you'd like to find out more about the fantastic work that The Royal British Legion do and why we are so proud of this milestone £1 Million that has been raised for the charity, then read on…
---
The Royal British Legion provides lifelong support to serving and ex-serving personnel and their families. People need help for many different reasons. They may be facing employment issues or financial difficulties, or may need help related to housing, homelessness or living independently. They may face mental and physical health challenges, need care in later life or need help building local community connections. Whatever issues people face, the Legion's staff and volunteers are trained so they can direct enquiries to the most appropriate service. And, if there is ever a reason that they can't help, the Legion's vast network of partner charities and organisations means that they will know someone who can.
To find out more about The Royal British Legion, please click here.
When it comes to coin series', very few are as popular as the Beatrix Potter 50ps.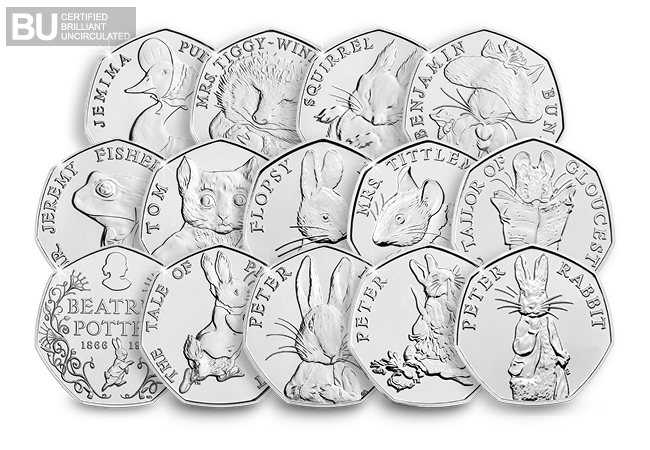 Since they were issued back in 2016, each release has continued to be incredibly sought-after by collectors.
And understandably, collectors have A LOT of questions about this hugely popular series.
Questions that we wanted to answer.
So in our latest video Rachel and I do just that.
Whether you want to know how rare the Beatrix Potter coins really are or if there will be any more Beatrix Potter coins released this year, make sure you watch our latest video to find out.
---
If you're interested:
You can secure all 14 Beatrix Potter coins today, including the highly sought after Jemima Puddle Duck. All you have to do is click here >>

Can you believe that this year marks the 50th anniversary since the very FIRST Moon Landing?
50 years since Neil Armstrong took the first ever steps on the Moon's surface and spoke those famous words: "That's one small step for a man, one giant leap for mankind"
To this day, it is not only considered as one of mankind's greatest ever achievements but also one of the most important moments in history.
There have been a number of incredible coins released across the world to celebrate this 50th anniversary and unsurprisingly collector demand has been extremely high.
If you're yet to secure the perfect piece to commemorate the occasion then I have some good news! As I've spent some time looking through the new releases and have handpicked my top 5 Moon Landing 50th Anniversary coins. Read on to find out why each of them would make a great addition to any collection…
The FIRST EVER British Isles Black Proof £5 Coin
Now what makes this coin particularly special, is the fact that it is the FIRST EVER Black Proof British Isles coin to be issued. This is an extremely rare finish to feature on any coins and it has as such proven a hit with collectors.
Adding to this is the selective colouring that has been used to highlight the design which contrasts magnificently against the black proof finish. Images really don't do it justice! Only 995 coins have been issued worldwide, a significantly low amount given the occasion. Order yours today to avoid missing out >>
The Silver Proof £5 Coin with one of the most striking designs ever seen…
This new Isle of Man Silver Proof £5 Coin has just been authorised for release by the Palace and features one of the most striking designs I've ever seen.
Struck to the official UK £5 Silver specification, the reverse features an Astronaut with a reflection of planet Earth in the visor which is brought to life in full colour detail. It is coin craftsmanship at its very best. Find out more about this official release here >>
Introducing the FIRST EVER Plateau Minted Coin
This is an opportunity to own a collecting first – the Moon Landing 50th Anniversary Plateau Minting Coin. If you're wondering what plateau minting is, let me explain. Domed coins have been around for some time now, but never before has a Mint succeeded in successfully striking a plateau area on the peak of the dome. That is until now!
But that's not all. As the coin has been struck with a variation of sophisticated techniques and finishes, in particular the skilful alignment of both Proof and Matt finishes. You really have to see this coin to fully appreciate it. Take a more detailed look by clicking here >>
The ULTIMATE Space Collection – featuring EIGHT Moon Landing coins!
If one single coin is not enough, then I have the perfect solution for you. This is perhaps the ULTIMATE Space collection, featuring eight commemorative coins that have been issued from across the world.
It's difficult to not be instantly impressed when you open the deluxe wooden presentation case. As you'll find a mix of modern coins with special minting techniques, historic coins and even some intriguing designs like you've never seen before. This is certainly one not to miss, especially as it comes complete with an Apollo 11 commemorative plaque! Click here to find out more about this incredible collection >>
Chance to own the WORLD'S FIRST domed coin presented in a Silver Bar
Much like Apollo 11, this new commemorative is a WORLD FIRST. As this is the first time a domed coin has been set into a solid 2oz Silver Bar – the combination of different minting techniques on display is out of this world.
Not only that, but the US Silver Proof Moon Landing Dollar featured in the Silver Bar is the second ever in the Mint's history to be curved – one side is domed, the other concave. The first commemorative curved coins to be minted by the US completely sold out in less than two weeks – and all signs suggest this will prove just as popular.
There's so much more to tell about this incredible piece so click here to find out all about it. But please note, we have just 50 available exclusively for our UK collectors so you'll need to be quick if you'd like to secure one for your collection.
---
But that is by no means all. We have a whole range of incredible coins and commemoratives that have been issued to celebrate this important 50th anniversary. You can take a sneak peek at some of the pieces below or check out the full range by clicking here >>