November 4th 1922, in Thebes, Egypt, English archaeologist Howard Carter discovered the greatest treasure in Egyptology. The tomb of ancient Egyptian King Tutankhamun.
The excavation was slow and cautious. It wasn't until 16th February 1923 that the third doorway was opened, revealing the Burial Chamber.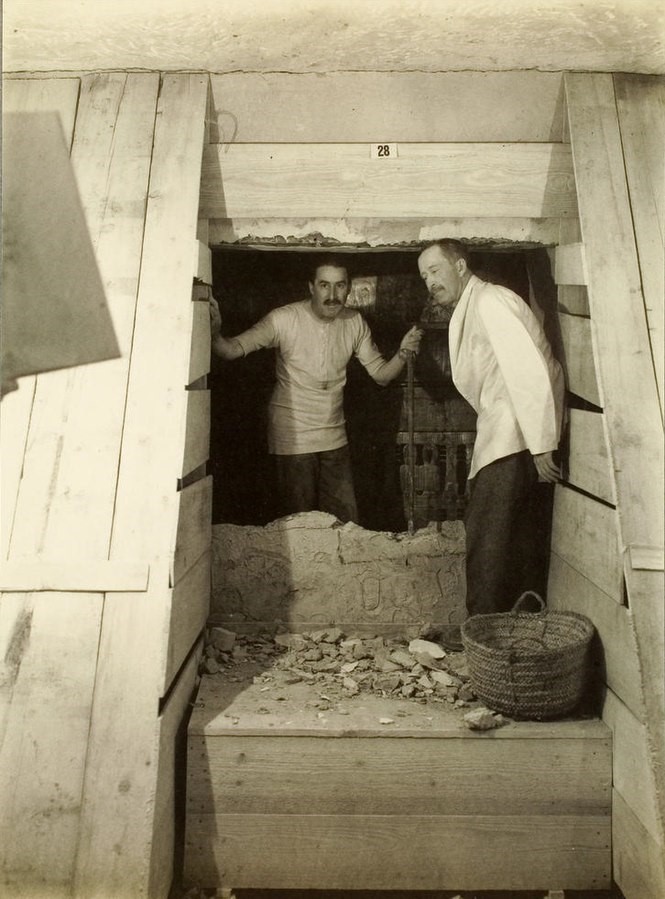 The chamber not only contained the perfectly preserved sarcophagus of Tutankhamun, but also remarkable treasures untouched for more than 3,000 years.
And now, to mark the centenary of this incredible discovery, a collection of new 50ps has been authorised by the Isle of Man Treasury.
But most importantly, these are the FIRST coins to feature the new official British Isles portrait of King Charles III.
Five Tutankhamun 50ps authorised by the Isle of Man Treasury
To celebrate the extraordinary treasures found within King Tutankhamun's Tomb, you can now secure these FIVE new Brilliant Uncirculated 50ps.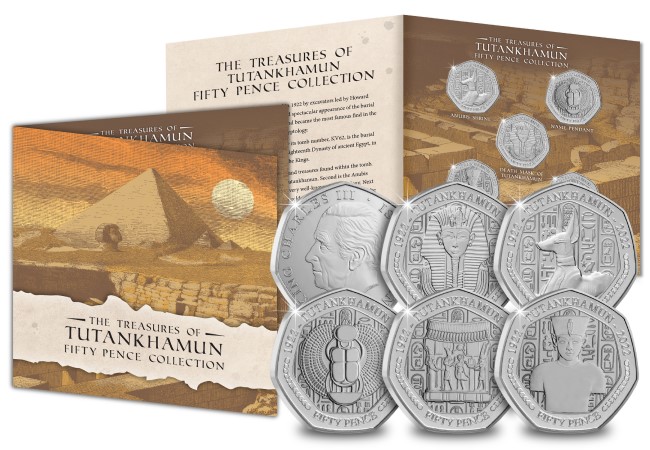 Featuring five iconic designs carefully curated by Joe Cummings that represent artefacts and treasures found within King Tutankhamun's tomb. These include; the famous death mask of Tutankhamun, Anubis Shrine, the Name Pendant, a corselet, and a model of the torso of Tutankhamun.
Your coins will arrive in a detailed presentation pack to keep your coins safe for years to come.
Don't miss out, sure ALL FIVE for just £34.95 (+p&p) >>>
Limited Edition Silver Proof 50p set restricted to JUST 795 Collectors WORLDWIDE
JUST 795 Silver Proof Sets are available worldwide. Considering The Royal Mint's Silver Proof Tutankhamun £5 has an edition limit of 1922, how long can 795 sets possibly last?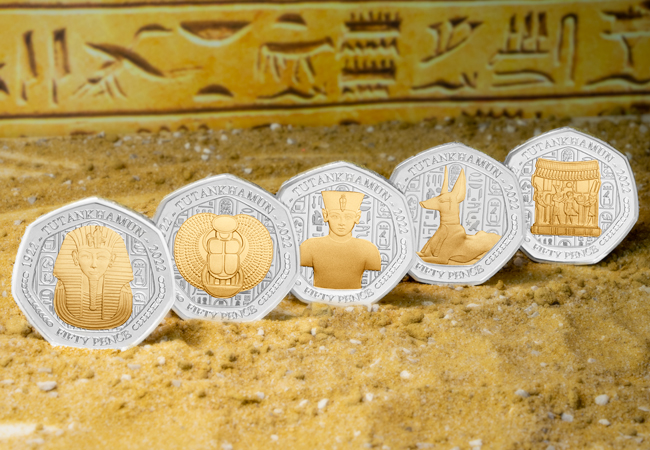 Each 50p in this FIVE-coin set has been struck from 925/1000 Silver to a pristine Proof finish. What's more, with the addition of 24ct Gold-plating, it comes protectively housed in a deluxe presentation box.
The ULTIMATE Presentation of Stamps and Coins – with the addition of vivid colour print!
Just 495 Brilliant Uncirculated 50ps feature a colour finish for use within this Ultimate Stamp and Coin Cover.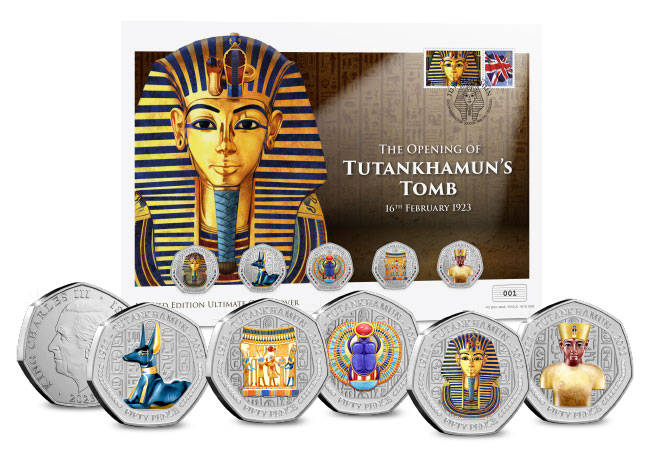 These covers will be officially postmarked by the Royal Mail on the 16th February 2023 – the 100th anniversary of the Opening of the Tomb.
And with ONLY 495 of these covers available worldwide, many collectors are sure to miss out.
This is the smallest edition presentation you'll find – from a collector's point of view, the decision is obvious. You can only secure the NEW 50ps with colour and Official Royal Mail Philatelic label in a set like this, and we guarantee you won't find a smaller edition anywhere else.
Click here to secure the ULTIMATE Presentation for just £70 (+p&p) >>>
JUST 195 Available Worldwide – The DOUBLE DIAMETER Tutankhamun 50p struck from One Ounce of Pure Silver
Perhaps the most recognisable treasure discovered within Tutankhamun's tomb was his iconic Death Mask. This mask's incredible detail features on this BRAND NEW 50p with the brand new portrait of the King.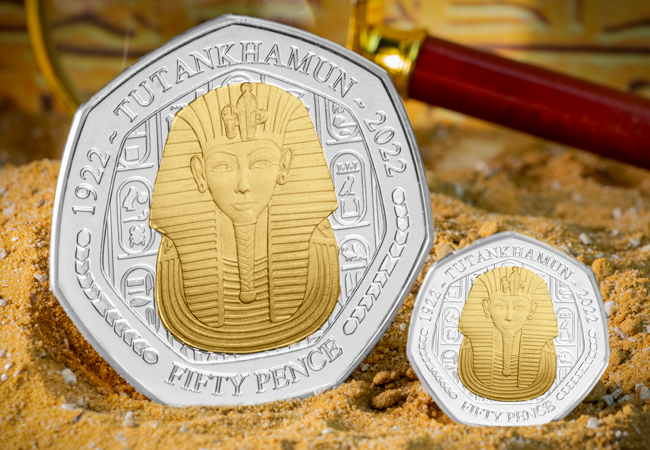 This impressive 50p has been struck to a DOUBLE DIAMETER size from 1oz of Pure Silver. That's twice the size of a standard 50p and almost four times heavier!
Due to this rare and complicated striking technique, these remarkable coins take a little longer to produce than the rest of the collection.
This coin is available to pre-order now.
Click here NOW to pre-order one of JUST 195 Available WORLDWIDE with a deposit of just £19.50 >>>
As the FIRST coins to feature the new British Isles King Charles III portrait designed by renowned coin designer, Glyn Davies, these are expected to be extremely popular with knowledgeable collectors.
And with such low edition limits, I would suggest acting quickly to secure yours before stock runs out.
If you want something extra special, there are also gold specifications available within the collection.
Click here to browse the full range of 'The Discovery of Tutankhamun's Tomb' 50p releases starting from JUST £6.99 >>
Imagine the scene: Germany 1923 – the country is being forced to pay for the damage suffered during WWI. But they have missed a payment, and the country plummets into chaos…
France and Belgium invade Germany's main industrial area, confiscating goods as reparation payments.
The economy is on the brink of collapse. Insufficient goods are being produced. Prices are running out of control…
Labourers are being paid twice a day because their wages are virtually worthless by lunchtime.
A loaf of bread, once costing 250 marks, now costs 20 billion marks!
Queues of hungry, disheartened people line the streets of Germany with wheelbarrows and baskets of coins as they desperately try to feed their families.
Just imagine having to carry your money around in a wheelbarrow because it was worth so little.
Now, 100 years later, you can own a coin that has been taken straight from that wheelbarrow…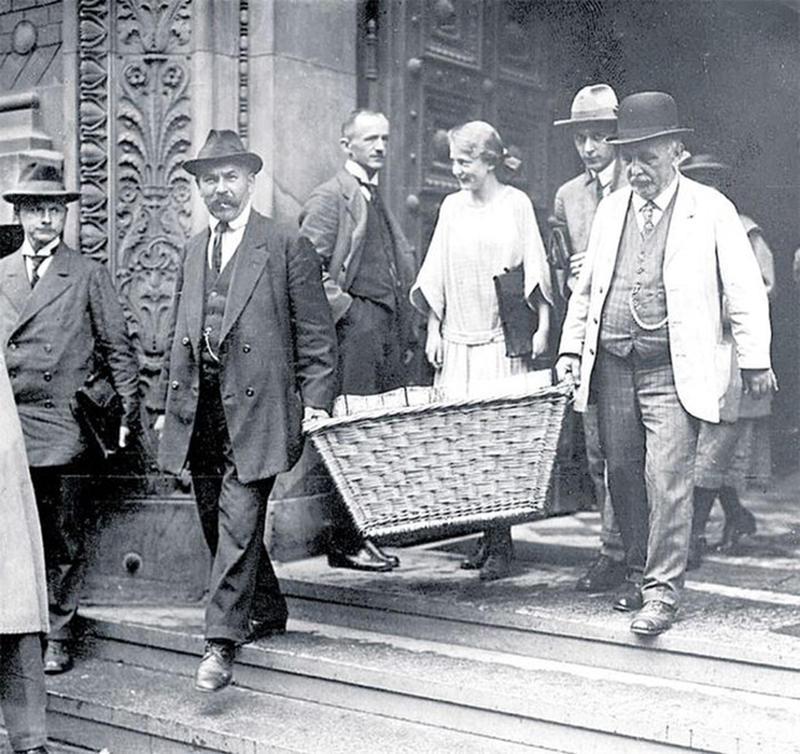 The 1923 German 200 Mark Coin
Recognised as practically worthless at the time, the 1923 German 200 Mark coin is now steeped in the rich history of Germany's most shocking period of hyperinflation. And as we mark its 100th year of issue, demand could well be hyperinflated…
The hands that this coin could've passed through are ingrained into its fascinating history. When you consider that it was this very coin that would have been buried amidst hundreds of others waiting to be exchanged for a loaf of bread, you realise that no other coin has such a unique story.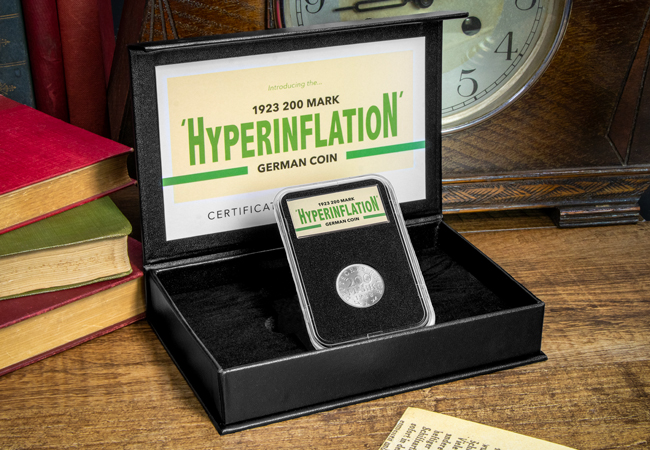 Limited Number Available for JUST £19.99
It has taken months of searching to source just a small number of this historical coin for Westminster collectors. And you must be warned, collectibles from the Weimar Republic aren't always the easiest to get your hands on, let alone ones from iconic years such as this – and with a price of less than £20.00!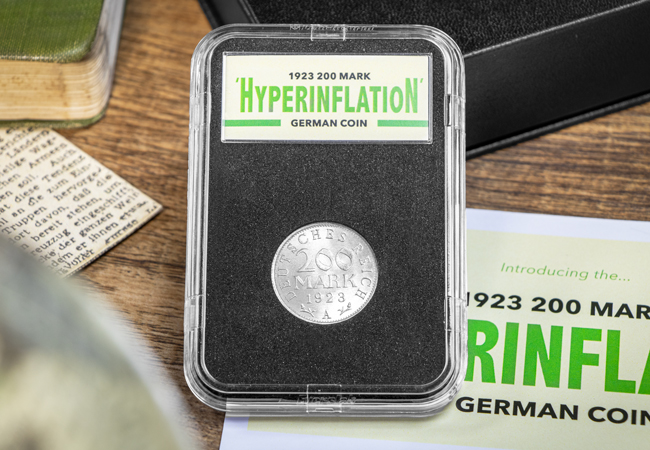 Considering its 100th anniversary, fractional cost and unmatched history, the 1923 German 200 Mark coin will be a staple piece for committed collectors.
So, don't miss your opportunity to secure one before it's too late!
When a new monarch is crowned, collectors rush to find the perfect memento to commemorate the event.
For Queen Elizabeth II's coronation back in 1953, a huge range of coronation themed memorabilia was created, including some flagship coin issues. And some of these collectibles fetch hefty sums on the secondary market.
Sought-after Coronation Dishes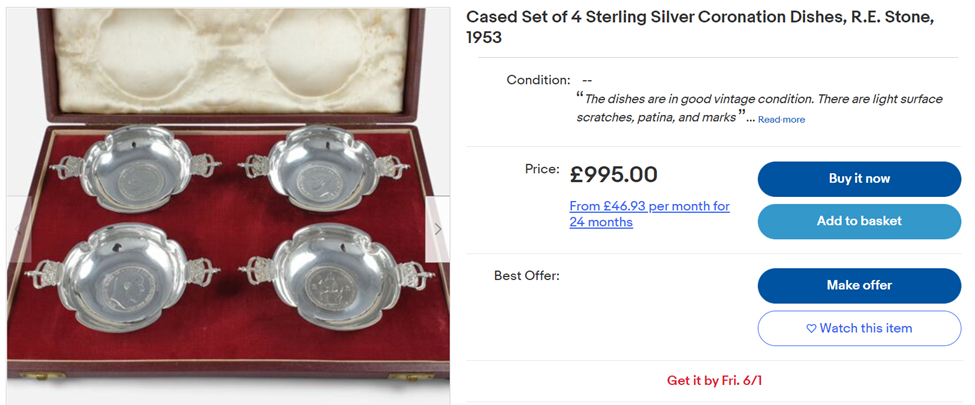 This set of silver 1953 coronation dishes by renowned silversmith, R. E. Stone are cast in the shape of the Royal Crown.
The bases are set with various coronation coins including a 1902 Edward VII crown, a 1935 George V crown, a 1937 George VI crown and a 1953 Elizabeth II crown.
A complete cased set of 4 of these coronation dishes in good condition have been listed on eBay for nearly £1,000! Always be cautious when purchasing collectibles on secondary sites – the best way to check the value of an item is to search sold listings on eBay.
Paragon Coronation Wall Plate and Royal Doulton Cup
Trays, plates and mugs were some of the most popular souvenirs issued to commemorate Queen Elizabeth II's 1953 Coronation.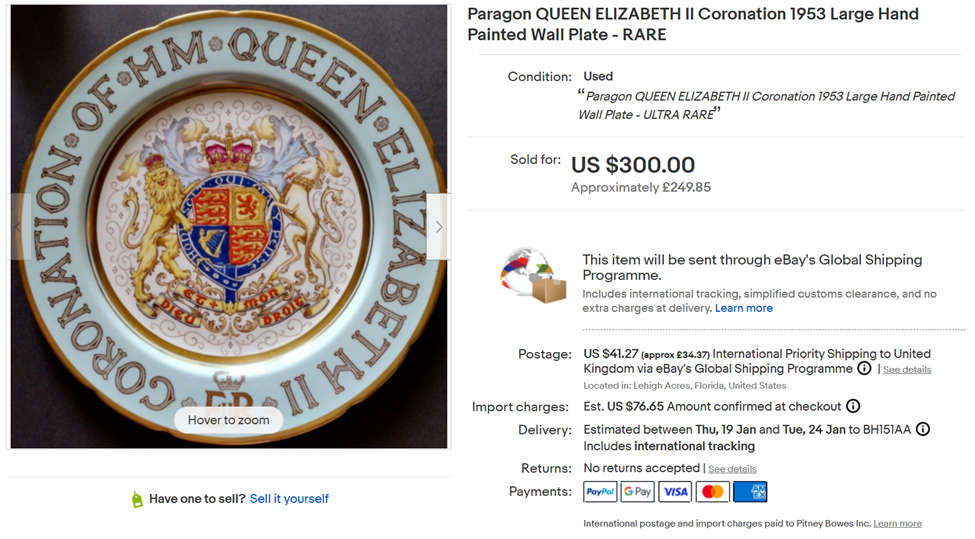 Listed as 'ultra rare', this hand painted 1953 Coronation wall plate by China manufacturer Paragon recently sold for nearly £250 on eBay.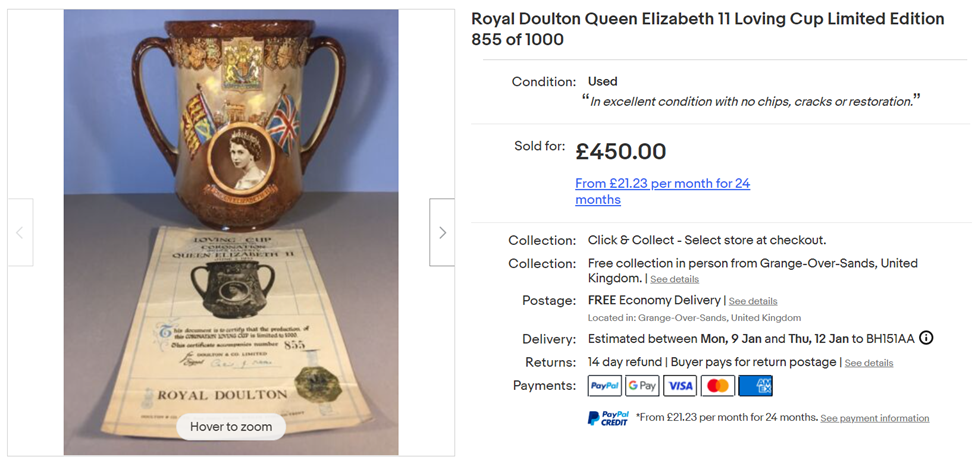 This stunning piece of Royal memorabilia recently sold for £450 on the secondary market. The Royal Doulton Queen Elizabeth II Loving Cup was listed with its original certificate, certifying that it was number 855 in an edition limit of 1,000. Edition limits play a huge role in driving collecting demand, so it's no surprise that this cup proved so sought-after.
Original 1953 Coronation Ticket
Original tickets to Queen Elizabeth II's Coronation are extremely sought after by collectors. Their time sensitivity makes them extremely limited.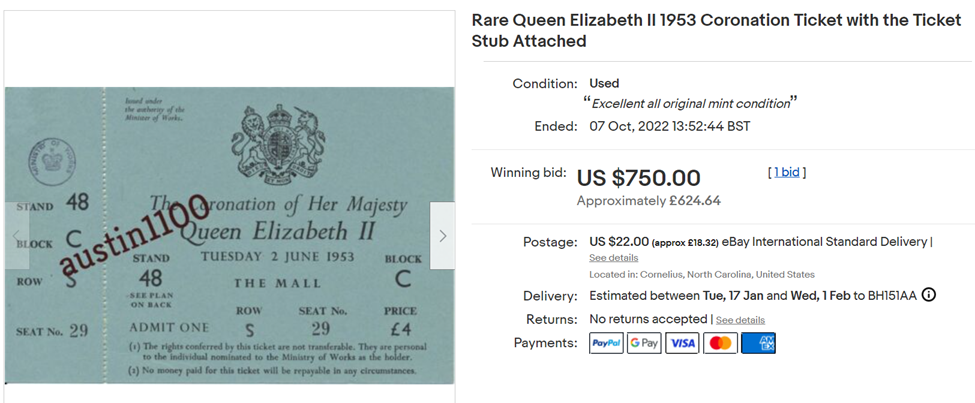 Coronation tickets without the stub attached range in price online from £200-£240. However, this official ticket with the stub still attached recently sold on eBay for more than £620!
Coronation Souvenir Biscuit Tin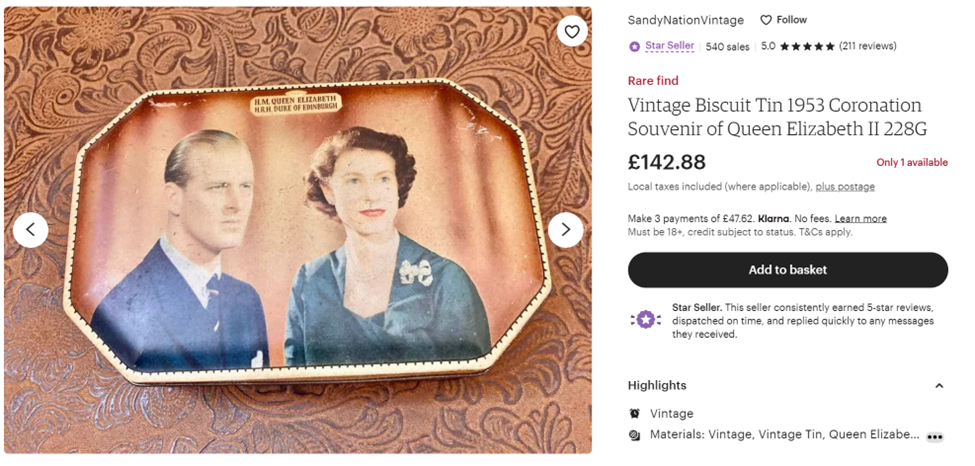 This vintage biscuit tin featuring a young Queen Elizabeth II and Prince Phillip was issued to mark the 1953 coronation.
These tins have been listed online for more than £142. Confectionery company George W. Horner also produced other coronation products such as toffee tins and mint tins.
---
Do you own any original 1953 coronation memorabilia? We're expecting demand to be extremely high for King Charles III coronation collectibles.
---
Sign-up for the latest news about King Charles III Coronation coins
Don't miss out on owning the very first King Charles III coronation collectibles. Sign up for all the latest updates below.
We will only use your details to contact you about King Charles III Coronation products.
Privacy Policy.