Back in 2008, legendary Australian rock band AC/DC announced their first stadium tour in eight years ­ to coincide with the release of their new 'Black Ice' album – it was aptly named the 'Black Ice World Tour'.
It transpired that absence had only made the heart grow fonder and all 18 dates sold out in record time. In fact, unprecedented fan response forced additional shows in Chicago, Los Angeles, and Oakland.
Another sell out
Now, 10 years on, the band are celebrating another record sell out. Clearly the appetite for all things AC/DC related has only increased.
An officially licensed 2oz silver 'Black Ice' coin was issued and the worldwide edition limit of just 999 was completely sold out before the coin had even been released.
The coin design features the 'Black Ice' album cover artwork, combining selective colour, high relief created using state of the art smartminting and a stunning black proof finish.
AC/DC's legendary 'Black Ice' album debuted at No.1 on album charts in 29 countries and has been certified Multi-Platinum in eight countries. It's easy to see why this coin is in such demand.
Record breaking
Remarkably, another AC/DC coin, recently Issued by The Royal Australian Mint, sold out in less than 24 hours – that had an edition limit of 30,000! I cannot remember anything from this mint ever selling out so fast and amazingly this was only available to collectors in Australia and New Zealand.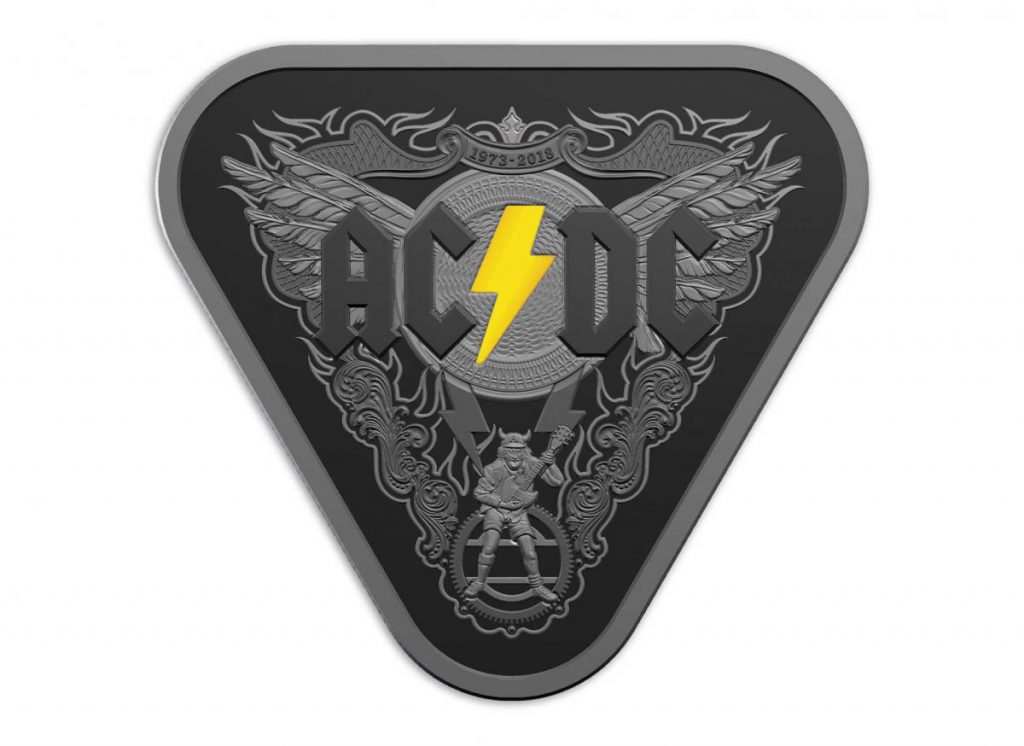 This highlights the huge popularity but also the incredible scarcity of AC/DC commemorative coins around the world.
---
If you're interested…
We have ONLY 15 of these hugely sought after Official AC/DC Black Ice Silver 2oz Coin available for collectors.They are totally SOLD OUT at the mint, meaning we will not be able to source anymore. Don't miss out on the collector's coin of the year.
Click here to check out the BRAND NEW silver AC/DC coins now >>
Almost 50 years ago, the ten bob note was in every wallet, purse and pocket in Britain. The 10 Shilling banknote would have been recognisable to every schoolchild in Britain, a fact that certainly isn't the case today!
Worth the equivalent of 50p, back then it would have bought you 6 pints of beer, 10 loaves of bread, or 17 pints of milk. It's hard to imagine a 50p going so far these days!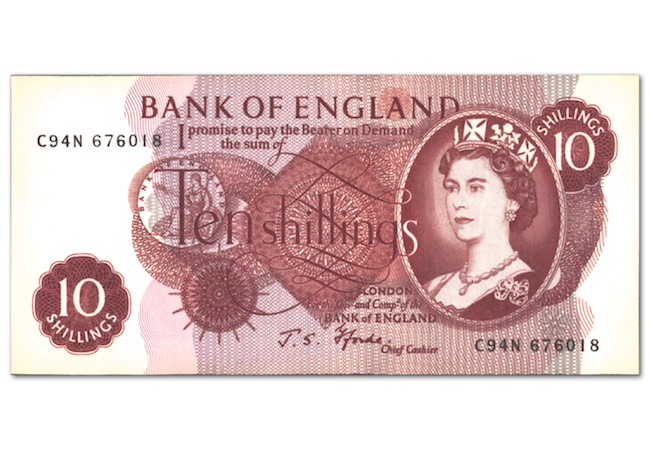 The 10 Shilling banknote was the smallest denomination note ever issued by the Bank of England. The denomination was first issued as a banknote by the Treasury during the First World War as an emergency currency and was then issued as a generally circulating note by the Bank of England from 1928.
However, in 1966 when the decision was made to convert Britain's coinage to a decimal currency it sadly meant saying goodbye to the well-loved 10 Shilling Note.
Under this new system, there was no place for the 10 bob note. It was decided that the new decimal replacement should be issued as a coin, the main reason being that notes had an average lifetime of about five months so it was inefficient to keep replacing a note with such a low denomination.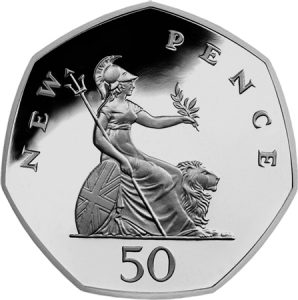 As a result, the first ever 7-sided coins was introduced in 1969 – the now instantly recognisable 50p coin. The two currencies co-existed for around a year, but finally, on 22nd November 1970, the old 10 bob note ceased to be legal tender.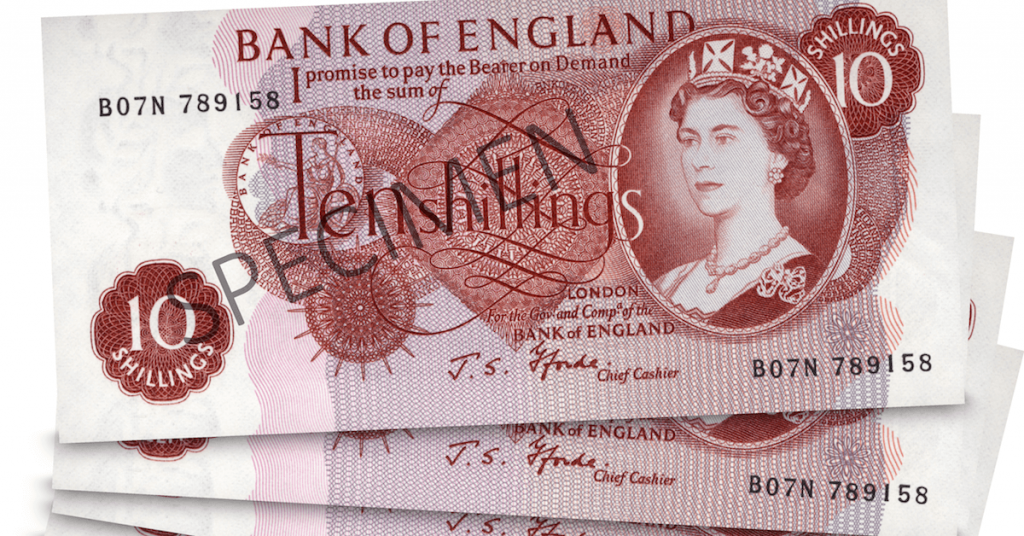 Almost 50 years on, the 50p is now a staple of British culture and one of the most collectable coins internationally. The 10 bob note stands as an important reminder of the pre-decimal coinage our generation grew up with and also of one of the most significant moments in the history of British currency – decimalisation.
---
If you're interested…
Today you have the opportunity to own a FINE SILVER reproduction of the 10 Shilling Banknote for JUST £45. But with limited stock available, you will need to act quickly to secure this perfect piece of nostalgia…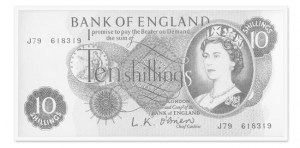 Click here to order your FINE SILVER reproduction 10 Shilling Note >>>
All those in full time education on the Isle of Man recently received a specially minted coin to mark the First World War Armistice Centenary.
In a move designed to ensure the younger generations do not forget the sacrifices made by those who fought in First World War, they were each given a distinctive 50p coin featuring selectively coloured red poppies. Each coin, commissioned by the Treasury, was presented in its own individual display case to ensure that it could be kept safe and handed down to future generations.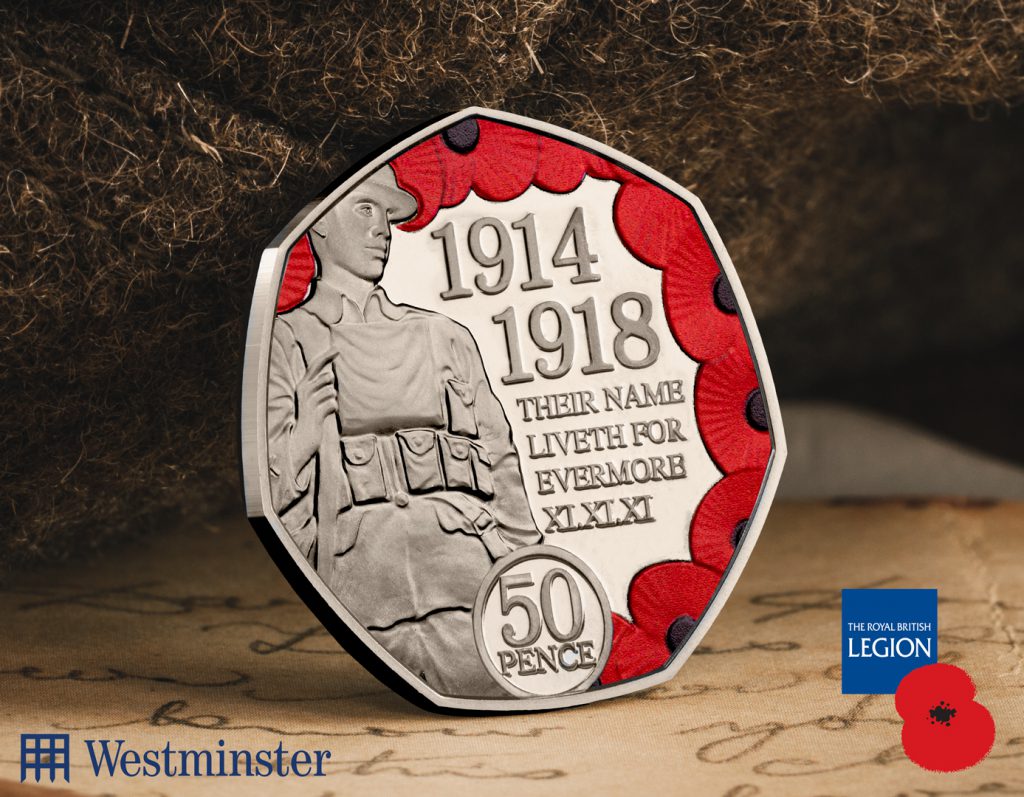 The reverse of this coin features the First World War soldier from the Douglas war memorial, with the words 'Their name liveth for evermore' and the dates '1914 1918', beneath which are the Roman numerals 'XI.XI.XI' as a reminder of the final time and date of the War's end.
Coins to enter circulation
There's also great news for collectors on the Island as Cupro-Nickel versions of these coins, without the selective colouring, will be released into general circulation.
A launch event was held at the Legislative Buildings on the Island with the President of Tynwald, Speaker of the House of Keys, the Chief Minister and Treasury Minister in attendance, along with a number of other specially invited guests.
Specially commissioned Proof version
Working in partnership with the IOM Government, The Westminster Collection developed a proof version of this hugely poignant coin, struck to the highest possible finish. When you consider the importance of the centenary anniversary alongside the tiny worldwide edition limit of just 1,950,it comes as no surprise that they sold out in a matter of days.
However, The Westminster Collection are also offering specially struck collector quality "Brilliant Uncirculated" coins that are guaranteed not to have the scratches and chips of normal circulation coins.
What's more, this coin has been officially approved and produced in partnership with The Royal British Legion.
10% from the sale of each coin will be donated to the Legion who provide lifelong support for the Armed Forces community- serving men and women, veterans and their families.
---
If you're interested…
Today you can secure your very own First World War Centenary 50p. All you have to do is click here >>