Today, the Royal Mint have launched their brand-new SnowmanTM 50p coin, just in time for Christmas.
It's safe to say this coin is destined for sell-outs, given that in the last five years EVERY edition has sold out in record time.
Read on to find out more about this year's designs, and those tiny edition limits…
Designed by Robin Shaw
This years design features 'The Boy', James, and the Snowman dancing in a snowy forest in front of the Northern Lights.
It has been carefully illustrated by Robin Shaw, a renowned animator who has famously produced all of the images that have appeared on the Snowman UK 50p coins. The design is especially eye-catching in Silver, due to the advance colour-application that brings the Northern Lights to life.
Although the design may be stunning , it's the edition limits that will be catching the eye of collectors…
Sell-outs expected…
The limited-edition Silver Proof coin has an edition limit of just 5,000.
To put that into context, the 2018 SnowmanTM Silver 50p sold out an edition limit of 15,000.
That means this year's coin is three times as limited. When you think about it, should every collector who secured the first coin want this latest release, we are already 10,000 short.
And that's not all, the Gold Proof coin has had a drastic edition limit cut from 300 coins last year, to a minute 100. Again, this coin has sold-out year on year and the small numbers wont be enough to satisfy demand.
How to secure yours
This UK 50p coin is available in three specifications: Gold Proof, Colour-Printed Silver Proof, and Brilliant Uncirculated Quality. A specification for every collector. Click here to secure the perfect christmas present before it's too late >

Christmas is just round the corner, and before you know it, you'll be singing Jingle Bells, drinking mulled wine and digging your way through boxes and boxes of chocolates.
But, what else does that mean most importantly?
A whole selection of Christmas 50ps!
FIVE brand new Father Christmas 50p coins have just been issued by Jersey for Christmas 2023. Take a look at the video below…
Collectors have been rushing to secure their favourite specifications and Christmas coin releases notoriously have sold out way in advance of Christmas in previous years.
So if we've put you in the festive mood, click here to view our whole range >>
PLEASE NOTE: The Father Christmas Colour BU 50p Set is already SOLD OUT.
---
The Father Christmas BU 50p Set
Beautifully made up of each of the brand new Father Christmas 50ps, this set arrives in a bespoke festive presentation pack. It's one of the only ways to own all five of these coins as a complete set.
Each 50p has been struck to a superior Brilliant Uncirculated Quality. So whether for family, a fellow collector, or as an early Christmas gift to yourself – this is a MUST-HAVE set.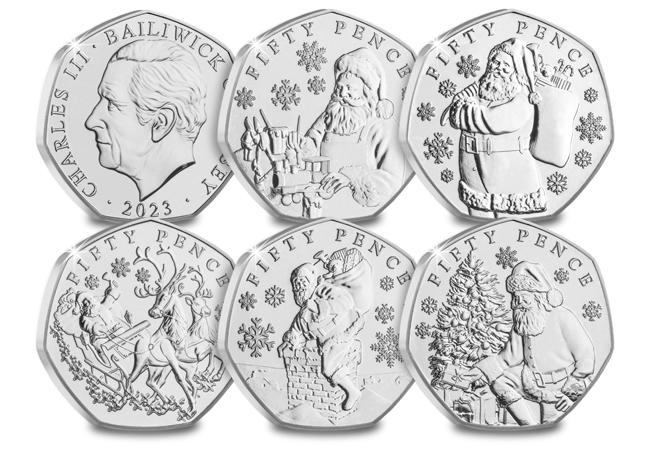 ---
The Father Christmas Silver Proof 50p Set
It wouldn't be Christmas without a Silver Proof 50p set.
Each 50p design has been brought to life through vivid colour printing in this set, standing out with a stunning Proof Finish.
The set arrives in a deluxe Presentation Case, alongside an individually numbered Certificate of Authenticity. With just 500 sets available worldwide, this is a rare gift giving opportunity.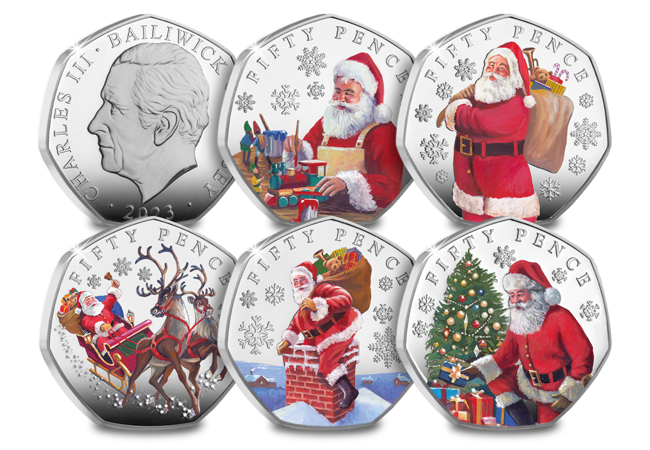 ---
The Father Christmas BU 50p Christmas Cards
The perfect Christmas card to give to family and friends.
This Brilliant Uncirculated 50p coin arrives safely encapsulated in a winter scene Christmas card, ready for you to fill with your own personalised message.
Available in non-colour and colour!
Click here to secure your colour BU 50p card >>
Click here to secure your non-colour BU 50p card >>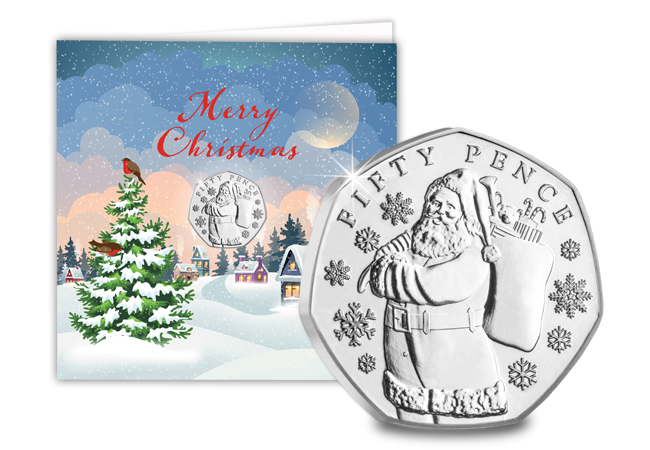 ---
The Father Christmas Mint Masters Set
What makes this 50p set so special?
Consisting of TEN brand new 50p coins, the Mint Masters set features the Silver Proof Colour and a Mint Masters EXCLUSIVE – the non-colour Silver Proof 50ps paired with them.
Only 100 collectors will be able to say they own both of these stunning Silver sets in a deluxe wooden presentation case, also arriving with a signed Christmas card by the artist responsible for your Father Christmas 50p designs, David Young.
Click here to find out more >>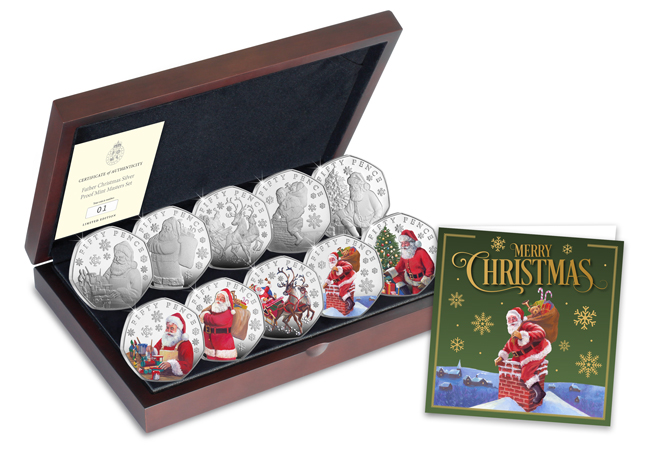 ---
Remember, you can also view the whole range by clicking here >>
The coins that we use every day are changing.
From the 1p to the £2, eight new coins will soon be entering our pockets and our piggy banks.
So, as we welcome the new era of King Charles III, both the 'heads' and 'tails' of our circulating coins will have brand new designs.
Read on to unveil The Royal Mint's brand-new designs, learn about the history of Definitive coins and why this is the biggest change for British coins in 15 years…

The Coins of a New 'Carolean' Era
The coins, each designed by The Royal Mint, have been authorised by HM treasury and approved by King Charles III himself.
Over the past seven decades, our circulating coinage has undergone many changes, showcasing five different portraits of Her Majesty Queen Elizabeth II on the obverse, and two distinct reverse designs.
And even though we have seen His Majesty's effigy on the obverse of several commemorative issues, this will be the first time we'll see his portrait on the coins we find in our everyday change.
All reverse designs share a unique feature, setting each denomination against a stylised logo with 3 interlocking 'Cs', representing King Charles III.
Before they gradually enter circulation, The Royal Mint have introduced the first strike of these coins in commemorative quality – with a special Privy Mark…
Inspired by Our Natural World
What's more, each coin embodies King Charles III's passion for nature & sustainability, presenting various symbols of Britain's vast wildlife on the reverse designs. Having been a Patron of The Wildlife Trust since 1977, Charles' affiliation for the natural world was a key inspiration for the designs of the UK's new coinage.
The new £2 coin design represents the union of the United Kingdom with intermingling flowers from the four nations of the UK: the Rose, the Thistle, the Daffodil, and the Shamrock.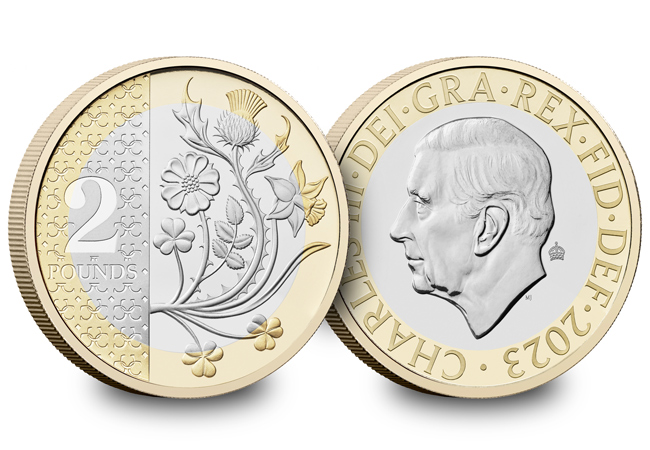 For the £1, 50p, 20p, 10p, 2p, and 1p, The Royal Mint have thoughtfully translated various wildlife creatures into innovative reverse designs.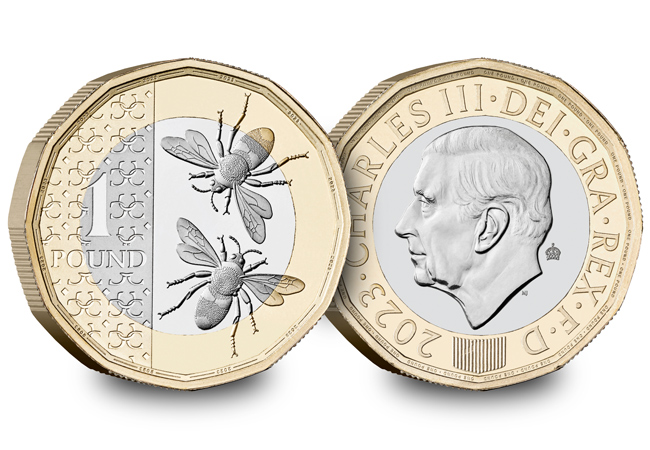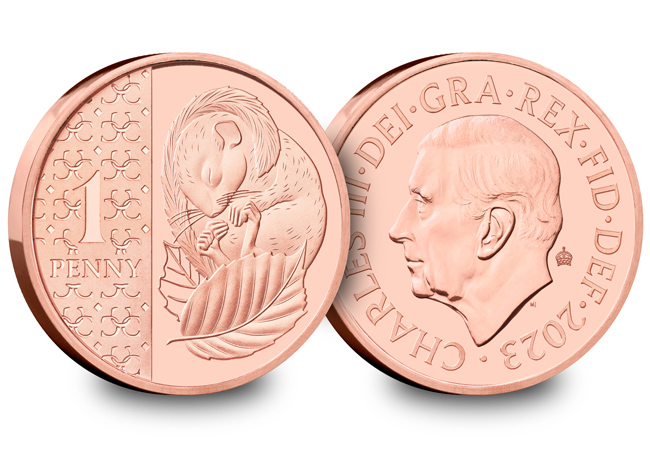 For example, the £1 coin presents a pair of Bees, the 50p showcases a Salmon in water, the 20p a Puffin, the 10p a Scottish Capercaillie, 2p a Red Squirrel, and the 1p a sleeping Dormouse.
Finally, the 5p coin features a stunning combination of oak leaves and acorns – a perfect tribute to our natural world and England's national tree.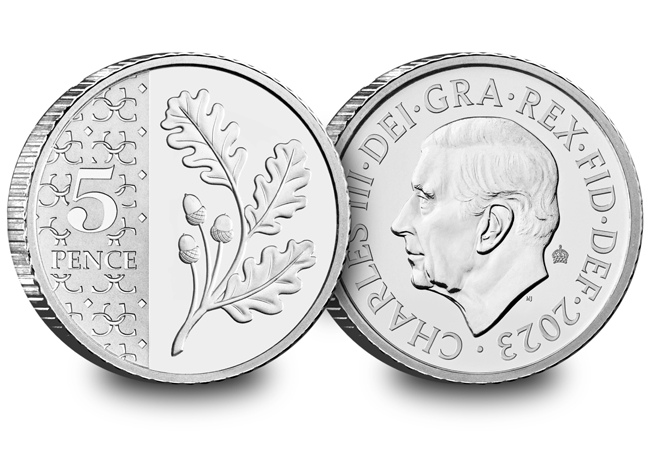 The History of 'Definitive' Coinage
The eight different coin denominations which make up our everyday change (1p, 2p, 5p, 10p, 20p, 50p, £1, £2) began circulating in 1971. This followed Britain's shift towards Decimalisation, a plan which had been in the making for over 10 years.
Multiple artists participated in a private design competition, and among them was Christopher Ironside, the chosen designer of the decimal coins. Ironside's designs remained on the reverse of the definitive coins for 40 years, until Matt Dent proposed the idea of spreading the Shield of the Royal Arms over the definitive coins in 2005.
"This piecing together of the elements of the Royal Arms to form one design had a satisfying symbolism – that of unity, four countries of Britain under a single monarch." – Matt Dent
A Special Touch for Collectors…
The best part is, you can now secure the commemorative editions of the UK's new coinage.
And in addition to new designs on both faces, these coins also feature a distinctive 'Privy Mark' on the obverse, a unique and sought-after element.
Designed to distinguish these coins from the ones you'll eventually find in circulation, the first commemorative strikes display a delicate crown positioned alongside the effigy of His Majesty.
From the official Brilliant Uncirculated pack, to the prestigious Proof Set, or the strictly limited DateStampTM, you can click here to view the range with prices starting from £33 (+p&p) and secure yours before it's too late >