Posts Tagged 'new fifty pence'
'As if by magic the shopkeeper appeared…'
For the generation of children who watched Mr Benn, those words heralded the beginning of yet another magical adventure for Mr Benn.
Incredibly it's been 50 years since the postman first arrived at No 52 Festive Road with Mr Benn's invitation to a fancy dress party… and so started his first adventure. Since then Mr Benn has fascinated millions of children with his adventures as he walked through that magical changing room doorway.
And so, to celebrate the 50th Anniversary year, a special set of British Isles 50p coins have been released by Guernsey Treasury and fully approved by Her Majesty the Queen.
Check out the coins below and all the information you will need to order. They are certainly something that Mr Benn would have been sure to "keep carefully just to remind me".
---
The Complete Brilliant Uncirculated 50p Set
This stunning collection features all five new 50p coins, each struck to a Brilliant Uncirculated quality and featuring Mr Benn on four of his most popular adventures – the Red Night, Clown, Cook and Spaceman. These go perfectly with the official Mr Benn centrepiece coin.
What's more, the coins will come protectively housed in bespoke presentation pack that has also been designed specifically for your coins.
This complete set is a must-have for anyone who grew up watching Mr Benn, so if you'd like to secure one for your collection for JUST £31.25 (+p&p) then click here >>
---
The STRICTLY LIMITED Mr Benn Silver 50p Coin
The Silver Proof version of the 50p coin features a nostalgic design of Mr Benn, alongside a stylised '50' with colours inspired by Festive Road. The obverse features the Queen's effigy by Jody Clark.
The coin has been struck to a flawless Proof finish from .925 Sterling Silver with selective vivid colour printing to bring the design to life – this really is a must-have for any Mr Benn fans.
The Silver Proof editions are without a doubt the collector's favourite and almost always acquire fast sell-outs and with an edition limit of JUST 4,995 coins, time is short to secure one for your collection…
Click here to guarantee yours >>
---
The ULTIMATE Mr Benn Silver Proof 50p Collection
One of the most limited way to own these brand new coins is the Silver Proof Collection. With only 1,995 available to collectors worldwide, a sell-out in inevitable. In fact, it's the same edition as the first Peter Pan Silver Proof 50p Set which completely SOLD OUT.
Each coin is struck from .925 Silver, to a Proof finish, with the addition of colour and comes ready to present in case with numbered Certificate of Authenticity.
Don't miss out on yours… Click here >>
---
The Complete Brilliant Uncirculated 50p Cover Collection – JUST 495 available
If you are looking for something truly special and unique, look no further than the Complete Mr Benn Cover Collection. Limited strictly to just 495, each collection features all five Mr Benn Brilliant Uncirculated 50p coins alongside specially licensed philatelic label from Royal Mail on individual covers.
Almost certainly, this is the smallest edition presentation of the new 50p coins that you're likely to see and they are exclusively available from The Westminster Collection.
From a collector's point of view, the decision is obvious. Click here to secure yours >>
To celebrate the release of the UK's FIRST Winnie the Pooh 50p coins, I wanted to give you all a closer look at what you can expect to see within the Royal Mint presentation packs.
So as soon as they arrived in the warehouse, I opened the delivery and grabbed both a Brilliant Uncirculated and limited edition Silver Proof 50p to film this unboxing video.
Whether you're a coin collector, Winnie the Pooh fan OR both, it's a video that you can't afford to miss!
---
If you're interested…

When it comes to coin series', very few are as popular as the Beatrix Potter 50ps.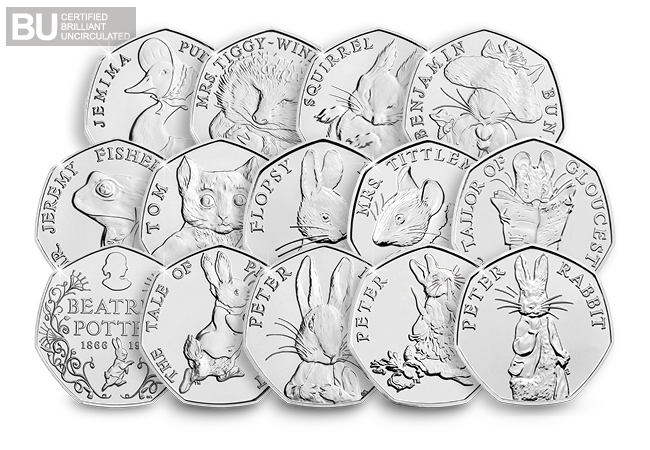 Since they were issued back in 2016, each release has continued to be incredibly sought-after by collectors.
And understandably, collectors have A LOT of questions about this hugely popular series.
Questions that we wanted to answer.
So in our latest video Rachel and I do just that.
Whether you want to know how rare the Beatrix Potter coins really are or if there will be any more Beatrix Potter coins released this year, make sure you watch our latest video to find out.
---
If you're interested:
You can secure all 14 Beatrix Potter coins today, including the highly sought after Jemima Puddle Duck. All you have to do is click here >>