Posts Tagged 'Benjamin Bunny'
When it comes to coin series', very few are as popular as the Beatrix Potter 50ps.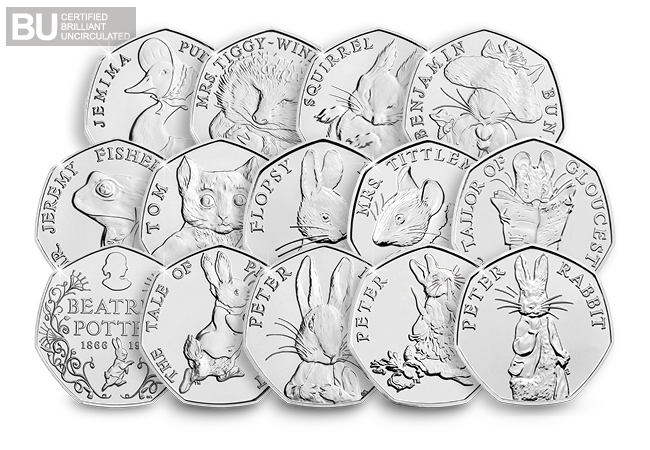 Since they were issued back in 2016, each release has continued to be incredibly sought-after by collectors.
And understandably, collectors have A LOT of questions about this hugely popular series.
Questions that we wanted to answer.
So in our latest video Rachel and I do just that.
Whether you want to know how rare the Beatrix Potter coins really are or if there will be any more Beatrix Potter coins released this year, make sure you watch our latest video to find out.
---
If you're interested:
You can secure all 14 Beatrix Potter coins today, including the highly sought after Jemima Puddle Duck. All you have to do is click here >>

Four new Beatrix Potter 50p silver coins have been revealed by The Royal Mint. Benjamin Bunny, Mr. Jeremy Fisher, and Tom Kitten all feature for the first time on UK coinage – whilst Peter Rabbit scampers back onto our currency for the second year in a row.
The four coins issued in 2016 created a collecting frenzy, crashing The Royal Mint's website and selling out within days. And these new character coins are just as cute, just as evocative, and importantly – just as collectable.
Here's a first look at the new silver coins, with details of when they are available…
2017 Peter Rabbit 50p
Everyone's favourite mischievous bunny is back – pictured in a familiar pose dashing away… presumably from Mr McGregor's garden.
Probably Beatrix Potter's most familiar character, the coin is bound to be sought-after.
Last year's Silver Proof Peter Rabbit coloured coin now changes hands on Ebay for up to £400, underlining its collectability.
2017 Mr. Jeremy Fisher 50p
This silver 50p, due to be released in June, pictures the unlucky frog Mr. Jeremy Fisher – who only wanted to catch some fish for dinner for his friends but ends up almost being eaten by a trout.
Each of the Silver Proof editions is limited to just 30,000 coins. Given the level of demand for last year's series this may well not be enough for everyone that wants one.
2017 Tom Kitten 50p
Available late July, the Tom Kitten Silver 50p features the original illustration from the front cover of Beatrix Potter's book. The naughty kitten appeals to children everywhere with his antics and is another favourite character from the series.
All four coins have been struck to a fine 'proof finish.' It really brings the designs to life – and is often referred to as 'the collector's favourite' due the high level of craftmanship required to achieve the result.
2017 Benjamin Bunny 50p
The last coin to be made available (slated for September) introduces another of the Rabbit family. Benjamin Bunny is Peter's Cousin and leads him on another jaunt into Mr. McGregor's garden. The illustration featured on the coin is taken from the original front cover.
I'm sure you'll agree, these four coins are the perfect continuation of the series, and really capture the nostalgic charm of Beatrix Potter's original stories.
But if there's one lesson you can take from last year, make sure you get yours early – before they sell out!
---