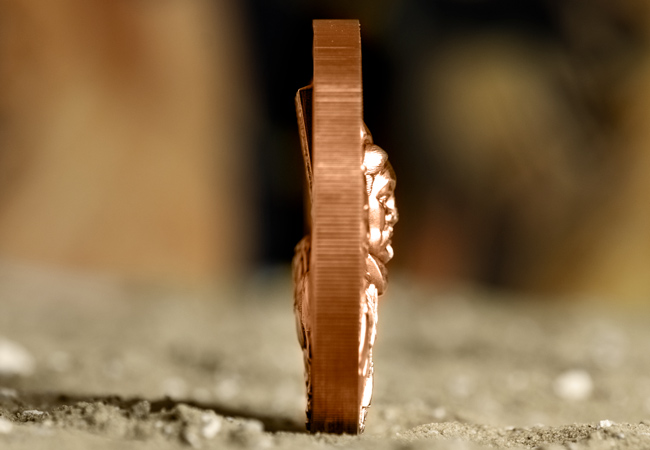 In 1974 a Chinese farmer came across a discovery that would captivate the world … they unearthed the 2,000-year-old Terracotta Warriors.
While digging a well in Xian, China, local farmers came across pieces of a terracotta figure. These shards turned out to be part of the 8,000-warrior-strong Terracotta Army, whose purpose was to stand guard for the first Emperor of China, Qin Shi Huang, for all of his eternal afterlife.
Qin Shi Huang – The First Emperor of China
Qin Shi Huang was the founder of the Qin dynasty and reigned as the first emperor of China between 221-210 BCE.
The emperor longed to find himself an elixir of immortality and summoned magicians and alchemists to his court to discover life-prolonging elixirs.
When his magicians were unable to find a way to make him immortal, the emperor decided to create an impressive tomb for himself. Rulers in ancient China typically had two or three statues to guard them in the afterlife, but Qin Shi Huang demanded a whole army be built to protect him.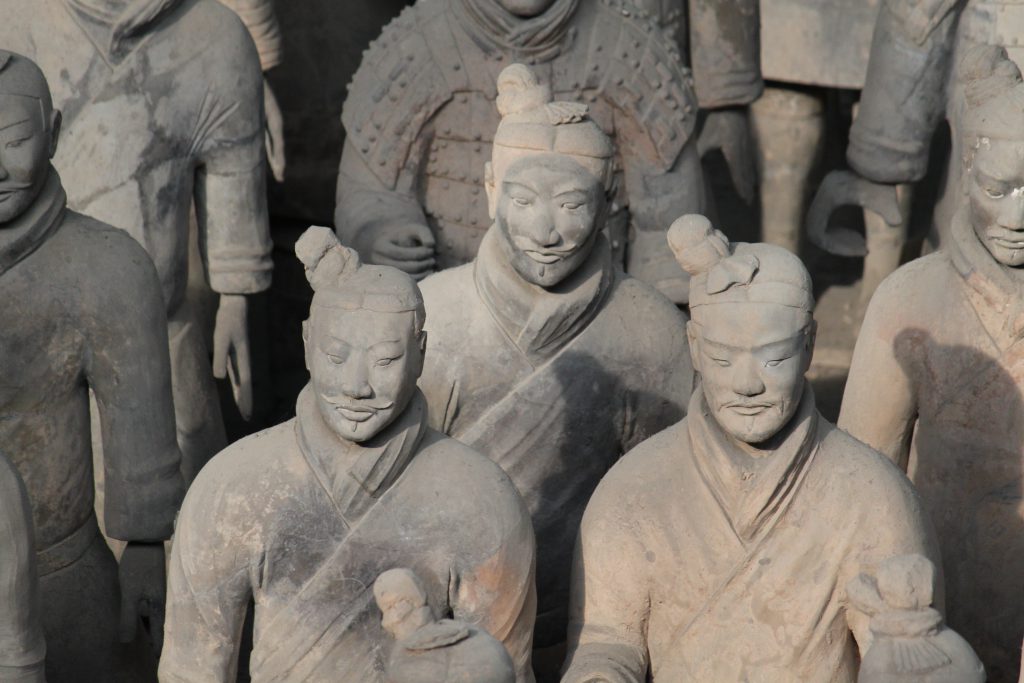 The Terracotta Warriors
What makes these warriors so impressive is that each life-sized statue has been individually created with its own unique features, thought to represent some of the actual soldiers of the day. It is estimated that it took 720,000 artisans over 40 years to complete this incredible army.
It is no surprise that this impressive find is praised as the eighth wonder of the world and was named a UNESCO World Heritage site in 1987.
Along with the army, many other figures have been found, these include entertainers, animals, and a pair of intricately detailed, ten-foot-long bronze chariots drawn by four bronze horses.
To honour this legendary discovery, a palace-approved coin has been issued featuring 3 of the warriors, each recreated in stunning detail using the most advanced minting technology available.
Extraordinary Smartminting technology
This BRAND NEW Terracotta Warrior coin has been made using innovative smartminting technology, which provides an unprecedented level of intricate detail with extraordinary high relief. This means that the warriors and carriage on BOTH sides of the coin can be seen in 3-dimensions to a high-quality proof-like finish.
You can see this impressive craftsmanship in the video below.
Only a small number of mints across the world are able to use smartminting technology due to its extreme complexity, this means that limited ranges using this technique have been released.
And fittingly, they have been struck from a rarely used coin material, copper, complimenting the Terracotta colour of the warriors themselves.
I have only been able to secure 250 of these magnificent coins, so you'll have to act quickly if you want to add one to your collection.
Did you know that on the jagged coast of the UK and the Channel Islands there are an estimated 251 Lighthouses? Each tower and the people who have lived and worked in them over the centuries have kept an untold number of ships and sailors safe.
This year marks the 250th anniversary of the birth of Robert Stevenson — the man who constructed some of the most important and iconic lighthouses in the British Isles.
Not only did he build lighthouses, but he also improved upon their design by inventing intermittent and flashing warning lights, undoubtedly saving the lives of many as the lights helped warn sailors of dangerous areas and guided them to safety.
To celebrate the amazing work of Robert Stevenson, a brand-new collection of Jersey £2 coins have been issued. These £2 coins have been beautifully designed by artist Tabitha Mary, and each features the image of an iconic lighthouse from around the UK and the British Isles.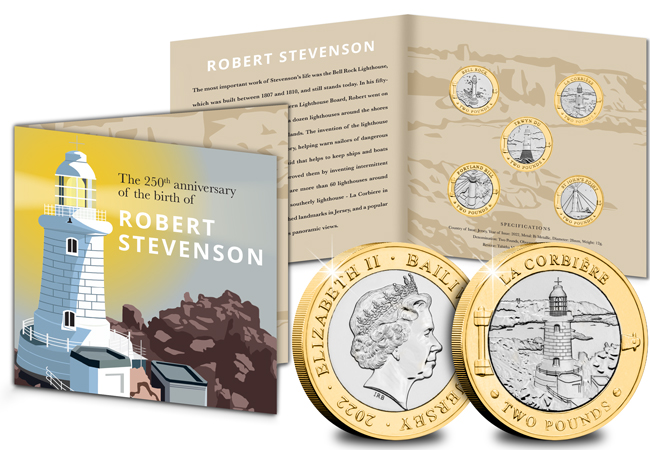 Continue reading to find out more about each of the iconic UK and British Isles lighthouses featured on this BRAND NEW set of coins…
Take a closer look at our set of Lighthouse £2 Coins below!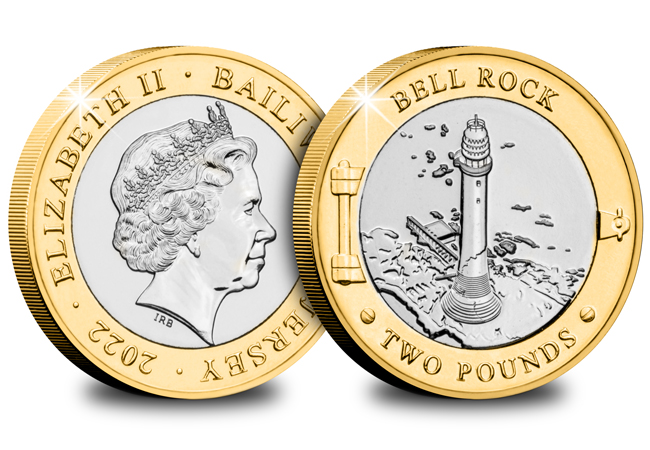 Bell Rock Lighthouse
The Bell Rock Lighthouse is situated off the Angus Coast in Scotland.
Designed by Robert Stevenson, it's the world's oldest working sea-washed lighthouse, established in 1811.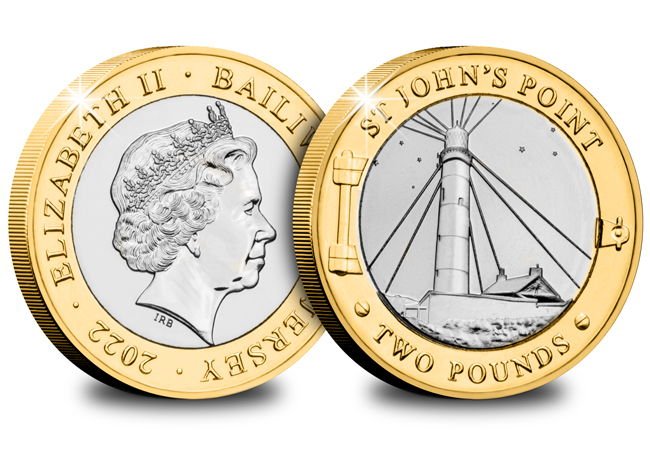 St. John's Point Lighthouse
St. John's Point is one of 65 active lighthouses on the Irish Coast and is a well-known beacon in the northeastern Irish Sea.
Built in 1844, it's the tallest lighthouse in Ireland, standing over 40 meters tall.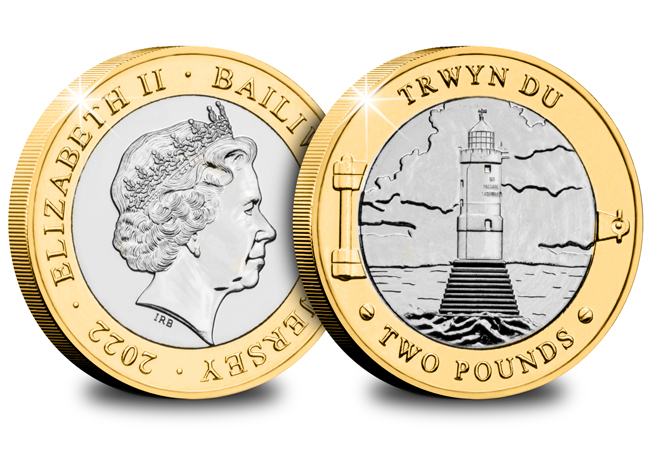 Trwyn Du Lighthouse
Situated in Wales, Trywn Du is also known as Penmon Lighthouse and marks the channel between Puffin Island and Penmon Point.
In 1996 the lighthouse was converted to run on solar power.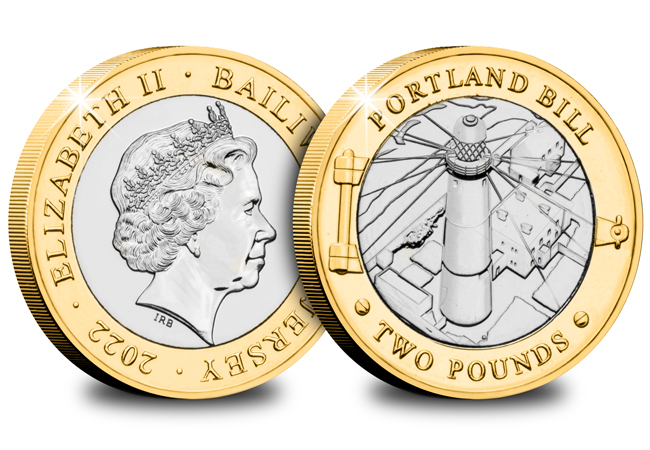 Portland Bill Lighthouse
Portland Bill is a functioning lighthouse on the Isle of Portland in Dorset.
Its distinctive red and white tower first shone its famous four flashes of light every twenty seconds on 11th January 1906 and has a range of 25 nautical miles.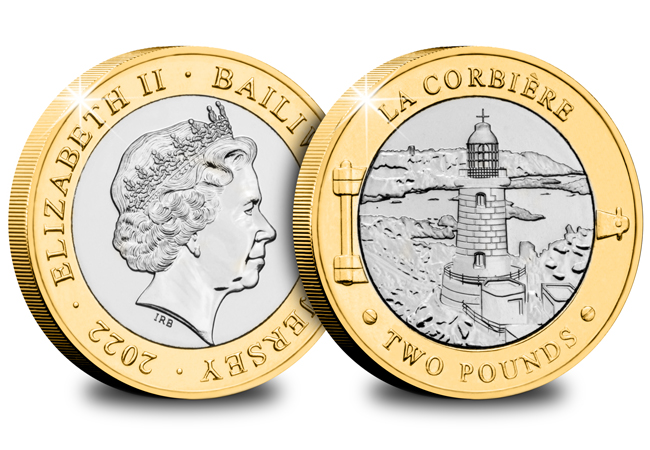 La Corbière Lighthouse
La Corbière lighthouse is a historic structure which was first lit in 1874.
It's one of the most significant monuments in Jersey and is located at the extreme southwestern point of the Bailiwick of Jersey. It is flanked by rocks and can be reached by a causeway.
This set has some rare collectable features you won't want to miss out on! Not only does each coin feature a never-before-seen porthole design around each lighthouse, but it also has an edition limit of only 2,022. This is extremely unusual for a BU £2 set, as usually there is no edition limit, making this collection one of the most limited £2 sets ever!
These stunning coins come in a presentation pack featuring artwork by the designer, making this a valuable piece to hand down to feature generations. I'm sure you'll agree that these are unlikely to be around for long.
Click here to secure your British Isles Lighthouse BU £2 collection today >>>
A brand new £2 coin has been released to honour the incredible achievements of scientist, inventor, and engineer Alexander Graham Bell.
Famed for his revolutionary work in the world of communications, Alexander Graham Bell achieved the world's first successful telephone transmission on 10th March 1876. It's arguably one of the most important breakthroughs of modern-day history as it changed how we communicate forever.
First appearing in this year's annual coin set, the cleverly designed £2 depicts the dial of a push-button phone. And if you look closely, you can spot a hidden message across the buttons, with the letter spelling out 'PIONEER OF THE TELEPHONE'! The design also features the years of Bell's birth and death to mark 100 years since his passing.
The 2022 UK Alexander Graham Bell £2 coin is available in a number of different coin specifications. Let's take a closer look below at the different ways you can add this coin design to your collection.
The Alexander Graham Bell £2 BU Pack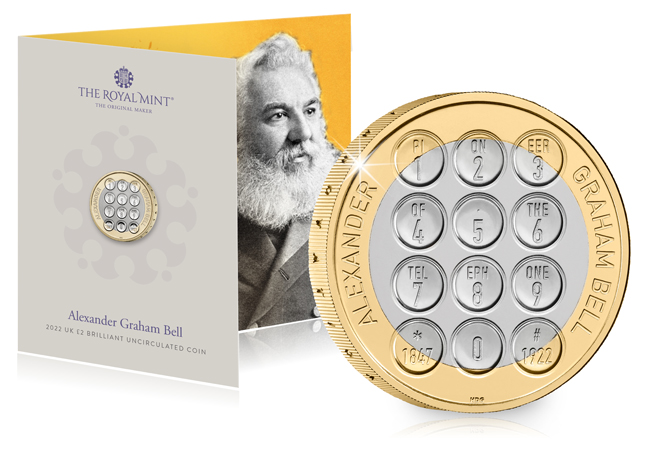 Own the Alexander Graham Bell £2 in the official Royal Mint presentation pack, featuring vibrant artwork of Bell himself! This bespoke packaging will keep your coin in pristine condition. And, as your coin has been struck to a Brilliant Uncirculated quality, it's free from the marks and scratches found on regular circulating coins.
Secure yours for the official Royal Mint price of JUST £10.99 >>
Own in Silver Proof Quality: Limited to just 2,500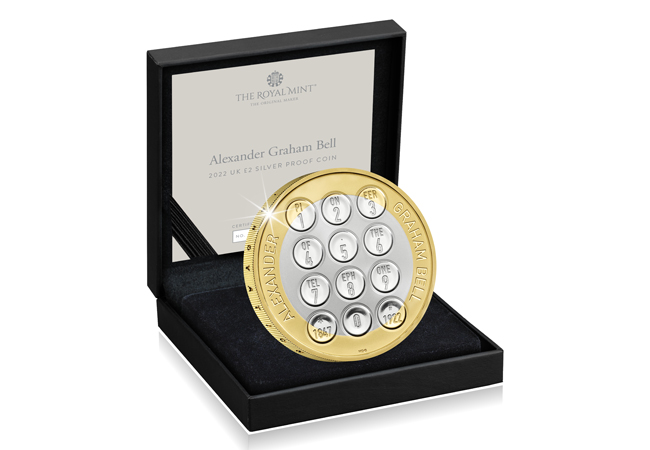 The Silver Proof version of the Alexander Graham Bell £2 coin has been struck from .925 Silver to a stunning proof finish, the highest striking standard available. Your coin comes beautifully presented in the official presentation box ready to display with pride. But, with such a low edition limit of just 2,500, you'll need to act quickly to secure yours. This year's FA Cup £2 with a much higher edition limit of 3,750 SOLD OUT in less than 24 hours.
Secure your Alexander Graham Bell Silver £2 for the official Royal Mint price of £72.50 >>
Only 1,000 Silver Piedfort £2 Coins Available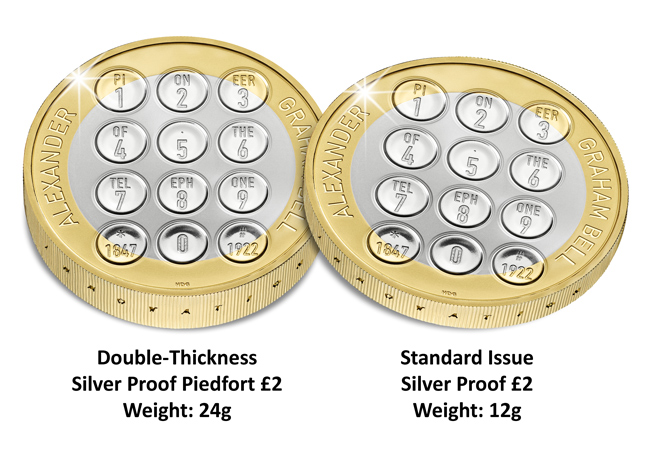 You can also own the extremely limited edition Alexander Graham Bell Silver Proof Piedfort £2. Considered the height of Royal Mint craftsmanship, this piedfort promises double the weight of a standard £2 coin. Piedfort coins regularly sell out, and with this being the first UK piedfort coin to commemorate the life and legacy of Alexander Graham Bell, demand is expected to outdo supply.
Pay as little as a £25 deposit to secure yours today >>
The Gold Proof £2: Extremely Limited Allocation Available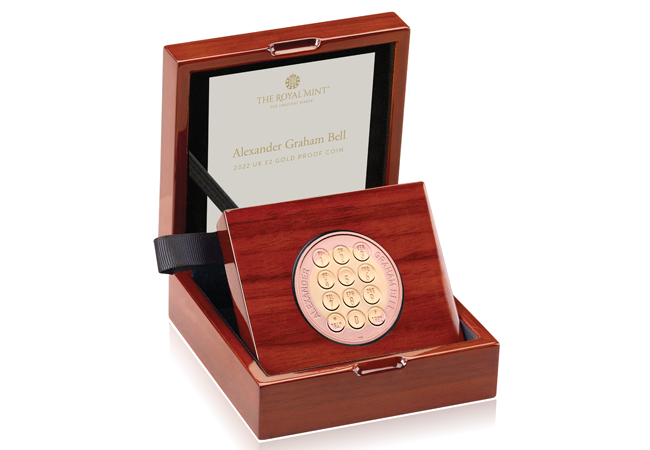 If you want to own the Alexander Graham Bell £2 coin in the most limited way possible, you'll want to secure one of JUST 125 Gold Proof £2 coins available worldwide. Struck from 22ct Gold to an impressive proof finish, your Gold Proof £2 is housed in a wooden presentation box ready to take centre stage in your collection. We only have a very limited number of Alexander Graham Bell Gold Proof £2 coins allocated to us, so high demand and disappointment are inevitable.
Contact us today to enquire and secure yours >>
Only 495 BU £2 Coin Covers Available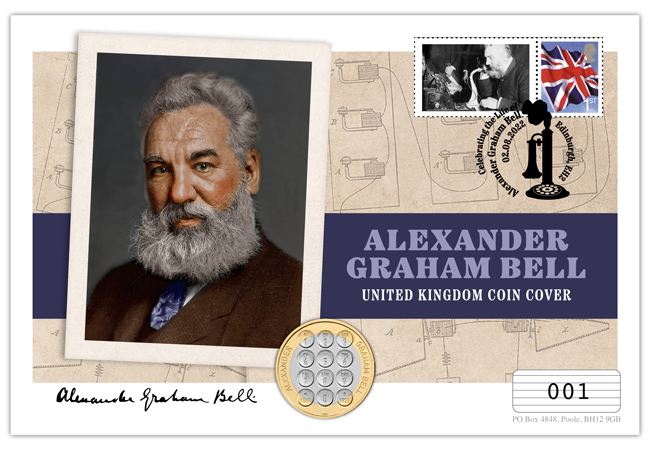 For a more limited way to own the Alexander Graham Bell Brilliant Uncirculated £2 coin, you can own the limited edition BU £2 Coin Cover. Limited to just 495 covers, your £2 coin has been paired with a Royal Mail 1st class stamp and an Alexander Graham Bell commemorative label. It's also been specially postmarked by Royal Mail on the 100th anniversary of Bell's passing — 2nd August 2022.
Be one of only 495 collectors to own this limited edition cover >>
The BU £2: Also Available in a limited edition DateStamp™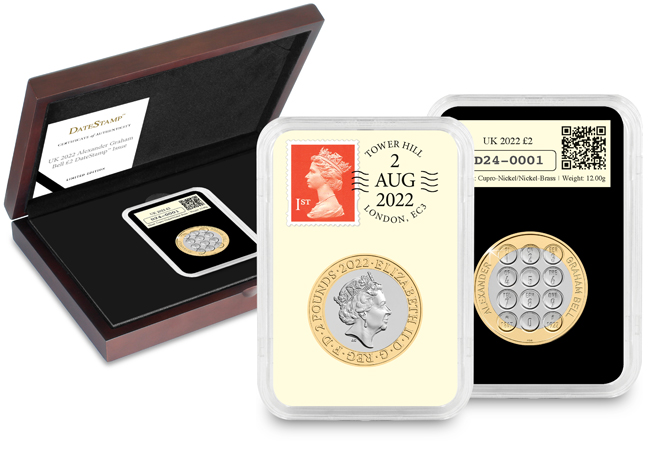 DateStamp™ collectors will be pleased to know that the Alexander Graham Bell BU £2 coin is also available as a DateStamp™ issue! DateStamp™ products have been protectively sealed in tamper-proof capsules with their own unique serial numbers. And your DateStamp™ has a special one-day-only postmark, meaning only 500 can ever be produced.
Secure yours from the strict 500 DateStamp™ limit >>
---
Interested in finding out more? Shop the full Alexander Graham Bell £2 coin range here >>