The Gold Sovereign is undoubtedly one of the most famous gold coins in the world. It's a classic piece of coinage that is coveted around the world and is highly sought after every year by thousands of collectors.
But have you heard of a Piedfort Sovereign? They're incredibly rare and are some of the most highly sought-after issues ever seen – demand for the first UK Piedfort Sovereign was so high that it sold out within 24 hours!
Now, to mark the Queen's official 95th birthday, The Perth Mint has released what's sure to be the most collectible and sought-after Sovereign of 2021, for these three key reasons…
---
1. Struck on the date of the Queen's official 95th birthday – 12th June 2021
On Saturday 12th June 2021 it was expected that crowds would line The Mall waving flags as over 1,400 parading soldiers, 200 horses and 400 musicians came together in London in a great display of military precision to Troop the Colour and mark the official 95th birthday of Her Majesty the Queen.
This British royal tradition has been around since 1748, but the cruel irony of the coronavirus pandemic meant that it did not go ahead this year in its traditional format.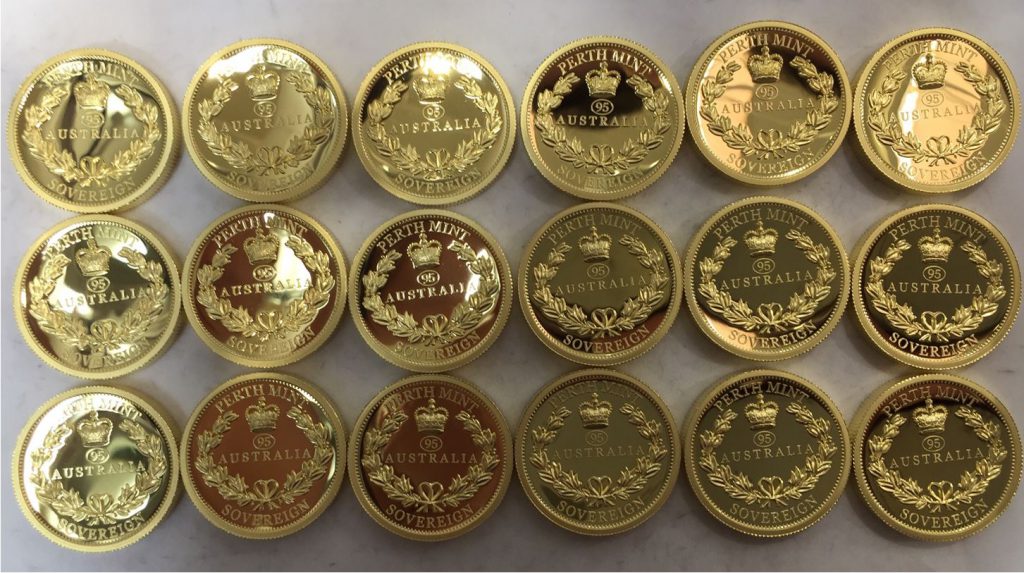 This unorthodox break in tradition will make commemoratives marking her official birthday even more sought-after – collectors do love an interesting back story.
Not only that, but date-struck coins are always in high demand – it sets them apart from regular Sovereigns. It's the perfect way to forever capture a significant moment in time, and the Queen's milestone 95th birthday is an occasion for the history books that every serious collector will want to mark.
This coin's collectability is further increased by the inclusion of a special one-year-only "95" privy mark for the Queen's birthday.
---
2. Superior, highly collectable specification
In the 12th century Piedforts were considered prestige pieces and ownership was often used to signify a person's wealth and power. Today, Piedforts continue to be limited issues and striking of such pieces is reserved strictly for the most important events.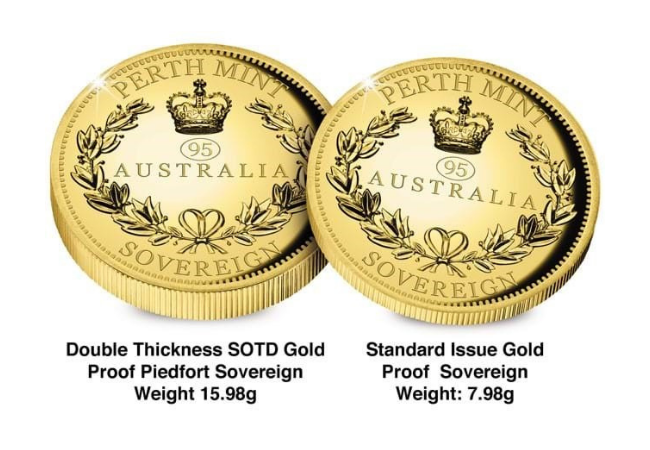 You can really see the difference in thickness of the Piedfort when compared to the standard issue.
Struck on 22 Carat Gold double thickness blanks struck to a Proof finish, Piedforts Sovereigns are twice the weight and contain twice the amount of precious metal as their standard coin counterparts. They're some of the finest examples of coin craftsmanship you'll ever see. What's more, they have tiny edition limits and consequently fast sell-out rates. This makes them some of the most collectable coins around.
---
3. JUST 150 struck – fast sell-out all but guaranteed
I saved the most significant point for last. JUST 150 Piedfort Sovereigns have been hand-selected by The Perth Mint to be struck on Her Majesty's official birthday. That makes this issue twice as limited as last year's Australian Piedfort Sovereign which sold out within weeks of release.
There is no doubt that there will be high demand for this new Piedfort Sovereign, even more so when you consider that it's been struck on the date of the Queen's 95th birthday.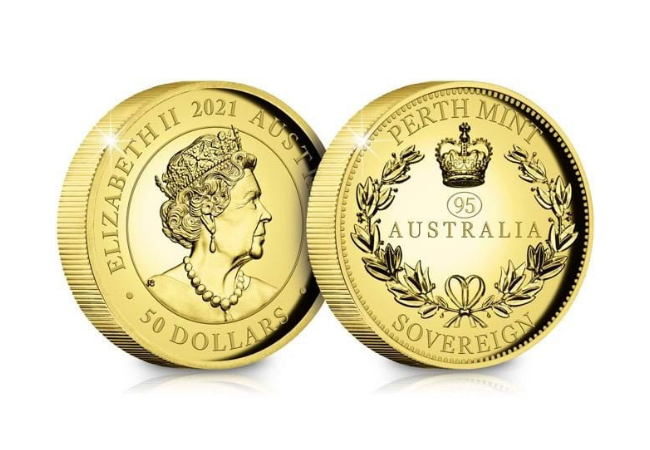 What's more, we've seen phenomenal demand from collectors looking to mark the Queen's birthday this year. The UK Gold Proof Sovereign issued to mark the occasion, with an edition limit of 7,995, completely SOLD OUT!
It's clear we will see a fast sell-out of this Piedfort Sovereign, and it will go down in numismatic history as the most collectible Sovereign issue of 2021.
---
If you're interested…
As official Perth Mint distributors we have secured a limited number of these special struck on the day Piedfort Sovereigns for UK collectors. Just 150 have been issued worldwide, making it twice as limited as last year's sold out issue.
The struck on the day element of this coin makes it a piece of numismatic history and means it will be sought-after for years to come by knowledgeable collectors. With so few struck, your chances of owning one are very limited.
This year Her Majesty becomes the first monarch in British history to celebrate a 95th birthday – an incredible milestone that has been celebrated, albeit in a slightly different way, this year.
And now to mark this incredible achievement a fantastic set of BRAND NEW 50p coins have been issued by the Isle of Man and fully approved by Her Majesty the Queen.
Check out the coins below and all the information you'll need to order your favourites.
---
The COMPLETE Brilliant Uncirculated 50p Set
This fantastic collection features all six new 50p coins, each struck to a Brilliant Uncirculated quality and each featuring a specially commissioned portrait of Her Majesty by sculptor Luigi Badia, charting her reign from the 1950s to the present day.
What's more, the coins will come protectively housed in a bespoke presentation pack that has been designed specifically for your coins.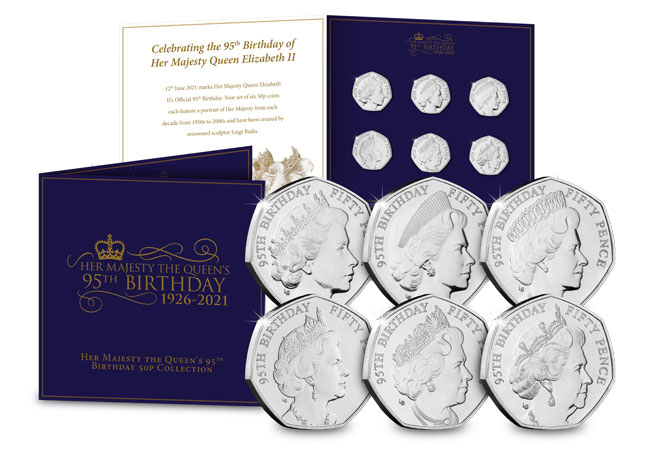 This complete set is surely a MUST-HAVE for any serious coin collectors, so if you'd like to secure one for your collection for JUST £37.50 (+p&p).
Click here to secure the COMPLETE BU 50p Set>>
---
The STRICTLY LIMITED Queen's 95th Birthday Silver 50p Coin
You also have the chance to own the BRAND NEW 50p coin as a strictly limited Silver Proof! Your coin will come complete in a presentation case with a numbered certificate guaranteeing your coin's place within the strict edition limit.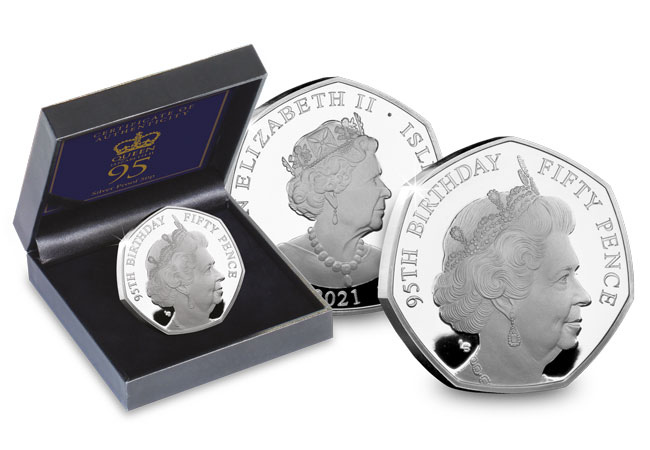 The Silver Proof editions are without a doubt the collector's favourite and almost always completely SELL-OUT. And with an edition limit of JUST 4,995 coins, you'll need to act now if you want to secure one for your collection.
Click here to secure yours now >>
---
The COMPLETE Queen's 95th Birthday Silver Proof 50p Collection
One of the most limited ways to own these brand new coins is the Silver Proof Collection. With just 1,495 available to collectors worldwide, a sell-out is inevitable.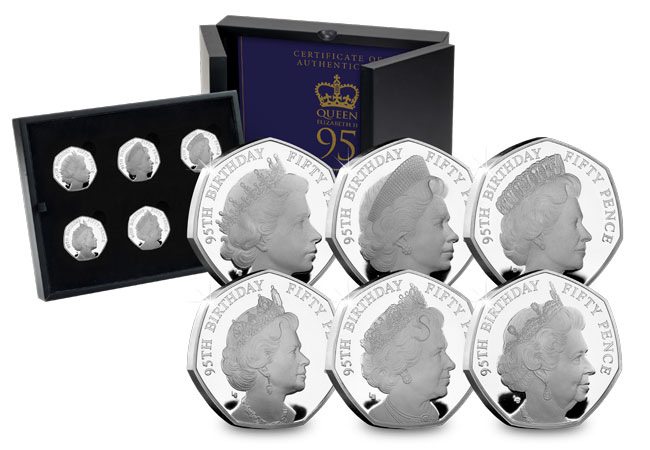 Each coin has been struck from .925 Sterling Silver to a Proof finish and comes ready to present in a deluxe presentation case with a numbered Certificate of Authenticity.
Click here to secure yours before they SELL OUT >>
---
The Queen's 95th Birthday Gold Proof 50p
Just 250 of these special new coins are also being struck from 22 Carat Gold. That's a TINY number and is sure to be snapped up almost immediately by collectors.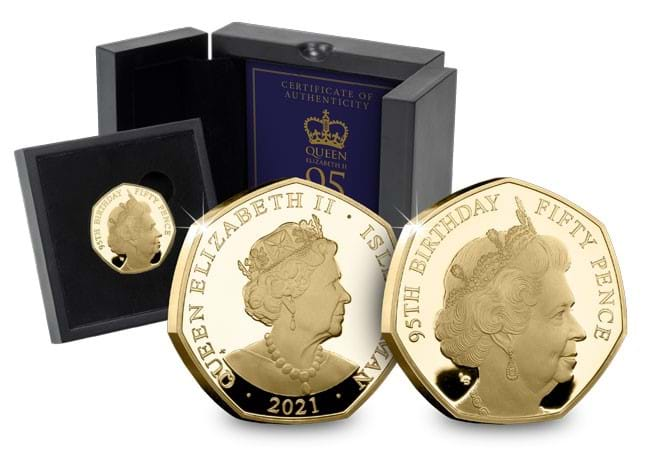 This is an extremely exclusive and limited release, so if you want to secure one for your collection you really will need to act now.
Click here to find out more and to secure yours >>
---

First constructed in 1923, the LNER Class A3 4472 became a flagship locomotive for the London and North Eastern Railway (LNER), and due to its notable service on the London to Edinburgh Flying Scotsman line, the train itself became known as The Flying Scotsman.
Over its long career, The Flying Scotsman set two world records; one for being the first steam locomotive to be officially authenticated at reaching 100mph, and then setting a record for the longest non-stop run by a steam locomotive when it ran 422 miles whilst in Australia.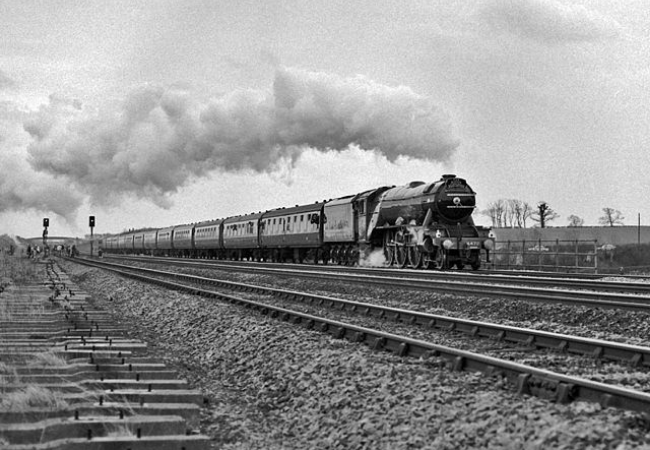 The Flying Scotsman was retired from active service in 1963 after covering over 2.08 million miles, and was bought by several private owners, before finally being purchased by the National Railway Museum in 2004 for £2.3 million.
After a couple of years of failed uses as a charter train due to various mechanical issues, in 2006 The Flying Scotsman entered the National Railway Museum's workshops to begin a large scale overhaul and restoration project.
The complete restoration of the locomotive took ten years to complete – during which time the A4 boiler was replaced with a spare A3 boiler which matched up to the locomotive's original specifications. Other issues were encountered during the restoration, including misaligned frames, and cracking throughout the frame and cylinders.
Finally, in January of 2016, The Flying Scotsman's restoration was fully completed and returned to active service wearing its Wartime Black livery.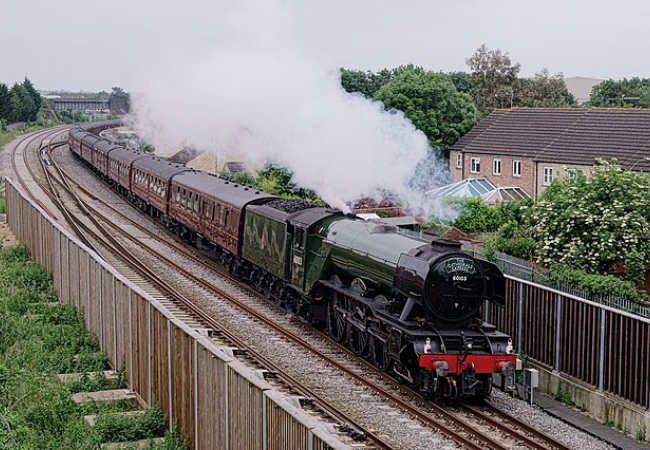 As part of this restoration, the left trailing front bogie axle-boxes had to be replaced. These axle boxes were each stamped with '103' – the number The Flying Scotsman ran under in post-war years, and as such would've covered hundreds of thousands of miles whilst fitted to the famous locomotive.
These axle boxes were then melted down into ingots, before being commissioned by The Westminster Collection to be cast into miniature sculptures of The Flying Scotsman for use in a special commemorative issue…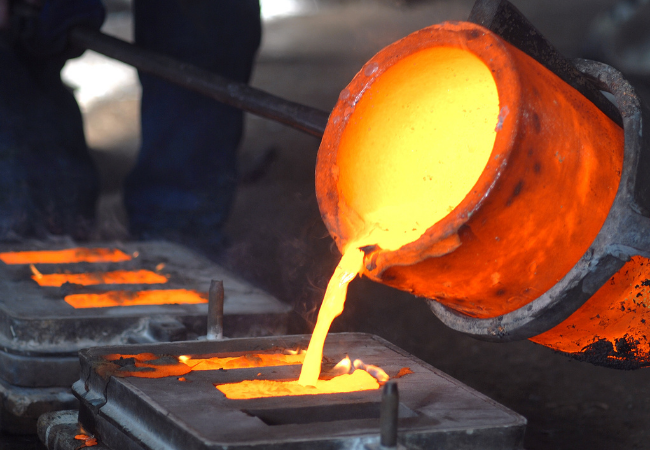 ---
The BRAND NEW Flying Scotsman Provenance Commemorative
And now, a small number of collectors have the chance to own a BRAND NEW Commemorative featuring an ACTUAL piece of The Flying Scotsman…
This incredible commemorative features an original piece of The Flying Scotsman, cast into the shape of the iconic locomotive and meticulously precision set into a deluxe SUPERSIZE 70mm commemorative.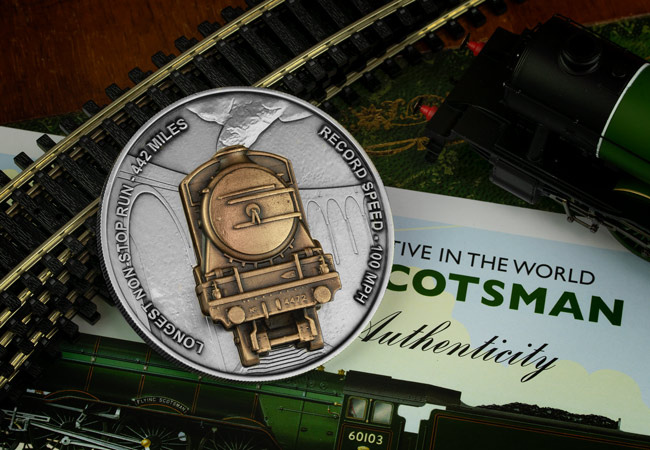 Even without the piece of The Flying Scotsman, this commemorative is a work of engineering art in its own right. Combined with the original piece of Flying Scotsman, it becomes a piece of locomotive history…
Only 250 lucky collectors have the chance to own this special new commemorative. The last Provenance commemorative that featured a piece of Hawker Hurricane SOLD OUT in a matter of weeks. Click here to secure your Flying Scotsman Provenance Commemorative while you can!