We all have our favourite coins to collect, whether it be historic coins, special 50p designs or coins from around the world.
But one thing that piques the interest of almost all collectors, including myself, is the elusive 'error' coin.
Considering the high levels of technology involved in minting coins and the number of different quality controls in place, it is extremely rare that a coin is minted with an error. And it is even rarer for an error coin to be released to the public.
However, over the years there have been sporadic cases of error coins being struck and issued to the public. Just a few things that would be considered an error would be an off-centre strike, a crack in the die or even use of the wrong die completely!
And that last one is exactly what happened to the 2014 Year of the Horse Lunar Silver Coin when it was incorrectly struck with the distinctive denticle obverse of the 2014 Britannia coin.
After an investigation, it was discovered that approximately 38,000 Year of the Horse coins were struck with the incorrect denticled edge on the obverse. And once The Royal Mint confirmed this as a genuine error, these coins understandably became incredibly sought after.
What makes these error coins particularly desirable is that, because it was issued as a bullion coin, many were sold around the world to coin dealers and investors. That means that they are much harder for the British public to track down. Plus, of course, in terms of pure numbers struck they are considerably scarcer than previous errors such as the 'undated 20p'.
In fact, Ebay listings have seen the value of these coins soar to around 30 times their original value! So if you are lucky enough to own the 2014 Year of the Horse coin, I'd suggest you go and have a closer look at it!
---
If you're interested…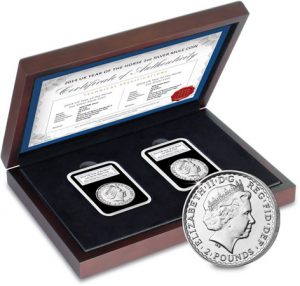 We have a small number of the 'Year of the Horse Silver Mule Sets' available to buy. This set contains the Year of the Horse error coin alongside the correct version of the coin for easy comparison. This 'mule' is an absolute must for any collection and is extremely rare, so secure yours today.
29 February 2016 – the release date of the Peter Rabbit 50p – will go down in the record books as one of the most remarkable days in coin collecting history.
Because in just a few days all 15,000 coloured Silver Proof Peter Rabbit 50ps had SOLD OUT – making it the fastest selling and most popular Silver UK 50p coin EVER.
And they could have sold more – thousands of collectors were left disappointed. Nowadays, on the rare occasion a coin comes up for sale, it will go for around £400 on Ebay. Not a bad return for a coin that originally cost £55!
WIN this Peter Rabbit Coloured Silver 50p!
Now, one year on, we have managed to get hold of one of these ultra-rare coins in pristine condition (with all original packaging) and here's how you can WIN it…
Simply enter your details below and we will draw one luck winner out of the hat on 5 April 2017. It's that easy – so good luck and fingers crossed!
Unfortunately the competition is now closed – the winner has been notified by email.
---
Terms & Conditions
1. No purchase is necessary to enter.
2. The draw will take place on 5 April and the winner will be notified on that day by email to the email address provided.
3. The winner will receive the "Peter Rabbit Coloured Silver 50p". There is no cash alternative.
4. Participants agree to meet reasonable requests to assist publicity if required.
5. The prize draw is promoted by The Westminster Collection, trading division of 288 Group Ltd.
6. Employees of 288 Group and their families are not eligible to enter.
This week a new £5 coin will be issued to mark Her Majesty Queen Elizabeth II becoming our longest reigning monarch on 9th September.
One of the very first coins has been issued by Jersey and I've been given exclusive access to go behind-the-scenes for the blog.
The new £5 coin has been designed by Timothy Noad, whose work has featured on many UK coins over the years. He has even designed the Gold Sovereign twice, an unprecedented honour which is testament to his passion and understanding of numismatic art.
This passion shows through in his design for the new £5 coin. Featuring an Oak Tree and the Royal Cipher surrounded by the inscription '1952 – Long to Reign Over Us – 2015', the coin has a dignified and prestigious presence. I asked Timothy what gave him his inspiration for the design:
"The oak tree came to mind as an emblem with many relevant associations. The Royal Oak, as well as a popular pub name, is a well-known image and oak branches form part of the heraldic badge of the House of Windsor.
"It is also a symbol of Britain, endurance and longevity, so very appropriate for the Queen. Shields were hung on trees during medieval tournaments, often held in honour of a Queen or noble lady, and this shield bears the Queen's personal cipher. I enjoy seeing how my drawings are translated into actual coins and I am very happy with this design."
From Drawing to Finished Coin
But getting from an idea to a struck coin is a time consuming process, a real labour of love.
First of all the design is hand-drawn, and careful consideration has to be given to the shape and size of the engraving so it can be accurately minted. Then the wording has to be laid out, with the added complication of retaining the typesetting within the circular shape.
Finally, the finished drawing is scanned and processed, ready to be made into a die which will eventually be used to produce the commemorative coins you can own.
Limited Edition Versions Available
The most affordable limited edition version of the coin is the Proof Edition, featuring the addition of gold ink. Just 4,950 will be minted and these are sure to be popular.
The coin is also being struck in a range of other formats, from a face value version right up to a staggering 5 ounce gold edition – I've held one and its sheer scale took my breath away.
So there's a type of coin for all collectors – and if there's one thing I'm sure, it's that this coin is a truly fitting commemoration of the remarkable reign of Queen Elizabeth II.
---
If you're interested…
The Longest Reigning Monarch £5 Proof Coin is available to pre-order now.
***NOW SOLD OUT***