The Royal Mint have just released this year's Remembrance Day coin, however we're not expecting there to be enough coins for our collectors!
You see, even as an official distributor of Royal Mint coins, we have only been able to secure a tiny allocation of todays release.
As I'm writing this I can see we currently have JUST 144 Silver Proof, and ONLY 17 Silver Proof Piedfort coins in stock!
So if you're interested in adding this must-have Remembrance coin to your collection you'd best be QUICK, as our stock levels are dropping FAST.
Watch my latest video to find out everything you need to know.
---
If you're interested…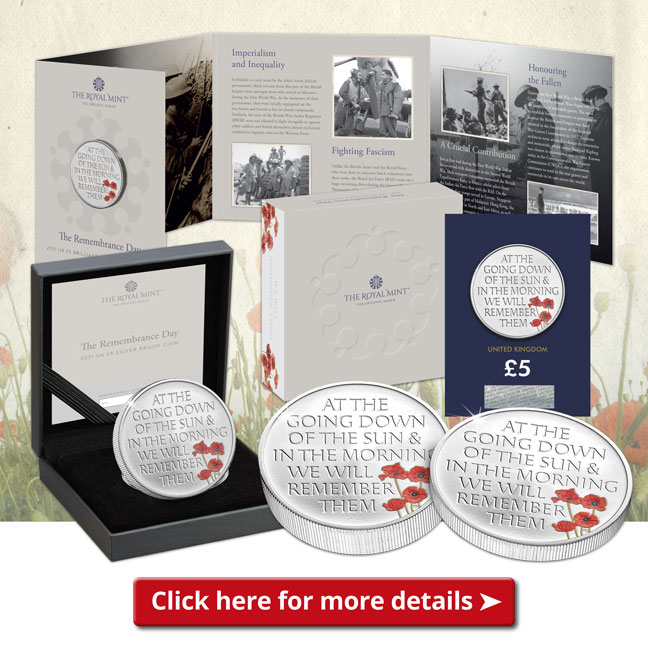 The 11th November is a poignant day when the nation gathers and falls silent to remember the fallen men and women from conflicts past and present.
But did you know that this year makes the centenary of the Royal British Legion?
And as a tribute to those who have made the ultimate sacrifice, a selection of exceptional coins have just been released.
They feature a BRAND NEW design for the Centenary with some of the lowest edition limits to date, easily making them the most important Royal British Legion coin issues yet!
And in my latest video I tell you everything you need to know…
---
If you're interested…

This year marks 80 years since the Battle of Britain, and to commemorate this poignant anniversary 300 Masterpiece Poppy Coin's have been released in support of The Royal British Legion.
And considering it's been crafted from a genuine Spitfire, which was part of the Battle of Britain memorial flight for nearly FIFTY years, means that this coin has a remarkable story to tell…
So, join Adam in our latest unboxing video where he takes a closer look at this brand new Silver 5oz Poppy coin that's truly worthy of its Masterpiece title.
---
If you're interested

Click here to be one of only 300 collectors to own the 2020 Masterpiece Poppy Silver 5oz Coin >>