Today His Royal Highness Prince Charles celebrates a huge landmark birthday – his 70th!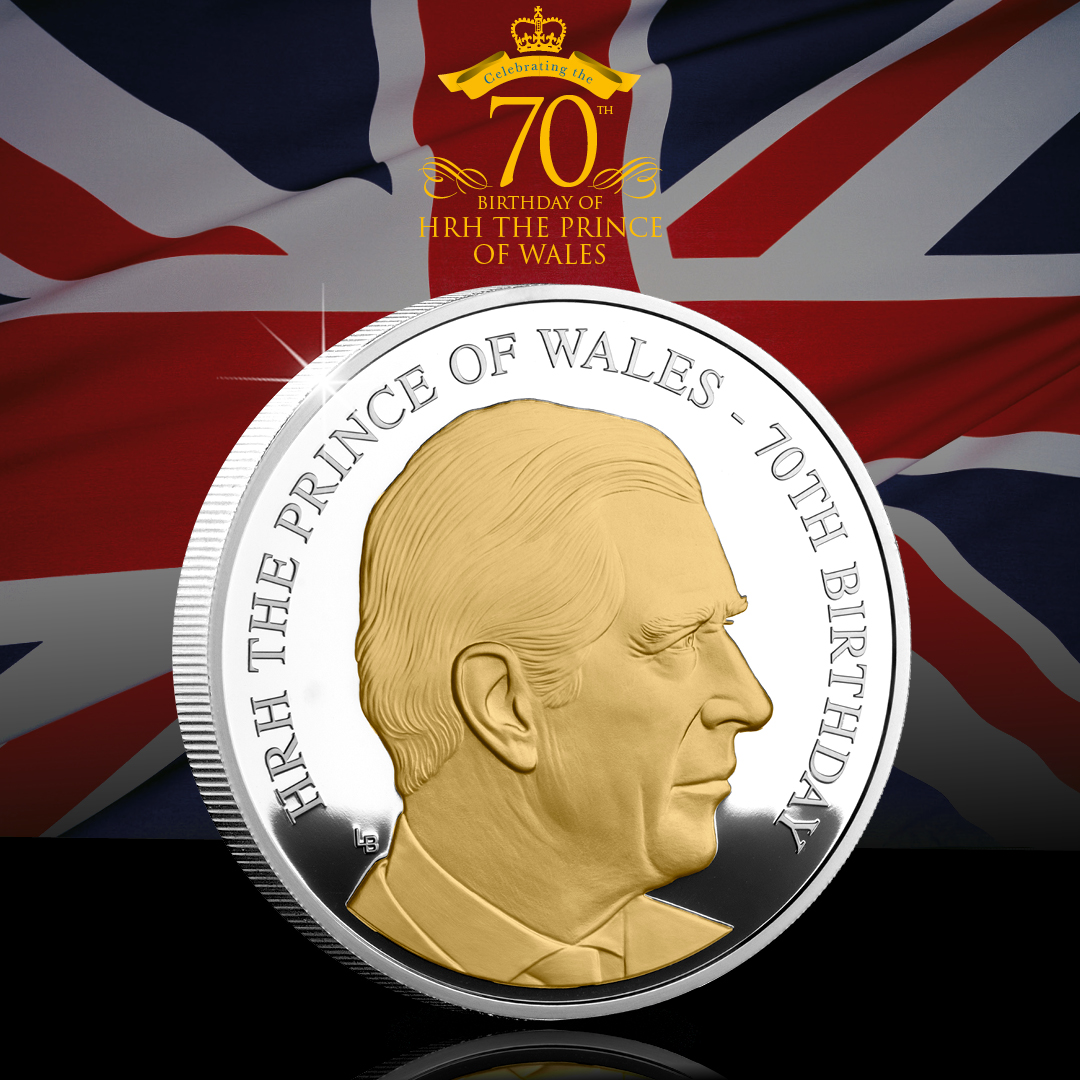 It seems that his birthday festivities have already begun – back in May, he attended a Buckingham Palace garden party laid on in his honour; he has curated a special exhibition called 'Prince and Patron' at Buckingham Palace, featuring some of his favourite artworks; and for the first time he has scheduled a tour of Gambia, Ghana and Nigeria with his wife, the Duchess of Cornwall.
What's more, it is believed that Her Majesty the Queen is planning an extravagant party to honour this momentous occasion, at which members of his family as well as European royalty will come together and pay tribute to the Prince of Wales' long and fruitful life so far.
And what a interesting life it has been! As the longest-serving heir apparent in British history, he has a number of notable accomplishments well beyond the call of duty. He became the first ever heir apparent to earn a university degree when he graduated from Cambridge in 1970, and in 2011 surpassed his great-great-grandfather Edward VII as the longest-serving Prince of Wales in history, after being awarded the title at the tender age of 9.
After university he served in several branches of the British military until 1976, in particular the Royal Navy, during which time he rose to the rank of Lieutenant and commanded the minesweeper HMS Bronington with a crew of 32. In 2011, Her Majesty awarded Charles the honorary rank of Admiral of the Fleet.
It seems fitting then, that a brand new portrait has been specially commissioned to recognise the 70 thoroughly active years of Prince Charles' life – a portrait created by none other than renowned artist and sculptor Luigi Badia and officially approved by Her Majesty the Queen.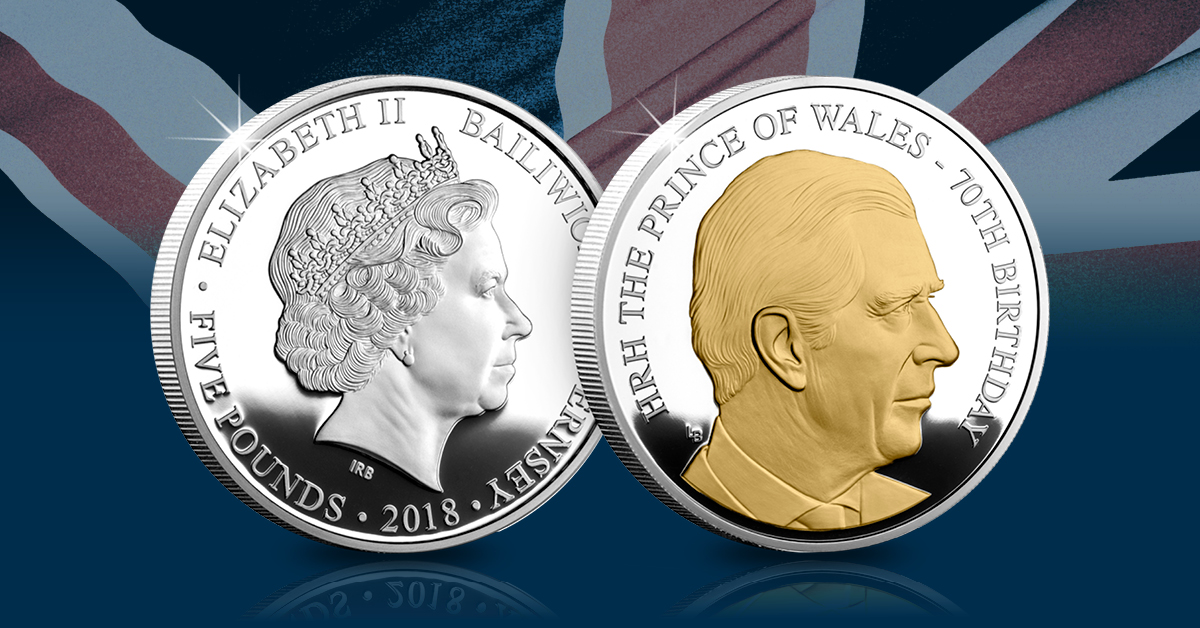 Special portraits like this are few and far between, and therefore are always popular with collectors – especially portraits as detailed and remarkably accurate as this one. The stunning design has been painstakingly hand-engraved by Badia, with particular attention being paid to retain the circular shape of the wording accompanying the portrait – "HRH The Prince of Wales – 70th Birthday".
---
If you're interested…

This brand new design has been issued in a number of specifications, from a Proof £5 right up to a stunning Gold Proof One Pound Coin, which are all available from The Westminster Collection. However, with their surprisingly low editions and the significance of this Royal birthday, I suggest you act now if you're looking to mark the occasion with a very special new coin.
George VI stands out as one of the most popular and interesting monarchs in British history.
After the shock abdication of his brother, he courageously led the country through World War Two and became a national hero. His story has since been famously portrayed in the Oscar winning 2010 film, The King's Speech, and the popular TV series The Crown.
Just as interesting as his reign itself, were the coins that were issued during his 16 years on the throne. Only two Crown coins were issued, but both are extremely significant in British numismatic history and mark important changes for our coinage…


1937 Coronation Crown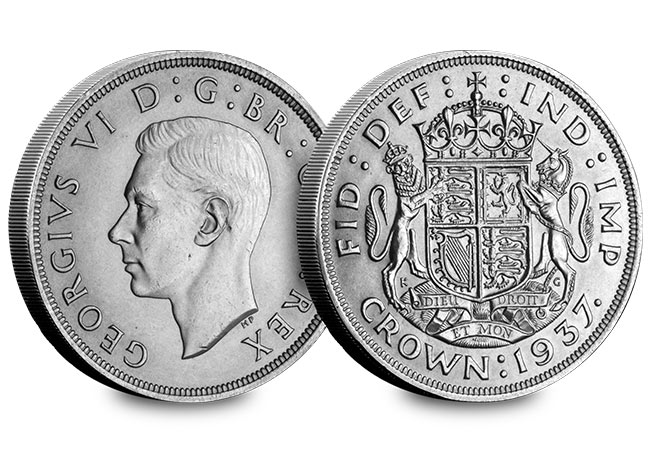 It has been a tradition held by many British monarchs to issue a Crown coin in their coronation year, however, this tradition was a difficult one to maintain for George VI's coronation in 1937.
That's because it was decided that George VI's Coronation would be on the same day that was planned for his brother Edward VIII before his infamous abdication. With a race against the clock to strike a coin for the Coronation, a new portrait was hurriedly prepared and quickly engraved before the ceremony.
What makes this coin so important for collectors is that it was the last ever Coronation Crown struck in Silver by The Royal Mint.


1951 Festival of Britain Crown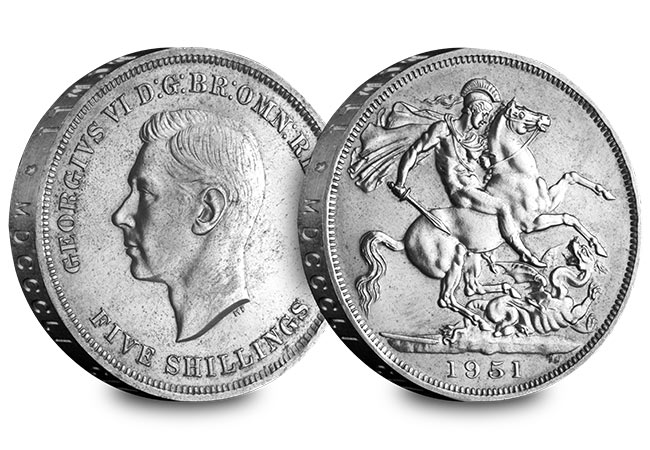 The only other Crown coin issued during the reign of George VI was struck in 1951 to mark the Festival of Britain. To commemorate this hugely popular event, The Royal Mint decided to issue a brand new coin.
This specially issued coin was the first ever Crown struck in cupro-nickel and was the first Crown issued to commemorate a non-royal event.

Since this coin, The Royal Mint have issued many Crowns commemorating non-royal events of national significance and in doing so have created one of the most popular numismatic collecting themes internationally. This coin marks the start of this famous collecting trend that has transformed commemorative coins in Britain and across the world.


Both of these significant coin issues are now over 65 years old and as a result are becoming increasingly difficult to acquire.
However, I would consider them key coins for any Royal or 20th century coin collection because of the popular monarch that issued them and the important moments they mark for British numismatic history.
---
If you're interested…
We have a limited number of George VI Crown Pairs available for collectors. However, with such limited stock available I suggest you act now if you want to add these two extremely significant coins to your collection.
Click here for more details >>>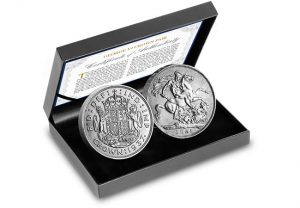 Today His Royal Highness, Prince George, celebrates his fifth birthday.
The British public and people from all corners of the globe have watched fascinated as young Prince George has grown from baby to boy; enamoured by photos of his first steps, his first day at nursery and when he started primary school.
To mark his fifth birthday this exclusive 24ct gold-plated five coin set has been released, which looks back on our future King's first five years.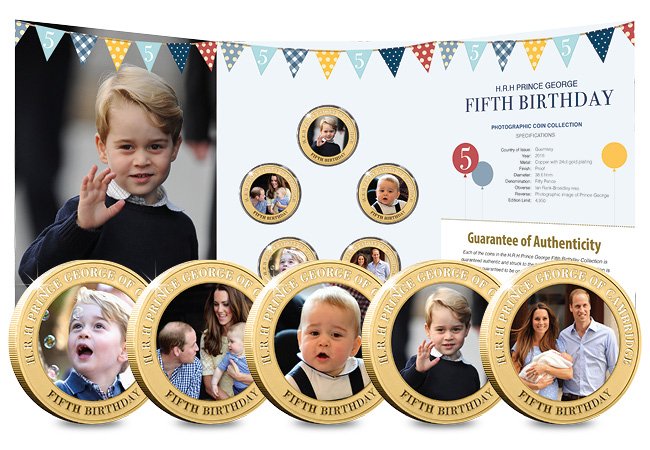 The first coin in the set shows the precise moment the whole world fell in love with our prince. When his beaming parents, the Duke and Duchess of Cambridge, introduced their new born son to the world outside of St Mary's Hospital in London.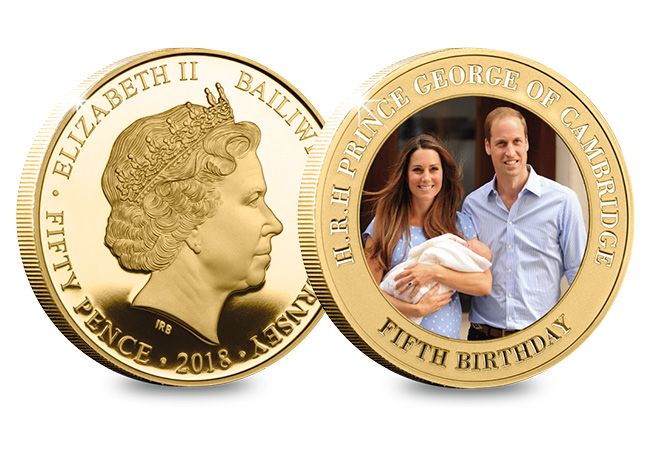 The next coin shows George during his first public engagement as part of the royal families tour of New Zealand and Australia in 2014. However, unlike his parents, his role was much more relaxed – it didn't include ribbon cutting or speech making, instead just a simple play date.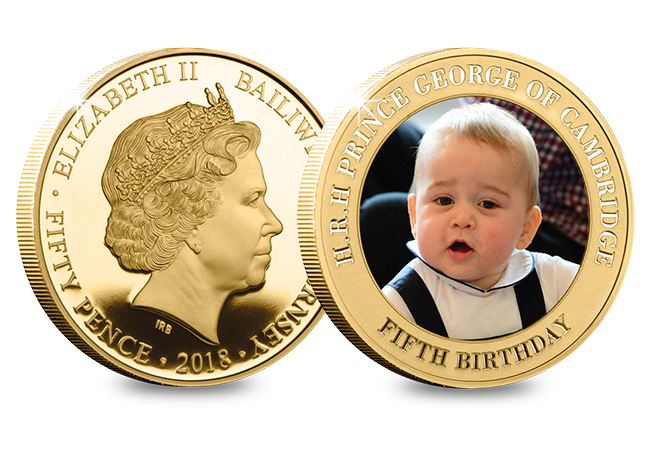 During the same royal tour, Prince George visited Taronga Zoo in Sydney, where he was introduced to one of the zoos bilbies, a desert-dwelling marsupial, which had been named after the Prince. A moment that's been captured on this coin.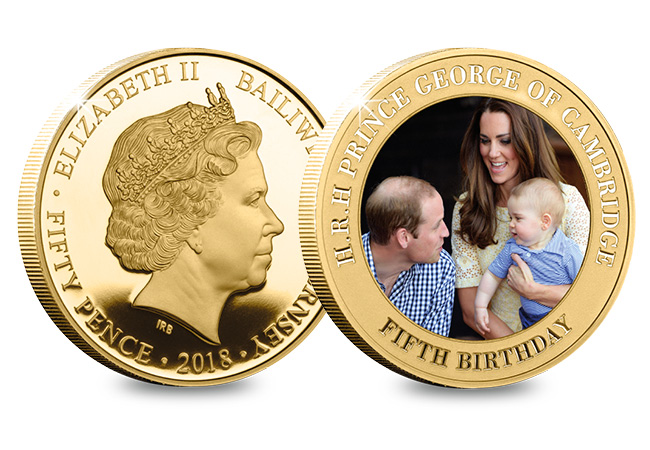 Next up is a coin that shows a considerably older Prince George, during the Cambridge families week long Royal Tour of Canada in 2016. The hugely popular photo of Prince George shows him absolutely mesmerised by bubbles at a children's party, which boasted a petting zoo, balloon modellers and a puppet show. However, shortly after this shot was taken, our Prince was publicly upstaged by his younger sister, Princess Charlotte, who spoke her first word in public, 'pop'.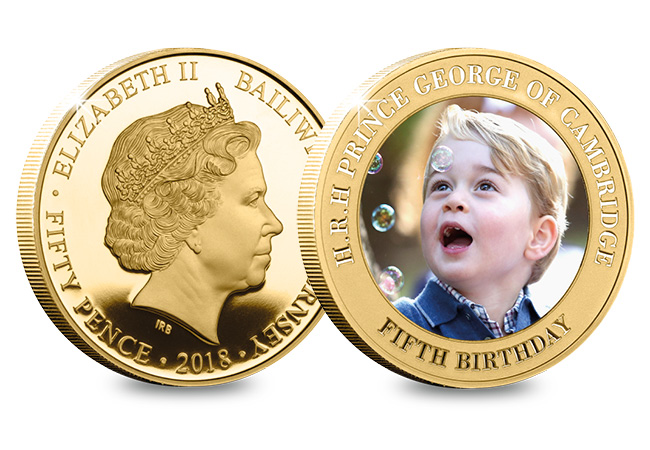 Finally, the coin that completes the set shows Prince George adorably practicing that all important royal wave, aged just three, at the end of his Royal tour of Canada in 2016.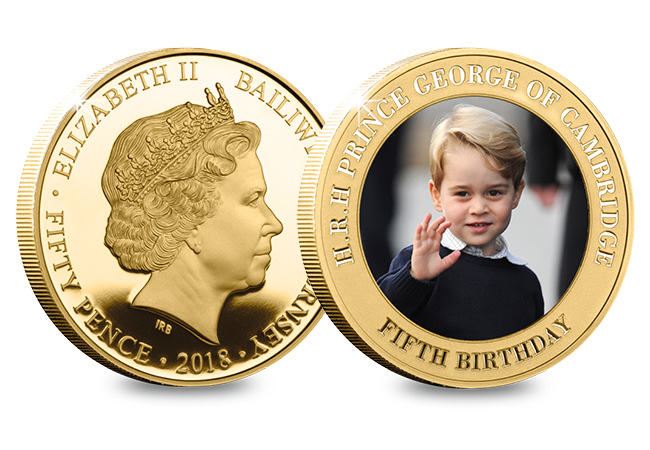 This brand new coin set looks back fondly and perfectly captures the first five years of our future King's action-packed life – and it's sure to be extremely sought after by collectors in years to come too.
---
If you're interested:
You can secure the Exclusive HRH Prince George of Cambridge's 5th Birthday Coin set today. But when you consider the very low edition limit and high demand for commemoratives celebrating the fifth birthday of our future King, a full sell-out is expected, so don't delay. Click here to find out more>>