Since 1952, the Queen has celebrated her official birthday on a different date each year. In fact, for the past five years alone she has celebrated her birthday on the 8th, 9th, 10th, 11th and 13th June, and next week she will celebrate her birthday on the 12th!
Now you're probably wondering how this can be… and that's because the Queen actually has two birthdays every year.
The first is on the actual day the Queen was born – 21st April 1926 – meaning that in April this year she marked her 95th birthday, although the celebrations were far more muted than normal.
Currently the reigning monarch's second birthday is an official birthday on the second Saturday in June – a practice that dates back as far as 1748.
When King George II was the sovereign, the annual military procession (which later became the 'Trooping the Colour' parade) became synonymous with celebrating the monarch. However, King George II's birthday was in October, and since good weather couldn't be guaranteed for the annual parade in autumn, he decided to mark the date in the summer instead when there was a better chance of good weather.
And so, the tradition to celebrate the monarch's birthday in the summer stuck, and each summer the Queen gets the chance to celebrate her birthday again!
This year 12th June will mark a particularly special birthday for the Queen. Turning 95 is a milestone achievement – less than 1% of the population reach this impressive age, so it's no wonder that the Queen's June birthday is set to be an important moment for the country and collectors alike.
And with the Queen's 95th birthday being such a milestone achievement, many commemoratives were issued to mark the occasion in April. Since then we have seen repeated sell-outs.
But there's one commemorative that has been issued specifically to mark the Queen's official birthday that only 750 collectors will have the chance to own.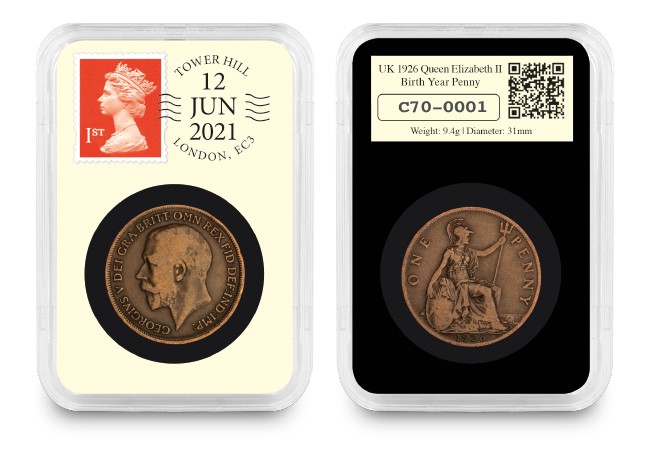 The Queen's Official 95th Birthday Penny DateStampTM is set to be released on the 12th June. Most notably, this commemorative contains an original penny struck in 1926, the year the Queen was born. Each one has been individually capsulated and postmarked with the Queen's official 95th birthday – 12th June 2021. What's more, the one day only postmark ensures that the edition limit is guaranteed and that no more can ever be produced.
With such a limited number available, this DateStampTM issue is sure to be another sell-out as collectors aim to pay tribute to the Queen's milestone birthday and her longevity. You can be one of them today by clicking the link below.
---
If you're interested:
You can pay tribute to our longest reigning monarch by pre-ordering the Queen's Official 95th Birthday Penny DateStampTM here. Only 750 will ever be issued, so you'll need to be quick.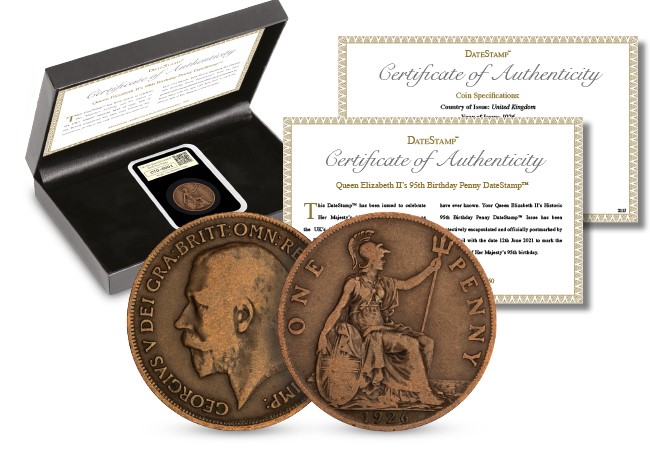 The man responsible for the world's biggest economy blamed too many more pressing issues when questioned on why the US is still spending millions minting its penny when other countries have got rid of it.
But during the recent online Q & A, President Barack Obama did give his strongest hint yet that it might be time for America's lowest value coin – which costs 2.4 cents to produce and circulate – to go once and for all.
Drop the penny and save a mint?
In 2009, the US Government lost nearly £20m minting its one-cent coins. That figure had trebled to almost £60m just two years later. At a time of global recession, many argue that ditching the penny would be an obvious cost-cutting measure. Like many others around the world, the UK included, the US penny can't even buy itself.
Not a top priority
But is it quite as simple as that? Obama may be President of the world's most powerful nation but even he needs legislation from Congress who, not surprisingly, has other more important things to do. And should the penny go, the five cent Nickel coin would be used more and that costs nearly five times more than the penny to put into circulation at 11.2 cents.
The end of the Canadian penny
As regular readers of this blog will know, should the bill ever go ahead, the US would be the latest in a long line of countries to eliminate its smallest denomination coin. Its North American neighbour stopped its production of the penny in January after more than 150 years.
But Americans it seems are just as sentimental as we Brits are about holding onto a part of our numismatic heritage – despite the fact we can do very little with our pennies but save them for a very rainy day …
Last week Canada became the latest country to bid farewell to its penny or 1 cent coin. Australia, Brazil and Sweden have already ditched theirs – the question is will the UK be next?
With over 11 billion in circulation according to latest Royal Mint figures, the humble penny accounts for nearly 40% of all Britain's circulating coins. It is in fact our most common coin but when it costs more than a penny to make a penny, surely its days must be numbered?
Opinion is divided
Those in favour of getting rid of it say you can't buy anything for a penny these days. True – the penny chews of my youth have now gone from our sweet shops. You can't even 'spend a penny' anymore (that'll cost you as much as 30p for the privilege). Put simply, 1p coins have no other function but to weigh down our purses and pockets.
But, in these tough times, every penny counts. Those against the move say there are plenty of people that still need the 1p and other small denomination coins. How many of us pop our loose change in charity collecting boxes when we're out and about? They may be small amounts but they all add up.
A future collector's item?
So it is probably fair to say that keeping hold of your old pennies is unlikely to make you rich. However, when they do finally disappear from our change (as is almost certain at some point), they are certain to remain an important part of Britain's numismatic heritage for centuries to come.
Penny for them
Ultimately the "Master of the Mint" Chancellor George Osborne will make the final decision but what are your thoughts – should the penny stay or go?