Posts Tagged 'Harry Potter collection'
La Monnaie de Paris has more artistic excellence, minting quality and a certain je ne sais quio than any other.
Their pieces are more than coins – they're true works of art.
And that's why I really wanted to film an unboxing video showcasing THREE of their brand new Harry Potter coins.
All of them are sold out on the International market, but we have been able to get hold of a small number of coins. You'll have to be quick to make sure you're one of a select number of UK collectors to own one of these artistic masterpieces.
---
If you're interested…

Are you a Harry Potter fan, or do you know someone who is? If so, you certainly won't want to miss out on the NEW Official Harry Potter Collection.
It hit the collecting world at full speed recently and understandably proved an instant hit with collectors and fans alike.
So whether you've already started the collection, or are thinking of doing so our latest video will be of interest to you!
Sound interesting? Well join Adam and Rowena as they take a closer look at the designs and exclusively reveal who, where and what you can expect to see making an appearance in the complete collection…
And don't forget, if you have any questions about the collection, post them in the comments below and someone from the team will get back to you!
---
If you're interested…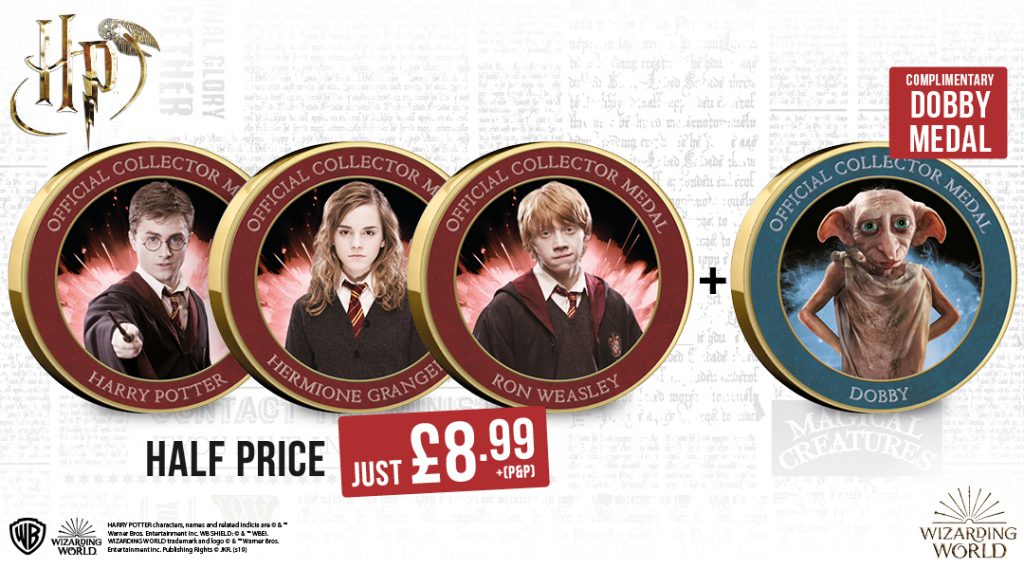 If you start collecting today, you can own the new and exclusive Official Harry, Ron, Hermione and Dobby Collector Medals for just £8.99 (+p&p) – that's an additional SAVING OF OVER 15% on the normal price. Just click here to find out more >>