Collectors, it's time to inject some magic into your collections as the UK's FIRST Harry Potter 50p is set to be issued this year…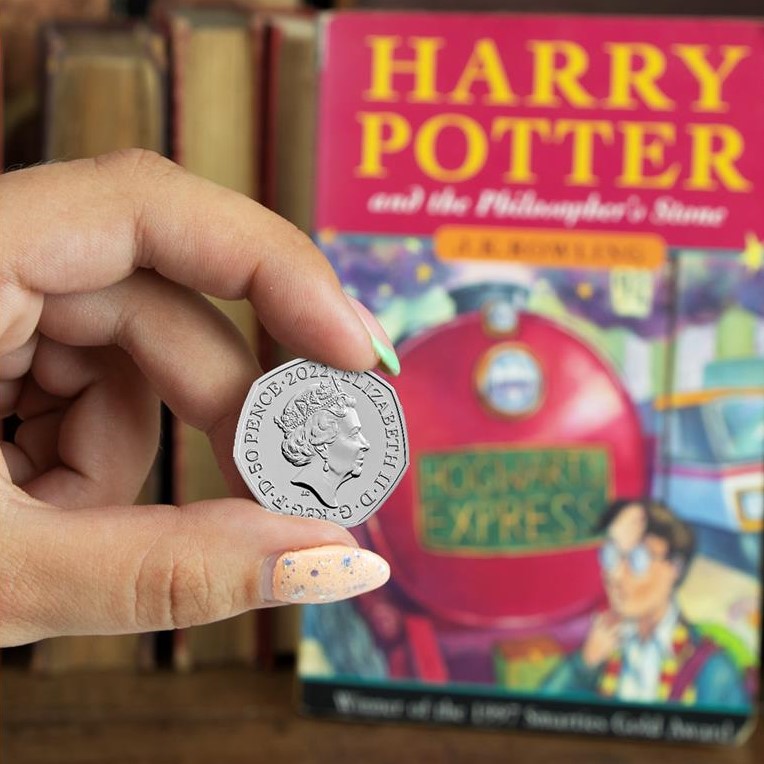 The latest Royal Proclamation has confirmed a magical collection of 50p coins will be issued by The Royal Mint, each celebrating 25 Years of Magic.
25 Years of Magic
2023 marks 25 years since the first publication of publication of J.K. Rowling's Harry Potter and the Philosopher's Stone.
This was the first issue in what was to become a 7-part series of fantasy literature, inviting generations of readers to explore the magical world of witches and wizards.
The Harry Potter series is the highest-selling series of novels to ever exist, with millions of fans spanning across generations, and even around the globe. It's estimated that J. K. Rowling has sold over 500 million copies of her books, a testament to the popularity of the series.
Never-before has there been an official UK coin featuring the Hogwarts School of Witchcraft and Wizardry, until now!
What will feature in the collection?
The exact designs of each coin are yet to be revealed but the Royal Proclamation has revealed that we can expect the following to feature in the collection:
A depiction of Harry Potter with the inscription, 'Harry Potter 25 Years of Magic'
A depiction of the Hogwarts Express and the figure of Harry Potter with the inscription, 'Hogwarts Express 25 Years of Magic'
A depiction of Albus Dumbledore and the inscription, 'Albus Dumbledore 25 Years of Magic'
A depiction of Hogwarts School and the inscription, 'Hogwarts 25 Years of Magic'
It would be wonderful to see the original illustrations from the books reflected in the designs of these brand new coins!
Sell-outs expected
2022 has already seen sell-outs across every denomination at The Royal Mint!
The Platinum Jubilee 50p and £5 coins sold out across their entire precious metal ranges within JUST hours of release. Just a month later, the Silver Proof, Silver Proof Piedfort, and Gold Proof specifications of the FA Cup £2 coin sold out within just a few hours.
With Harry Potter carrying a worldwide fanbase, we're expecting demand to outweigh availability for the precious metal ranges of this brand new 50p collection.
---
Register your interest below to be the first to hear updates about the UK Harry Potter 50p release.
In just over a week's time, The Open — the oldest golf tournament in the world — tees off. And this year, there are a couple of extra reasons to celebrate.
Firstly, this is the 150th Open Championship. The first was held way back in 1860 so this year's trophy — the famous Claret Jug — will be even more sought after amongst the players, including Rory McIroy and recent US Open winner Matt Fitzpatrick.
But it's not only the golfers who have something to aim for. Because to celebrate the 150th Open, a brand new range of commemoratives have been issued.
So, as you can imagine, with thousands of coin collectors and now thousands of UK golf fans, getting hold of one of these brand new commemoratives will be a prize in itself.
Keep on reading to find out more…
NEW Round Pound released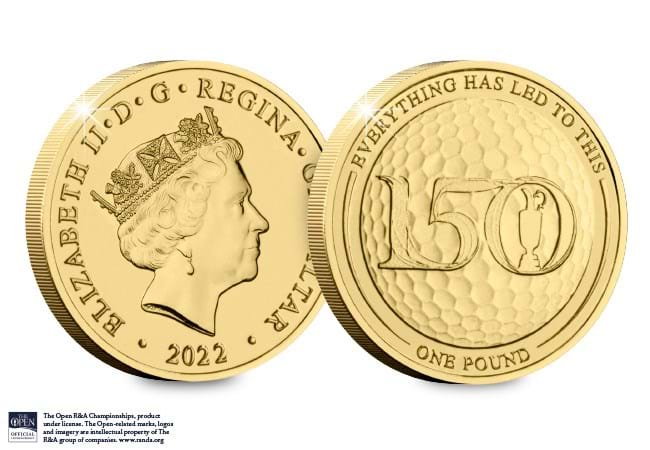 It's been 6 years since the round pounds were phased out and replaced by the new 12-sided coin, marking the end of an era for UK coinage. But today it has returned for a very special occasion.
Specially struck for 2022 only and fully approved by The R&A — the home of British Golf — this new Round Pound has been issued by the Government of Gibraltar to celebrate The 150th Open Championship.
Unlike the UK, you can still find round pounds in circulation in Gibraltar. They're used daily as part of their currency so it's not uncommon to find them in your change over there. We don't yet have confirmation on whether this coin will enter circulation in Gibraltar, but if it does — that will increase the collectability even more.
Make sure you mark this special occasion by securing your very own 'The 150th Open Gibraltar Round Pound' today for JUST £9.99 (+p&p).
The STRICTLY LIMITED Silver Proof Round Pound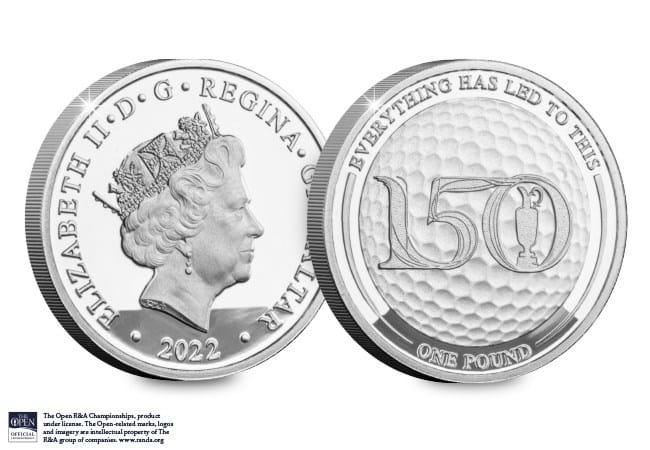 Exclusive to The Westminster Collection, The 150th Open Silver Proof Round Pound is strictly limited to JUST 500 editions.
This incredibly low edition limit makes The 150th Open Silver Proof coin 22 times RARER than the last UK Silver Proof Round Pound issued in 2016, which had a mintage of 11,000 and completely sold out at the Royal Mint.
Struck to a pristine Silver Proof finish, reservations for this striking coin are being taken on a first come first served basis.
You can secure yours today with a £16 deposit (+p&p) – Click here now >>
The 150th Open Silver 5oz Domed Commemorative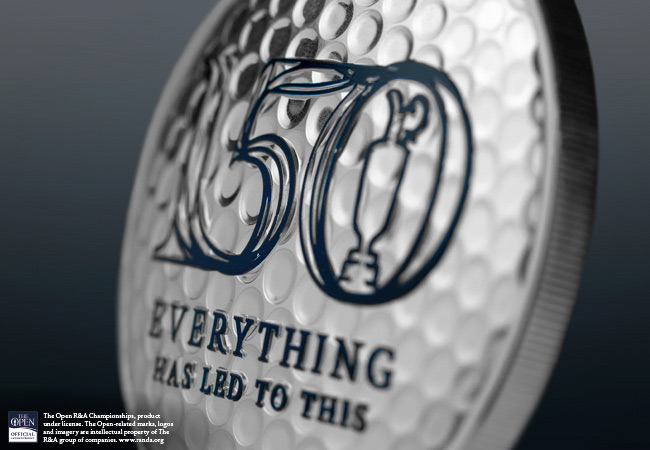 If you're looking for the ultimate collectable within the range, then look no further. We are thrilled to introduce The 150th Open Silver 5oz Domed Commemorative which is extremely limited to just 150 collectors worldwide.
This striking piece has been struck from 5oz of .999 Fine Silver and features a remarkable 3D high-relief domed effect that mimics the appearance of a golf ball.
The detailed domed relief features The 150th Open logo with the brand line 'Everything has led to this'. You really do have to see the coin in person to admire its full craftmanship.
In recent years, domed commemoratives have taken the collecting world by storm. When the US Mint released their domed coin to commemorate the 50th anniversary of the Moon landings, 296,311 sold on launch day alone — that's 206 coins a minute!
That's why only the quickest 150 collectors will be able to secure this commemorative for their collection.
If you'd like to find out more about this incredible commemorative and how you can secure yours, click here >>
NEW Coin and Stamp Cover strictly limited to JUST 495 collectors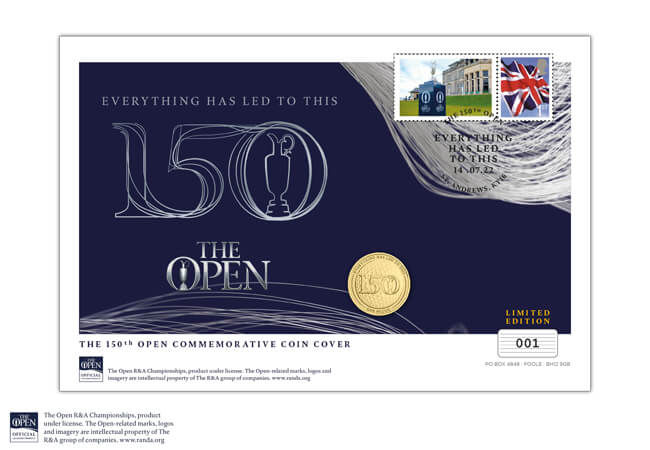 Today you can own this striking coin cover, combining the brand new Brilliant Uncirculated Round Pound alongside the Official Royal Mail The 150th Open Philatelic labels.
Officially postmarked on 14th July, 2022, this one-day-only postmarking means that no more can ever be produced after this day… and with an edition limit of JUST 495, please don't hesitate.
Click here to 'pre-order' yours >>
The 150th Open Silver Round Pound Coin Cover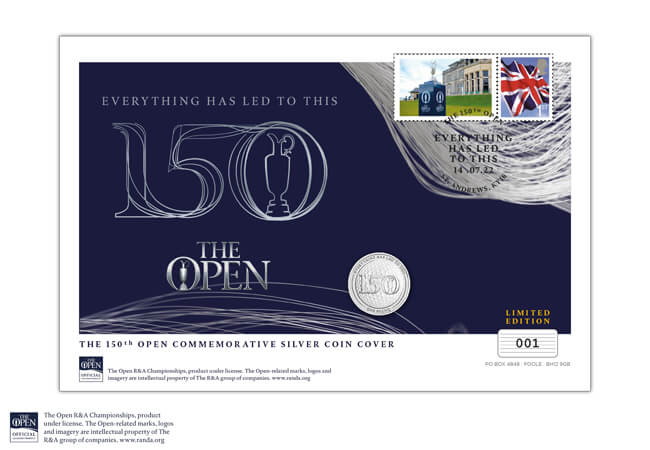 Importantly, this Edition Limit is less than HALF that of the 2022 The 150th Open Gibraltar Silver Proof £1 Coin that has just been released.
Officially postmarked on 14th July, 2022, JUST 195 Silver £1 Coin and Stamp Covers are available WORLDWIDE. Once they're all gone, no more can ever be produced.
Pre-order yours now to avoid disappointment >>
---
If you'd like to browse the full range of The 150th Open Commemoratives, click here >>
This year we mark the 40th Birthday of our future King, Prince William.
Coins that are being issued to mark this birthday are extremely important – when William eventually becomes King, coins issued for him during the Queen's historic reign are going to be highly sought after by collectors.
And now a brand new coin has been issued by Guernsey and features a fantastic new design by artist Quentin Peacock.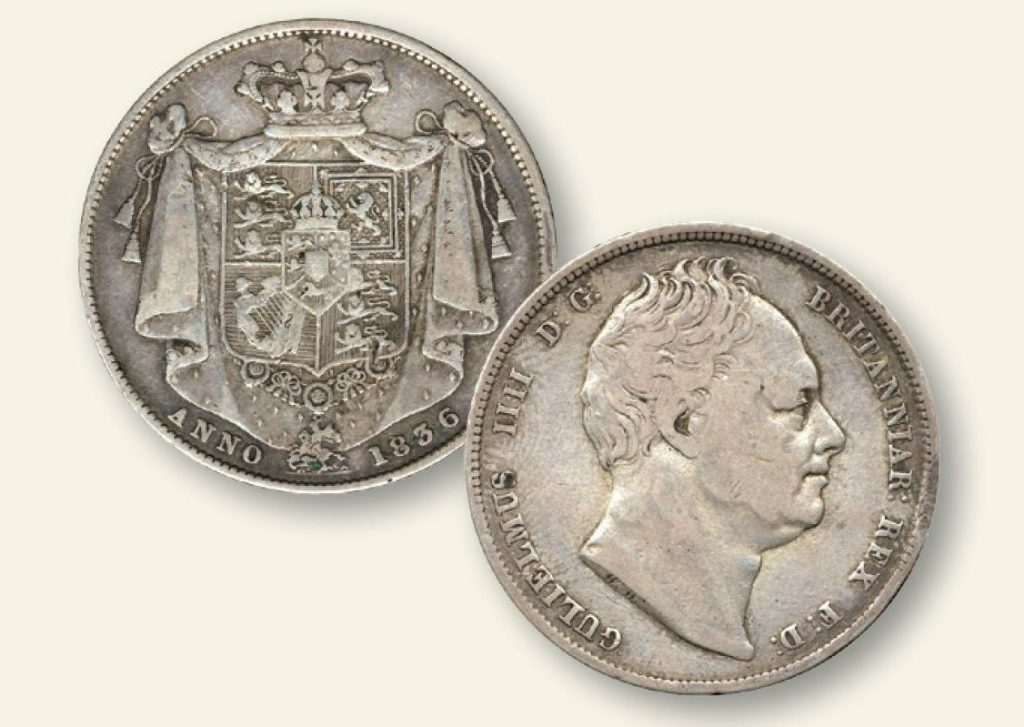 The design takes inspiration from the original Crown coins issued during the reign of the last King William – King William IV.
Any historic coin collector will be aware of this iconic important coin.
During the reign of William IV, the Royal Mint had two established and now legendary engravers – Benedetto Pistrucci and William Wyon. However, in 1820, Frenchman Jean Merlen arrived at the Mint.
Merlen's design is one of the most highly rated, yet strangely least well-known, reverse designs to grace a British coin. A facet that makes it particularly desirable to knowledgeable collectors.
The 'Crowned Shield' has only been seen a handful of times. In fact, the Crown Coin was only issued in 1831 and 1834, and never entered circulation! This, combined with the fact that William IV only reigned for 7 years, makes the William IV Crown one of the most sought after coins in British numismatic history!
And now Quentin Peacock has produced a fantastic new design to mark the 40th Birthday of our future King, Prince William – who is likely to be the first King William since the 1800s.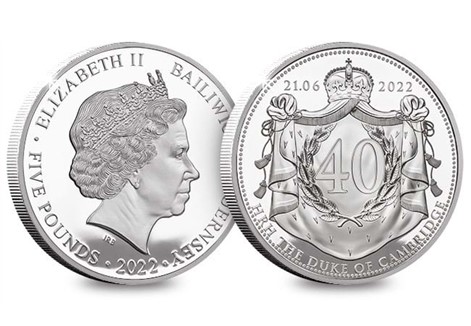 This brand new design features a crowned shield with '40' in the centre. It's a new design that pays homage to one of the most interesting and collectable coins in British history.
There might even be a few very lucky collectors out there with the opportunity to pair the two coins together!
We have a limited number of coins available in the British Isles Prince William 40th Birthday range, and you can secure yours now by following the link below.
---
If you're interested…

Click here to view the full range of Prince William 40th Birthday Coins >>