This year we mark the 75th anniversary of VE Day. The day which marked the end of World War II in Europe and brought long-awaited peace to our nation.
To commemorate this historic anniversary, and one of the most important dates of the 20th century, a BRAND NEW collection of 50p coins have been authorised for release.
Issued by the Isle of Man, these SEVEN official new 50p coins are a timeless tribute to the thousands of allied troops who fought tirelessly and sacrificed their lives for our freedom.
There are a number of ways you can add these poignant 50p coins to your collection today, with prices starting from JUST £6.25 (+p&p).
Whether you're looking for the new centrepiece for your collection, you're an avid 50p collector, a military enthusiast, or looking for the perfect way to mark this important 75th anniversary, there's bound to be something within the range for you.
---
The Complete Victory Silver Proof 50p Coin Collection
Are you after the perfect new centrepiece for your collection? Then look no further. The Silver Proof 50p Collection is perhaps the ultimate way to own these brand new coins. Each 50p has been struck in Silver to an immaculate Proof Finish and features one of seven designs that have been expertly highlighted with 24 Carat Gold Plating – together spelling out VICTORY:
V – Churchill with his iconic V for Victory stance.
I – Citizens of the Isle of Man celebrating the end of WWII.
C – Soldiers shaking hands in front of Trafalgar Square.
T – HMS Dido Battleship returning home after the war.
O – Spitfires flying over St. Paul's Cathedral in London
R – Street Party celebrations
Y – A soldier returning home to his family
In recent years, 50p coins sparked a collecting craze and I've seen new releases with edition limits as high as 30,000 selling out in a matter hours. This prestigious collection has however been given a strict edition limit of JUST 2,020 sets worldwide, so demand is expected to exceed availability. Click here to secure yours today while stocks last >>
The Complete Victory Brilliant Uncirculated 50p Coin Collection
This set is the one of the only ways you can own ALL SEVEN Victory 50p coins in Brilliant Uncirculated Quality. Each of the coins within this remarkable collection depicts a specially commissioned design and letter reflecting victory during this important time in our history. Together come presented in a stunning VE Day 75th Anniversary pack that you can cherish for generations to come.
What's more, each of the Victory 50p coins are legal tender in the Isle of Man and a limited number of each will enter circulation.
New 50p collections such as this prove extremely popular with collectors and we expect these are going to fly out. If you'd like to secure one for your collection you'll need to be quick. Click here for more details >>
The Official VE Day 75th Anniversary Gold Proof 50p
The crème de la crème of the range you could say. If you're looking for the most premium and limited way to own one of these brand new Victory 50p coins, then this is it.
The coin has been struck from 22 Carat Gold to a perfect Proof Finish, and features a stunning engraving of Churchill alongside the letter 'V' for Victory. Importantly, this is the FIRST EVER 50p to carry a portrait of Winston Churchill and this fact alone will mean the coin is highly sought-after by collectors.
New Gold Proof 50p's have a strong sell-out history and high demand is expected. If you'd like to join one of JUST 250 lucky collectors worldwide to own this prestigious new coin, then please don't delay. Click here for more information>
The Official VE Day 75th Anniversary Silver Proof 50p
Silver 50p coins are amongst the most popular coins released each year and this is guaranteed to be no exception.
The coin has been struck from Sterling Silver to a pristine Proof Finish, with the design being accentuated in stunning 24 Carat Gold Plating. This is the perfect heirloom to pass down to children and grandchildren, especially given it's the FIRST TIME Winston Churchill has ever featured on a 50p.
Only 5,000 coins are being issued for worldwide distribution so a prompt response is advised to avoid missing out. Click here to find out more and secure yours today >>
The Official VE Day 75th Anniversary Brilliant Uncirculated 50p
This is the perfect piece for those new to collecting or if you're looking for the first coin to start your collection. The 50p has been struck to a Brilliant Uncirculated quality – a superior finish sought-after by collectors – and features a poignant design of Churchill alongside the letter 'V' for victory.
The coin comes presented in a bespoke presentation pack, meaning it will be protected for years to come. And best yet, it can be yours today for JUST £6.25 (+p&p). Order yours today by clicking here>>
The Ultimate Victory 50p Coin Cover
For all the stamp collectors out there, this could be the perfect piece for you! As today, you can secure ALL SEVEN of the Victory 50p Coins in superior Brilliant Uncirculated Quality, on this exclusive cover alongside sought-after Royal Mail VE Day Stamps.
Only 750 covers are being issued worldwide. An edition limit that is confirmed by the one-day-only postmark – 27th February 2020 – the official release date of the new 50p coins. Given the limited number available a sell out is expected, so please order yours as soon as you can to avoid disappointment. Click here to find out more >>
The Complete VE Day 75th Anniversary 50p Coin Cover Collection
Last but certainly not least, is this fantastic collection of SEVEN covers that each feature one of the Victory 50p Coins alongside a specially commissioned Royal Mail VE Day Philatelic Label.
The collection provides you with unique way to own these poignant 50p coins, which is available exclusively from The Westminster Collection. Only 750 of these collections are being released so if you're interested, a prompt response is recommended. Click here to secure yours now >>
---
If you're interested, you can check out the complete range of Victory 50p commemoratives by clicking here >>
This year marks the 90th anniversary since Peter Pan author, JM Barrie, gifted his rights in Peter Pan to Great Ormond Street Hospital.
To commemorate this generous gift, earlier this year we launched a range of Peter Pan 50p coins in partnership with Great Ormond Street Hospital Charity, the Isle of Man Treasury and Tower Mint.
These magical 50p's really captured the imagination of collectors and the demand experienced since their release has been unprecedented.
Incredibly this has meant in just a matter of months, through the sales of these Peter Pan 50p coins, that collectors have helped raise over £250,000 for Great Ormond Street Hospital Children's Charity!
This is an achievement that everyone is immensely proud of, and we are hugely thankful to collectors for helping raise such an amazing amount to support Great Ormond Street Hospital Charity and the seriously ill children from across the UK who are cared for there.
To celebrate this important occasion, Managing Director, Ian Glen, and Karen Brooks, Head of Product Development, went along to Great Ormond Street Hospital to present them with the £250,000 cheque!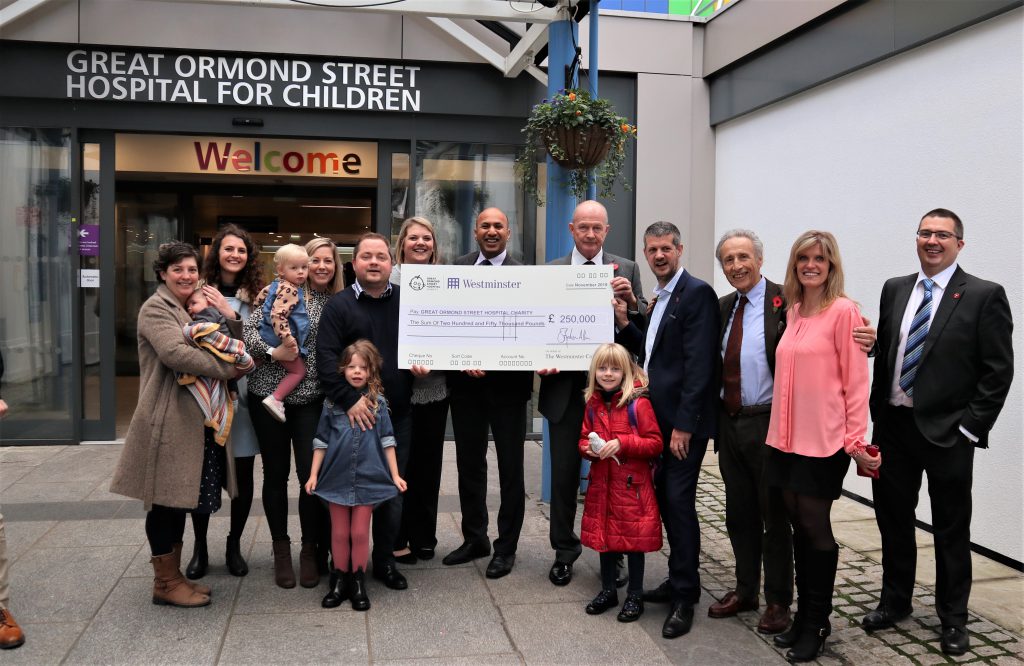 "We would like to thank all of the collectors who have raised such a considerable amount of money for Great Ormond Street Hospital. It has been a real privilege to work alongside the Great Ormond Street Hospital Charity, the Isle of Man Treasury and Tower Mint in such a worthwhile coin issue."

Ian Glen – Managing Director, The Westminster Collection
"Everyone at Great Ormond Street Hospital Children's Charity is thrilled and incredibly grateful that The Westminster Collection, The Tower Mint and the Isle of Man Government chose to celebrate the 90th anniversary of JM Barrie's gift of the rights of Peter Pan to Great Ormond Street Hospital by issuing a special Peter Pan collection. It's wonderful to see how much the general public and avid collectors have come together in support of this special collection. The funds raised will have a huge impact on the lives of seriously ill children from across the United Kingdom."

Amit Aggarwal – Director, Great Ormond Street Hospital Charity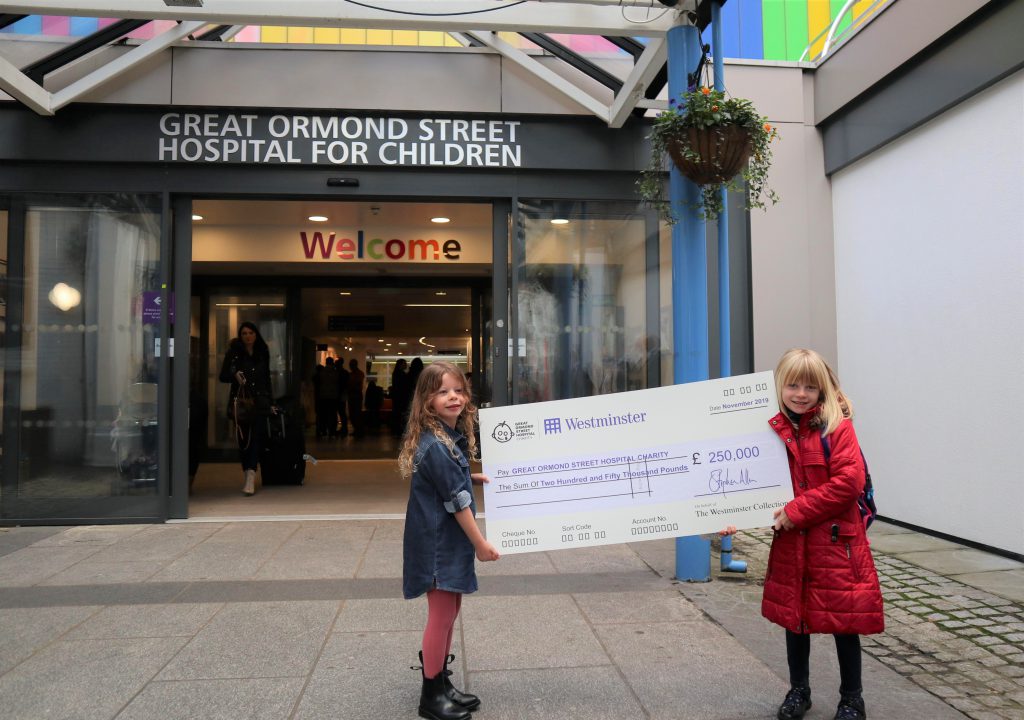 "I work in such a special industry, and I get see so much and meet so many people, but I never thought I would be able to connect my daughters syndrome to such a great cause, as well as contribute such an amazing amount to Great Ormond Street Hospital which will support all of the incredible work they do. The Westminster Collection and the Isle of Man have achieved so much for all involved, and I am a very proud dad!"

Elliot Dawson – Director at Tower Mint & Dad of Olivia Dawson (pictured above)
---
We are delighted to see our range of Peter Pan commemoratives grow in recent months and expand the opportunities for collectors to support Great Ormond Street Hospital Children's Charity. If you'd like to take a look at the full range, you can do so by clicking here.
To find out more about Great Ormond Street Hospital and the fantastic work they do, click here.
Imagine scaling an electricity pole in the dead of night, a bitterly cold wind rushing past your ears, and tiptoeing along a power cable through the skies of Berlin. This is exactly where trapeze artist Horst Klein found himself after being banned from performing in East Berlin for his anti-communist beliefs.
He eventually fell to the ground after becoming fatigued, but fortunately landed in West Berlin. Despite two broken arms he was finally free from the communist holds of the East. But he wasn't the only one to risk his life.
30 years ago, on 9th November 1989, the Berlin Wall fell and the people of Berlin were liberated after being separated for almost three decades. But during the years that the Berlin Wall stood, hundreds of people followed Klein's example, with each one having to find their own creative way to defect to the West.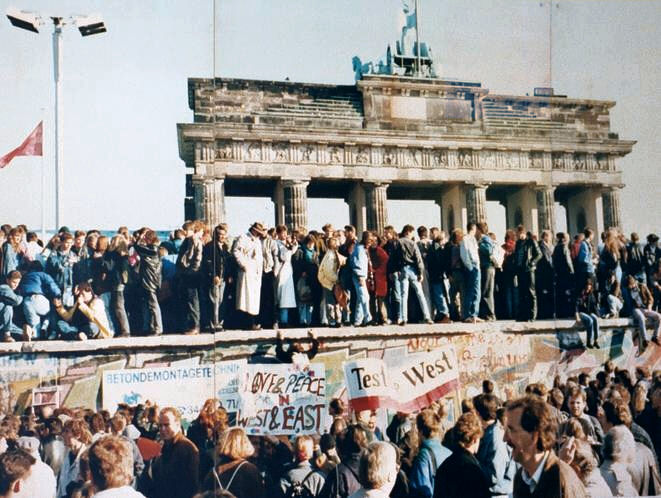 A homemade hot air balloon
Two friends who worked as mechanics used their skills to build a hot air balloon. They had a little help from their wives too, who stitched together bed sheets to make the actual balloon. In September 1979 the couples and their children climbed into the balloon and floated through the skies over the wall into the freedom of the West.
The last train to freedom
In 1961 not long after the wall was erected, Harry Deterling found himself driving a train down a disused railway track. As a railway engineer he knew this track led to gap where the Berlin Wall had not yet been completed. After piling his friends and family on board, Deterling drove the train at high speed through the gap in the barrier and into West Berlin. The gap was sealed by East German guards the next day, giving the train its nickname "the last train to freedom".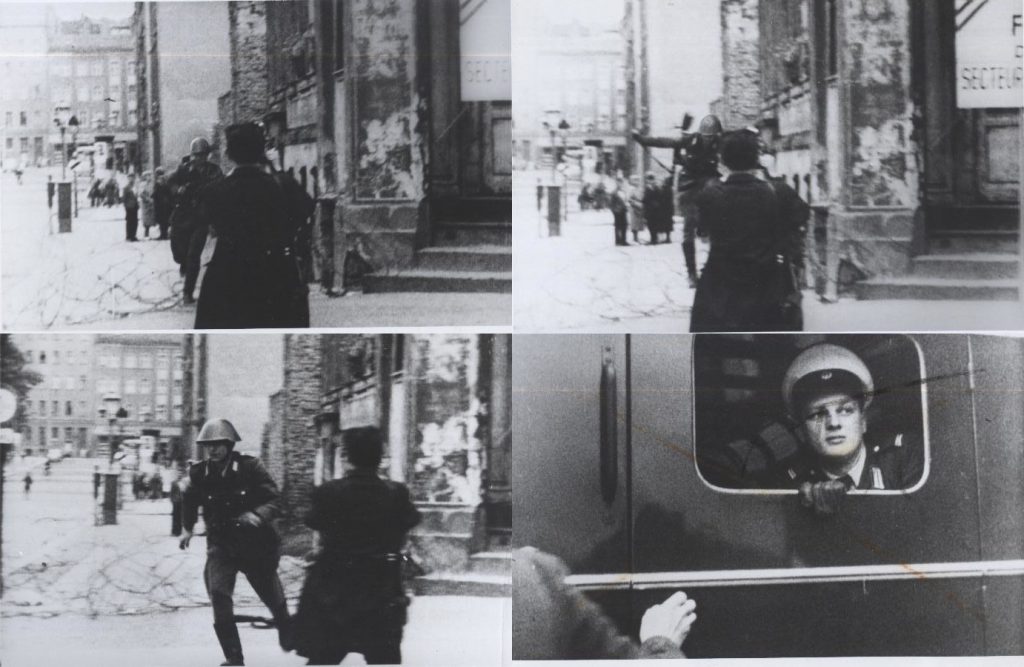 In a stolen tank
An East German soldier stole a tank in 1963 and drove it straight into the wall in the hope that it would break through. The force wasn't enough to destroy the wall so instead the soldier was forced to climb out on top of the tank and up onto the wall. Under gunfire from the East German border guards he got stuck in barbed wire, and shot twice. Fortunately West Germans came to his aid and rescued him.
In a convertible with no windshield
Checkpoint Charlie, was the scene of a successful, and bold, escape by Heinz Meixner. He rented a red Austin-Healy Sprite, chosen because the car itself only measured 90cm high. This was vital for Mexiner's plan. He removed the windshield and let out a little air from the tires to lower the car even more, drove to Checkpoint Charlie (with his girlfriend and mother in law hidden in the back) and drove straight under the barrier into the West.
On an air mattress
One man who was so familiar with the banks of the River Elbe, which ran through Berlin, used an air mattress as a makeshift raft. Under the cover of darkness and with a trusted friend, the pair navigated a metal fence and the muddy riverbank. They climbed on board the mattress and silently paddled along the river into West Germany.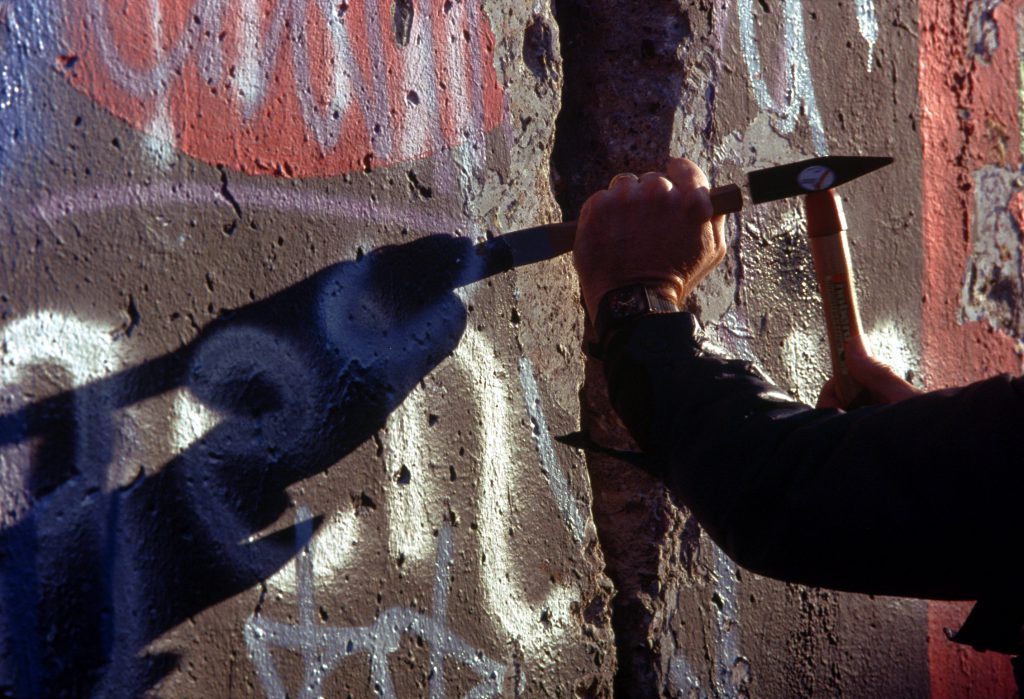 This month marks the 30th anniversary of the fall of the Berlin Wall. On the night the wall came down celebrations continued throughout the city into the early hours of the morning as friends and families reunited. Today, little remains of the wall as it was almost entirely destroyed, but the legacy of that night and the wall lives on.
---
If you're interested….
You can own an ORIGINAL piece of the Berlin Wall along with a coin from both East and West Germany. And just think, this might even be the very piece that Horst Klein walked over! But it's already over 75% sold so you'll need to act fast. Check out the video to see Adam explain what makes this set so special or click here to order yours today >>