On the eleventh hour, of the eleventh day, of the eleventh month – the world will unite in silence to remember our fallen heroes.
To mark this important occasion, a number of new Remembrance Poppy Commemoratives are released each year in partnership with The Royal British Legion.
And this year, they might just be the best yet.
You see this year marks 100 years of Remembrance and the unveiling of the Cenotaph. And all of the coin designs are symbolic of this important anniversary, the attention to detail is incredible.
If you're yet to secure your 2019 Remembrance Commemorative, then I have good news for you! As I've spent some time looking through the new releases and have handpicked my top 4 pieces. Read on to find out why each of them would make a great addition to any collection…
---
Did you know? Through the sales of Remembrance and Poppy coins that The Westminster Collection has raised over an incredible £1 million for The Royal British Legion. Find out what Charles Bryne, Director General of The Legion, had to say about this by clicking here.
---
The Masterpiece Poppy Coin – a great feat of minting techniques and craftsmanship
Truth be told, there are so many incredible features on this year's Masterpiece Poppy Coin that I genuinely don't know where to begin.
First up you have the Mother of Pearl Poppy that sits proudly atop the coin. Nacre, to give Mother of Pearl its proper name, makes up the outer coating of Pearls – one of the most sought-after gemstones on the planet. And due to its nature, means that each Poppy crafted from it is completely unique.
The coin itself has been struck from 5oz of fine silver and finished to a Proof Finish; the finish that true collectors value. Multiple smaller copies have also been engraved onto its huge 65mm surface, resulting in an exceptional 3-dimensional effect.
The 2019 Masterpiece Poppy Coin is the pinnacle of craftsmanship and unsurprisingly one of the most demanded in the world of Numismatics. It really has to be seen to be believed. But with a large majority of the 300 worldwide edition limit now reserved, you'll need to be quick if you'd like to secure one for your collection. Find out more by clicking this link >>
---
The WORLD'S FIRST £2 Remembrance Poppy Coin
There have been many Remembrance Poppy Coins issued over the years, but never before have we seen a £2 coin. That was until now!
This brand new coin features a large stylised poppy with the text 'We will remember them', and is encircled by a pattern that has been inspired by the wreath on the Cenotaph. Paying tribute to that all-important centenary anniversary.
Collecting firsts always prove extremely popular with collectors and the same can be said for the FIRST EVER £2 Remembrance Poppy Coin. If you're an annual Remembrance Poppy Coin collector this is a must-have for your collection. And best yet, it can be yours for JUST £9.99 (+p&p). Click here to order now >>
---
ONLY 250 collectors can own this exclusive Remembrance Silver £2 Coin Cover
If you're looking for an extremely limited way to own the FIRST EVER Remembrance Silver £2 Coin, then this is it. In fact, this could be the most poignant cover issued this year.
Sat at the heart of the cover is the world's first Remembrance Silver Proof £2 Coin. Of the 2,500 that have been issued for worldwide distribution, only 250 have been allocated for use in this exclusive cover. A significantly low amount given the magnitude of the occasion.
This is perfectly paired alongside the Official Royal Mail 'Lest We Forget' Poppy Stamps that will be postmarked on Remembrance Day – 11th November 2019. This both captures a moment in time and further cements the strict 250 worldwide edition limit.
The cover has just been announced for release and early signs suggest a sell-out is on the cards. Click here to secure yours before it's too late >>
---
Strictly limited Gold-Plated £5 Coin marks 100 years of Remembrance
To mark 100 years of Remembrance and pay tribute to those who have made the ultimate sacrifice, this strictly limited Gold-Plated Proof £5 coin has been issued.
What makes this coin so special is the one-year-only design. Adorned around the edge of the coin is a wreath of Poppies that have been expertly coloured in red ink, the detail is incredible. These encircle the poignant words, 'WE WILL REMEMBER THEM', that has been engraved at the centre of the coin.
Only 4,950 of these fantastic coins have been issued for worldwide distribution. If you'd like to add one to your collection for JUST £25 (+p&p) you can do so by clicking here >>
---
Remember, by ordering any of the 2019 Remembrance Coins or Covers that you'll be directly supporting The Royal British Legion who provide financial, social and life-long support to the Armed Forces community.
Here's a few words from Charles Bryne, Director General of The Royal, about raising over £1 million through the sales of Remembrance and Poppy Coins…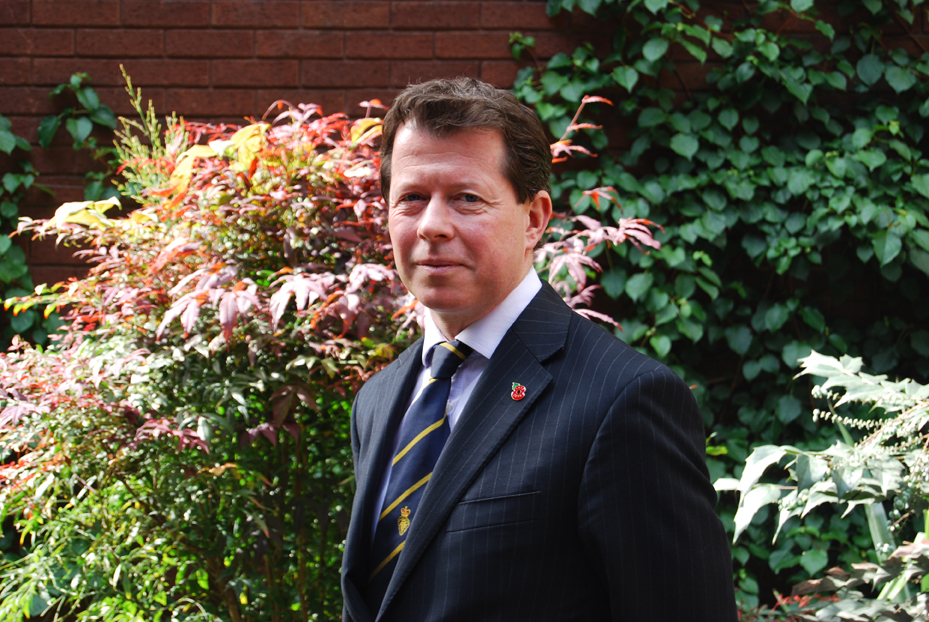 "As Director General of The Royal British Legion, I would like to thank those that have supported the charity by purchasing one of our partnership products over the years. I am very proud that together, we have achieved the amazing milestone of raising over £1 Million for The Royal British Legion.
This is a great achievement, which will allow us to continue to help those who need us the most. Partners like The Westminster Collection enable us to support our beneficiaries, providing lifelong support to the Armed Forces community, serving men and women, veterans, and their families when they need it most.
This Remembrance period, we will ask the nation to commemorate the service and sacrifice that many friends, allies, and Commonwealth nations made alongside Britain in defence of its freedoms, values, and way of life.
Our partnership coins and commemoratives are a reminder to us to take that time to remember and reflect, and this is why our partnership with The Westminster Collection is so very special to us.
Please accept my thanks for all of the support that you have shown the Legion in enabling us to reach this milestone, and most importantly help us to support the Armed Forces Community."
---
To view our full range of Remembrance Poppy Coins click here
The Remembrance Poppy Coins issued in partnership with The Royal British Legion are amongst the most popular releases each year. And this year is proving no different.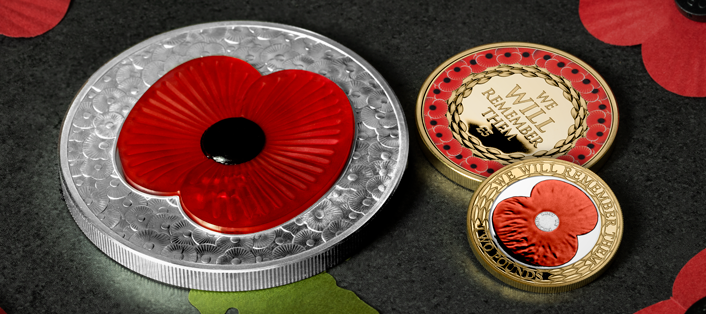 Have you secured your favourite 2019 Poppy Coin yet?
If not, join Adam and Yasmin as they take a closer look at the range in our Special Edition 2019 Remembrance Coin Show below.
Highlights include a detailed look at the WORLD'S FIRST £2 Poppy Coin. And best yet, you'll also get an exclusive FIRST LOOK at this year's Masterpiece 5oz Silver Coin. When you see it there's no wonder this incredible release sells out year-after-year!
This is certainly one not to miss…
You can check out the full 2019 Remembrance Poppy Coin Range by clicking here
Royal Mail have today announced the release of BRAND NEW Elton John stamps, which will mark a tribute to one of the UK's greatest music legends on the 50th anniversary of his first album, Empty Sky.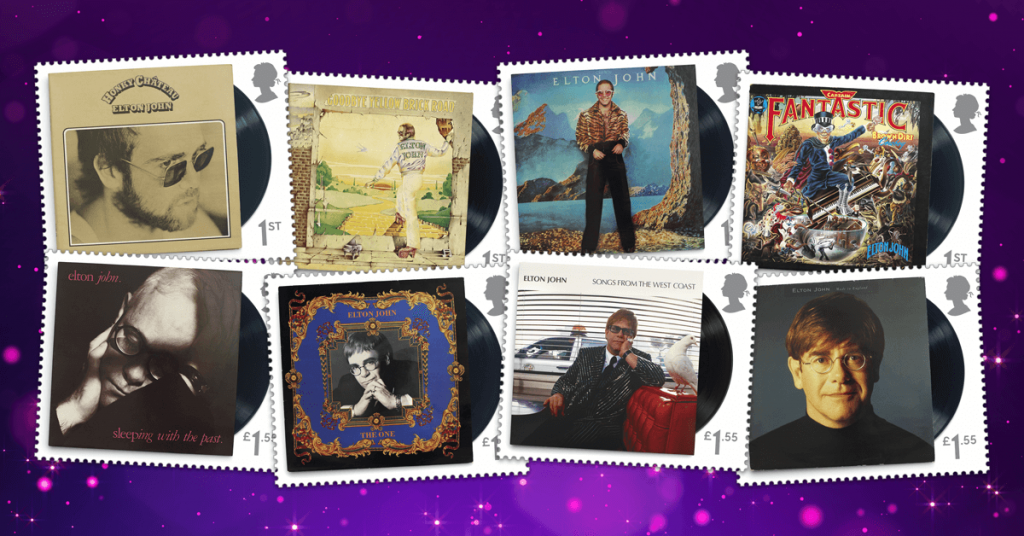 The 'Music Giants III Elton John' stamps are Royal Mail's third dedicated music artist stamp issue, following from their very successful Pink Floyd and David Bowie releases in 2016 and 2017.
Officially released today, 3 September 2019, the stamps will feature the iconic album covers and live performances from 1972 through to his final tour – Farewell Yellow Brick Road – at Madison Square Garden.
This is the first time Elton John has ever featured on UK stamps, and as such these are guaranteed to prove a hit with collectors!
Take a first look at the NEW Royal Mail Elton John Stamps and find out more about each of them below…
---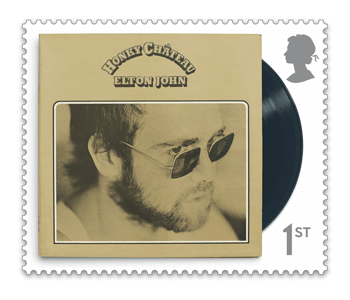 1st – Honky Château: Recorded in the Château d'Hérouville near Paris, Honky Château was Elton John's breakthrough pop album, home to 'Rocket Man' – one of three songs he composed on the morning of the first day of recording.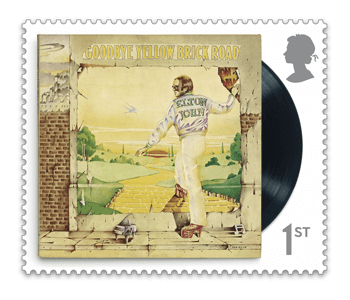 1st – Goodbye Yellow Brick Road: A double album that perhaps represents the artistic pinnacle of Elton's 1970s' career, a teeming, eclectic songwriting masterclass that features 'Candle in The Wind', 'Saturday Night's Alright for Fighting' and 'Bennie and the Jets'.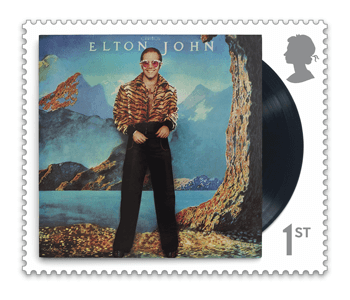 1st – Caribou: His fourth consecutive US number one album, Caribou, is best-known for 'The Bitch Is Back' and the epic 'Don't Let the Sun Go Down on Me', but its most striking moment might be 'Ticking', the eerie saga of an armed siege in a bar.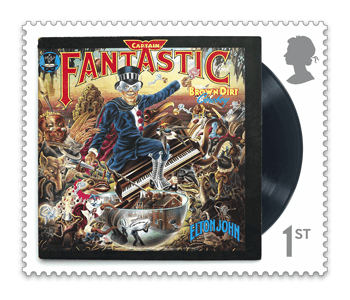 1st – Captain Fantastic and The Brown Dirt Cowboy: A concept album on which lyricist Bernie Taupin recounts the early days of his and Elton's career, complete with a vivid depiction of Elton's 1968 suicide attempt, 'Someone Saved My Life Tonight'.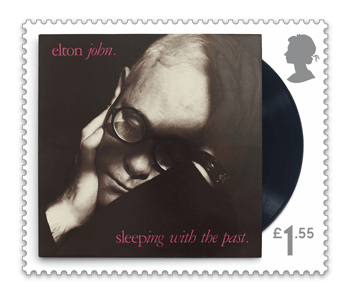 £1.55 – Sleeping with The Past: The last album Elton John made before going into rehab was intended as a homage to the soul and R 'n' B music that had inspired him in the 1960s: in 'Sacrifice', it produced his first UK solo number one single.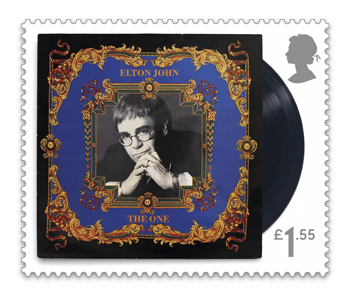 £1.55 – The One: The cover designed by Gianni Versace, its lyrics haunted by the unfolding AIDS crisis and Elton's battle with drug addiction, The One re-established the now clean and sober Elton John.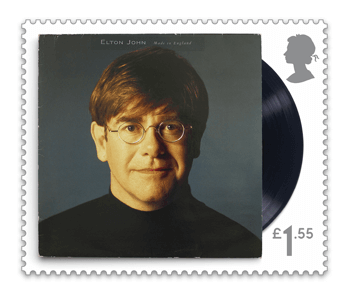 £1.55 – Made in England: Largely recorded live in the studio, Made in England's upbeat title track – a hit single in 1995 – masks the rest of the album's mature mood, which features reflections on ageing both positive and negative.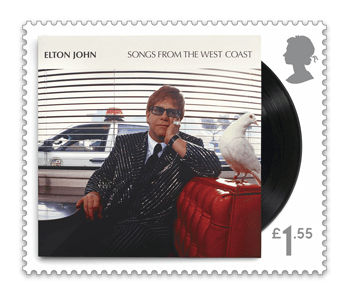 £1.55 – Songs from The West Coast: "Going backwards to go forwards", as Elton put it, Songs from The West Coast returned to the warm sound of his early 1970s' albums and offered his and Taupin's strongest collection of songs in years. A latter-day triumph.
---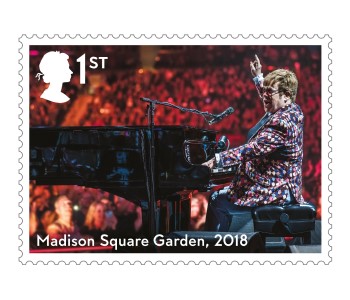 1st – Madison Square Garden, 2018: Farewell Yellow Brick Road is an ongoing tour that began in Allentown, Pennsylvania on 8 September 2018. It is intended to be John's final tour and will consist of more than 300 concerts worldwide, over three years.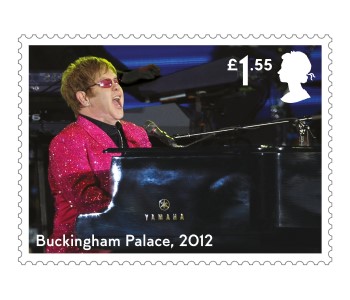 1st – Buckingham Palace, 2012: On 4 June 2012 Elton John performed at the Queen Elizabeth II Diamond Jubilee Concert at Buckingham Palace. His setlist included "Your Song", "Crocodile Rock" and "I'm Still Standing"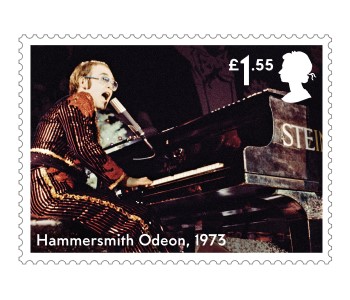 £1.55 – Hammersmith Odeon, 1973: Live in concert at West London's Hammersmith Odeon in December 1973, Elton's "Christmas Party" received national coverage on BBC radio in the UK.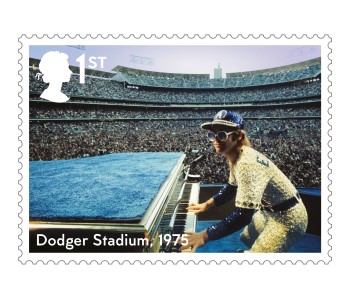 £1.55 – Dodger Stadium, 1975: The "West of the Rockies Tour" was a North American concert tour in support of his 10th studio album "Rock of the Westies". The tour included a total of 17 shows across the United States and Canada.
---
If you're interested…
You can now own the complete set of eight new Elton John stamps and official Miniature Sheet together on an exclusive limited edition FRAMED presentation. Professionally mounted and ready-to-hang, just 995 will EVER be issued. Click here for more information >>>