Posts Tagged 'WWI. Poppies'
This year marks one hundred years since the First World War came to an end, making the 2018 Poppy coin designs even more special.
The Masterpiece Poppy Coin
Issued in support of The Royal British Legion, the brand new Masterpiece Poppy coin very poignantly and quite literally stands out as it uses an incredible 3 dimensional effect.
It's called a Masterpiece for a reason. Using cutting edge minting techniques and specialist craftsmanship, a stylised Royal British Legion poppy, proudly sits on top of your coin, resulting in an exceptional 9mm relief.
What's more, there's another aspect that makes this year's Masterpiece Poppy so special.
British Artillery Shell
You see, the Golden coloured poppy that adorns your coin has been made from inert brass British artillery shell fuses recovered from the First World War battlefield of the Somme and areas of France and Belgium. Some were recovered by Chris Bennett of TMB Art Metal, but most were trawled in by farmers from ploughed fields.
The shells are then brought back to the UK, where they are melted down and poured into a mould. It is then cooled and cleaned to created the high-relief poppy.
Straight from the frontline
And that's not all, each poppy has a central disc of red enamel which has been applied by hand and, to add even more poignancy, this enamel is mixed with earth recovered from several locations along the British Front Line of the Somme and Passchendaele areas in Belgium.
Therefore, not only are the poppies made of actual WW1 metal, but they also possess the very essence of the battlefield which the brave soldiers fought and died upon, and that many still lie at peace beneath.
100 Poppies, 100 years
Significantly, 99 poppies have been engraved into the surface of the coin, making 100 poppies in total to reflect the centenary anniversary.
The finish on this year's Masterpiece design is a stunning antique effect. It means that, should you wish, you can actually touch the coin and the brass poppy itself. A chance to hold a genuine piece of history in your hands.
Watch the below video to see the incredible detail that has gone into this years stunning release.
Presentation that befits your masterpiece
And, as befits such a masterpiece, its presentation matches the coin's impressiveness.
The luxurious wooden display case allows you to display your Masterpiece Poppy Coin to the best advantage, with its glass lid protecting the coin. Inside the box is space for the individually hand-numbered Certificate of Authenticity, as well as the accompanying booklet that tells the story of the Masterpiece Poppy Coin from concept to final coin.
Available now – with a donation to The Royal British Legion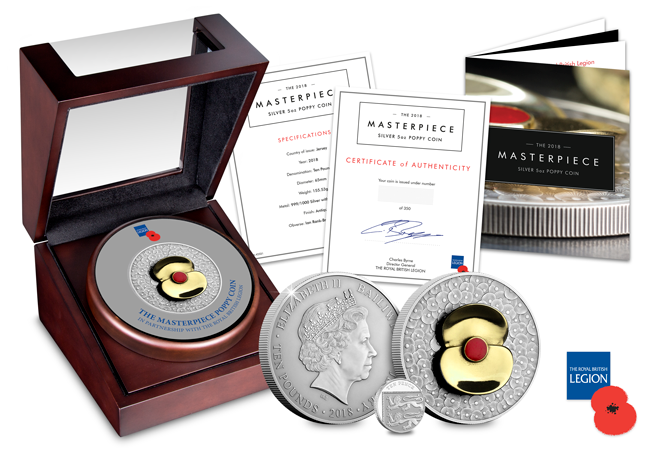 The 2018 Masterpiece 5oz Silver Proof Poppy Coin is available to own right now from The Westminster Collection, although they are expected to sell out quickly.
To further support the work of The Royal British Legion, a donation of £55 from the sale of each coin will go directly to the charity, helping them to continue to provide financial, social and life-long support to the Armed Forces community.
£1,000,000 Milestone
What's more, since our partnership began we are on target to raise an incredible £1,000,000 in support of The Royal British Legion.
---
If you're interested…
You can own the 2018 Masterpiece Poppy coin by clicking here >>
£55.00 from the sale of this product will be paid to The Royal British Legion Trading Limited, which gives its taxable profits to The Royal British Legion (charity no. 219279) or Poppyscotland (Scottish charity SC014096). Your donation will be given to either charity based on where the item was purchased.
As the distributor of the annual Poppy Coin we are proud to continue supporting The Royal British Legion each year.
The coins, which have often included colour or gold-plated elements, are some of the most innovative pieces struck for collectors over the last 6 years.
Yet owning a Poppy Coin means much more than simply collecting the latest interesting or historic commemorative coin.
Each coin owned by you has resulted in a donation to the work of The Royal British Legion providing financial, social and emotional support to all who have served and are currently serving in the British Armed Forces and their families.
Last year we were delighted to raise a record amount of over £130,000 with the special First World War Centenary "100 Poppies" coin. And with over £450,000 raised for the RBL to date, we hope to break the £500,000 mark this year for total donations.
Louise Ajdukiewicz, Head of Corporate Partnerships at The Royal British Legion, says "These funds make a real difference to the charity and help us to continue our vital services supporting the whole Armed Forces community."
Discover more about how the donations from the Poppy Coin helps The Royal British Legion support the Armed Services community.
But does owning a Poppy Coin provide an alternative to wearing a Poppy or donating directly to The Royal British Legion? Of course not.
I'll be making my annual donation to The Royal British Legion and wearing my Poppy with pride this year. But I have also bought a silver Poppy Coin for each of my children in the knowledge that they will have a valuable reminder of the sacrifices of the First World War.
---
Own the new Remembrance Day £5 Poppy Coin for just £5 today
New Poppy coins are made available during the Remembrance period from October each year and this year's design will be a 'numismatic 'first'. The 2015 coin features a poppy wreath encircling the famous quote, 'Lest we forget' – the first time that a wreath design has been used on a poppy coin.
Click here to secure your coin for just £5 (postfree) – with a donation going directly to the Legion's work.
---
Some examples of how The Royal British Legion supports the Armed Services community:
Care Homes – The Legion has six care homes to provide short and long term care for serving and ex-Service people and their dependants. Situated around the country, they offer a wide range of services including four with specialist dementia care. Care home communities include men and women of varied ages and abilities, and because these homes are exclusive to ex-Service people and their dependants, there is a unique camaraderie.
Break Centres – they offer much-needed breaks to ex-Service and serving personnel and their families, who may be recovering from an illness, bereavement or other life-affecting event. The Legion have four Break Centres located in prime locations around the country.
Handy Van Service – they provide essential and critical support to ex-service people who are unable to carry out household repairs or small jobs, helping them to remain independent in their own homes. The team of trusted handy people are also fully trained caseworkers enabling them to look out for other issues and people at risk in order to flag to the wider welfare team.
Benefits and Money Advice – they offer a confidential, face-to-face Benefits and Money Advice Service to help people manage their finances, including assisting them with making claims for state benefits and also dealing with money problems including debt.
Civvy Street – This service provides a range of information and advice on resettlement, learning and work. Civvy Street is designed to assist in-Service families, armed forces leavers and the veterans' community adjust to civilian life and kick-start a new career.