Posts Tagged 'silver maple leaf set'
The Silver Maple Leaf Set is one of the Royal Canadian Mint's most popular annual flagship releases and is a key piece for many collectors.
There are a few reasons I suspect the new 2023 Silver Maple Leaf Set will be the most sought-after fractional set yet – let me tell you why…
Low Mintage – SOLD OUT at the Mint!
This year the edition limit is more important than ever before, because it matches the edition limit of the SOLD OUT 2021 and 2022 sets – JUST 3,000.
This set has also already sold out at the Royal Canadian Mint, making it even harder to secure.
There is no doubt that there won't be enough to satisfy demand. Particularly when you learn the theme of this new issue…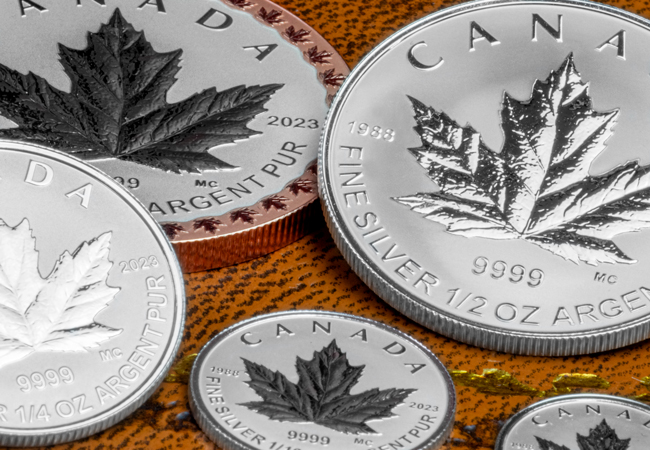 35th Anniversary of the Silver Maple Leaf
This year's Silver Maple Leaf set celebrates the 35th Anniversary of the Silver Maple Leaf. Each coin has been especially dual dated to mark this momentous anniversary.
In fact, the renowned 'four nines' silver that is unique to the Royal Canadian Mint, makes the Maple Leaf one of the finest bullion coins in the world. And in 2023, we mark its 35th anniversary.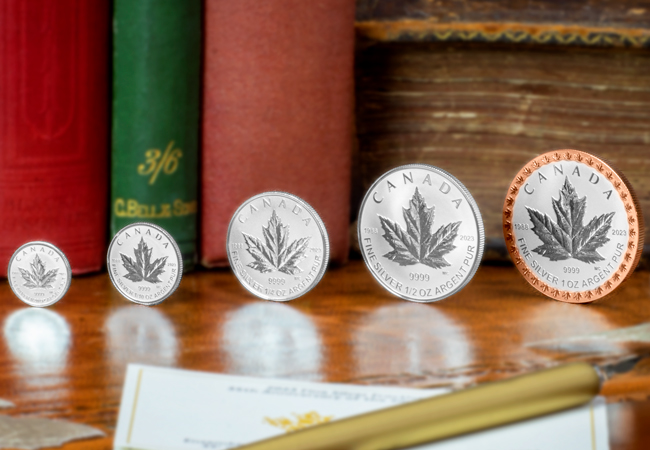 The last set featuring Queen Elizabeth II
Finally, this could also be the last ever Silver Maple Leaf Set to feature Queen Elizabeth II. Given the obverse of the Maple Leaf has always featured Her Majesty's iconic effigy, this milestone moment is likely to increase collector demand.
Not only are the edition limit and theme enough, but the set includes stunning features to add to the collectability and desirability:
The largest piece in the set, the Silver 1oz, has been adorned with 35 small Maple Leaves around the edge, alongside perfect rose-gold plating.
Each coin is struck from 99.99% Pure Silver to a spectacular reverse proof finish that ensures the engraved relief stands out.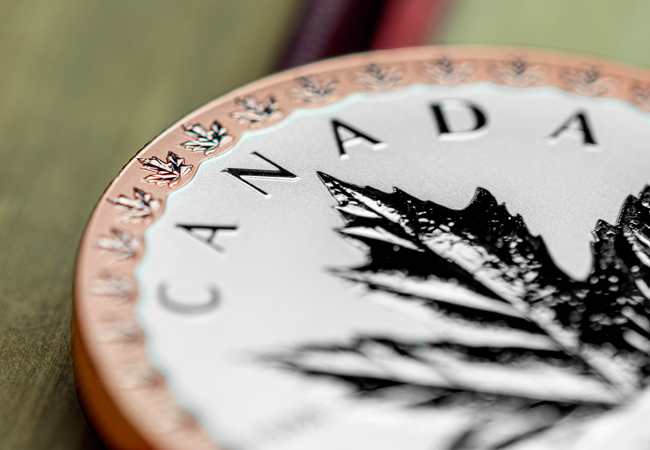 Secure yours today for £34.50
If you're quick, you can secure one for your collection today with a deposit of JUST £34.50 (+p&p) followed by 9 further equal interest-free instalments.
When you combine the 35th Anniversary alongside the special features and the incredibly low edition limit, it's clear to see why this set could be the most sought-after yet.
Click here to secure your Royal Canadian Mint 2023 Silver Maple Leaf Fractional Set >>