Posts Tagged 'Prince Philip'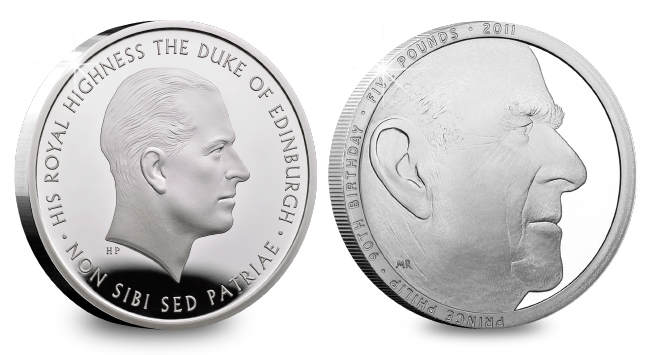 Over the coming days and weeks much will be written about Prince Philip. The dashing naval officer who married a Princess and has since provided steadfast support to the Queen as Britain's longest serving Consort. But few of the many obituaries will dwell deeply on his key involvement in Britain's coinage.
First Job – new coin designs
A new monarch means many things – one is a new coinage. On 21 March 1952, just weeks after the Queen's accession to the throne, Prince Philip attended his first meeting as President of the Royal Mint Advisory Committee on the design of coins, medals, seals and decorations (RMAC); a role that he would hold for the next 47 years, until his retirement in 1999.

A keen artist himself, the Prince's first job was to oversee the selection of the Queen's portrait to ordain her new coins. An uncrowned Queen was chosen from a field of seventeen designs, giving Nottingham born sculptor, Mary Gillick, the honour of creating the most seen portrait of the new Queen. Equally importantly, the young Prince oversaw the design of the most important coin of the moment – the Coronation Crown, featuring Gilbert Ledward's Queen on horseback on the obverse and Edgar Fuller's reverse design containing the Coats of Arms of the constituent nations of the United Kingdom.
The UK's biggest ever currency change
Gillick's design remained on pre-decimal coinage until 1970, when Prince Philip was involved in another huge coinage milestone – the introduction of decimalisation. The process required a complete redesign of Britain's coinage as well as an updated effigy of Her Majesty, designed to help the new denominations stand out. The RMAC selected Royal Academician Arnold Machin to sculpt the Queen, this time wearing a tiara. However, it was the reverse coin designs that were perhaps more significant.
A "monstrous piece of metal"
Under Prince Philip's presidency, the RMAC started to work in top secret on designs as early as 1962, before there was any official government announcement confirming decimalisation. The final designs were created by Christopher Ironside and featured heraldic elements of the United Kingdom. But it was the new 50p coin – introduced to replace the 10/- note – that caused the greatest stir, with its unique heptagonal (7-sided) shape. Now Britain's most popular coin with collectors, that was certainly not the case on its launch with one newspaper calling it a "monstrous piece of metal" and a retired colonel even starting Anti-Heptagonist movement.
In the 28 years that followed Decimalisation, Prince Philip guided the RMAC through two more effigies, Raphael Maklouf (1985 – 1997) and Ian Rank-Broadly (1998 – 2015), as well as the launch of 20p, £1 and £2 coins into circulation and numerous commemorative issues.
The five UK Coins that feature Prince Philip
Of course, Prince Philip has also featured on UK coins himself. The 1972 Crown issued to mark his Silver Wedding Anniversary was an understated affair. However, in 1997, the Queen and Duke of Edinburgh celebrated their Golden Wedding Anniversary, and Prince Philip featured on a UK coin for the very first time as part of a conjoined effigy on the obverse of the commemorative £5 coin. 2007 saw a similar conjoined portrait before the recent 2017 Platinum Wedding Anniversary design, which featured the Queen and Duke of Edinburgh on horseback in what can only been seen as a nod to the original 1953 Coronation Crown as well as a third conjoined portrait.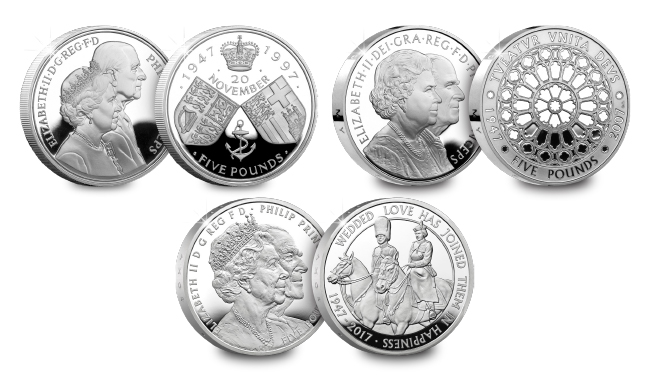 Yet it was in 2011 that Prince Philip was finally granted the greatest privilege – his own £5 Coin to celebrate his 90th Birthday – a splendid close up portrait of the Duke by Mark Richards FRBS. This was followed in 2017, with a design of the young Prince Philip by Humphrey Paget to mark Prince Philip stepping down from public duties after 70 years of service. We will remember Prince Philip for many things – but among them, spare some room for the man who has had more influence over the nation's coins than any other. Surely the nation will do just that with a final memorial £5 Coin, in the same way we paid tribute to Princess Diana and HM Queen Mother.
---
Click here to view a number of new and previously issued numismatic and philatelic tributes to HRH Prince Philip, Duke of Edinburgh.
In just a few weeks' time something remarkable happens. Her Majesty the Queen and HRH Prince Philip celebrate 70 years of marriage – their Platinum Wedding Anniversary
You probably know someone who has celebrated their Golden Wedding Anniversary (50 years of marriage). You may even know someone who has reached 60 years – their Diamond Wedding Anniversary. But I'd be happy to place a small wager that you don't know anyone who has managed 70 years of marriage.
That's because only around 30 couples in the whole of the UK ever reach that milestone each year. Or to put it another way – the Queen and Prince Philip are literally one in a million.
And to mark the occasion, eight special commemorative 50p coins have been issued. It is the VERY FIRST time that British Isles specification 50p coins have been struck to mark a key royal wedding anniversary such as this.
Most importantly, these coins have been authorised by the Isle of Man Treasury, have full legal status AND a very limited number will enter circulation in the Isle of Man.
The UK's most collectable coins…
The 50p coin has rapidly become the UK's most collectable coin spurred on by the release of the Olympic 50p coins and, more recently, the incredible demand for the UK's Beatrix Potter coins.
And that's why these issues are so important.
British Isles 50p coins like this rarely turn up in your change in the UK, making them some of the most sought-after circulating coins around.
As the first major Royal wedding anniversary to feature on any British Isles standard specification 50p coins, this is a very significant moment.
A moment that's made even more important due to the incredible milestone 70 years of marriage represents.
---
How you can own the new coins…
Start collecting the new Platinum Wedding 50p coins, struck to superior Brilliant Uncirculated Collector Quality for your special introductory price of just £3.99.
On the 20th November, Her Majesty Queen Elizabeth II and HRH the Duke of Edinburgh will celebrate their Platinum Wedding Anniversary – that's an incredible 70 years of marriage and a first in British royal history.
In honour of the occasion a new coin has been issued – featuring a specially commissioned one-year-only double portrait.
The coin has been officially approved by both Her Majesty the Queen and Prince Philip, and proudly displays their initials surrounded by a design inspired by the North Rose Window of Westminster Abbey – where their wedding took place in 1947.
But it is the new double portrait that will turn heads and have collectors rushing to secure theirs. Designed by renowned sculptor Luigi Badia, it features both The Queen and The Duke of Edinburgh and will only ever be seen on Platinum Wedding Anniversary Coins.
It's not very often that one-year-only portraits are released, not to mention a double portrait. They really are only issued for the most important Royal anniversaries.
As you'll appreciate, designing a new effigy is not a simple process, with an extremely rigorous approval procedure.
That's why special portraits such as this are few and far between and are so popular with collectors.
Luigi, from New York, explains the concept behind the design:
"I was extremely honored to be commissioned to sculpt a brand new portrait to celebrate Her Majesty The Queen's and HRH The Duke of Edinburgh's 70th wedding anniversary. I was inspired to use a contemporary image of the royal couple to capture both their achievement of reaching such a milestone and to reflect on the long life they have shared together."
The design process…
Careful consideration has to be put into the shape and size of the coin. Luigi painstakingly hand-engraved the design – with the added complication of retaining the typesetting within the circular shape.
The finalised 'plaster' engraving is then ready to be reduced down into a die (shown opposite) – which is hardened and used to mint the commemorative coins collectors can own.
Struck to a variety of specifications…
The new coin is to be struck in a range of different specifications, from a face value version right up to a staggering 10oz platinum edition – which has already sold out.
And the other coins are likely to prove just as popular – with a highly collectable proof coin, a pure silver coin, and a 5oz gold coin amongst those available, there is something to suit everyone.
These coins really do make a fitting tribute to Her Majesty and Prince Philip's 70 years of marriage, and the stunning double portrait marks them out as truly prestigious commemoratives to forever remember this once-in-a-lifetime celebration.
---
If you are interested…
You can mark the occasion by adding the Platinum Wedding Anniversary Proof £5 Coin to your collection today. It's limited to just 4,950 worldwide and a sell-out is expected, especially as it features the new one-year-only double portrait.