Posts Tagged 'dark proof finish'
Published in 1897, Dracula has become one of the most famous pieces of English literature in history, having been adapted for film over 30 times alongside plays, television, video games and animation. It has been translated into 44 languages and sold millions of copies around the world.
And now, Bram Stoker's famous novel has been brought to life on FIVE Brand New Coins to celebrate the 125th Anniversary of its publication!
Authorised by Gibraltar, the five 50p coins feature a werewolf, a vampire bat, a coffin, Dracula's castle and of course, Dracula himself. Each 50p design is further detailed with a quote inspired by the novel.
So, let's take a closer look at some of our favourite specifications of the BRAND NEW 50ps!
But you must hurry – we've already had a sell-out…
---
The Dracula BU Colour 50p Set
OVER 90% SOLD
Strictly limited to JUST 995 worldwide, this set features the FIVE new Dracula 50p coins all in Brilliant Uncirculated quality – and with the addition of vivid COLOUR!
What's more, your 50ps arrive housed in a unique COFFIN box, meaning they'll be safely stored inside for years to come.
Click here for more details >>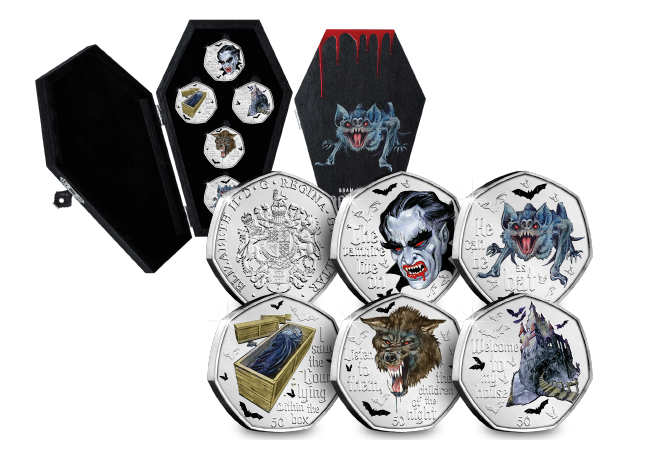 ---
The Dracula Silver 50p Set
There's a good reason why this Dracula Silver 50p Set has a tiny edition limit of JUST 200 available worldwide…
An extremely unique variation of the classic 50p, each of the five 50ps included are struck from .925 Silver to a DARK PROOF finish, perfectly fitting for Dracula.
Arriving protectively housed in a deluxe presentation box, this spooky Dark Proof finish is sure to set it apart in your collection.
Click here for more details >>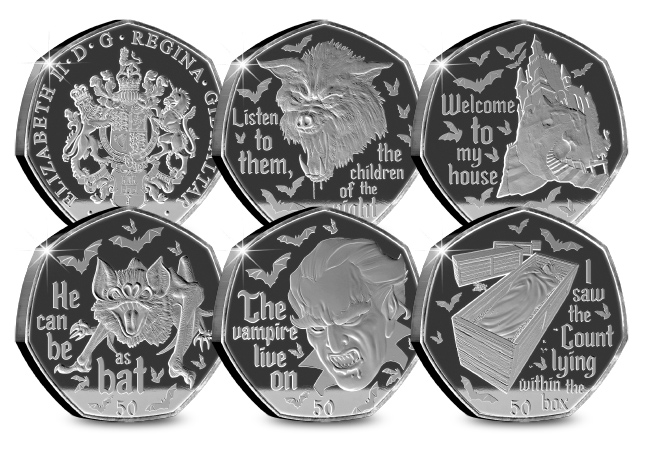 ---
The Dracula Ultimate BU Cover
The Dracula Ultimate BU Cover features all five Dracula 50p coins, paired alongside a specially commissioned Dracula philatelic label.
But that's not all. Officially postmarked by Royal Mail on Halloween – 31st October 2022 – JUST 495 will ever exist worldwide. No more of these one-day-only postmarked covers can ever be produced.
Struck to a superior Brilliant Uncirculated quality, the combination of all five coins, the stamps, the stunning artwork and the small edition limit makes this a truly ultimate presentation.
Click here for more details >>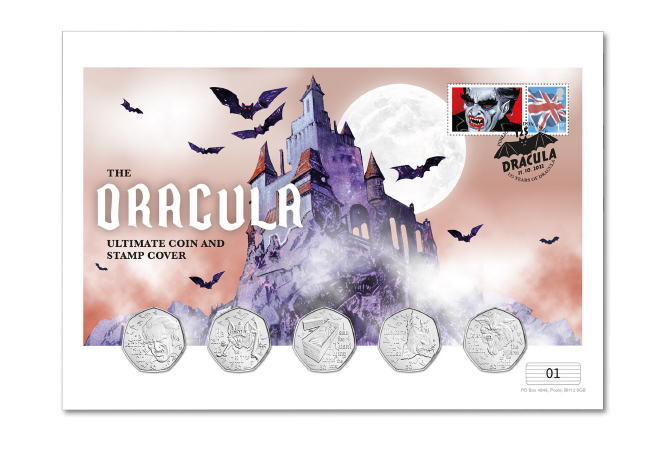 ---
The Dracula 'First Strike' Silver 50p Set
SOLD OUT
JUST 50 collectors managed to get their hands on the 'First Strike' Silver Proof 50p Set.
Exclusively presented in a luxury wooden Presentation Box, each of the five Dracula 50ps arrive preserved in capsules – but it's also now completely SOLD OUT.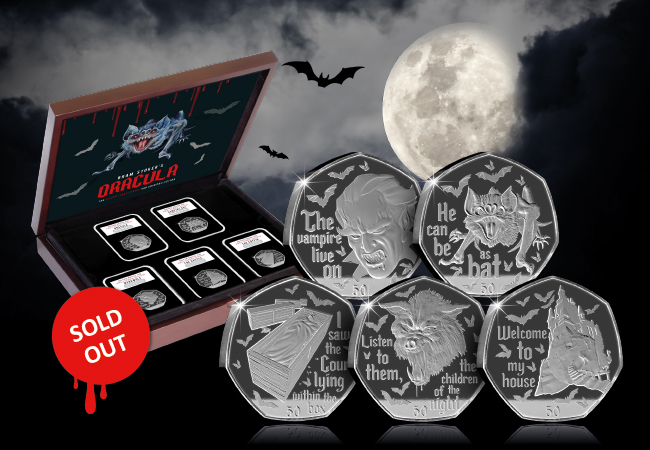 Did you miss out? Not to worry, there's still time to own all five Silver 'DARK PROOF' 50ps here >>
---
With prices starting from JUST £6.99, you can discover all the brand new products in the Dracula 125th anniversary range here. Including the BU coin and BU coin set, there really is something for every collector on this significant anniversary.
Click here to browse the full range of Dracula 125th Anniversary releases starting from JUST £6.99 >>