Each year, as many of you collectors may know, here at The Westminster Collection, we release a special Masterpiece coin in partnership with the Royal British Legion. A donation from the sales of our Poppy coins is made to the Royal British Legion, on your behalf.
2021 saw a special centenary year for the long-established charity, with many celebrations held, including the laying of a wreath at the Cenotaph by RBL National President Lieutenant General James Bashall CB CBE.
One such way we commemorated this important event was the gifting of our prized Remembrance Masterpiece Poppy Coin to D-Day veteran Jim Healy.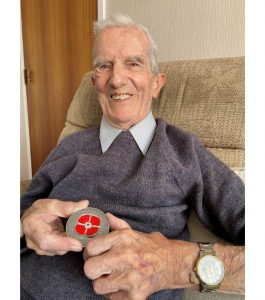 Jim is 97 and from Manchester – he was born in the Spring of 1925 and was called up to join the Armed Forces at the age of only 18. He served in the Royal Marines from May 1943 until August 1945, telling RBL he couldn't even swim being a Manchester boy! His specific role was Coxswain of the Landing Craft Assault (LCA).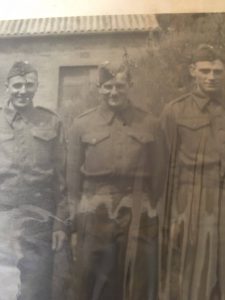 He landed on Juno Beach on D-Day 1944 and during his time in service, made several trips to land Canadian troops on the coast of Normandy. Describing one such trip he said, "I really admired these lads, I saw some wrecked craft, which must've copped a mine, but we were fortunate going in on a high tide, we avoided the mines in the water, going over the top of the obstacles."
Jim is now a retired printer. He married his wife Marie at the age of 25 and they were married for 38 years, but she sadly passed 30 years ago. His brothers Tom and John also served in the Forces. Tom served in the Royal Air Force, and John worked in munitions.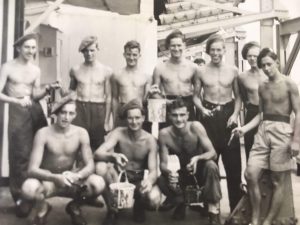 With the Royal British Legion, Jim has been back to Normandy and took part in the D-Day 75 commemorations in northern France in the Summer of 2019. He has said "I've had a whole life before and since D-Day, and it's only since the RBL started organising these trips that I've really started talking about those days."
"…you've got in mind the lads you've lost – we lost ten of our boats and even mine was classified as lost, the family were told that I was missing in action, because our craft was disabled in the middle of the sea."
Jim added "I still don't know which of those soldiers we dropped off died and which ones survived, which is sad for me. I often think about them, we offer our condolences at various times each year and I know the Canadians suffered heavy losses on Juno Beach, but I never knew them really, which is quite hard."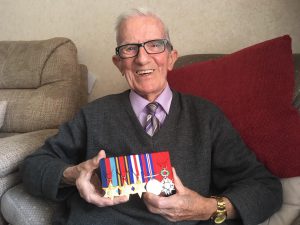 The Masterpiece which has been gifted to Jim is crafted from 1945 British Army Mess tins, a World War Two Spitfire and a D-Day Landing Craft, similar to the one piloted by Jim himself on June 6, 1944. Representing the three military facets of RBL, we have repurposed these important materials to create a three-dimensional '1921 style' Poppy, which sits magnificently on the coin.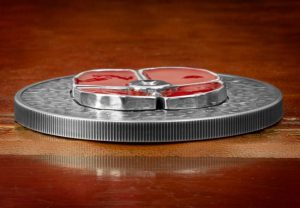 To find out more about how the 2021 Masterpiece Silver 5oz Poppy Coin was made and the significance of the materials used, click here >>
Jim has said "I'm very proud to receive this coin, it is a fitting reminder of my time in the Marines during World War Two and I am very grateful. I do get called a hero, but it is a word that's over-used these days, even by my own family."
We feel honoured that our 2021 Masterpiece Silver 5oz Poppy Coin has been gifted to Jim and what a fitting tribute that it's one of our most historically fascinating pieces to have ever been released.
Our partnership, held since 2004, continues with the Royal British Legion who provide financial, social, and emotional support to members and veterans of the UK Armed Forces, their families and dependents.
There's no doubt that Her Majesty's Platinum Jubilee is going to be the most collectable Royal theme for many years to come…
And today, a BRAND NEW range of Precious Metal 50p coins have been released to mark this once in a lifetime event.
With tiny edition limits across the range, collectors will be rushing to secure these brand new issues. With the standout being the WORLD'S FIRST Double Diameter Gold Proof 1oz 50p Coin!
Never before have collectors seen this, which is why this issue is sure to be in extremely high demand…
Just watch the video below to find out everything you need to know about these brand new releases…
---
If you're interested…

Click here to view the full range of Platinum Jubilee Precious Metal 50ps >>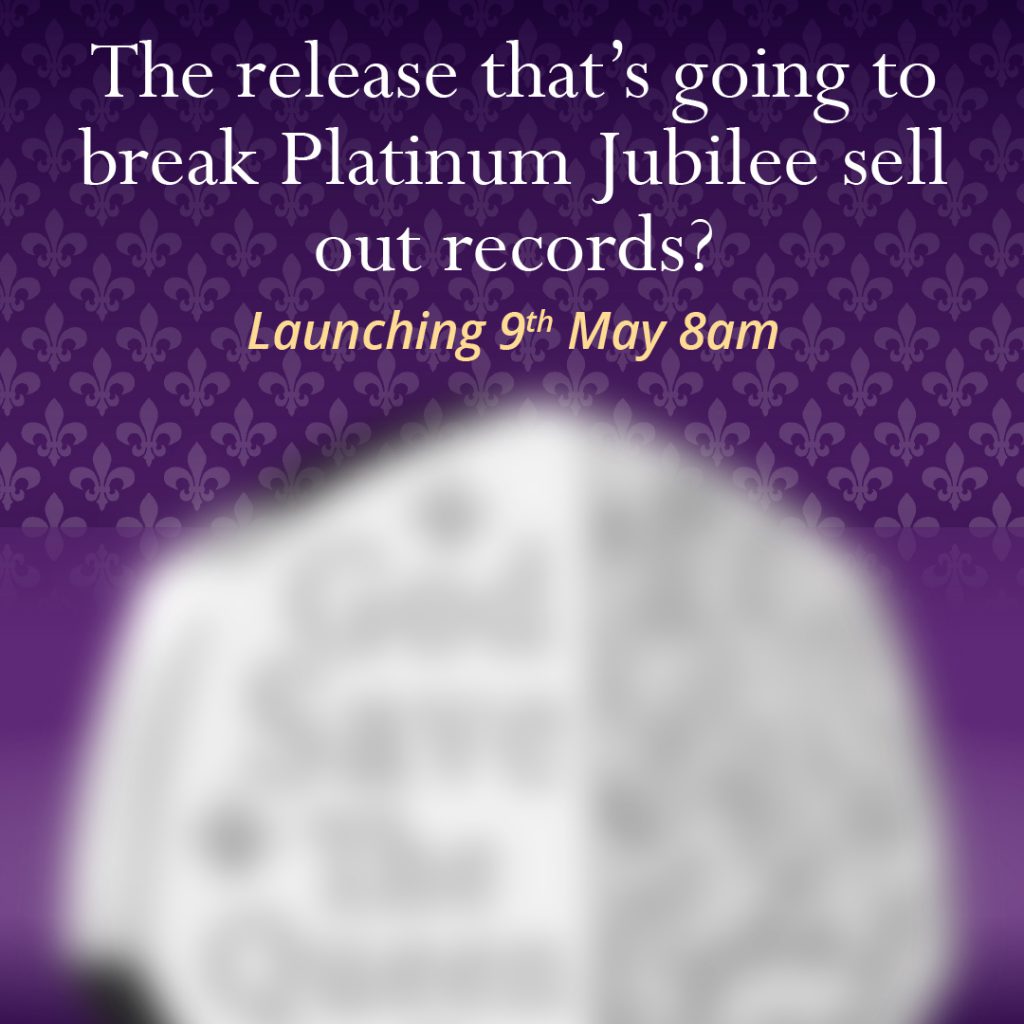 We all know about how the Platinum Jubilee has created a collecting hype like nothing I've seen for many years.
It's been a case of blink and you'll miss it. Just take a look at how quickly Platinum Jubilee coins have been selling out…
---
2022 British Isles 50p — First Release SOLD OUT
The Official British Isles 50p tribute to the Platinum Jubilee was first released as a Dual-Plated edition. With first-release stock selling out in less than two hours, collectors are now frantially ordering the Gold-Plated edition of this stunning 50p.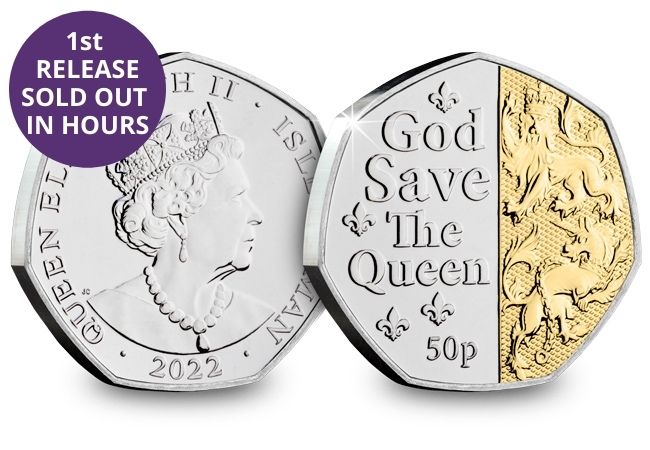 2022 UK 50p — SOLD OUT in less than 24 hours
In January, the UK Platinum Jubilee 50p was released. The FIRST EVER Royal 50p and and featuring a brand-new obverse design — a sell-out was inevitable. Indeed, ALL limited specifications SOLD OUT in 24 hours, including the Silver Proof 50p.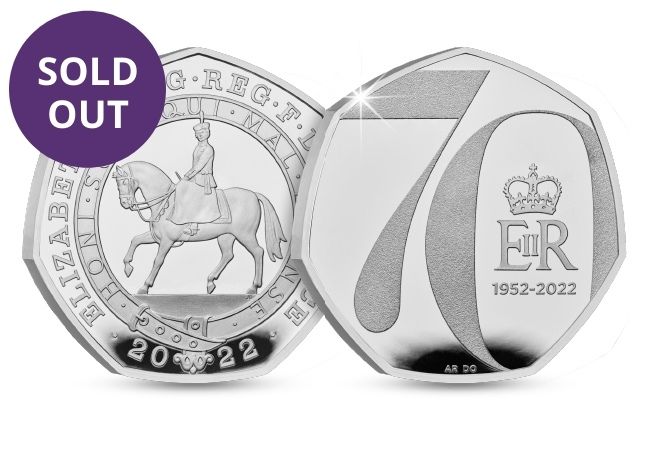 2022 UK £5 — All limited specifications SOLD OUT
In January, the traditional commemorative £5 coin was released. Since then, every limited specification has completely SOLD OUT…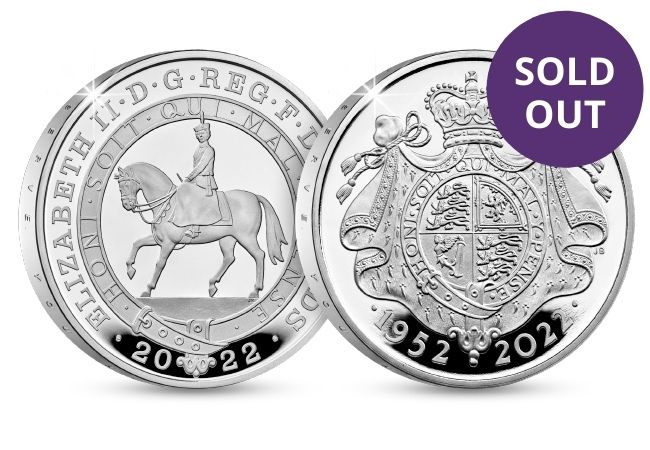 ---
And now, as we approach the Bank Holiday and look forward to the street parties, a BRAND NEW release is coming.
My expectation? That this release is going to break Platinum Jubilee sell out records.
That's because these coins have some of the lowest edition limits I've seen for the Platinum Jubilee. Which means collectors looking to complete their Platinum Jubilee collection are inevitably going to miss out.
Released on the 9th May you'll need to be up and ready at 8am to have any chance of securing one before they've sold out!
Sign up below to find out when the next Platinum Jubilee release becomes available to the general public…