Today His Royal Highness Prince Charles celebrates a huge landmark birthday – his 70th!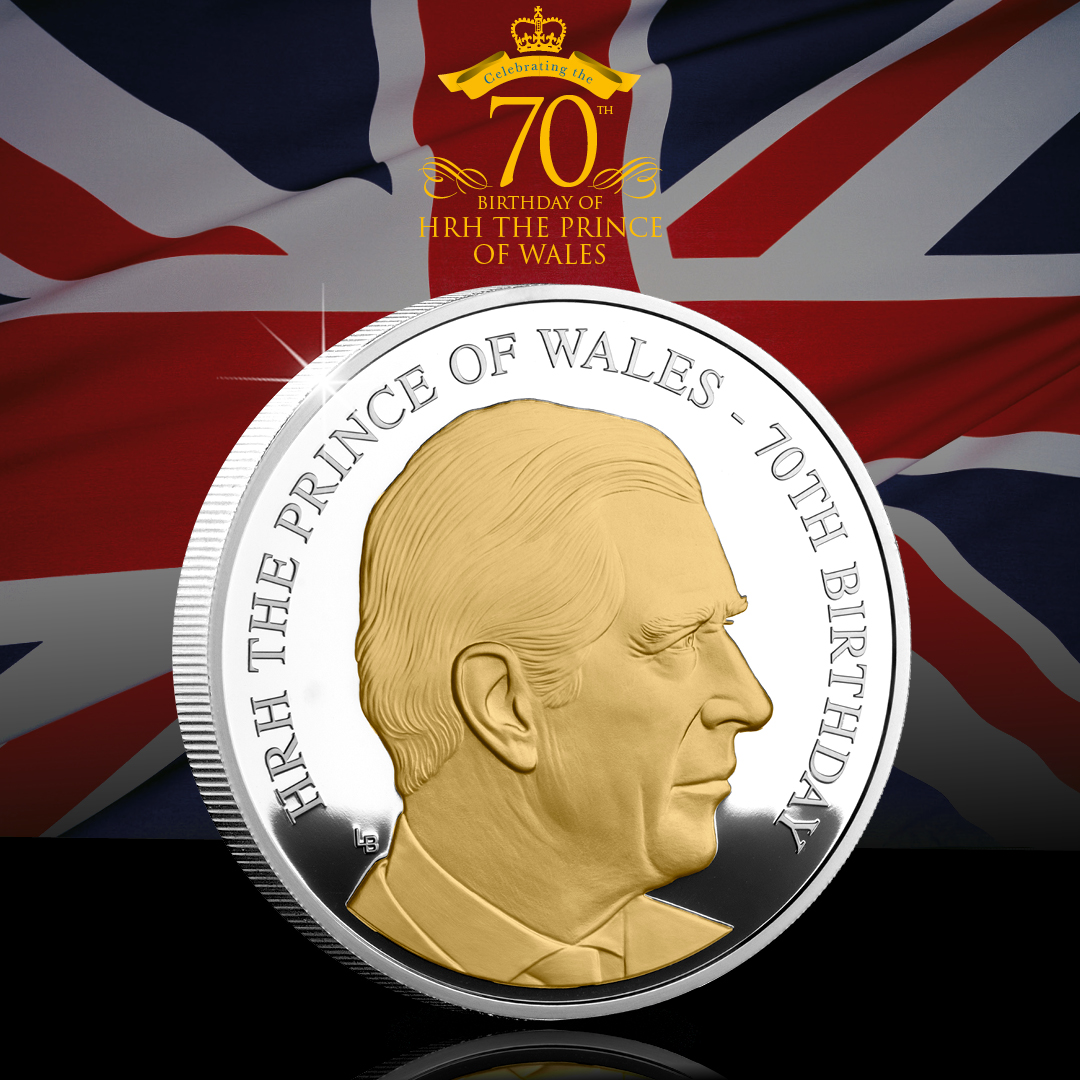 It seems that his birthday festivities have already begun – back in May, he attended a Buckingham Palace garden party laid on in his honour; he has curated a special exhibition called 'Prince and Patron' at Buckingham Palace, featuring some of his favourite artworks; and for the first time he has scheduled a tour of Gambia, Ghana and Nigeria with his wife, the Duchess of Cornwall.
What's more, it is believed that Her Majesty the Queen is planning an extravagant party to honour this momentous occasion, at which members of his family as well as European royalty will come together and pay tribute to the Prince of Wales' long and fruitful life so far.
And what a interesting life it has been! As the longest-serving heir apparent in British history, he has a number of notable accomplishments well beyond the call of duty. He became the first ever heir apparent to earn a university degree when he graduated from Cambridge in 1970, and in 2011 surpassed his great-great-grandfather Edward VII as the longest-serving Prince of Wales in history, after being awarded the title at the tender age of 9.
After university he served in several branches of the British military until 1976, in particular the Royal Navy, during which time he rose to the rank of Lieutenant and commanded the minesweeper HMS Bronington with a crew of 32. In 2011, Her Majesty awarded Charles the honorary rank of Admiral of the Fleet.
It seems fitting then, that a brand new portrait has been specially commissioned to recognise the 70 thoroughly active years of Prince Charles' life – a portrait created by none other than renowned artist and sculptor Luigi Badia and officially approved by Her Majesty the Queen.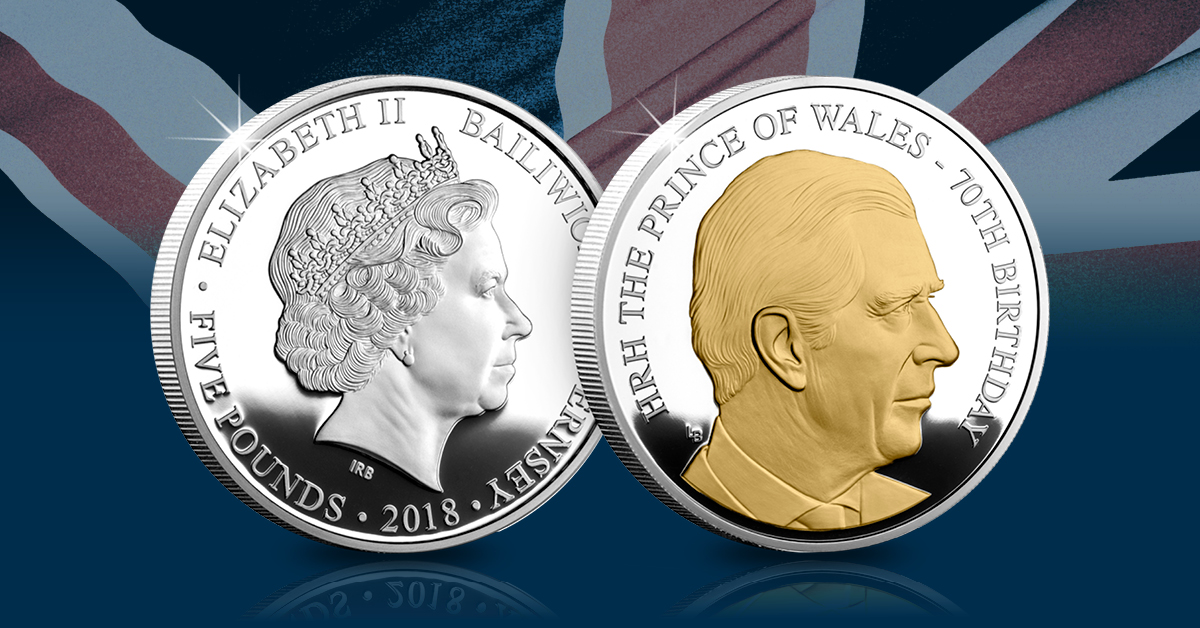 Special portraits like this are few and far between, and therefore are always popular with collectors – especially portraits as detailed and remarkably accurate as this one. The stunning design has been painstakingly hand-engraved by Badia, with particular attention being paid to retain the circular shape of the wording accompanying the portrait – "HRH The Prince of Wales – 70th Birthday".
---
If you're interested…

This brand new design has been issued in a number of specifications, from a Proof £5 right up to a stunning Gold Proof One Pound Coin, which are all available from The Westminster Collection. However, with their surprisingly low editions and the significance of this Royal birthday, I suggest you act now if you're looking to mark the occasion with a very special new coin.
The official new Poppy Coin has just been issued in support of The Royal British Legion and this year it features a stylised The Royal British Legion red poppy, with a poignant nod to the First World War Centenary. Upon closer inspection the singular poppy is made up of 99 individually engraved red ink poppies, making 100 poppies in total for the centenary year of WWI.
I caught up with designer Christopher Lloyd to ask him about the story behind his design: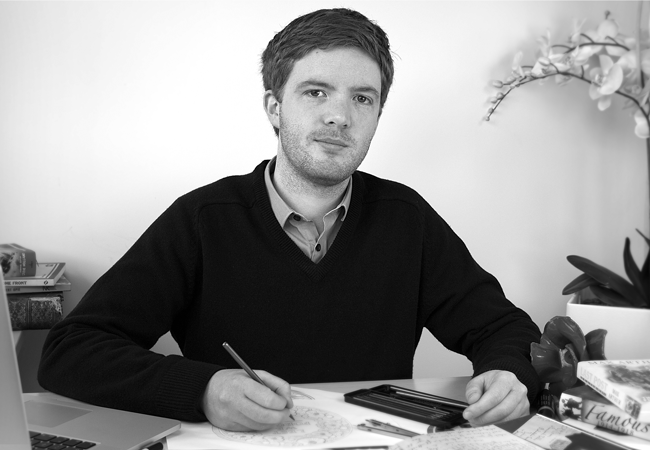 "Considering it's an incredibly important year, the coin had to make reference to the centenary year. However, as it is the only official coin to support The Royal British Legion an essential part of the coin had to be the Legion's stylised poppy."
"I designed the coin to feature 99 poppies, all of which are highlighted in red ink and encompassed within one much larger poppy, to directly make reference to the First World War Centenary."
"It has been an honour to design the 2018 Poppy coin. I hope it helps to support the important work of The Royal British Legion."
A coin for every collection
This year a whole range of different coin specifications are to be struck, meaning there is a coin for every collector. From a special Proof quality cupro-nickel £5 coin – right up to an astonishing 5oz Gold edition, the new Poppy Coin is undoubtedly a moving tribute to mark Remembrance Day during such an important centenary year.
Officially issued in support of The Royal British Legion
To support the work of The Royal British Legion, The Westminster Collection have organised for a donation from the sale of each coin to go directly to the charity, helping them to continue to provide financial, social and lifelong support to all who have served and are currently serving in the British Armed Forces and their families.
What's more, since our partnership began we are on target to raise an incredible £1,000,000 in support of The Royal British Legion.
---
If you're interested…
The 2018 Remembrance Poppy Coins are available now. Click here for more details and to add one to your collection today >>

The Beano turns 80 this year. I'll just let that sink in.
I still remember running down to my old corner shop every Wednesday after school to pick up the brand new Beano comic for 2p (the mind boggles!), then running home to try and get a read of the first few pages before mum cleared the table for dinner.
Of all the Beano characters, there was one character I looked forward to reading about more than any other – my favourite mischief maker – Dennis the Menace.
And that's why I have been so excited over the last few months to be able to work personally on an exclusive and highly collectable Beano Commemorative – especially as this year the comic turns 80.
Brand new never before seen Dennis illustration
As a special privilege for their 80th birthday, Beano have given us unparalleled permission to create some brand new Beano artwork.
That's because, for the very first time, Dennis the Menace has been brought to life on a brand new and exclusive Silver-Plated Commemorative by actual Beano artist – Wayne Thompson.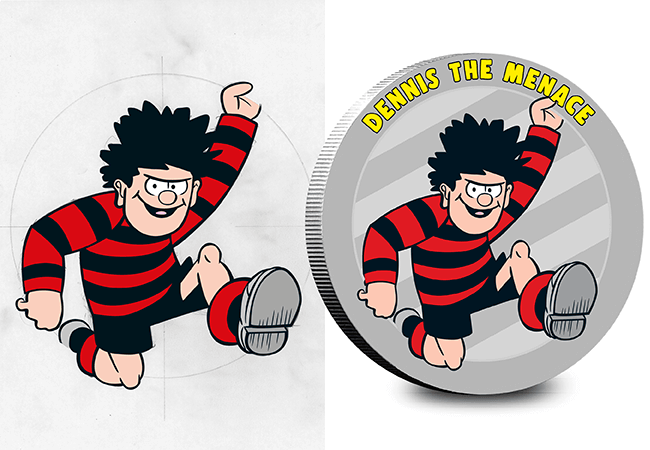 As you can see, the medal is a perfect limited edition tribute to Dennis in his classic red and black sweater that you, I, and many generations of children have grown up to love.
And as I mentioned, the Dennis the Menace illustration has been specially commissioned exclusively for Mint Editions. No one has ever seen it before and it has come straight from The Beano studios, direct to us from their artist – Wayne Thompson.
A whole collection of beloved Beano favourites
Just as in the comics, Dennis is never far from his trusted companion Gnasher, who is also part of the collection of new medals featuring beloved Beano favourites.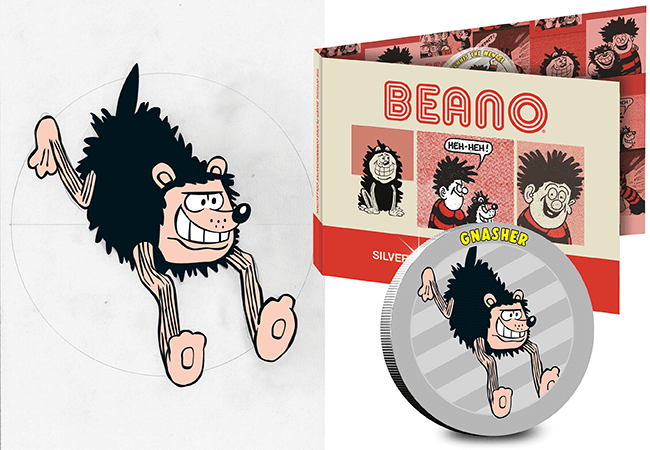 The complete collection of eight medals also includes Bananaman, Plug, Minnie the Minx, Roger the Dodger, Danny and Pieface – and each Silver-Plated Medals all feature brand new never-before-seen illustrations from Wayne.
---
Your invitation to SAVE £10.00 when you order today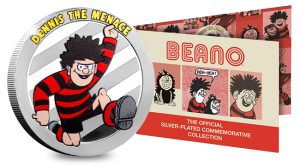 Today, I would like to personally invite you to start your collection with the Dennis the Menace Silver-Plated Medal – for JUST £14.99… that's an exclusive £10.00 SAVING. What's more, alongside your second delivery you'll also receive a free collecting pack to house and protect each Silver-Plated Medal.