From Tiny Dancer, to Rocket Man, there's no denying Sir Elton John has produced some of the most recognisable and popular hits the world has ever seen. His music catapulted him to global stardom in the 60s and 70s, and he is now one of the world's best-selling artists of all time.
And now, the Royal Proclamation issued on the 14th of February 2020 confirms that a range of Elton John coins will be released this year. I can't think of a better way to celebrate his legacy and contribution to British music than with a UK coin!
Not many details have been released yet by The Royal Mint, but if you want to be the first to know when they're released simply register your interest below.
In the meantime, let's take a closer look at the Royal Proclamation to see what's in store for this exciting new coin range…
Next Music Legend?
This news comes following the exciting release of the first coin in The Royal Mint's Music Legends coin series – the Queen £5 – earlier this year.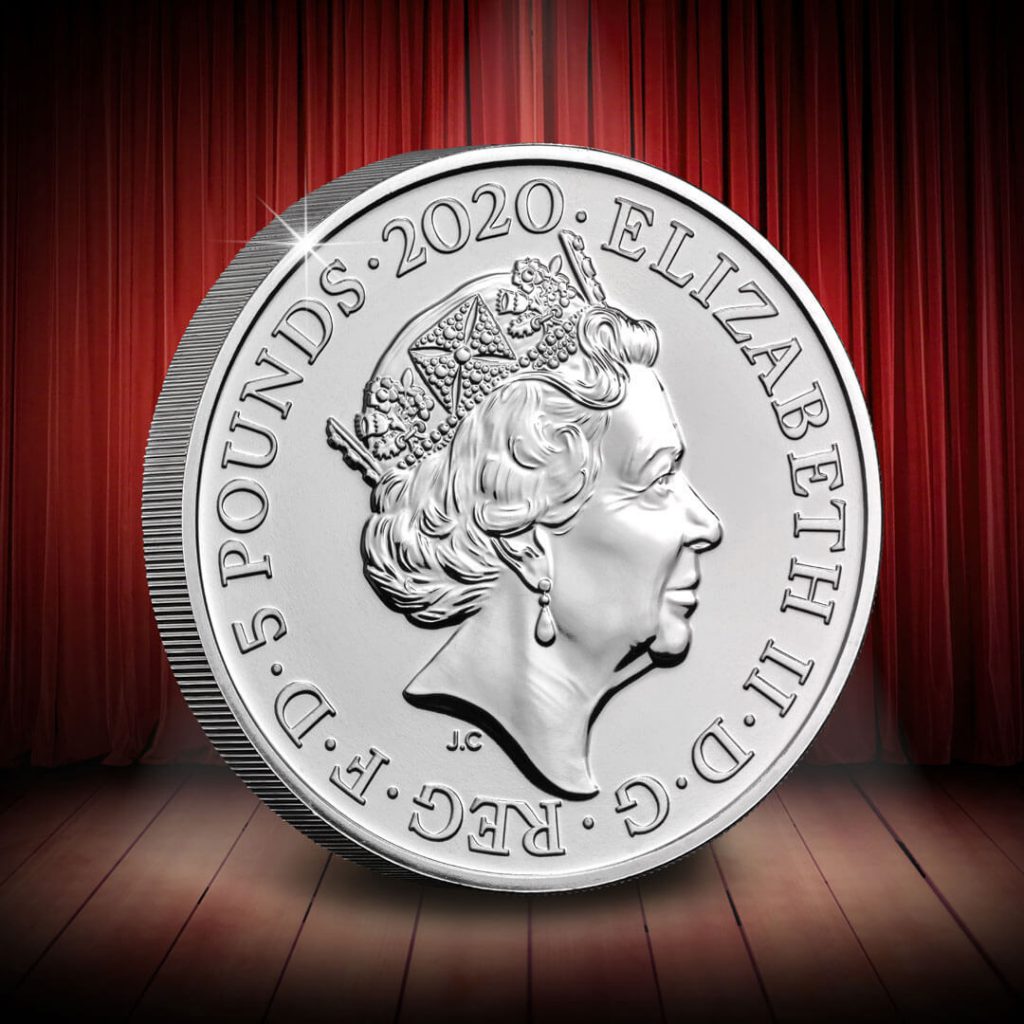 I think we can safely assume that Elton John will be part of this series and we're sure that collectors and Elton fans alike will be feeling the love for this new coin.
At the moment, the designs are still top secret but the reverse is said to feature Elton John's boater hat, glasses and bow tie set against a union flag and the inscription "ELTON JOHN".
It also looks like this commemorative Elton John coin will be issued in a variety of base and limited edition precious metal specifications and denominations. This includes a Brilliant Uncirculated £5 coin and a 1oz Silver £2 coin that will be the only coin in the range to feature a special edge inscription – "a decorative star pattern and in incuse letters the inscription "ELTON JOHN"."
Register your interest
It goes without saying that Elton John has leagues of fans worldwide, so I expect these new commemorative issues to be amongst the most anticipated new issues in 2020, and as such will be in high demand. That means when the coins are released you'll have to act quickly to secure yours!
If you want to be kept up to date and be the first to know when these coins are available then simply register your interest below and we'll email you as soon as we have more information.
Each year, The Royal Mint marks important British anniversaries, events or accomplishments on our coins and today I'm delighted to reveal the UK's new coin designs for 2020.
What's more, you have the opportunity today to secure them in a variety of different presentations or specifications – I'm sure there is something for everyone.
Simply read on to discover how you can be one of the first UK collectors to add these coins to your collection…
FIVE new UK commemorative coins
The Royal Mint has just announced the five new commemorative coins for 2020, issued to mark a variety of occasions and landmark anniversaries that we'll see over the coming year:
King George III £5 – marking the 200th anniversary of the end of King George III's reign
VE Day £2 – commemorating the 75th anniversary of VE day, signalling the end of WWII
Agatha Christie £2 – celebrating "100 years of Mystery", the centenary of her debut mystery novel
Mayflower £2 – marking the 400th anniversary of the Mayflower's maiden voyage to The New World
Team GB 50p – a tribute to Team GB ahead of the 2020 Olympic Games due to be held in Tokyo
UK 2020 Annual Coin Set BU Pack
To give as many collectors as possible the chance to own these highly sought-after coins, The Royal Mint has issued them in Brilliant Uncirculated quality, which is coveted by collectors as it means each coin is free from any marks you would find on circulated coins.
In this BU Pack you'll find the five brand new commemorative coins alongside the eight definitive coins from the 1p to the £2, all newly dated for 2020.
Each one is protectively encapsulated in its attractive original Royal Mint packaging to preserve its quality for generations to come. What's more, you can secure this BU Pack at the Royal Mint issue price of just £55 (+p&p). Click here to find out more >>
This set of coins is also available as a CERTIFIED BU Commemorative Coin Set for £40 (+p&p). Click here to find out more >>
UK 2020 Annual Collector Proof Coin Set
Whilst being struck from base metal, the coins in this set have been struck to a stunning superior Proof finish. This set also includes the five new commemorative coins alongside the eight definitive coins from the 1p to the £2, all newly dated for 2020.
Just 7,000 sets have been released worldwide in this limited edition presentation – that's under half the edition limit of previous issues that have completely sold out. So, it's expected this set will be extremely sought-after.
You can order the UK 2020 Annual Collector Proof Coin Set here with a down payment of just £31 (+p&p) followed by 4 further interest-free instalments – that's the Royal Mint issue price. Click here to find out more >>
UK 2020 DateStamp™ Specimen Set
The most limited way to own the five new 2020 commemorative coins is by securing the UK 2020 DateStamp™ Specimen Set. In fact, JUST 995 collectors worldwide can own this unique set.
What truly sets the 2020 Specimen Year Set apart from all other 2020 Annual Sets is the fact that it is forever set in time by the official Royal Mail postmark that marks the coins' first day of release – 1st January 2020.
Each coin is struck to the highly desirable Brilliant Uncirculated quality, and come individually presented in tamper-proof capsules. What's more, each set has a unique serial number, confirming its place in the tiny edition limit, and you can even register your set online to guarantee its provenance!
This annual set has a track record of completely selling out within a matter of days, so if you want to secure a set for yourself you'll need to be quick. You can reserve yours with a deposit of just £22. Click here to find out more >>
Did you know that there are ten £5 notes which are each worth £50,000?
Well, the key to working out if you have one in your change involves Jane Austen, Harry Kane and micro-engraver artist Graham Short.
… just watching this video could make you £50,000 richer!
Have you found one of the £5 notes, or do you know someone who has? Let us know in the comments below!