Posts Tagged 'Indian Head Coin'
Since 1795, the 10-dollar Gold coins in circulation in the United States have been referred to as "Eagles". These coins were legal tender until their withdrawal in 1933. However, there is one Eagle in particular that has become a numismatic legend.
A presidential intervention
You see, the obverse of the Eagle had long bore the goddess of freedom (Liberty), however in 1907, President Theodore Roosevelt complained to the Secretary of Treasury that US coinage lacked artistic merit.
As a result, Roosevelt personally commissioned New York City sculptor Augustus Saint-Gaudens to re-design this Gold coin; however, it was certainly not without incident!
Firstly, as the coin was designed by a sculptor, rather than a professional engraver, there were a number of issues in production, particularly due to the high relief. As a result, several versions of the coin had to be minted before achieving a sample appropriate for full production and release into circulation.
Secondly, Roosevelt felt strongly that a Native American war bonnet should be included in the design as a "picturesque" and "distinctly American" symbol. So, under President Roosevelt's instruction, Gaudens retained the Liberty profile on the obverse, simply placing a feather headdress on her head. Later, the coin would receive criticism for this absurd addition, with one art historian declaring that it missed out on being "a great coin" due to the President's interference.
Finally, further issues arose when the motto "In God we Trust" was replaced by "E PLURIBUS UNUM", which translates to mean "Out of Many, One". In fact, such was the public outrage, Congress passed a bill mandating its inclusion on any further coins. Mint Chief Engraver Charles E. Barber added the words and made minor modifications to the 1908 design.
A numismatic legend!
However, as is often the case, the flaws in the original 1907 Indian Head Eagle have made it one of the most desirable coins in the world.
In January 2011, what is probably the best-known example of an Indian Head Eagle, one of only 50 originally minted coins in the rare proof finish, was sent to auction – It sold for an incredible $2,185,000!
---
If you're interested…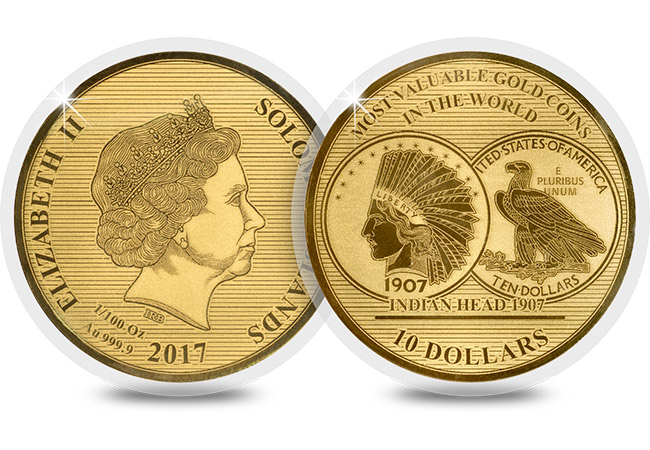 Today you can own one of the most valuable coin designs in the world…
This pure gold coin weighing just 1/100oz is an affordable way of owning one of the most valuable coin designs in the world – the 1907 USA Indian Head.
Click here to secure yours today >>