Exclusive Interview with Neil Roberts – The renowned military artist behind the NEW Britain at War Commemorative Collection
Last month, we had the privilege of diving into the creative mind of Neil Roberts, the artist behind our brand new Britain at War Commemorative Collection which encapsulates key moments from World War II.
Neil Roberts, whose work has graced the covers of Britain's longest-running war comic book, Commando Comic, has lent his artistic prowess to craft this iconic collection.
Join us as we unravel the inspirations and creative journey that brought this remarkable project to life.
This is perhaps the most comprehensive and brilliantly illustrated WWII Collection ever created. From the Battle of Britain and D-Day, to the Great Escape, the Blitz and the Desert Rats – it's all there.
Introducing the brilliantly illustrated WWII Collection
Special Introductory Offer – Yours FREE (+postage) when you trial the Britain at War Collection
Best of all, you can join this superb new collection for FREE (all you pay is postage). And, as a special introductory offer you will receive not one, but TWO of the commemoratives from this brilliant series for FREE (+£2.99 postage) when you trial the Britain at War Collection.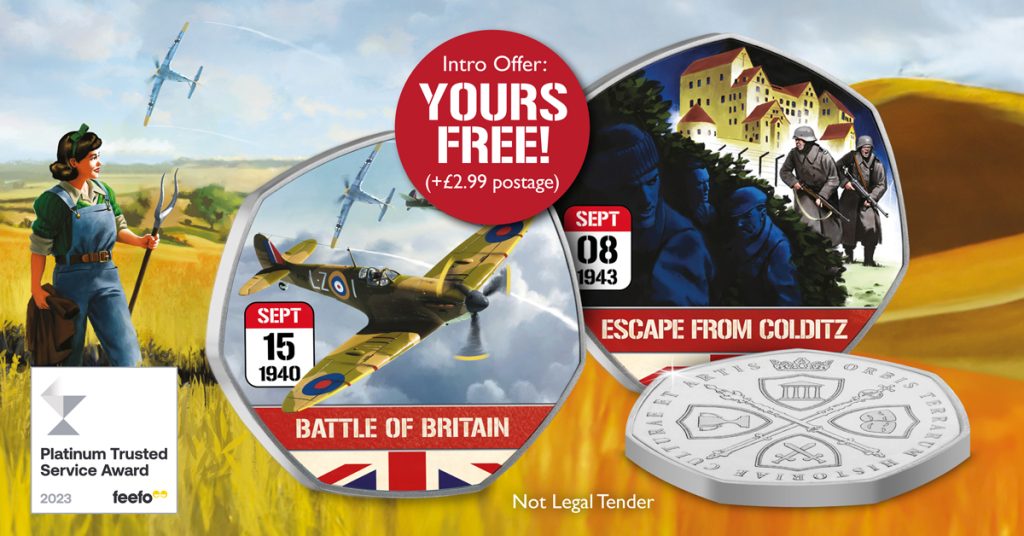 There's nothing to lose. If it's not for you – simply send it straight back to us and we'll refund your postage. There's no further commitment.
Click here to secure your FREE Battle of Britain and Escape from Colditz Commemoratives and trial the Britain at War Collection >>