Brand New British Isles 50p marks the Queen's 65th Coronation Anniversary
This year, Her Majesty the Queen celebrates her Sapphire Coronation Anniversary – 65 years since she was crowned at Westminster Abbey in 1953.
As the world's longest reigning living monarch, she will be the first monarch in British history to celebrate a Sapphire Coronation, an historic achievement to be recognised as part of her record-breaking reign.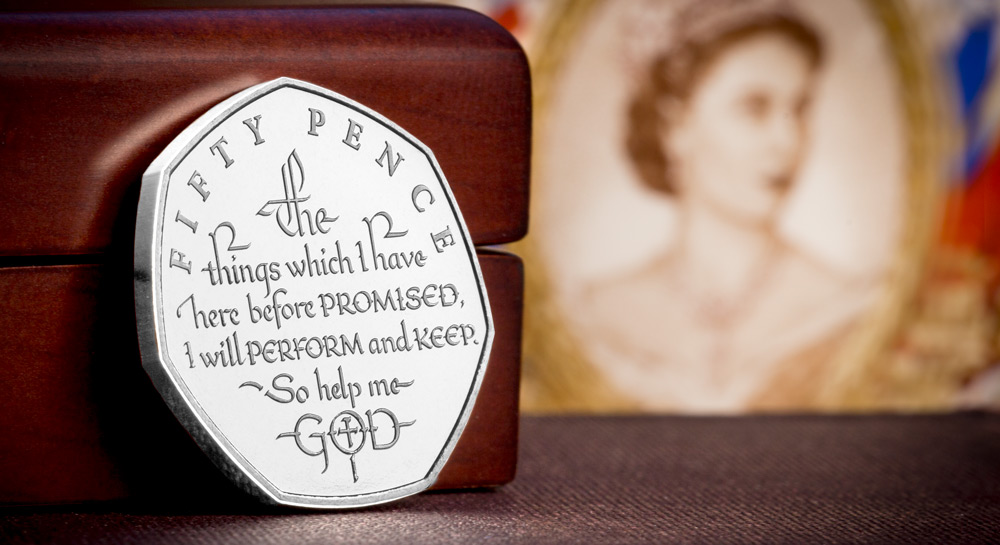 Elizabeth ascended the throne at the age of 25, upon the death of her father, King George VI in 1952. After a year's mourning period, she was crowned Queen in a coronation ceremony steeped with tradition. Millions tuned in to listen to the ceremony on the radio and, for the first time ever, the proceedings were able to be watched on live television.
In celebration of the Sapphire Coronation, a limited set of special commemorative 50p coins have just been officially approved by Buckingham Palace.
Fittingly, the first coin is engraved with the words of the Coronation Oath,
The things which I have here before promised, I will perform and keep. So help me God.
The other four 50p coins each feature a different element of the Coronation: The St Edwards Crown, The Orb, The Gold State Coach and The Imperial State Crown.

The UK's most collectable coins…
The 50p coin has rapidly become the UK's most collectable coin, spurred on by the release of the Olympic 50p coins, the Platinum Wedding Anniversary and more recently, the incredible demand for the Beatrix Potter 50p coins.
Most importantly, each of the five coins in the Sapphire Coronation 50p Coin Set have been authorised by the Isle of Man Treasury, have full legal status AND a very limited number will enter circulation in the Isle of Man.
British Isles 50p coins like this rarely turn up in UK change, which is bound to make these some of the most sought-after circulating coins around.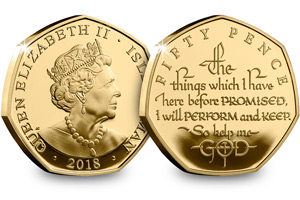 The coins are all available now from The Westminster Collection, struck to a range of specifications, from Brilliant Uncirculated through Silver Proof, right up to a stunning 22 Carat Gold piece.
---
Due to its very limited nature, we will contact you directly to discuss owning the Gold Proof 50p.
Please complete the form below:
---
If you're interested…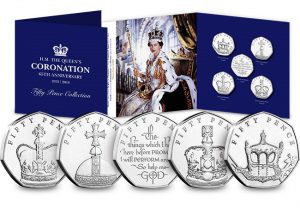 The 50p Set to mark the Queen's 65th Coronation anniversary is available to purchase in Superior Brilliant Uncirculated collector's quality.