Posts Tagged 'South Sea Shilling'
It is hard to imagine a scandal taking place today where the political leaders of our country are arrested for causing the financial markets to crash. But that is exactly what happened when the 'South Sea Bubble' burst.
The 'South Sea Bubble' was a political and financial scandal that led to the arrests of leading members of Parliament and the near collapse of the stock market. From this turmoil one of the 18th Century's most interesting coins was produced. Let me tell you how it happened…
The South Sea Bubble
The South Sea Company at the heart of the scandal was a trading company with a monopoly on trade in South America. The company was heavily linked with the government of the day, and a number of MPs owned large shares in the company.
Because of their shares in the company, members of the government began using phoney insider information to convince investors of the huge potential in South American trade, and therefore the profitability of the South Sea Company.
However, once investors realised that there was insider trading taking place, the company's share price collapsed causing a catastrophic loss of money and property.
Frantic bankers and members of the gentry who had lost their life savings stormed Parliament and the Riot Act was read to restore order. An enquiry found that more than 500 members of Parliament had been involved in the crash and the Chancellor of the Exchequer was imprisoned.

The South Sea Company Shilling
On the brink of collapse, the South Sea Company luckily stumbled across a horde of silver in Indonesia and sold the precious metal to The Royal Mint.
The silver was minted into coins in 1723 with distinctive 'SS' and 'C' notations on the reverse. The proceeds from this silver helped enable the South Sea Company to recover from the scandal and ultimately continue operating for another century.
The shillings struck with this silver are now almost 300 years old and are a relic of a financial and political disaster which shook the whole country.
---
If you're interested…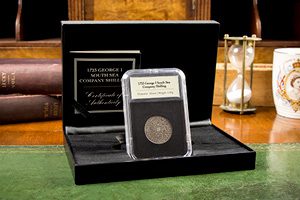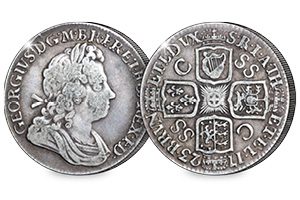 Historic silver issues are extremely difficult to source, however we have a small stock of just 50 South Sea Shillings available for collectors. Click here to find out more >>