Posts Tagged 'british monarchs'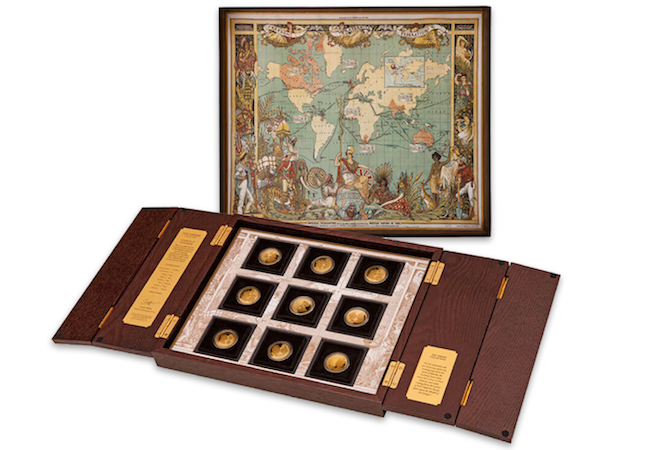 This year, a unique set of nine pure gold coins has been released to mark the prestigious heritage of the East India Company, still trading after 417 years.
At its peak the British company single-handedly accounted for half the world's trade. They minted their own currency, started the mass production of tea for export in India and transformed dining tables in the West forever by introducing new exotic ingredients and flavours.
But despite the Company ceasing operations in 1874, it had changed the way the world traded. The Times commented 'It accomplished a work such as in the whole history of the human race no other trading Company ever attempted, and such as none, surely, is likely to attempt in the years to come.'
Just 500 gold coin sets issued to mark this history
Now The East India Company has issued The Empire Collection, a brand new, limited edition set of nine 24-carat gold coins which tell the story of the company from its foundation in 1600.
Each coin features a depiction of a British monarch who ruled during the Company's first period of operations – from Queen Elizabeth I to Queen Victoria –alongside a key historic symbol.
Only 500 sets will ever be struck, making each of these coins immediately scarce in comparison to say, the Gold Sovereign, of which 10,500 will be issued this year.
Nine British Monarchs – Nine Gold Coins
The first three coins of the collection honour Elizabeth I, James I and Charles II. They feature symbols influenced by the Red Dragon (one of the East India Company's ships), the rare Rose Ryal coins, and the charters granted by Charles II.
The next three coins mark the reigns of William III, Queen Anne and George II and make symbolic reference to Fort William, the main garrison for the British in Calcutta, the Company 'balemark' (the heart shape used as a trademark for all Company goods) and the design of the 1758 shilling.
The final three coins pay tribute to George III, William IV and Queen Victoria. The George III coins pictures the famous 'Spade Guinea', whilst the William IV coin depicts the beading and lettering used on the Mohur – the Company's own currency. Queen Victoria's coin is graced by a Crown containing a precious jewel set by the East India Company, marking when Victoria became Empress of India.
Finished to an exceptionally high standard in a numbered luxury Presentation Case decorated with brass highlights, the collection truly represents the global resonance of The East India Company. With just 500 available The Empire Collection is one of the most impressive gold coin sets you are likely to see, and it is bound to become a future collector priority.
---
If you're interested…
You can now own the Empire Collection, but with such a tiny edition limit, it won't be available for long. Sign up below if you'd like to be contacted about owning this impressive gold coin set: