New UK coin released celebrating the Four Generations of Royalty for first time ever
The Royal Mint has today announced the release of a coin that everyone has been anticipating since the moment HRH Prince George of Cambridge was born on 22nd July 2013 – a coin celebrating the four generations of royalty.
This is the first time that all four generations of royalty have been celebrated on a UK coin. The last time four generations of royalty were celebrated together was in 1894 under the reign of Queen Victoria.
2018 is an incredibly special year for the Royal family as they celebrate a variety of important milestones including the Queen's 65th anniversary of her Coronation, the Prince of Wales' 70th birthday and Prince George's 5th birthday so it's perfect timing for such a special coin issue!
Here's everything you need to know about this important new release:
The stunning reverse features an original design by much-loved heraldic artist Timothy Noad, and ornately shows the initials of the current four generations, E, C, W, G, and represents the heritage of the House of Windsor.
The coin is available in several different finishes, all with varying edition limits that are likely to sell out quickly. Here's your guide to the new 2018 Four Generations of Royalty coin range:
Perfect Quality. Very Affordable.
The Royal Mint is releasing a brilliant uncirculated base metal version of the Four Generations of Royalty £5 coin. These coins have been specially struck and carefully handled to ensure that they are free of scratches and chips found amongst circulating coins.
Known as Brilliant Uncirculated (BU), they are available for £13.00 in a Royal Mint Presentation Pack or £10.99 in a Change Checker Certified Brilliant Uncirculated Collector Card.
Silver Proof – the Collector's Favourite.
The Silver Proof £5 coin is firmly established as the most sought-after coin amongst collectors because they have all the qualities that collectors really desire.
Precious metal content– struck from 925/1000 Sterling Silver.
Strictly Limited Edition– just 5,000 coins. That's 3,000 less than the Sapphire Jubilee £5 Silver Proof coin. That had a mintage of 8,000 and completely sold out at The Royal Mint.
The perfect Proof Finish– even better than Brilliant Uncirculated. Proof coins are struck several times using specially polished dies to create a flawless finish with a perfect mirrored background. The ultimate coin quality.
Double the thickness. More than twice as limited.
For silver collectors looking for something even more collectable, the double thickness Piedfort edition is the pinnacle of Royal Mint craftsmanship, they are twice the thickness and weight of a standard coin. They also have much lower edition limits than their standard silver counterparts.
There are just 2,000 Four Generations of Royalty £5 silver proof Piedfort's – less than half the maximum mintage for the standard £5 silver proof.
The Gold Standard
For the ultimate limited edition, you can own the Four Generations of Royalty in Gold proof. This has been issued in two specifications: the Gold Proof ¼ oz coin and the £5 Gold Proof coin.
The ¼ oz is struck from 24 Carat Gold and just 1,100 have been authorised for release.
The £5 is struck from 39.94g of 22 Carat Gold to a flawless proof finish. Only 500 will be issued – 250 LESS than the equivalent Sapphire Jubilee Gold £5 that completely sold out at the Mint in ONE WEEK.
Due to its very limited nature, we will contact you directly to discuss owning the Gold Proof £5 Coin if you are interested – please complete the form below:
If you're interested …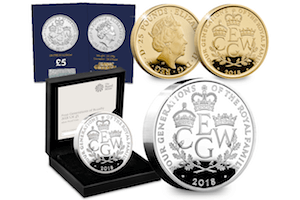 You can own one of the special collector edition Four Generations of Royalty £5 coins today, click here to view the full range >>