Posts Tagged '1960 New Yprk Exhibition'
Today I would like to tell you a fascinating story about a very limited edition United Kingdom coin struck in New York almost 60 years ago.
It is extremely rare that United Kingdom coins are struck anywhere other than in the UK, however the New York Exhibition in 1960 presented a rare opportunity for The Royal Mint to take their minting expertise overseas.
New York Exhibition
Still struggling to recover from post-war austerity, the height of Great Britain as the dominant trading nation of the world seemed a distant memory in 1960.
Britain was desperate to revive its ability to trade internationally and so the New York Exhibition was organised to demonstrate the best of British manufacturing to the American market with the hope of increasing British exports to the United States.
The New York Exhibition Crown
A brand new coin was struck for the occasion and although it was somewhat overlooked in Britain at the time, it stands out today as one of the most interesting Royal Mint coins ever struck.
That is because although just over a million New York Exhibition crowns were minted in the UK, a very small number were struck at the exhibition in New York so that visitors could see the best of British manufacturing before their own eyes.
This limited edition coin was minted especially for the visitors to the exhibition and only 70,000 coins were struck – that is less than 7% of the mintage of the ordinary circulation version!
Could I own a limited edition New York crown?
Although they were struck with a specially polished die, there were no special mintmarks on the coins struck in New York making them extremely difficult to distinguish from the ordinary uncirculated version.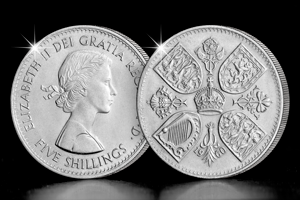 However, as the ordinary uncirculated coin was somewhat overlooked at the time in Britain it too has a surprisingly low mintage – less than a fifth of the 1953 Coronation Crown and less than 6% of the 1965 Churchill Crown.
Some of the unsold crowns minted at the exhibition were brought back to the UK by The Royal Mint, meaning that there are likely to be a small number of rare crown coins which were struck in New York buried in collections across the country.
This coin played a key role in boosting Britain's trade relationship with the United States, and the fact that a very limited number were actually minted at the exhibition in New York makes it undoubtedly one of the most interesting UK coins of the 20th century.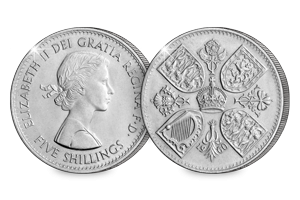 If you're interested…
We are offering collectors the chance to own the New York Exhibition Crown struck in uncirculated condition (who knows, it might even be one of the rare coins that came back from New York!). To secure your New York Exhibition Crown for just £19.99 (+p&p), click here >>