Witness a Historic Royal First by the Sovereign!
The brand-new UK 2024 Sovereign has just been revealed by the Royal Mint.
But what is the Sovereign?
When it comes to coins, few carry the weight of history and prestige quite like the Sovereign. From its humble beginnings in the late 15th century to its role as a symbol of British monetary stability and the grandeur of the British Empire, the story of the Sovereign coin is a fascinating journey through time. Join us as we explore the captivating history of this iconic gold coin in the video below.
The Birth of a Regal Coin:
The story of the Sovereign coin begins in 1489 during the reign of King Henry VII. This remarkable coin was aptly named the "Sovereign" and carried a face value of one pound. It featured a regal portrait of the reigning monarch on one side and the royal coat of arms on the other. This early version of the Sovereign set the stage for the coin's enduring legacy.
The Tudor Period and Fluctuating Fortunes:
During the Tudor period, the Sovereign coin went through a series of changes in size and design. It was minted under various monarchs and experienced periods of discontinuation and revival, reflecting the turbulent political and economic landscape of the time.
The Great Recoinage of 1816:
The real turning point in the history of the Sovereign coin came during the reign of King George III. In 1816, a momentous event known as the Great Recoinage took place in the United Kingdom. It was here that the Sovereign received its iconic design featuring St. George slaying the dragon, a masterful creation by the Italian engraver Benedetto Pistrucci. This marked the resurgence of the Sovereign as a symbol of British monetary stability and the reach of the British Empire.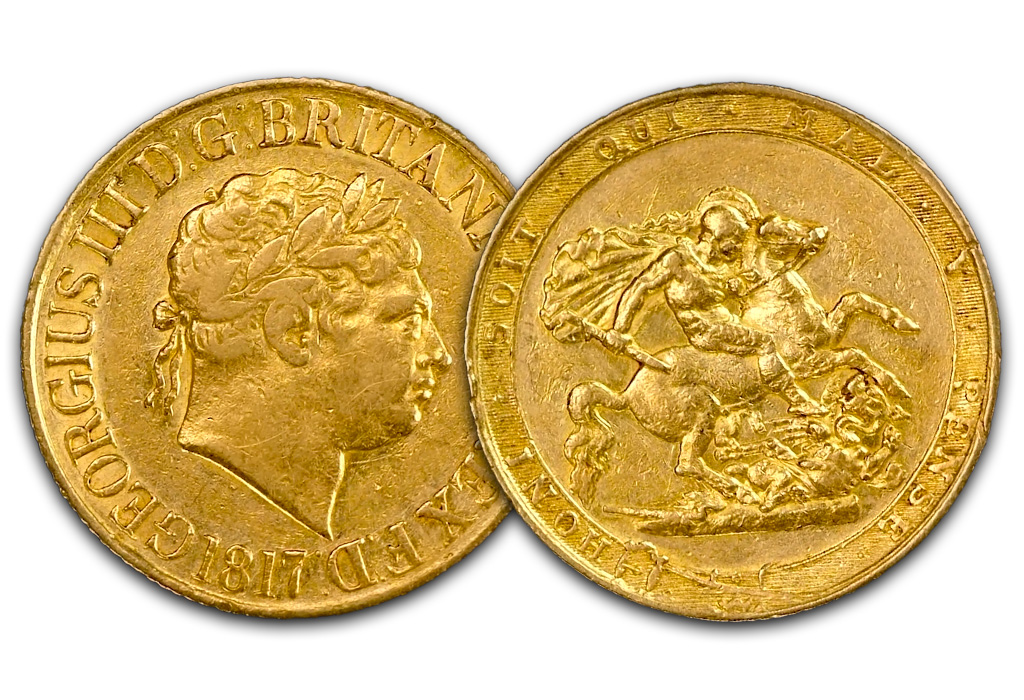 A Star in the Gold Standard:
Throughout the 19th and early 20th centuries, the British Sovereign played a starring role in the international gold standard. Under this system, currencies were linked to a fixed quantity of gold, and Sovereigns were internationally recognised and accepted. They were both a symbol of British power and a vehicle for international trade.
The End of an Era:
The golden age of the Sovereign coin gradually faded with the dawn of the 20th century. The upheaval of World War I and the changing global economic landscape saw the United Kingdom officially abandon the gold standard in 1931. Gold coins, including the Sovereign, ceased to circulate.
A Collector's Treasure:
Though no longer in everyday use, the Sovereign coin remains a beloved and coveted item among collectors and investors alike. The Royal Mint continues to produce gold Sovereigns in various designs and sizes, making it a timeless piece of numismatic history.
This years production of the 2024 Sovereign combines Pistrucci's timeless design with the official coinage portrait of King Charles III, meticulously created by Martin Jennings, for the first time ever.