Supporting The Royal British Legion
As the distributor of the annual Poppy Coin we are proud to continue supporting The Royal British Legion each year.
The coins, which have often included colour or gold-plated elements, are some of the most innovative pieces struck for collectors over the last 10 years.
Yet owning a Poppy Coin means much more than simply collecting the latest interesting or historic commemorative coin.
Each coin owned by you has resulted in a donation to the work of The Royal British Legion providing financial, social and emotional support to all who have served and are currently serving in the British Armed Forces and their families.
£1,000,000 Milestone
This has resulted in collectors of Poppy coins donating a staggering £800,000 to The Royal British Legion, and we are on target to raise an incredible £1,000,000.
The Westminster Collection and the Legion will continue to work together to commemorate and remember the fallen as well as raising vital donations which allows the Legion to continue to support beneficiaries such as Mark and Donna – you can read their story below.
Charles Byrne, Director General at The Royal British Legion, said: "We are so proud of our long-term partnership with The Westminster Collection, a family business which shares our commitment to supporting the entire Service community; whether it's helping veterans to remain independent in their homes, supporting bereaved families, ensuring people have access to the benefits they deserve or offering employment advice," he said.
"The Poppy Coin is not only a poignant reminder of those who have fought and sacrificed their lives, it also helps the Legion to carry out our vital welfare work, allowing today's Armed Forces, veterans and their families to live on to a more hopeful future."
But does owning a Poppy Coin provide an alternative to wearing a Poppy or donating directly to The Royal British Legion? Of course not.
I'll be making my annual donation to The Royal British Legion and wearing my Poppy with pride this year. But I have also bought a silver Poppy Coin for each of my children in the knowledge that they will have a valuable reminder of the sacrifices of the First World War.
---
If you are interested…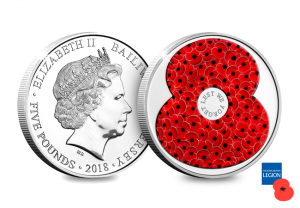 A symbol of remembrance and a tribute to those who have made the ultimate sacrifice – the brand new £5 Poppy Coin has been issued for 2018 – and it can be yours today for its face value – £5 POSTFREE.
Click here for more information >>
---
Mark Stonelake is a 32-year-old former Army commando who was injured in a roadside bomb blast in Afghanistan in 2008 just two months into his first deployment to the war-torn country. The blast resulted in him having his left leg amputated. He suffered multiple fractures and broken bones in his back, right leg, elbow, nose, jaw, teeth and finger. Doctors reportedly warned his loved ones that he may "not survive" the injuries.
Thankfully Mark recovered and now looks after an elderly ex-soldier who suffers with mental health problems.
He also raises money for the Poppy Appeal and is one of The Royal British Legion's media ambassadors.
Mark's wife Donna, aged 30, is a former Able Rating in the Royal Navy. She served from May 2004 to November 2010. During her service Donna served on HMS Montrose (Oct 2005-Apr 2006) during the Iraq conflict as a Communicator and was involved in anti-piracy operations (patrolling oil platforms) in the Northern Arabian Gulf.
It was on deployment in 2006 when she met Mark, and they started dating.
She was serving in Scotland when she heard the news that Mark had been blown up. Undeterred by his life changing injuries, Donna vowed to stand by him, which gave Mark the strength to get better. Donna left the services after falling pregnant with the couple's first child.
The Legion has supported Mark and Donna in numerous ways since. Most recently, the Legion paid for the flights and accommodation to enable Donna and the couples children to be with Mark while he competed in the 2016 Invictus Games.