The NEW 2022 UK Coins released today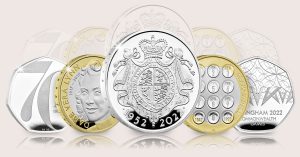 Read about the new coins on our blog
Due to high demand expected for the new 2022 UK Coins we are operating a 2-stage reservation process for these coins to help ensure the best check out process for collectors.
Our main site will be back once the rush has calmed down.
Stage 1. Complete the Quick Reservation From below indicating which issues you would like. This will reserve a set for you.
Stage 2. We will contact you over the next few days to confirm your reservation and complete your checkout.
Quick Reservation Form