Posts Tagged 'Coin design'
***UPDATE***
Following the Royal Proclamations on the 8th November 2019, The Royal Mint have now confirmed there will be a Music Legends coin series!
This is exciting news for music fans and collectors alike. It's safe to assume stage legends Queen will be part of this series, but who else would you like to see on a Music Legends coin?
Let us know in the comments below and sign up for updates at the bottom of the blog!
By signing up we'll make sure you're the first know any updates about these new coins, including when they're being launched. So what are you waiting for?
---
Royal Proclamations issued on 8th November 2019 confirm that two icons of British culture will be honoured next year on UK coins – rock legends of the stage, Queen, and spy of the silver screen, James Bond.
It is unknown yet exactly when we will be able to snap up these new issues, but we do know the coins will be 2020 dated so we will be on the lookout from the New Year…
"I won't be a rock star. I will be a legend" – Freddie Mercury
And legends they did become. It's safe to say renowned rock band Queen have been inspiring millions across the globe since they exploded on to the British music scene in 1970 – you'd be hard-pressed to find someone who doesn't recognise the opening rift of Another One Bites the Dust.
Known for hits such as We Will Rock You, Bohemian Rhapsody and Don't Stop Me Now, Queen's pioneering, creative and alternative approaches to music making proved to the world that music has no bounds.
Their status as icons in the British music industry was sealed in 1990 when they received the Brit Award for Outstanding Contribution to British Music. Following this they were then inducted into the Rock and Roll Hall of Fame in 2001 and in 2018 were presented with the Grammy Lifetime Achievement Award.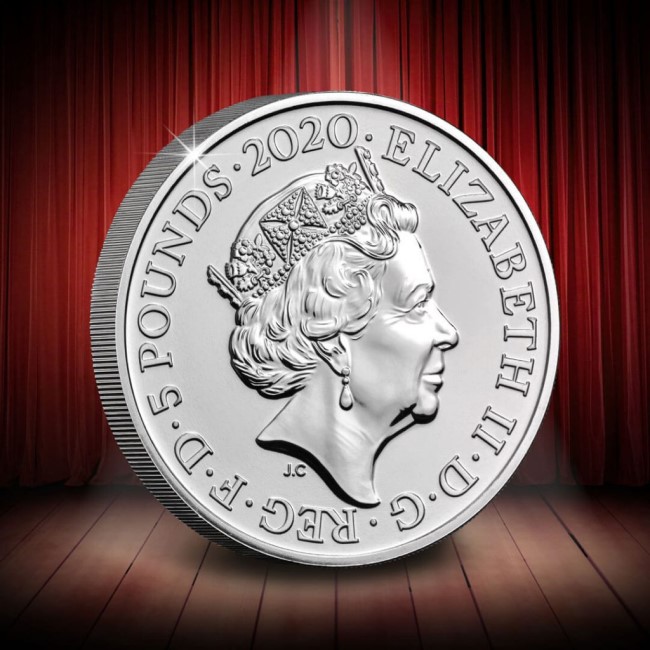 And now, their lasting legacy is going to be captured on a commemorative UK coin – the first band to ever feature on a UK coin!
The Royal Proclamation confirms there will be various specifications available, including a £5 base metal coin and a variety of precious metal versions. All coins will bear a design depicting a keyboard, drum, bass and electric guitar accompanied by a microphone and the inscription "QUEEN". What's more, a special two pound denomination silver coin will feature the edge inscription "MERCURY · MAY · TAYLOR · DEACON ·"
Bond, James Bond
Created by Ian Fleming in 1953, James Bond – or better known by his MI6 codename 007 – will be returning in the hotly-anticipated 25th Bond film that was revealed recently to be called No Time To Die.
The Bond franchise is the longest running film series of all time, grossing nearly $7 billion to date for its production company, Eon. Overall it has grown to become the fourth-highest-grossing film series ever, and has amassed five Academy Awards along the way too.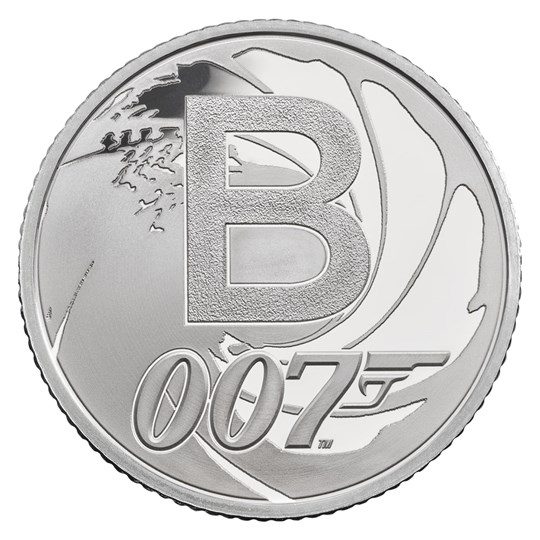 The secret agent has been portrayed by seven actors, and is perhaps best known for his suave manner, his penchant for martinis (shaken, not stirred) and the gadgets and cars supplied by Q branch.
Speaking of cars, the Royal Proclamation confirms the design of the Bond coin will feature the 007 logo and a depiction of his car – fingers crossed for a classic Aston Martin!
It also looks like this commemorative Bond coin will be issued in a variety of precious metal specifications. The smallest denomination will be a ten pound silver coin, with an impressive diameter of 65mm to truly appreciate what is sure to be a spectacular design.
---
Register your interest
Both Queen and Bond have an unrivalled cult following with leagues of fans worldwide. So, I expect these new commemorative issues to be amongst the most anticipated new issues in 2020, and as such will be in high demand!
If you want to be kept up to date and be the first to know when these coins are available then simply register your interest below and we'll email you as soon as we have more information.
The new 2020 Gold Proof Sovereign was released yesterday, but you may only have days to own one. Let me tell you why…
We're in the golden age of the Proof Sovereign. As you may know, the Proof Sovereign has become the UK's flagship annual release that's highly sought-after worldwide.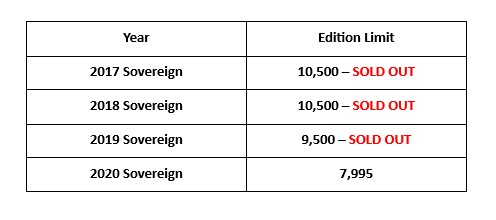 As you can see, recent UK Gold Proof Sovereigns have an undisputed track record of completely selling out. Many with a matter of weeks.
Special one-year-only mint mark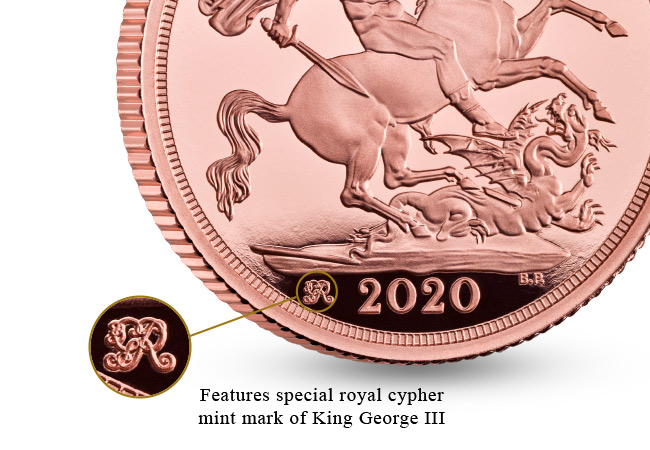 In 2020 we mark the 200th anniversary of King George III's death – the first monarch to appear on the modern Sovereign. To commemorate this, the Proof Sovereign features a special one-year-only royal cypher mint mark.
George III's reign is one of the most important in the history of UK gold coins. That's because it was in his reign that the iconic Sovereign was re-introduced, making him the first monarch to feature on the modern day sovereign, and one of the most famous gold coins in British numismatic history.
One-year-only mint marks are only applied to coins for the most significant events and anniversaries and this is certainly an important one. In fact, it's unlikely we'll ever see a combined Royal and numismatic anniversary as significant as this in our lifetimes.
'22 Carat Gold Pedigree'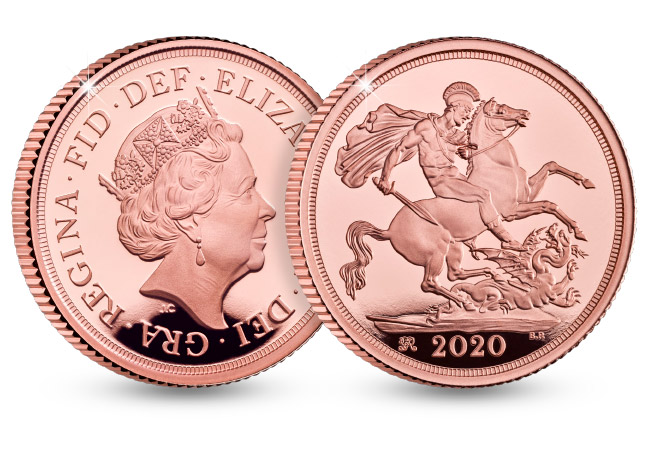 The 2020 Sovereign is minted from 22 Carat Gold and it is this historical pedigree that makes the coin so admired and sought-after around the world.
It is also one of the finest examples of British craftsmanship. The exceptional 'proof' finish is the result of the coin being struck up to 4 times using specially polished dies.
The time and effort required to produce the frosted relief and mirrored background of the coin is why a proof finish is considered the pinnacle of the mint-masters art – and the most sought-after by collectors.
And with an edition limit of JUST 7,995 worldwide – a lower edition limit than the 2018 Sovereign that also featured a special mint mark and COMPLETELY SOLD OUT in a matter of weeks – this year's Proof Sovereign has all the elements to be the most collectable gold coin of the year.
If you're interested…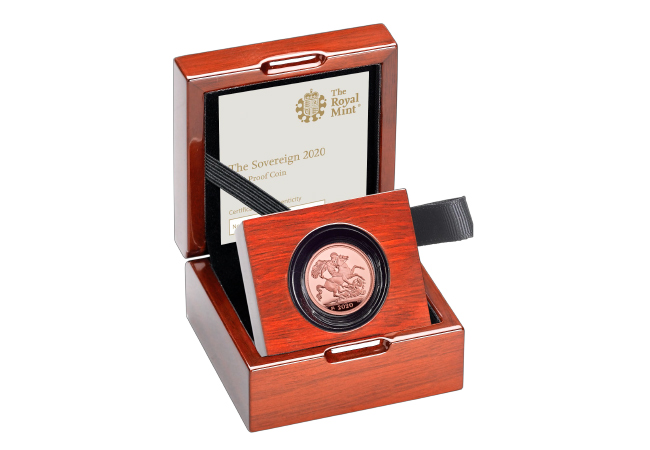 You can secure the 2020 Gold Proof Sovereign now, but you'll have to act quickly. You can secure yours today for a down payment of JUST £59.50 followed by nine further interest-free instalments – the most affordable way to own the new coin.
The Royal Proclamation confirming the new coin has been passed, and that means production can officially begin.
Plans to release special Brexit coins was first announced by former chancellor Philip Hammond in last year's Budget. But this is the first confirmation from The Royal Mint that the coin is indeed going ahead.
I don't know about you, but this coin story is one I've been watching for a while. And as such, I suspect it will be one of the most eagerly anticipated issues we've seen for a while!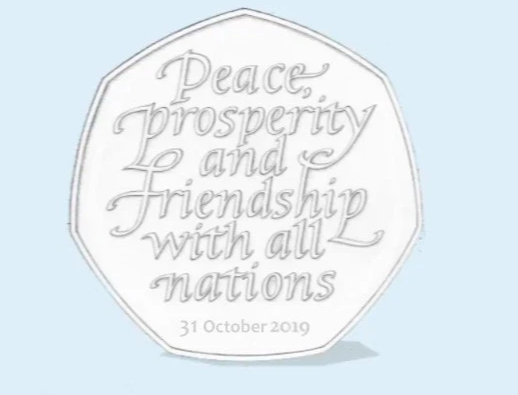 Few details are known about the design of the coin, but we do know that it will feature the inscription: "Peace, prosperity and friendship with all nations", as well as the historic date the UK is due to leave the EU – 31 October 2019.
A 50p coin was struck when the UK joined the European Economic Community in 1973 and when the UK held the presidency of the EU in 1998. So it only seems fitting one is released to also mark the UK's departure from the EU. And by marking such a pivotal event in our history, this coin will surely be sought-after by collectors in years to come.
Whilst not many details have been released by The Royal Mint, there are rumours that up to 10 million coins will be struck and put into circulation, 3 million of which will be ready for 31st October – news that will surely delight collectors, who could be finding these coins in their change as early as Halloween.
We do not yet know whether special collector versions of this coin will be available. Though we have our fingers crossed that there will be!
If you want to be kept up to date with news of the Brexit coin as we approach 31st October, then register your interest below. We'll then contact you as soon as we know more, and let you know how you can get your hands on one.