Posts Tagged 'Coin Collecting'
This past year has been the most poignant moment for the British Monarchy in decades.
We celebrated the Platinum Jubilee of Queen Elizabeth II, sadly said goodbye to our Longest Reigning Monarch, and witnessed the Coronation of King Charles III.
With royal issues across the world selling out, there has been insatiable demand for Queen Elizabeth II commemoratives in this significant year.
In fact, collectors across the Commonwealth, past and present, have rushed to secure a piece of history as we experience the biggest change in our Monarchy in 70 years.
But now, you can secure the Silver coins from Royal Canadian Mint – paying tribute to Elizabeth II's extraordinary life.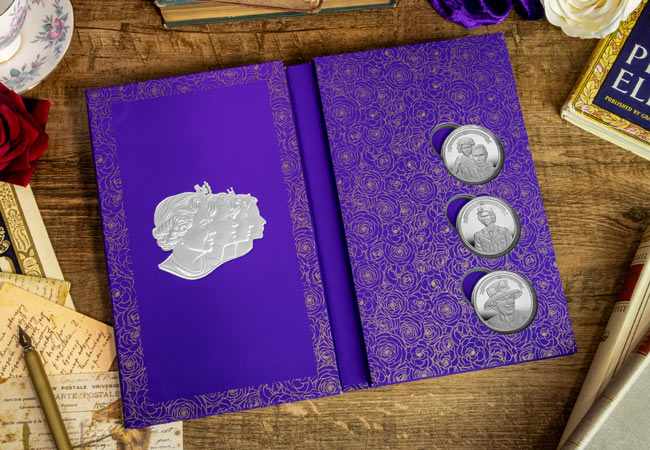 The Designs
To celebrate the most remarkable milestones of Queen Elizabeth II's life, The Royal Canadian Mint have issued three stunning Silver Proof coins – in one complete collection!
Expertly struck from 1oz of 99.99% ultra-fine silver to a flawless proof finish, each coin has been thoughtfully inspired by three famous photographs from Queen Elizabeth II's extraordinary life.
The first coin depicts Elizabeth II as a child in the arms of her father King George.
Not only is King George VI and his daughter a rare sighting for reverse designs, but a young Elizabeth II is also an exceptional feature for coinage.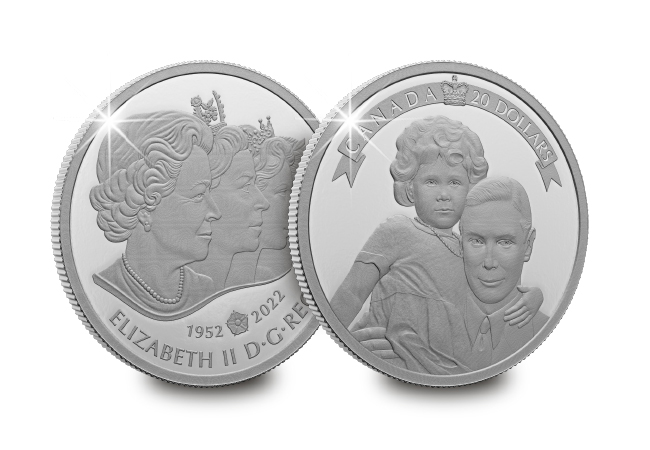 Equally as unique, the second coin portrays Elizabeth II in military uniform during her time in the Women's Auxiliary Territorial Service.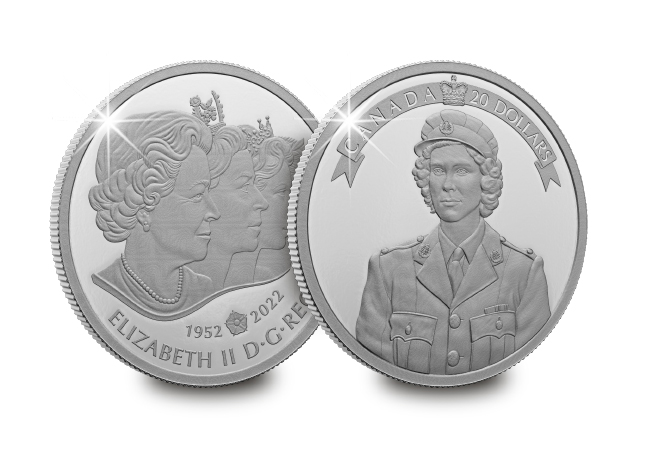 Finally, the third and arguably most recognisable depiction of our Longest Reigning Monarch is inspired by a photograph from a Royal Visit in her later years.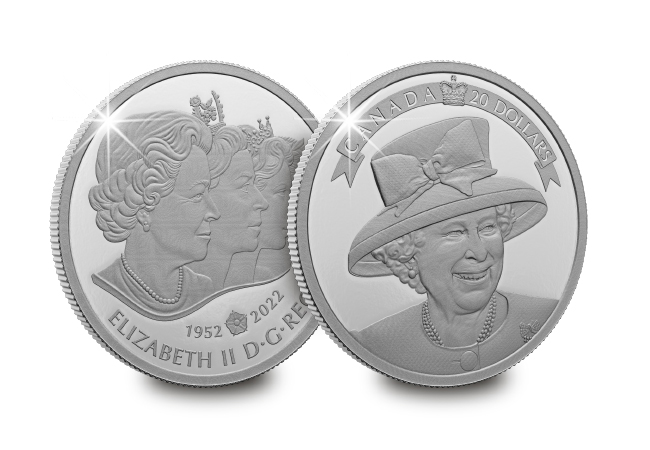 Special Obverse
What's more, all three Silver coins in this collection feature a special tribute obverse, combining all four Canadian effigies of Elizabeth II. Marked by a small Tudor rose, this unique obverse design honours Elizabeth II's coinage since her coronation in 1953.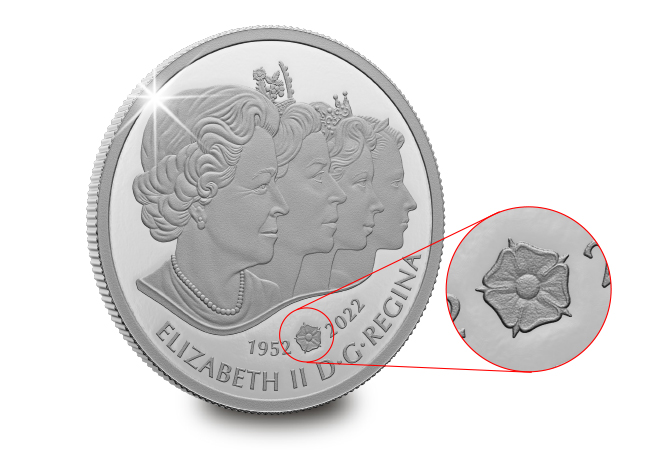 This tribute obverse is unique to this range of coins, and integrates the designs of previous obverse designers: Susanna Blunt, Dora de Pédery-Hunt, Arnold Machin, and Mary Gillick.
But, just 7,500 collectors worldwide will be able to own such a sought-after collection.
The first UK Star WarsTM coin collection has been released today to celebrate 40 years since the release of Return of the Jedi in 1983.
The Star Wars franchise is a worldwide phenomenon, and despite being the brainchild of American movie maker, George Lucas, the Star Wars franchise has many links to British Heritage and the United Kingdom.
The coins have been specially produced in partnership with The Royal Mint, Walt Disney Company and Lucasfilm to create something extremely special for Star Wars' fans and coin collectors alike.
The first design features none other than R2-D2TM and C-3POTM, with both characters inside the Millennium Falcon, the famous starship that has played a role in some of the greatest victories of the Rebel Alliance and the New Republic.
R2-D2TM and C-3POTM are the first to feature on the four-coin collection, with the other coins in the series also including other iconic duos including, Darth VaderTM and Emperor PalpetineTM, Luke SkywalkerTM and Princess LeiaTM, and Han SoloTM and ChewbaccaTM all with stunning designs that capture the true essence of the films.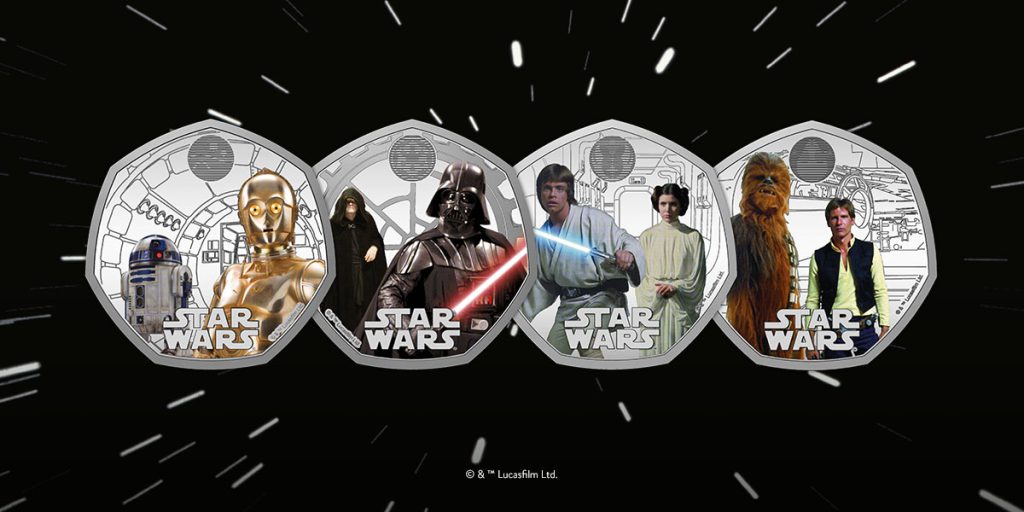 Each coin is available in superior Brilliant Uncirculated Quality, or strictly limited Silver Proof Quality.
But it is the Silver coin that is especially unique, featuring the addition of vivid colour. This is a process that allows George Lucas' iconic duos to be faithfully reproduced as accurately as possible.
What's more, the silver coin has been limited to just 12,500 worldwide. When you consider the number of coin collectors who will want this 50p coin, alongside the number of Star Wars fans that will too, demand will likely exceed availability.
Finally, each of the coins in the series also has an intricate detail you may have missed – a lenticular feature. When the coin is tilted, two intricate symbols are revealed for Tatooine and the Rebel Alliance Starbird. Not only does this enhance the design, but it is also a favourite amongst coin collectors.
Whether you choose the Brilliant Uncirculated coins, or the Silver Proof version, rest assured all coins have been beautifully packaged as the perfect piece of memorabilia.
__________________________________________________________________________________
By opting into the Westminster Collection Star Wars Priority Lists, you can automatically receive the next coins in the series without the hassle!
Click here to secure the Silver Proof 50p coins >>
1st July marks Canada Day. It has been celebrated since 1867 when the country became a self-governing region within the British empire, combining three colonies to create Canada.
So fittingly, you can celebrate with some of the most sought-after coins from The Royal Canadian Mint:
SOLD-OUT at the Mint: 2023 Maple Leaf 1oz Silver Proof Coin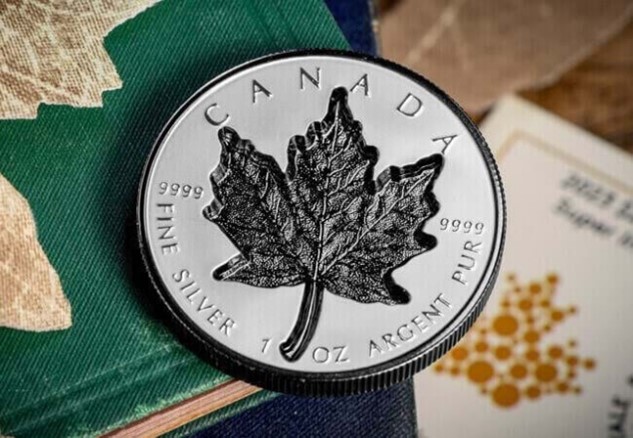 This 1oz Pure Silver coin depicts the iconic Maple Leaf design – and has already sold-out an edition limit of 8,000. But, we have just 41 remaining…
Click here to secure yours before it's too late >>
SOLD-OUT: Canada 2023 St Edward's Crown Fine Silver Coin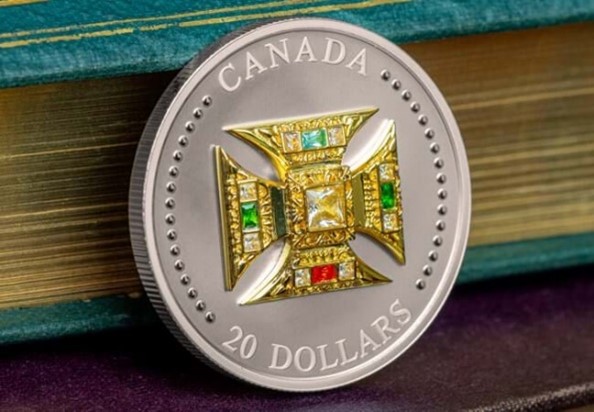 This is the perfect way to honour the Coronation of King Charles III, with a tribute to the St Edward's Crown, worn by our new Monarch for the first time in 70 years.
Secure the SOLD-OUT St Edward's Crown Silver coin here >>>
NO LONGER AVAILABLE: Mercury's Horned Face Silver Proof Coin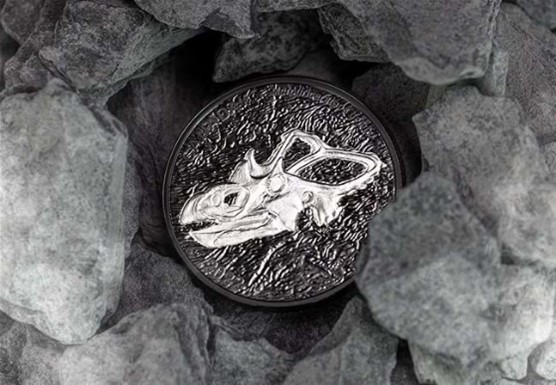 This could be your last chance to secure the unique fossilized Silver coin that's no longer available from the Royal Canadian Mint!
Click here to learn why you need to secure it for your collection >>
75th Anniversary of VE Day Silver Proof Dollar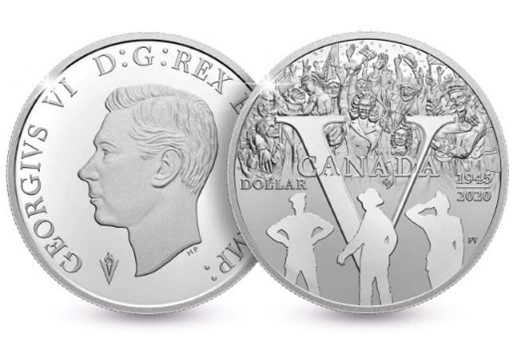 As one of Canada's most sought-after annual releases, this is your second chance to secure the 75th anniversary of VE Day Silver Proof Dollar that's no longer available at The Mint.
But with only a small number remaining, secure yours here before it's too late >>
2oz Silver Rippling Canadian Flag with Vivid Colour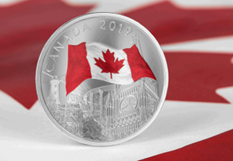 The prestigious 2oz Silver Proof coin from The Royal Canadian Mint featuring a coloured depiction of the Canadian flag is the first of its kind.
And excitingly, there are a handful left in stock! Click here to secure yours >>