Innovation is nothing new to The Royal Canadian Mint. Whether it be a new shape or size, or using never before-seen technology, they are always looking for ways to push the limits on what can be achieved in the minting world.
Over the last few years, The Royal Canadian Mint's results have seen some of the world's most stunning, technologically-advanced coins, with sell-outs almost guaranteed.
And with the release of their brand new 2022 coin, you can truly appreciate the beauty of their craftsmanship by watching the video below:
Introducing the latest innovative coin from The Royal Canadian Mint… it's set to SELL OUT!
The Christmas Gifts Rotating Silver 5oz Coin is the latest release from The Royal Canadian Mint that follows on from their previous SELL-OUT Christmas Tree and Train Silver 5oz. It uses state-of-the-art innovative gyroscopic technology, allowing the coin to actually move!
It features a 3D sculpture of Santa Claus himself, cast in sterling silver and surrounded by a gold-plated garland. Struck from 5oz 99.99% pure silver, the coin boasts a huge 65mm in diameter – perfect for showing off each and every intricate detail.
It really is the most remarkable coin from recent years, and we encourage you to watch the video to fully appreciate all the stand-out features. It's an outstanding work of art that delivers a festive dose of Christmas cheer!
If you want to add one to your collection, you'll have to act fast. We only have 50 available for Westminster collectors – click here to secure yours now >>
This year marks 40 years since the founding of the Douglas Bader Foundation. To celebrate the occasion a range of NEW commemoratives have been issued in partnership with the charity. But, before I go into any details about these new issues, I want to tell you about the fascinating life of the foundation's namesake – Group Captain Sir Douglas Bader.
Sir Douglas Bader
Douglas Bader was born in London in 1910 and was commissioned into the Royal Air Force in 1930. Tragically, 18 months later he was in a plane crash in which he lost both legs.
Due to this accident, he was discharged from the RAF and was forced to find work elsewhere.
However, after the outbreak of the Second World War, Bader was able to rejoin the air force. He became a leading airman during WW2, flying Spitfires and Hurricanes at Dunkirk and the Battle of Britain. In 1941, he was shot down and held as a prisoner of war.
During his descent, Bader lost his right artificial limb. He persuaded his German captors to radio England to ask them to send over a replacement leg. On the night of 19 August 1941, during a normal bombing raid, his new leg was dropped from a Blenheim, along with some stump socks, tobacco, and chocolate.
Despite his disability, he made several escape attempts. Bader was eventually placed in Colditz until its liberation in 1945.
Douglas Bader was a charismatic and controversial character. After the war, he campaigned tirelessly on behalf of amputees and people with disabilities. He inspired millions with his example and was honoured with a knighthood in 1976. He is considered a national hero for both his war efforts and his work with the disabled which he was involved in up until he died in 1982.
The Douglas Bader Foundation
The Douglas Bader Foundation was established immediately following his death in 1982 by his friends and family, many of whom had flown by his side during the war.
For 40 years, the Douglas Bader Foundation has worked to help people with disabilities, supplying prosthetics, grants, and support to many people.
To support this fantastic charity, a donation from the sale of each of the brand-new commemoratives will go directly to the Douglas Bader Foundation.
So, let's take a closer look at the new range ….
The Silver Spitfire Commemoratives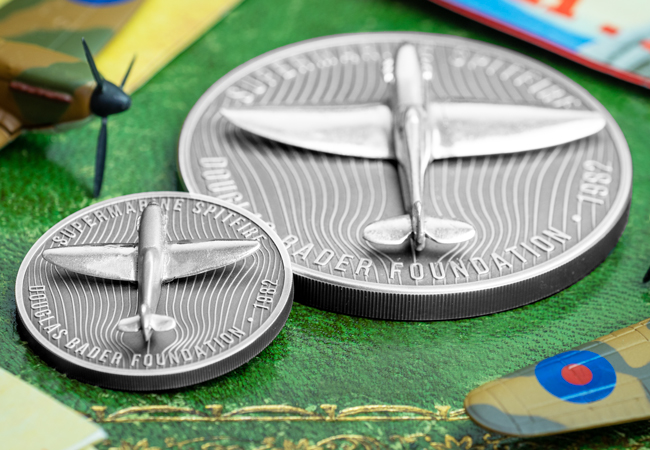 These incredible Silver Spitfire commemoratives feature a 3D Spitfire model crafted from a genuine piece of aluminium from a Spitfire AB910.
AB910 flew in The Dieppe Raid – one of the most significant air battles in history and flew cover patrols over Normandy beachheads on D-Day.
I can't think of a more fitting tribute to Douglas Bader and the Douglas Bader Foundation. The daring airman flew Spitfires over Dunkirk and during the Battle of Britain.
These are available in both 1oz and 5oz silver specifications. With a small amount of this historic metal available, just a limited number of these commemoratives can be made.
Click here for more details and to secure your 1oz today >>
Click here for more details and to secure your 5oz today >>
Douglas Bader Medal Box Set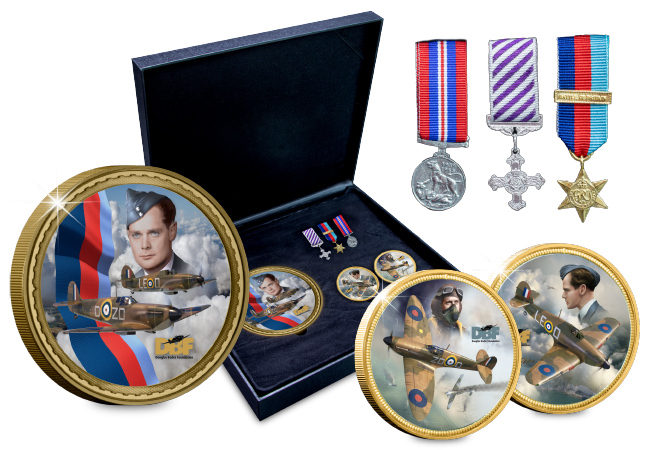 Strictly limited to JUST 250 worldwide, a spectacular box set has been released to honour the extraordinary life of Douglas Bader. This set brings together not one, but three full-coloured commemoratives designed by artist Adam Tooby.
Alongside these commemoratives also sits replicas of three of the many medals that Bader received during his astonishing military career.
As this set comes beautifully displayed in a presentation box with a numbered certificate of authenticity, it is the perfect collector's piece.
Read our latest blog on the first King Charles III sovereign – a coin that we predict could be one of the most collectable sovereigns ever.
---
Known as possibly the most famous coin in history, the Gold Sovereign is the collector's dream. As Britain's flagship coin, it's steeped with incredible history – so if there was any piece to add to your collection, this should certainly be it!
Every year, the classic sovereign and the proof collectable versions are always very high in demand. But this year's sovereign is like no other seen before…
Just released by The Royal Mint, we'd like to introduce you to the brand-new Queen Elizabeth II Memorial Sovereign – the first sovereign to feature the portrait of King Charles III.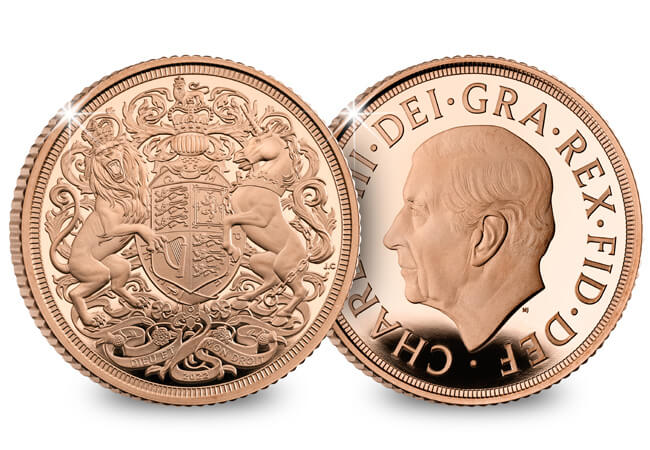 The Queen Elizabeth II Memorial Sovereign – A Unique Collectible
It's incredibly rare to come across a Memorial Sovereign as it is – but to coincide with that, the reverse has got a rare change in design too!
Unique to the Queen Elizabeth II Memorial Sovereign, the traditional St George and the Dragon design has made way for a new interpretation of the Royal Coat of Arms. This is an updated version of what appeared on the Platinum Jubilee issue last year, so it's a very fitting tribute to our late Queen.
But that's not all – what makes this coin even more spectacular is that it's the first ever sovereign to feature King Charles III's portrait. This will make it incredibly popular with collectors!
First King Charles III Sovereign
Every so often, a newly released sovereign will exceed the normal levels of collectability. In the past, this has included Queen Victoria's first sovereign from 1837, George IV's only sovereign from 1937, and of course, Queen Elizabeth II's first sovereign from 1957.
And it won't be long until this sovereign reaches the same level of demand and collectability!
Even if it wasn't for the unique design, this sovereign would still rank as one of the most important ­– being the very first sovereign to feature the new King, it will be the collectible to have in the future.
It's the sovereign that links Queen Elizabeth II's and King Charles III's reigns together – making any sovereign collection incomplete without it.
Available in Gold Proof and Piedfort Quality, make sure you get yours today before it's too late!
Click here to check out the Memorial Sovereign range for your chance of securing yours >>
Or, check out our latest video below to see them up close: