Have you heard the news?
A brand new LIMITED EDITION collection celebrating your best loved nursery rhymes has just been released.
Be it Twinkle twinkle little star or Incy Wincy Spider, why not test your knowledge and see how many from the collection you still remember?
Trust me, you'll be singing them again no time. I know I certainly was…
Watch my latest video to find out everything you need to know about this must have collection…
---
If you're interested…

Click here to order the LIMITED EDITION Nursery Rhymes Commemorative for the incy wincy price of £29.99 (+p&p) >>
From Space Oddity to Life on Mars? there is no denying that David Bowie is one of the most iconic and influential British musicians to have ever graced our stages.
And now, it has been confirmed that he will feature on a brand new UK coin! Here at The Westminster Collection we cannot think of a better way to celebrate his contribution to British music and his lasting legacy than with a coin.
And what a coin it is – keep on reading to see the spectacular design for yourself!
Plus, if you want to be the first to know when this new coin is released, simply register your interest below.
David Bowie Coin
The design of the new David Bowie coin is a real tribute to the king of glam rock. The main talking point of this 1oz Pure Silver Proof coin is without a doubt the coloured element. The red and blue lightning bolt motif is instantly recognisable from the Aladdin Sane era and is synonymous with the musician.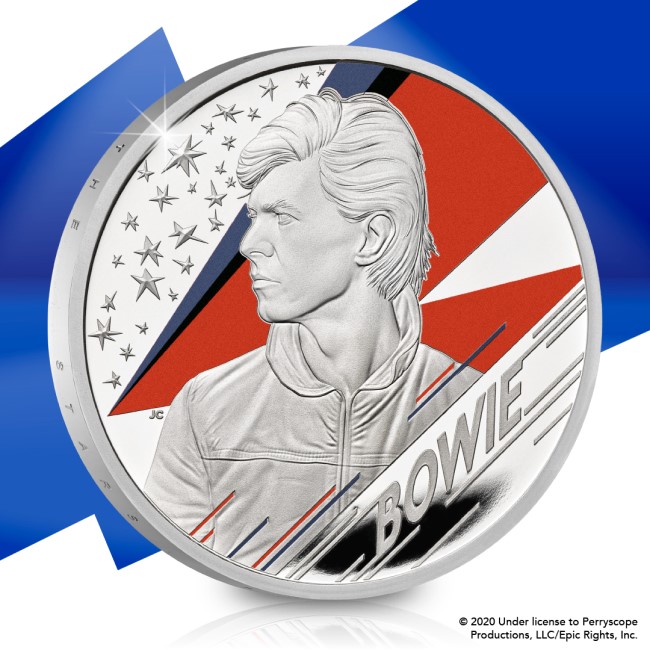 Interestingly, the coin also features a portrait of Bowie. This is quite unusual for a coin depicting a popular culture theme, and something that is sure to make this coin sought-after by knowledgeable collectors and fans around the world.
Next Music Legend?
This news comes following the exciting release of the Queen and Elton John coins, from the Music Legends series, earlier this year.
I think we can safely assume that David Bowie will be part of this series and we're sure that collectors and Bowie fans alike will be ecstatic to see him honoured on a UK coin.
Register your interest
This also means, considering the sell-out success of the previous coins in the Music Legends series, that this new David Bowie coin is sure to be in high demand and collectors will have to act quickly to guarantee one for their collections.
If you want to be kept up to date and be the first to know when these coins are available then simply register your interest below and we'll email you as soon as we have more information.