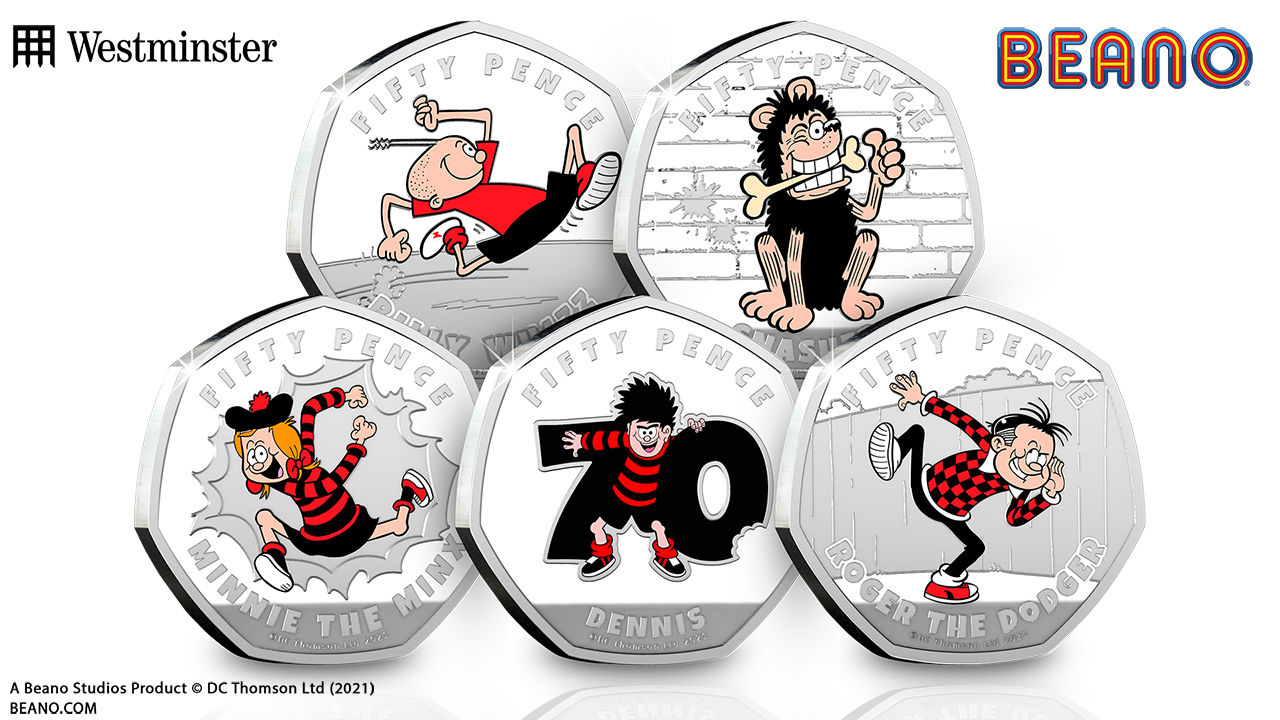 Can you believe that this year we celebrate the 70th Anniversary of Beano's® master of mischief, Dennis?
That's right, he first appeared back on the 17th March 1951, which makes Dennis the longest running comic strip in Beano®!
And to celebrate, FIVE 50ps have been issued featuring all of your favourite characters!
So join me in my latest video for a trip down memory lane, where I tell you everything you need to know about this nostalgic 50p release…
---
If you're interested…

Recently, we announced an exciting brand new collection of 50p coins celebrating the 70th anniversary of the longest running comic strip in Beano® comics – Dennis! Unsurprisingly, since their release, the coins have seen huge demand as collectors and beloved comic fans alike race to get theirs.
But, before anything else, you must know that all the specifications of these coins have been released in extremely low edition limits. When you consider that over 1.5 million people were once part of the official Beano Fan Club, they are virtually guaranteed to not satisfy demand.
The 50p has firmly established itself as the collector's favourite coin, so it was only right the pesky trouble makers from the Beano classic feature on them. Authorised for release by Pitcairn Islands, fully approved by Her Majesty the Queen and officially licensed by Beano®, don't miss out on the chance of securing yours.
Find out more about these new coins and how to order them below >>
---
The Complete Brilliant Uncirculated 50p Set
This stunning collection features all five new 50p coins, each struck to a Brilliant Uncirculated quality and featuring carefully curated designs by illustrator Glyn Davies. These include:
Dennis's 70th Anniversary
Gnasher
Minnie the Minx
Roger the Dodger
Billy Whizz
What's more, the coins will come protectively housed in an officially licensed presentation pack – adding further to its desirability.
Limited to JUST 15,000 sets worldwide you'll need to act fast if you'd like to own on.
Click here to secure yours for just £31.25 (+p&p) >>
---
The Superior Coloured Silver Proof 50p…
The Silver Proof version of Official Dennis '70' 50p coin features a special illustration of Dennis, alongside a stylised '70' – to honour the 70th Anniversary. What's more, the coin has been struck to a flawless Proof finish from .925 Sterling Silver with selective vivid colour printing to bring the design to life!
The Silver Proof editions are without a doubt the collector's favourite and almost always acquire fast sell-outs and with an edition limit of JUST 4,999 coins this will be no exception.
Click here to guarantee yours >>
---
The COMPLETE Silver Proof 50p Collection
The Silver Proof set is by far the most limited and exclusive way to own these five new 50ps. With only 1,999 available to collectors worldwide, it is almost certain that they won't be around for long.
Each coin is struck from .925 Silver, to a Proof finish, with the addition of colour. They will arrive protectively encapsulated, ready to display in a presentation box, along with numbered Certificate of Authenticity, confirming its place in the stringent edition limit.
Don't miss out on yours… Click here and secure yours with a deposit of only £32.50 today >>
---
The Complete Brilliant Uncirculated 50p Cover Collection – JUST 750 available
If you are looking for something truly special and unique, look no further than the Complete Dennis's 70th Anniversary Ultimate Cover. Limited strictly to just 750, each collection features all five Dennis Brilliant Uncirculated 50p coins alongside the BRAND NEW Royal Mail Dennis Miniature Sheet – postmarked on the first day of issue 01/07/2021.
Almost certainly, this is one of the smallest edition presentations of the new 50p coins that you're likely to see and they are exclusively available from The Westminster Collection.
From a collector's point of view, the decision is obvious. Click here to secure yours >>
In today's video I unbox the perfect tribute to Prince Philip.
As the longest serving consort of a British Monarch, his 70 years of public service was full of incredible achievements.
And it's those achievements that have been captured in the Historic Coin and Stamp Collection that I take a closer look at in my latest video.
Whether you're a collector, Royalty enthusiast OR both, with only 295 collections available worldwide this is a video that you can't afford to miss.
---
If you're interested…
Click here to be one of JUST 295 collectors to own this MUST-HAVE collection >>